"It's much easier to be superficial than it is to make the music your heart is burning for."

From the magazine
:
ISSUE 87
,
June/July 2013
On "Waste of Time," the last in a string of four dazzling pop singles, Danish singer Mø rages against a guy who's dumped her. Over finger snaps, her breathy voice builds to a full scream. She sounds at once casually pissed and genuinely bruised. Mø (pronounced like a cow's moo) is Karen Marie Ørsted, who's 23 and not dying of heartache, just comfortably mixed up. "I've always been very confused about things. One day I think one thing and then another day I'm not sure," she says over Skype from her parents' house in Ubberød, a cozy town she describes as having big fields and a small church. Ørsted visits often, recording her own vocals in a secluded "box" there, but lives in Copenhagen. "I love the contrasts," she says. "I very often feel a big contrast in my feelings. When I get that feeling is when I try to sit down and make a song."
For Ørsted, there's purpose in confronting indecision. Young people in Denmark are coddled by the country's generous social policies, she says, and they remain anxious and aimless through early adulthood. "We're so spoiled in terms of money. If you can't get work, you get money from the state. We have all the opportunities in the world, but don't know what opportunity to pick. Everybody just ends up being bored and like, Ugh, fuck." Lanky and tomboyish, her hair permanently swinging from a high samurai ponytail, Ørsted isn't immune to that angst, but she draws power from calling it out. All the time I just want to/ Fuck it up and say I'll/ Get a hold of it, she wails proudly over a marching band's triumphant horn section on last year's "Pilgrim," like a Lena Dunham for Danish electro-pop.
Ørsted signed a major label deal last year with Sony/Chess Club, but she began performing in local girl groups at age seven, inspired by the Spice Girls' catchy hooks and fluorescent, girl power feminism. In 2009, she launched Mø, which means "virgin" in Danish. The name was intentionally ironic, the project beginning as a Peaches-knockoff where Ørsted swear-rapped over "crunky, trashy electronic beats." Mø's sound is softer now and more grown up, and her music's meticulously layered instrumentation and big melodies are openly radio-aspiring. "I was afraid to commit and afraid of everything, but at the time I didn't know it," Ørsted says, looking back on her music's raunchier years. "It's much easier to be superficial than it is to dig into your center and make the music your heart is burning for." She'll showcase that discovery on Mø's proper debut, slated for later this year and recorded with Ronni Vindahl, who worked previously as part of the No Wav production team.
Ørsted writes songs about messy, lazy people with nowhere to go and nothing to do, but her 16-year commitment to music and the clear-eyed passion of her singing suggests she might actually have her shit together. She graduated from Copenhagen's Academy of Fine Arts this spring, and soon she'll get out of town, touring with a backing band and a sample-triggering DJ. She says the new LP will tell an unresolved story about a fictional girl who's something like her. "The ending is just that I'll carry on," explains Ørsted. In Mø's case, satisfying great ambitions starts simply with getting off your butt. "It's so stupid to think you'll get happy if you just sit and do nothing. Everybody will get ill if they don't do anything. You have to do something with your life because, as far as I know, you only get one."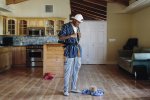 Previous:
GEN F: Sir Michael Rocks
From The Collection:
GEN F
Next:
GEN F: Pure Bathing Culture