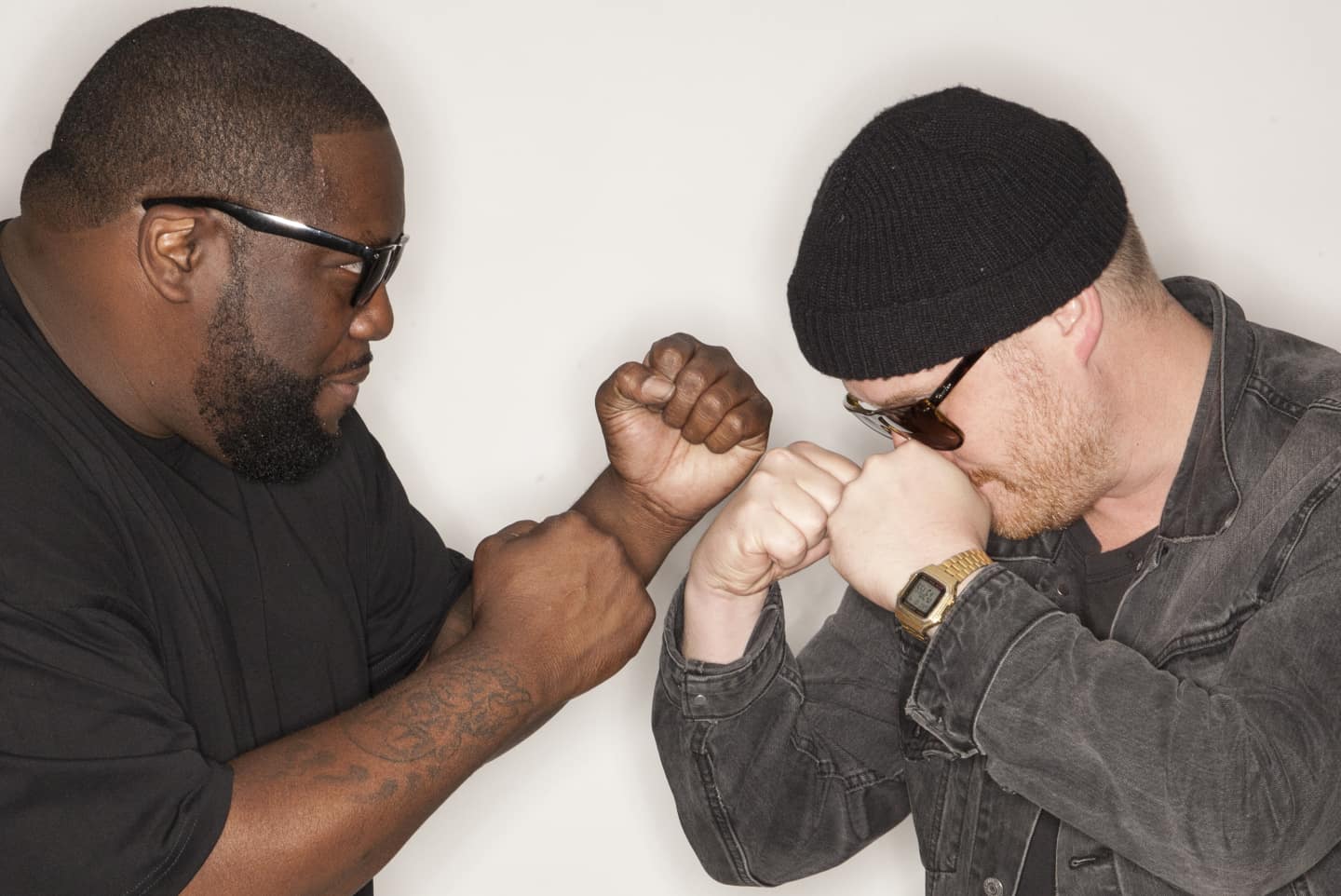 I Really Love Run The Jewels
​Because they make me better.
I met Killer Mike and El-P in the spring of 2012. At the time, they were friends and collaborators with a dude I was dating. I was already familiar with Killer Mike from his guest feature on Outkast's Grammy-winning "The Whole World," a verse that had become my mantra. His energy and the pace of his flow still gets me hyped enough to lose my breath repeating it: Glitter, glisten, floss, gloss/ I catch a beat runnin' like Randy Moss. El-P I had heard of just through New York rap history: the co-founder of Def Jux, one third of Company Flow, a producer my musically inclined friends nerded about. So we were all backstage after a show, and I was nervous because I wanted to impress both of them professionally, but I also just wanted them to think I was cool because they were my boyfriend's friends. Mike was affable and polite; he introduced me to his wife Shay, his ever-present partner in crime. El-P, or Jaime as he introduced himself, was sarcastic, funny, and equally cool. I immediately recognized the Brooklyn in him. We were speaking the same language. Before long they were a constant presence in many of my adventures. So I wasn't surprised when they told me they were recording a project together as a duo. They were heading to the woods together to start another great rap album. This was Run the Jewels.
To make rap a sustainable job these days, you've also got to have greater purpose. I spent the Fourth of July with Killer Mike and family discussing life as citizens of this country and humans. He comes from folks who teach their own, a tradition that he's passing down not just to his own family but his fans and the media at large. He's an outspoken critic of bad government policy, talking about it so much more eloquently than others that he's now called on television more than some politicians. And with El-P, two heads are really better than one. On the RTJ2 track "Early," for example, Mike tells a jarring story of arrest that only he can tell as a black man. El-P's perspective in his followup verse feels like it's taking the edge off, but it just drives home Mike's point. He takes nothing away from him, nor does he get lost himself. In an excerpt from a forthcoming conversation with The FADER, Killer Mike said: "It makes a more complete argument when we're together. It becomes a full conversation because in look and in audio it represents a wider spectrum. And that's not something we playing, that's just simply because we are who we are."
These two are just made for each other, natural comrades who really believe in doing whatever the fuck they feel. They're on the road almost 200 days a year, usually with other rap friends. That they have the energy it takes to travel that much is apparent on record. The intro to RTJ2 is just Mike yelling, but it could've been recorded from any day they were in the studio. Their partnership seems almost divine in its existence: two grown and talented men who love, respect, and collaborate with each other on a real level. A lot of tracks on RTJ2 feel like they're just weirdo story time with Jaime and Mike, in the best way. It's a gregarious album that feels comfortable with itself, like its creators. Together, they've made something that embodies hip-hop's principles: a telling of the truth of our time, with an outsider's attitude. For some, that might seem an outdated idea, but in fact their project is uniquely suited to 2014—an era wherein artists must be calculated and ridiculous online, and explosively talented onstage, to survive.
As things in the world continue to swing between awful and really awful, it's hard to imagine them straying from their commitment to telling the truth. "You are really just seeing the result of two people who are pretty much just having the creative times of their lives just working together," El-P has said. The pair encourage one another to react with passion and honesty, which is how they can be serious and take themselves so lightly all at once. Once asked about their friendship, Mike said: "Everything just feels right, and I don't question that feeling." As listeners, it's our luck that they trust in each other and would rather question us. It's for that reason that I'm a fan. These guys inspire me consistently to speak my truth and hold my own for myself, even in the day-to-day. What they are doing together as group is something not just to be noticed, but absorbed.