9 Facts Lifetime's Aaliyah Movie Actually Got Right
Fact-checking Aaliyah: the Princess of R&B.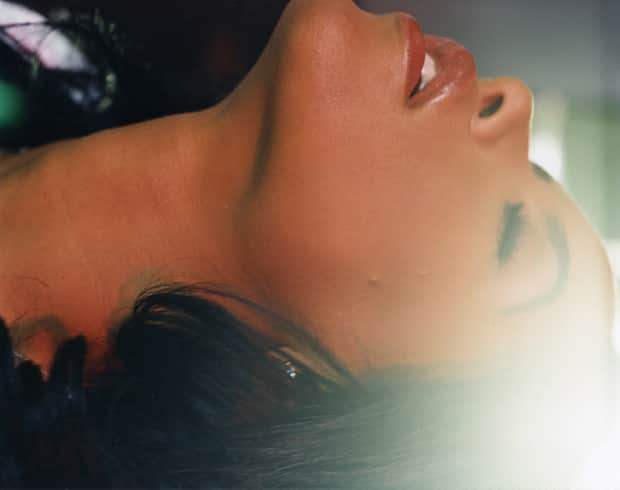 Lifetime's Aaliyah: The Princess of R&B biopic, which airs this Saturday at 8 p.m. EST, is based closely on the life of R&B icon Aaliyah as described in Christopher Farley's 2001 biography Aaliyah: More Than a Women. The nearly 90-minute made-for-tv movie works in a considerable amount of factoids, important biographical tidbits, and iconic moments—so many, in fact, that the occasional line sounds lifted straight from Aaliyah's Wikipedia page. FADER received a screener of the biopic earlier this week, and after a few viewings we've rounded up some of what they got right, as well as what could have used a bit more finessing.
She started young.
The film opens with a 10-year-old Aaliyah singing "My Funny Valentine" on the pioneering TV talent competition show Star Search in a frilly white dress—exactly as she did in 1989 (below)—while her parents watch from the side of the stage and her grandmother and brother watch from the sofa at home. Shortly thereafter, she joins Gladys Knight—her uncle Barry Hankerson's (more on him later) then-wife—during the latter's residency at Las Vegas venue Bally's.
Her career was a family affair.
In the movie, Aaliyah spends a lot of time with her family. Her mother Diane Haughton was a singer herself, and together with Aaliyah's father and her uncle, they acted as her managers. Later, she introduces Timbaland and Missy Elliiott to her brother Rashad, referring to him as her "creative consultant." The two were extremely close in real life: In 2000, she brought him with her as she accepted the Best Female Video award (for "Try Again") at that year's MTV Video Awards. After thanking her label and production crew, she turned to thank him. "I love you," she said. "You're my everything."
"Uncle Barry" was responsible for her first record deal.

Early on, Aaliyah's uncle Barry Hankerson acted as Aaliyah's manager, signing her to Blackground Music when she was just a teenager. In the film, he picks her up from school to break the news, and without missing a beat she turns towards her peers and and yells, "I HAVE A RECORD DEAL!" She was 12 years old at the time. Barry was instrumental in introducing Aaliyah to another of his clients, R. Kelly—for better (Kelly wrote and produced nearly every song on Age Ain't Nothing But A Number) and worse (more on this later). Along with several of Aaliyah's family members, he was also vocal in attempting to halt the production of this very biopic you're currently reading about.
She had a "Glam Squad."

After an awkward meeting with a stylist from Jive who wants to dress her in shimmery diva gowns, movie-version Aaliyah meets with a younger, hipper stylist named Derek Lee (Dewshane Williams), who introduces himself as "a straight guy from the East Village" and promises to dress her like a hot girl from around the way—and it was a positive relationship from there on out.
"Derek is so dope," Aaliyah explained in an 2001 MTV Diary segment where she gushes about her "Glam Squad." "He can just find something that you've never heard of, and it'll just be the illest. He's got a sick sense of style, but he wants to please me and put me in something I want."
Makeup artist Eric Ferrell (Andy McQueen) and hair stylist Eric Foreman (curiously not represented in the biopic, despite being one of the nine people who perished in the tragic plane crash that took Aaliyah's life) rounded out the team. Ferrell once told FADER that they would fill in as emotional support on trips when Aaliyah's family couldn't be there. "She still felt at home having us there," he said.
She was a good student.

Aaliyah attended Detroit's prestigious High School of Fine and Performing Arts, where she allegedly maintained a perfect 4.0 grade point average. In the movie, her brother Rashad teases: "And hey, if things don't work out you'll make my life easier by being a normal teenager again. And who knows, you might even get a B or C someday."
She performed at the Oscars—and made history doing so.
In 1997 at the 70th Annual Academy Awards, Aaliyah sang "Journey to the Past," off the Anastasia soundtrack. It lost to Celine Dion's powerhouse Titanic contribution "My Heart Will Go On," but Aaliyah nonetheless earned the honor of the youngest artist to perform at the Oscars up until that point.
The "Rock The Boat" video was her last creative endeavor.
Late in the film, in a business meeting Aaliyah is told that her "Rock The Boat" video is a go, with Hype Williams directing and "[her] girl" Fatima Robinson will do choreography—accurate on all accounts. She's also told in that meeting that her usual makeup artist Eric Ferrell was booked with another gig, but Christopher Maldonado would be joining her. Also, sadly, true; Maldonado was with Aaliyah on that fatal flight.
She had a blossoming relationship with Damon Dash.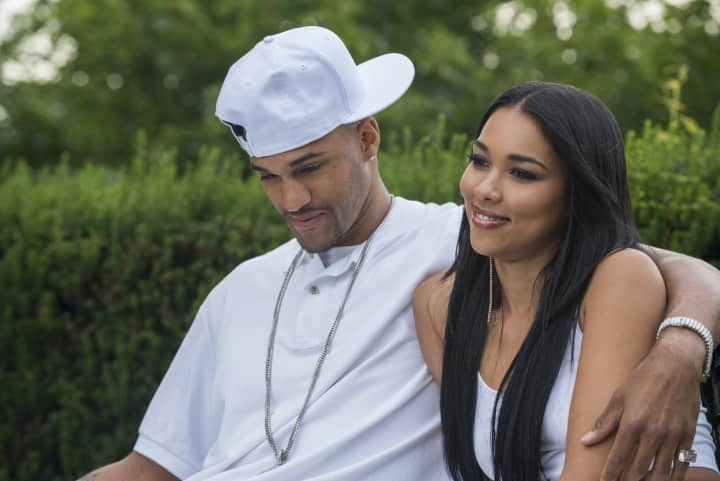 The movie's final act depicts Aaliyah's burgeoning romance with Roc-a-Fella co-CEO Damon Dash. The two meet at a party in the Hamptons (real-life accounts have suggested they were first introduced through his accountant) and things quickly escalate–we see them frolicking through New York, cuddling up and doing crosswords, as well as a vaguely drawn scene in a sushi restaurant where Aaliyah's mother seemingly gives her approval of the relationship. In an interview with Billboard about their relationship, Dash described the star as intelligent and kindhearted. "It was like something was going down in history every time I was with her. Every time I was around her I felt it was the place to be," he said. "Our time together meant so much that when we got more time, we felt that [engagement] would be next. She was one of the best people I ever met. Even with the pain I felt, I would do it all over."
Earlier this week, I spoke with Anthony Grant, the actor who played Dash in the film; he told me that he spent time going through photographs to study the couple's body language. as well as reading the many interviews Dash has given regarding their relationship. He believed that, first and foremost, he could tap into the love and adoration Dash felt for Aaliyah. He was also hopeful that the movie will inspire young women, in particular, to take control of their lives and follow their dreams the way Aaliyah did. When asked if he would have had second thoughts had he been cast in the role of R. Kelly instead, he asked, "Can I use my 'Pass Card' on this one?"
She had a relationship With R. Kelly—but the film doesn't tell the whole story.
Aaliyah's relationship with R. Kelly began innocently. Here's how the movie portrays it: her uncle Barry convinces Kelly to listen to his niece's music; wowed by what he hears, Kelly agrees to work with Aaliyah, and quickly develops a close relationship with her. The relationship quickly takes a romantic turn, and the lovers get married—even though Aaliyah, at the time, is 15 years old. Her parents find out and force Kelly to seek an annulment, and it takes Aaliyah some time to get over the dissolution of the relationship.

Chicago Sun-Times reporter Jim DeRogatis, who covered R. Kelly's 2008 child pornography trial closely, was very critical of the movie's portrayal of Aaliyah and R. Kelly's relationship. "The version of events with Kelly at the center of the film is deeply offensive not only as a hoary 'Frustrated lovers'/Romeo Juliet cliché, but as a flagrant white washing of criminal sexual abuse," he wrote.