Meet Stacey Nishimoto, The Proprietor Of Instagram's Most Magical Storefront
Everyone's favorite online seller opens up about her brand new brick-and-mortar.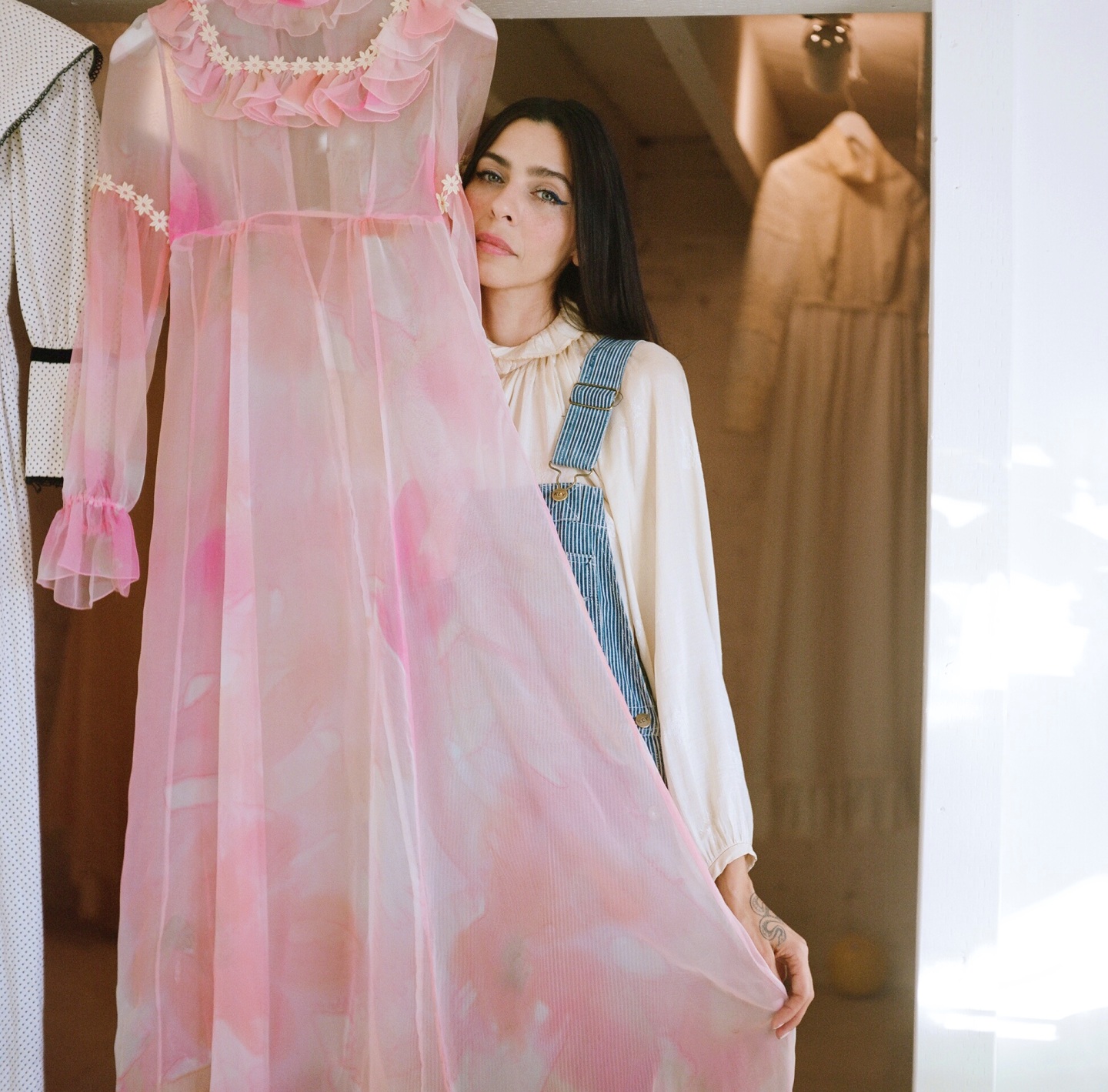 It's hard to remember exactly when I fell for Stacey Nishimoto's aesthetic universe (and her unbelievably adorable son, Gus), but I do know it was love at first sight. For anyone who finds style inspiration from Picnic At Hanging Rock and '70s horror films, rather than the contemporary runways, Nishimoto's online storefront, The Corner Store, is an utter revelation. Frothy gowns, lace ruffs, bonnets, and petticoats populate Nishimoto's stylized world, infusing it with fantasy and possibility. For Nishimoto's devoted Instagram following, the news that she was opening a brick-and-mortar store in Los Angeles was welcome news, an appropriate next step. Ahead of opening her mecca for revival fetishism on December 10, Stacey Nishimoto connected with The FADER over the phone to explain her influences, the challenges of running a business as a single mother, and what The Corner Store has brought to her life.
Starting December 10, The Corner Store will be open seven days a week, 11am-6pm. 1317 Palmetto St., Los Angeles, CA 90013.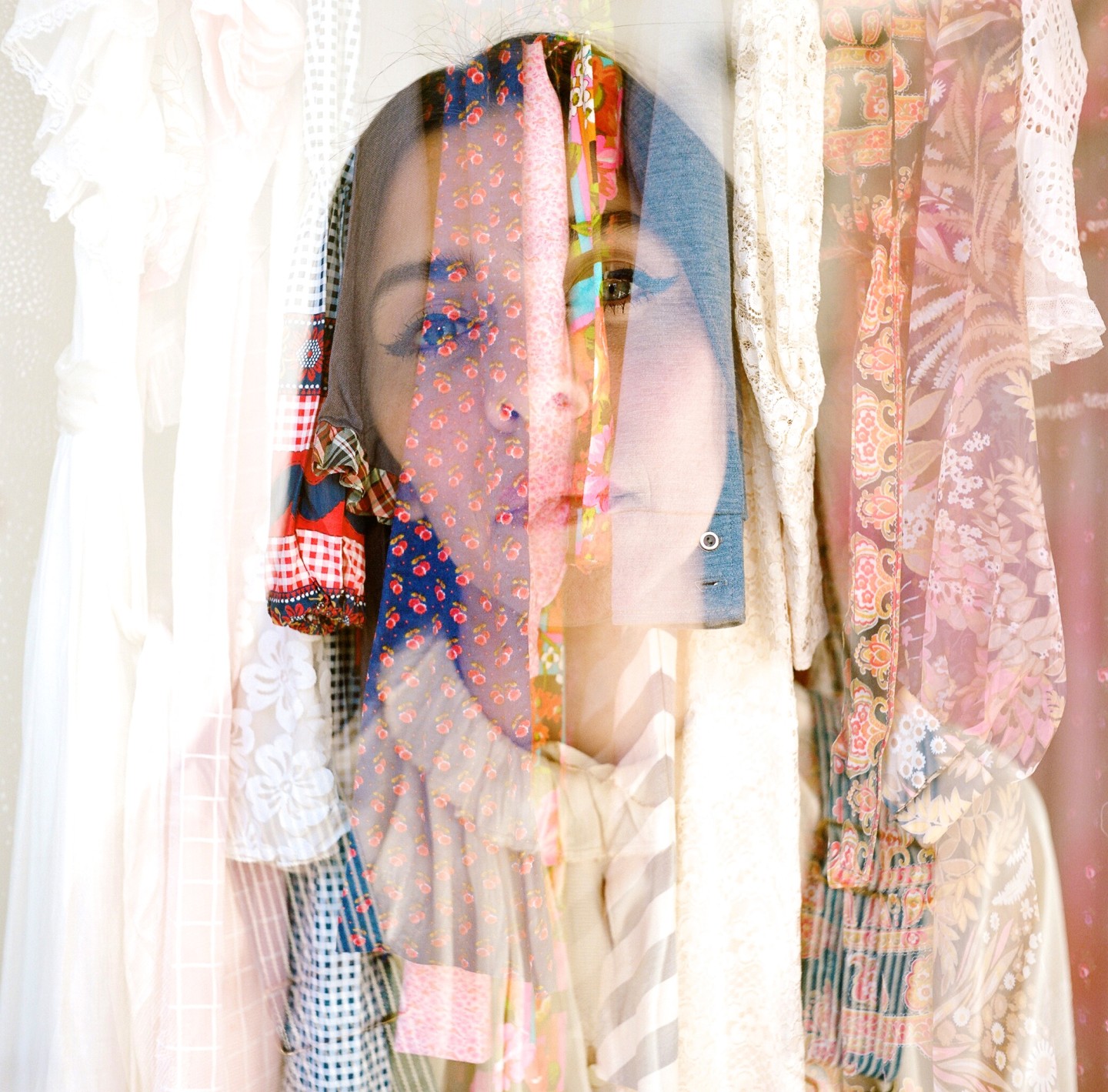 So can you tell me just a little bit about your background? How did you get into styling?
I'm from San Francisco. I was originally doing makeup for Chanel at Barney's and Nieman's, and my best friend at the time was Sophia Amoruso and she started a company called Nasty Gal. It went from eBay to a proper web store, and she asked me to style it and do the makeup, so it was my first fashion gig. The site kind of snowballed overnight and I started working full time for her, and moved to L.A. and starting doing editorials for the first time, just for random magazines.
And how did that evolve into your Instagram shop?
Well at the time I had just had my son and I needed extra money for preschool, because it was so expensive and I'm a single parent. I love vintage, I've loved vintage since I was a teen. and I started to sell some of my collection off to make ends meet just so I could keep him in school. I would sell my things at local places, like Painted Bird and Squaresville and then I decided to try selling it on Instagram because I felt like it would make more money that way. So I gave it a try; I tried selling vintage and fashion books, and it actually did really well.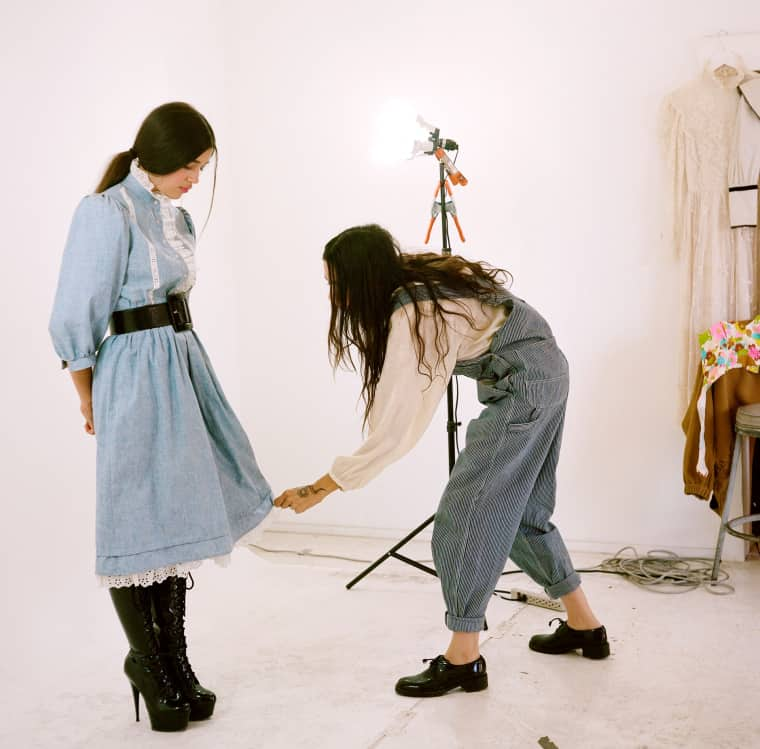 How did the decision to set up a proper, brick-and-mortar shop come about?
Actually, a friend of mine has a denim company in L.A. and a space in the Arts District, and he offered it to me for free rent for the first like, 3 months. Otherwise I would not have been able to have a space to dump all my mixed stock in, and he kind of became my business partner, I would say. We have a dual set-up where whatever sells in the store, I give him a percentage. And I keep online sales. So it's a cute little space in the Arts District, and it's perfect for this store, and it's going to be so much fun to have a place where customers can come in and meet me and ask questions and try things on, and see things for themselves. And it's great to not have to work in my home, to have a space to go and create and shoot every week.
How did the aesthetic of The Corner Store evolve?
Nasty Gal laid off a large amount of their first hires, and I was one of them, so I started freelancing like two years ago. I started taking The Corner Store really seriously, and I freelanced and did a lot of jobs like lookbooks for Forever21 and stuff like that. I realized freelancing that I really love creating a fantasy world and a fantasy girl, and wanted to brand my ideal girl thats always been in my own head, and I felt like there wasn't that kind of girl being marketed to.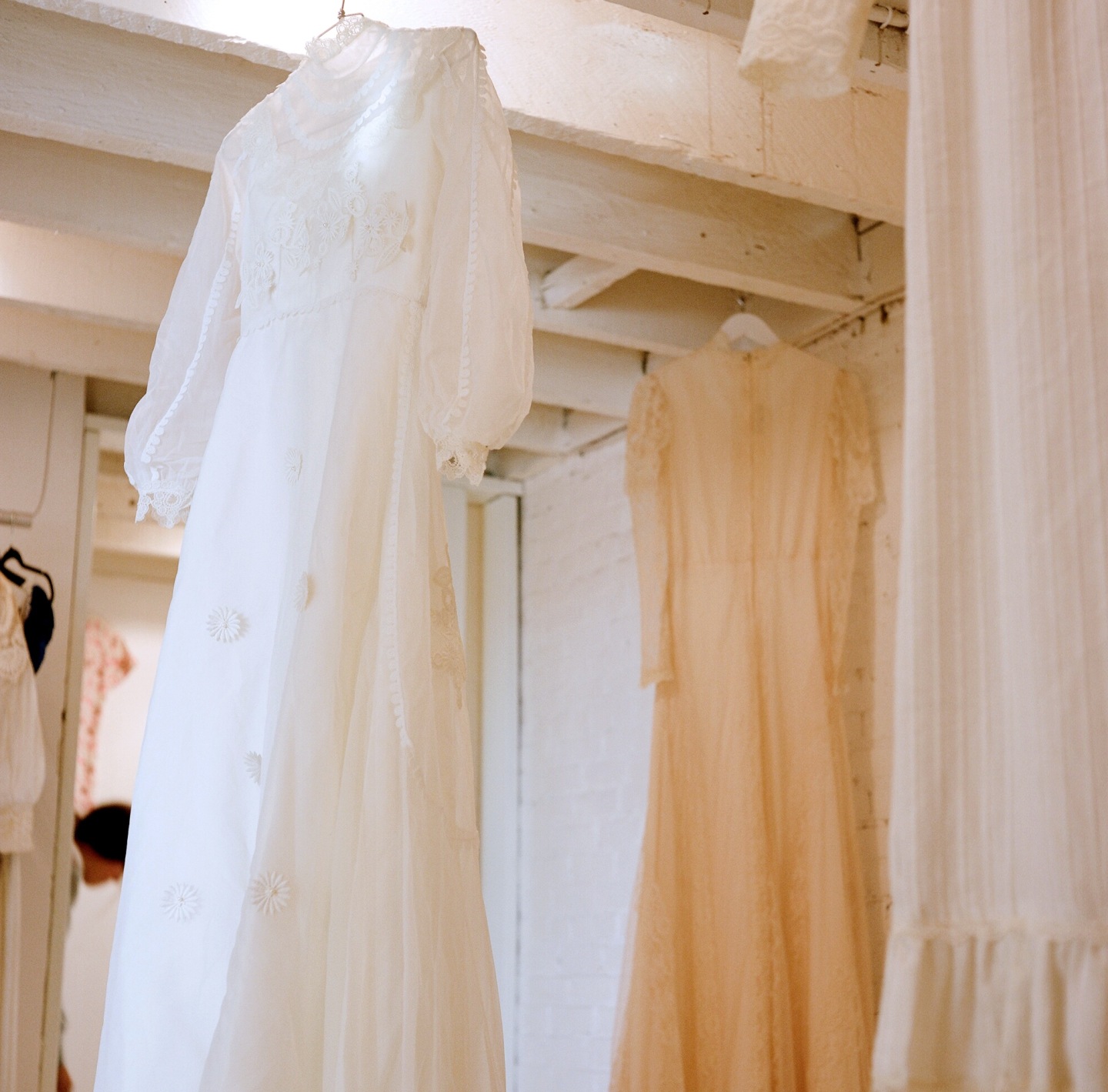 Where did your interest in vintage stem from?
When I was a teenager I was infatuated with high fashion and I didn't have a dime, so I would go thrifting and vintage shopping to recreate what I saw on the runway, and the appreciation just kind of grew off of that. I love things with a history—I think there's just so much richness and wealth, to live in a building that has a past or wear clothing that has a past. I realized through vintage you can actually be ahead of what's on the runway because runway pieces are so often inspired by vintage.
I've noticed you have a very close relationship with your customers, I feel like there's a really solid understanding and kinship there, have you been actively fostering that, or did that come about by chance?
That happened accidentally because people would email me [to buy clothing], and I would just talk to them like they were my sister or my friend, like 'Hi angel, how are you? The dress is a size small,' and they're like "Oh ok, I'll take it.' And most of the time wouldn't even ask for measurements or anything like that; the loyalty is severe, the same customers buy all the time. And that base is growing. Maybe it's one on one contact with the owner and the creator, and the shop having this strong creative direction. I think it's so nice maybe to have direct contact with them. I love explaining the fabric, and what era it's from. I love selling things, I think that comes from when I had to sell cosmetics.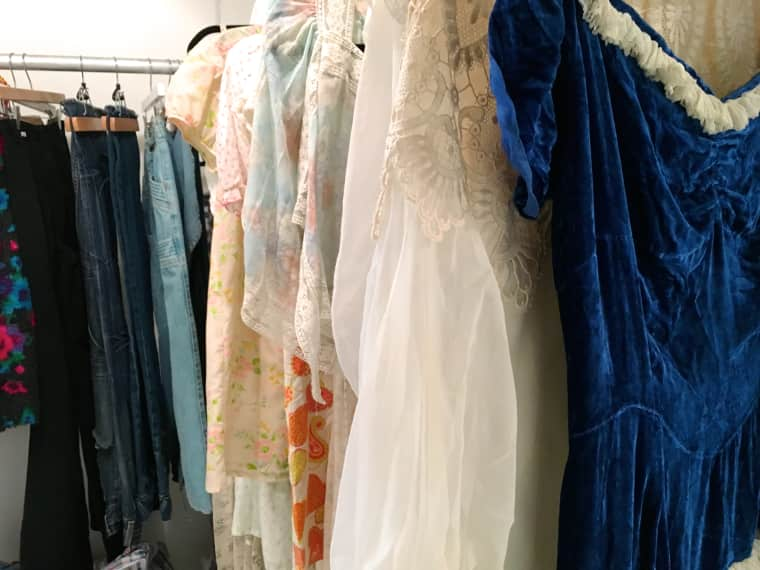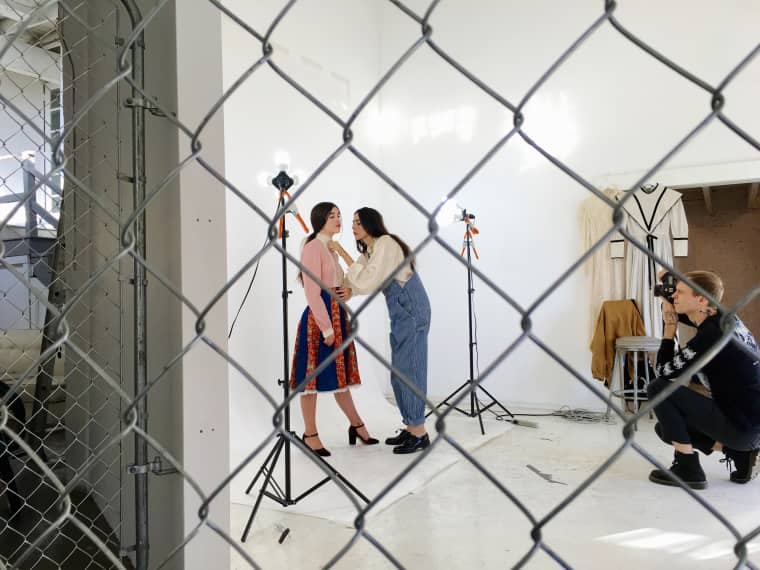 What do you think the biggest challenge has been of growing your own business so quickly?
I think the biggest challenge has been doing everything by myself in the beginning, and that was shooting myself, buying, styling, makeup, posting, shipping, and emails—that was super overwhelming. I work at home and [my son] Gus is running around, it was really really hard, and I think that having to wear all those hats was difficult. It wasn't until recently when my boyfriend took over the shooting; he does the art direction now. So I definitely have a creative partner now and that's great. But it was so difficult doing everything as a single parent.
And what advice would you give to someone who's starting their own venture, or tempted to?
I think to do the very best with what you have around you. There were times when I'd only have a handful of vintage dresses to sell, I would try to style them and do the craziest, most awkward poses and try to create this magical lighting out of Ikea lamps and trying to produce the best imagery and vision I can out of nothing. And I think if you have to push yourself to be creative and resourceful, you end up with such a polished product and it only gets better.