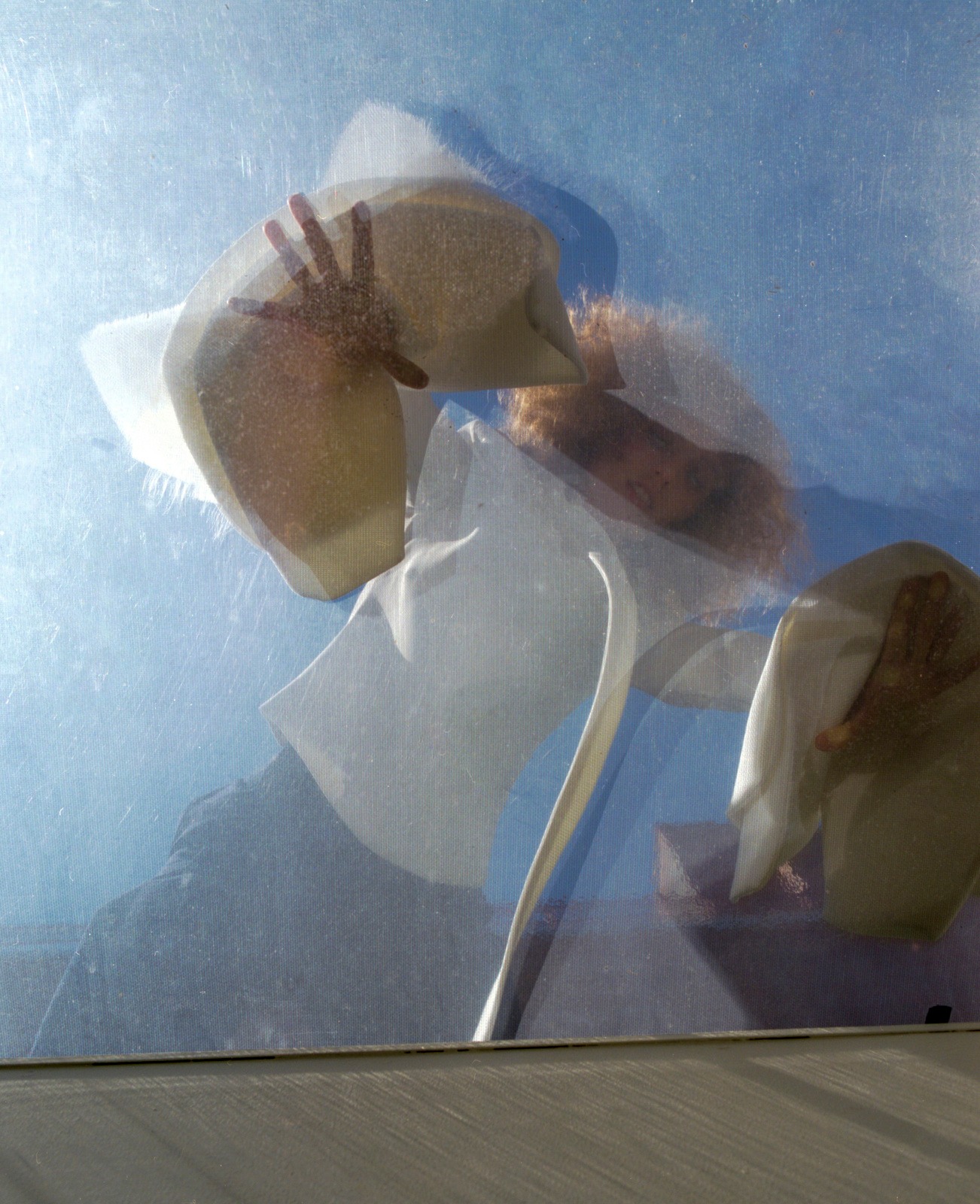 June Canedo's photographs are always unexpected. Her images push the frame, twist the body, or stretch the garment to create something new. Growing up in Brazil before moving to South Carolina at the age of 11, Canedo studied painting in college and only began to take photography seriously once she graduated, teaching herself the ropes on a Mamiya RZ67. To find out about her journey toward her craft, we met at her Brooklyn studio in early December. Dressed in cozy separates by Gauntlett Cheng — a line designed by Canedo's studio-mates — she told The FADER about her biggest inspirations, what kind of music she edits to, and why her most important work is yet to come.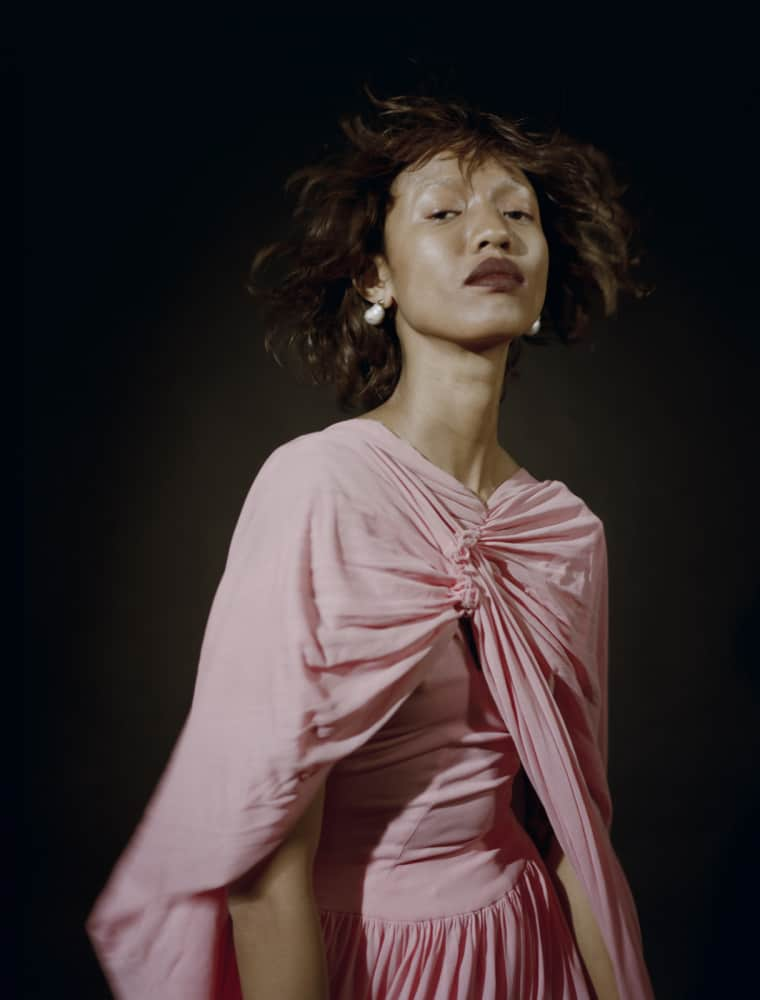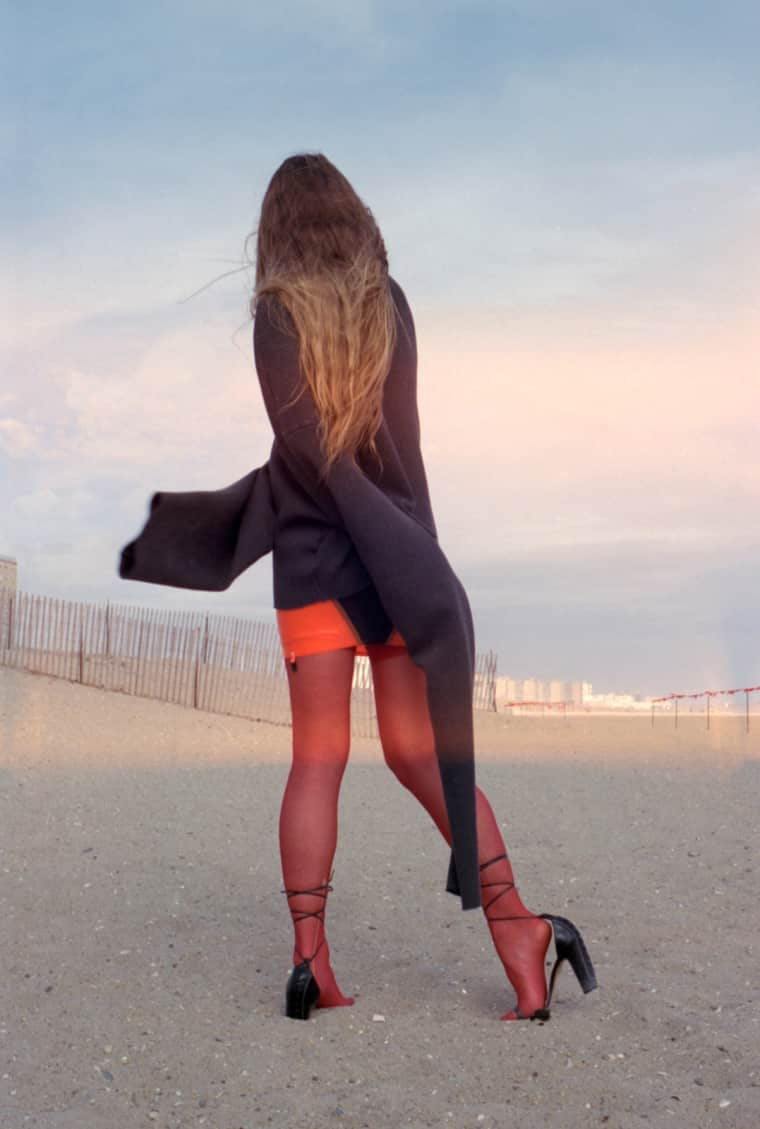 What was the first moment you realized you wanted to pursue photography?
I remember demanding point-and-shoot cameras from my parents for Christmas back in the day, but I moved to New York four years ago and that's when I decided to take it seriously. I lived in Australia before that and started a visual magazine there. That only lasted for a year because it was just way too much work and I wasn't wanting to manage other people; I wanted to make work myself. I lived in Berlin and photographed there right after I graduated college. Then when I moved to New York, I decided that it was going to be the thing that I was going to do because it was the thing that kept my interest. Everything else I kind of got bored with. I just noticed that throughout all of the experimenting, photography's the one thing that stuck.
What is your go-to camera to shoot with?
A RZ-67 Mamiya, that's the camera that I taught myself on. And it's got like two settings. I had never used a light meter so I messed up a lot of film, but once I got it, I just know exactly what the light is supposed to be. It was the hardest one to learn on, but now I can handle pretty much anything, except for digital.
How do you differ from other photographers in the industry?
I photograph a lot of fashion, and you don't see many Latinas photographing fashion, you know? And historically, Brazilian female photographers are scarce. I want to ensure that there's a better, bigger, and safer place for minorities through photography, through taking photos and celebrating minorities. I think that is probably what you could see throughout my work.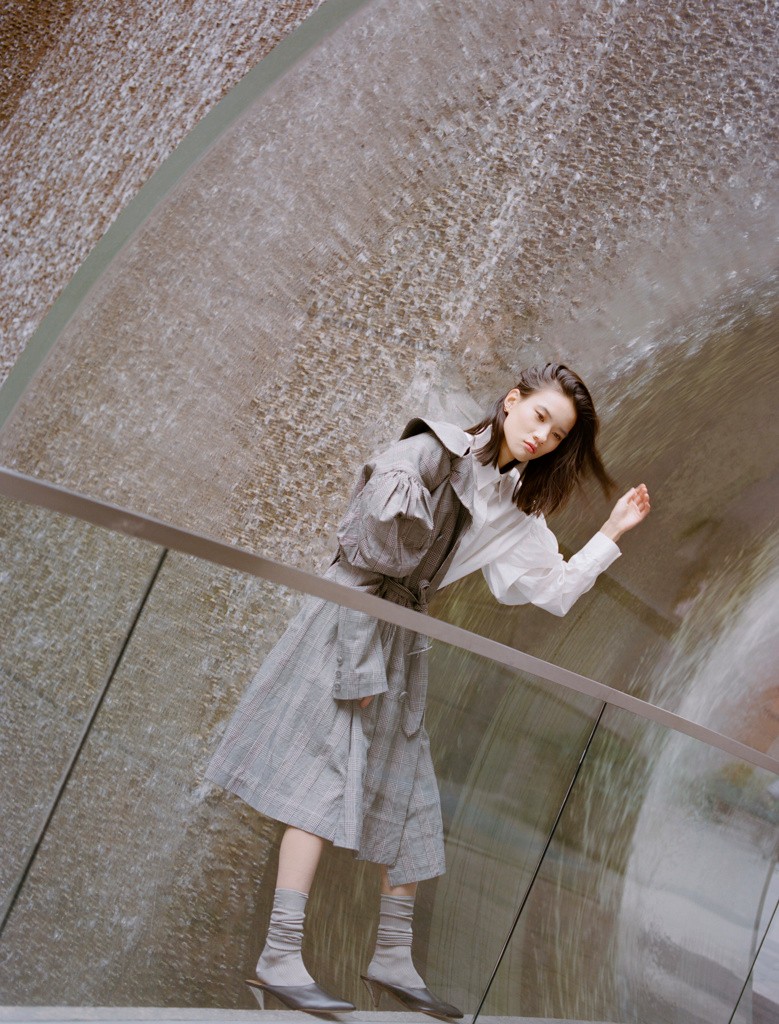 How did you financially support yourself starting out?
I don't come from money so I've had to have mad jobs this whole time. It was just straight hustle, 7 days a week, there was no stopping. I've financed a lot of my personal projects, and now I'm getting to a position where I am finally making money from my work — enough to live. But it took a long time, you know? It took a lot of work, for sure.
When it comes to capturing an image, who would you say your biggest inspiration is?
I think who switched me onto photography was Rineke Dijkstra. That was like the first time that I saw a photo that just like did something to me. I refer back to her work all the time. She's probably the main one. It's just so genuine. And she takes so long to produce a project and it's so considered. And I really admire that.
What do you want people to take away from your work?
I just hope that they can relate to it in a positive way. I want to be able to make sure that my work speaks to people who don't necessarily get to see other people like themselves photographed or highlighted or celebrated. I just want people to feel better about themselves whenever they look at my photos, not like they need to go work on themselves. You know growing up, getting the Victoria's Secret catalogue and being like, oh my god, I've got so much work to do. Most people aren't Victoria's Secret models, so I hope that my work adds to a bigger, more accepting space.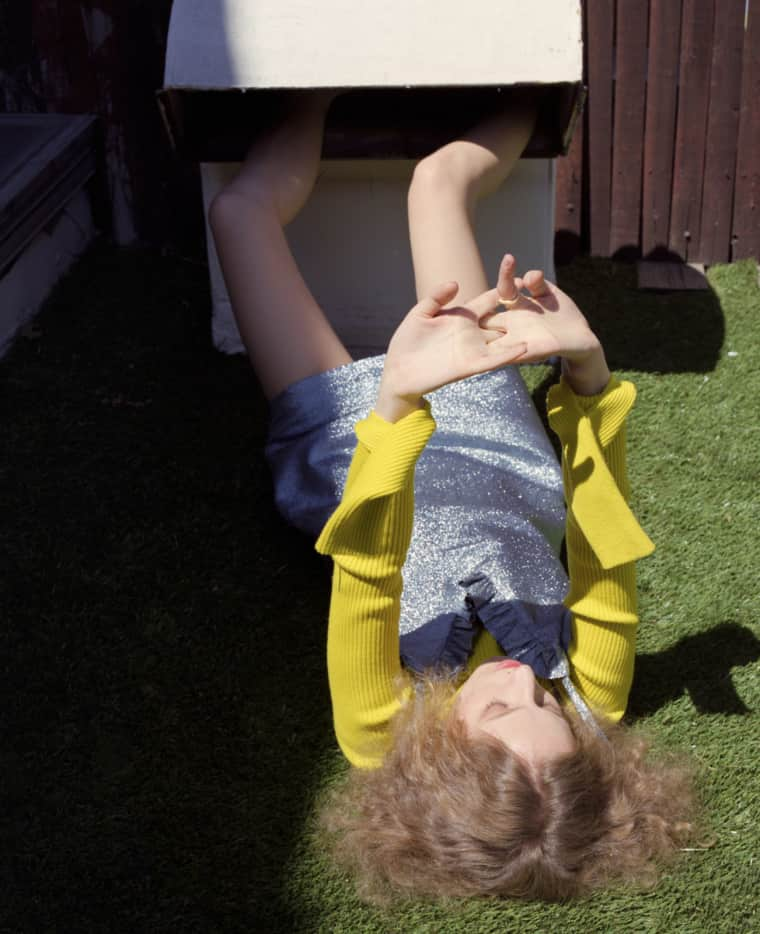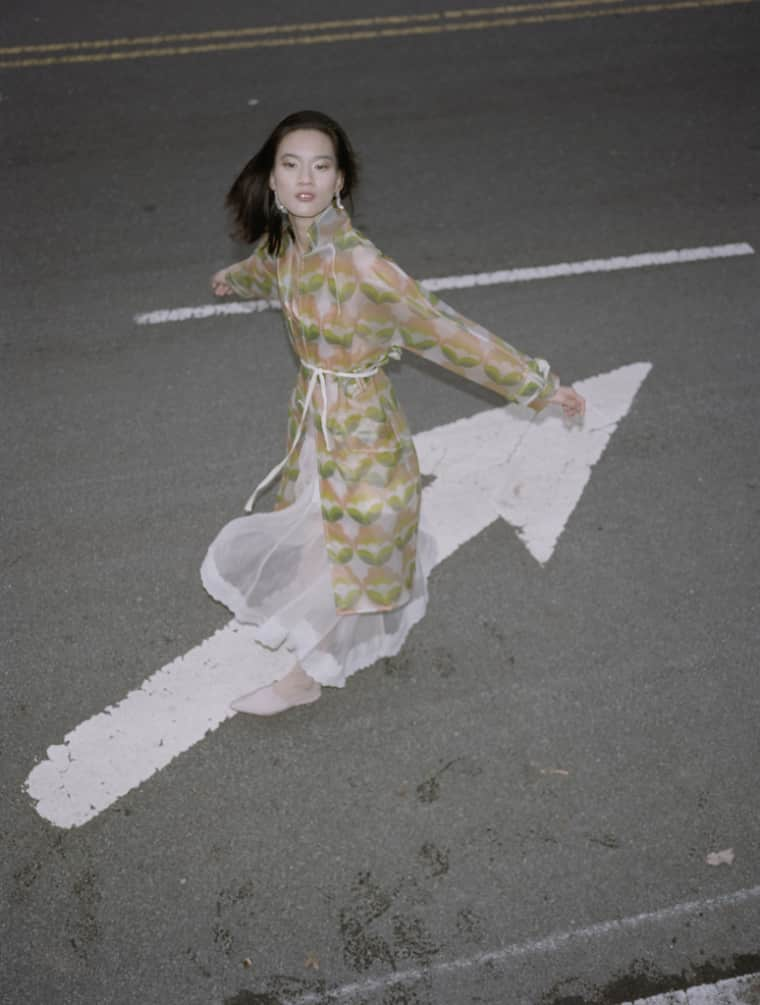 What do you think is your most important project to date and why?
I don't think I've made my most important work yet, but shoutout to the first real project I did, which was on Brazilian girls and women. 'Cause you know when you talk about Brazilian girls, people usually think of like Gisele. So I spent two months traveling the coast of Brazil, photographing real women on the beach. Being Brazilian myself, I thought it was really important.
What part of Brazil did you grow up in?
Minas Gerais. It's between Sao Paulo and Rio but inland, so it has a lot of farmland.
How did your upbringing shape you?
I grew up in Brazil till I was 9 or 10 and then my parents moved us to Myrtle Beach, South Carolina, which is like the "Redneck Riviera," you know. My parents were full-blown immigrants, hardly spoke English. It was a really difficult place to grow up in because it's completely segregated and it's poor. I didn't realize the difference between the people I know now in New York and the way that I grew up. Like, I thought we were middle class. When I left South Carolina, I realized that we were just lower middle class, if that. The standards are way lower down there and so it was really hard. High school was so real — just the ruthlessness. But it definitely made me tough, you know, because I had to try and fit in someway, so I had to join the fucking cheerleading squad and shit and pretend.
But then I got my shit together and quit in the 11th grade. It's still so racist and crazy [back home]. Everybody surrounds themselves with people they've known since high school and that's it. It's not that there's something wrong with that, it's just that they don't ever leave, so they don't know what it's like outside of there, you know? They can't relate to the struggle of the rest of the world — it's scary.
What's up next for you?
Work! Just work. I'll probably head down to Brazil again in the fall. I'm starting a residency in Texas, for July and August, so I'm working with a ranch owner down there. I was just there last week talking about details, so I'm putting that together and working until then.
And finally, what do you listen to while you're editing?
Trap. Waylon Jennings sometimes when I'm missing home.