Who Is The Real Kali Uchis?
Kali Uchis fought hard to get where she is. In today's world, is that enough?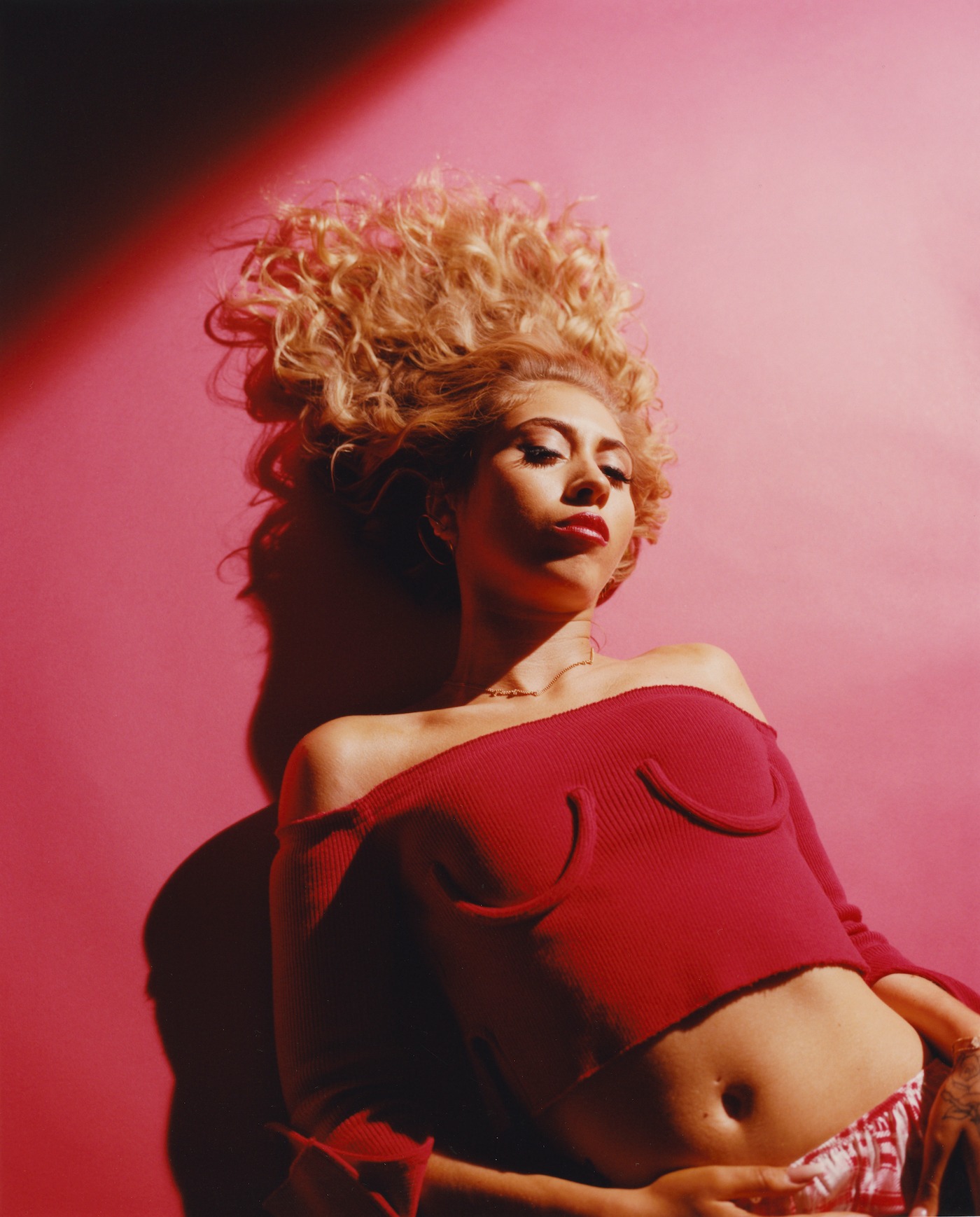 One night during the spring of 2011, the year she turned 17, Kali Uchis drove her old Subaru Forester into the parking lot of a 24-hour supermarket in a northern Virginia suburb just outside of Washington, DC. Alone, she pulled into a parking space close to the store, her SUV packed with everything she owned: clothes, shoes, notebook, blankets, a laptop, a USB mic, a small MIDI keyboard. After midnight, under the cover of darkness, she made sure the car doors were locked, checked that no one was watching, and put down the back seats. Then she lay down, hiding under the blankets so passersby wouldn't spot her, and went to sleep. She was still in high school.
Kali would be on the streets for months, sometimes crashing at a friend's place, but most of the time in that parking lot, lying in the back of her car, her whole life spilling out of the bags in her trunk. Blankets drawn over her head, she would try to block out the world and all its noise. She went to school during the day, but the nights were long. So she often stayed up late on her computer, or scribbling in her notebook.
Sometimes she got scared, once so bad she drove off, tried to find a different spot in a nearby neighborhood, close to a park. But that was worse. People kept walking by, and she started to get paranoid. Someone could try to break in, rob her, or worse, attack her. So she went back to the parking lot.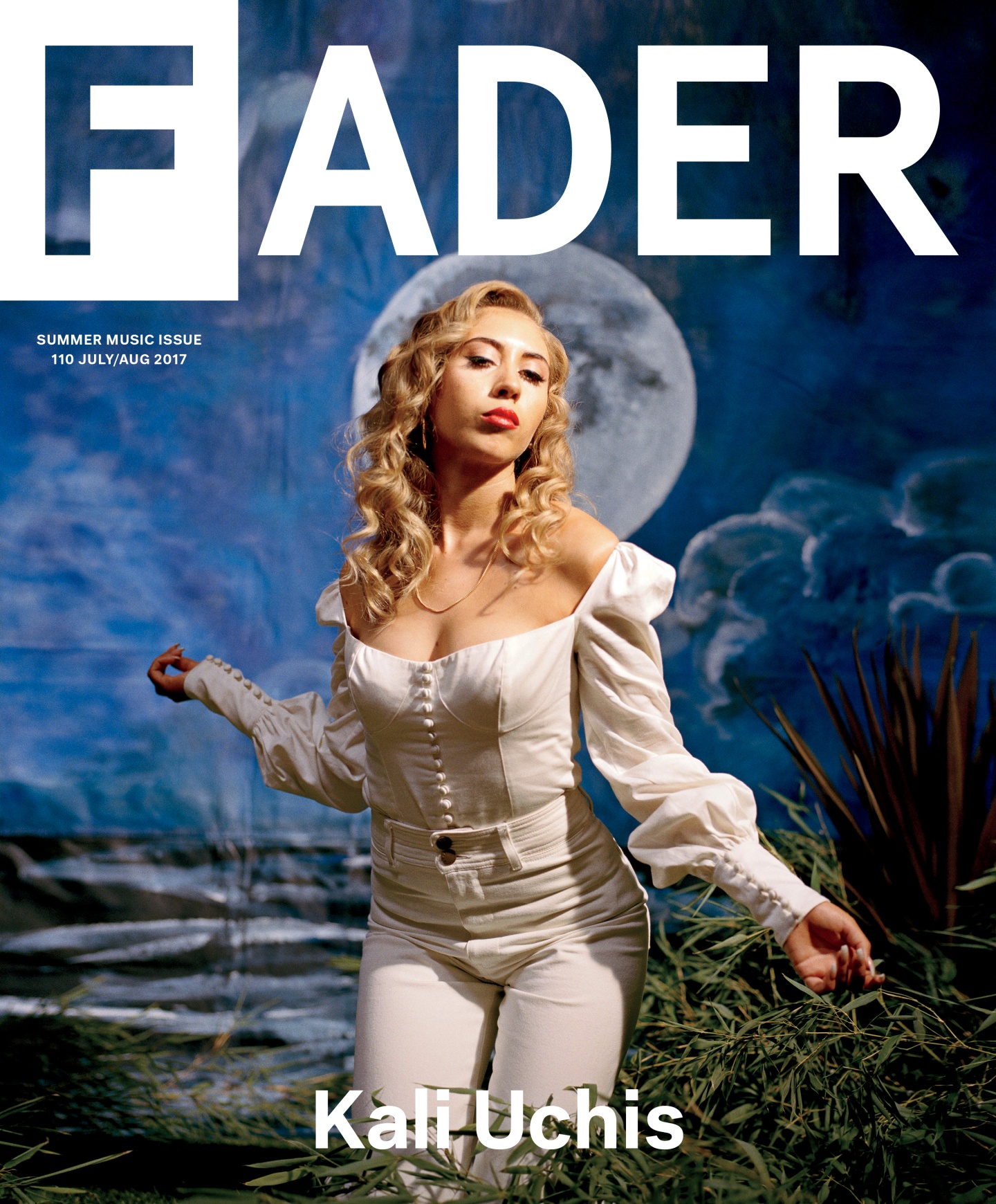 After she'd been living out there for several weeks, she started writing poetry. Song lyrics. In that parking lot, while her high school classmates slept in their own beds, she wrote a song, produced it herself. A 17-year-old girl in the backseat of her Subaru Forester, the moonlight reflecting off the windshield, tapping out the melody softly on her keyboard, singing, "If you loved me, you wouldn't put me through this."
Years later, she would take that demo to the iconic retro-soul band the Dap-Kings, and the resulting collaboration would be featured on her debut full-length album. It's a slow, soulful track reminiscent of Frank-era Amy Winehouse, with a jazz groove and just a hint of bossa nova.
She called it "Killer."
Wherever she finds herself, this is Kali Uchis. She is alone and sad and sometimes scared. But also, she is strong-willed and ambitious and talented as fuck. She's the girl who skipped most of her high school classes so she could spend hours at the photo lab, who worked at Whole Foods, who played the alto sax, who made ends meet by selling clothes.

Here is a young woman just beginning her life. Here is a girl on her own, on the streets. And what else does she do but write a song, hammering out the melody on her keyboard, singing the lyrics to herself until they're perfect. Kali in that car, in the dark. The moonlight and the silence and the endless night.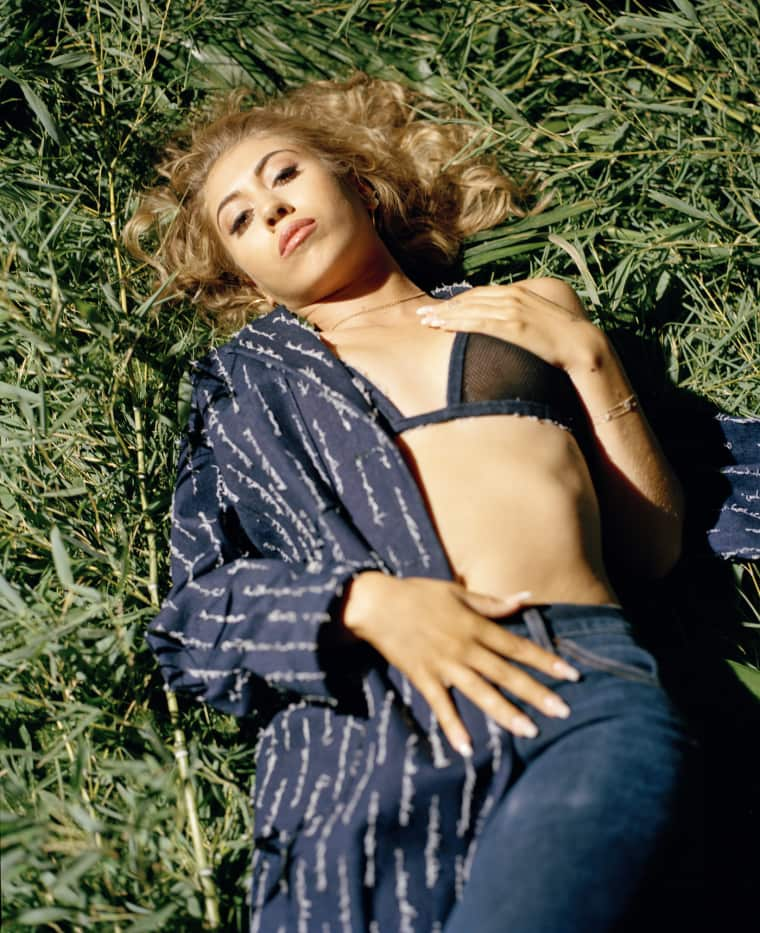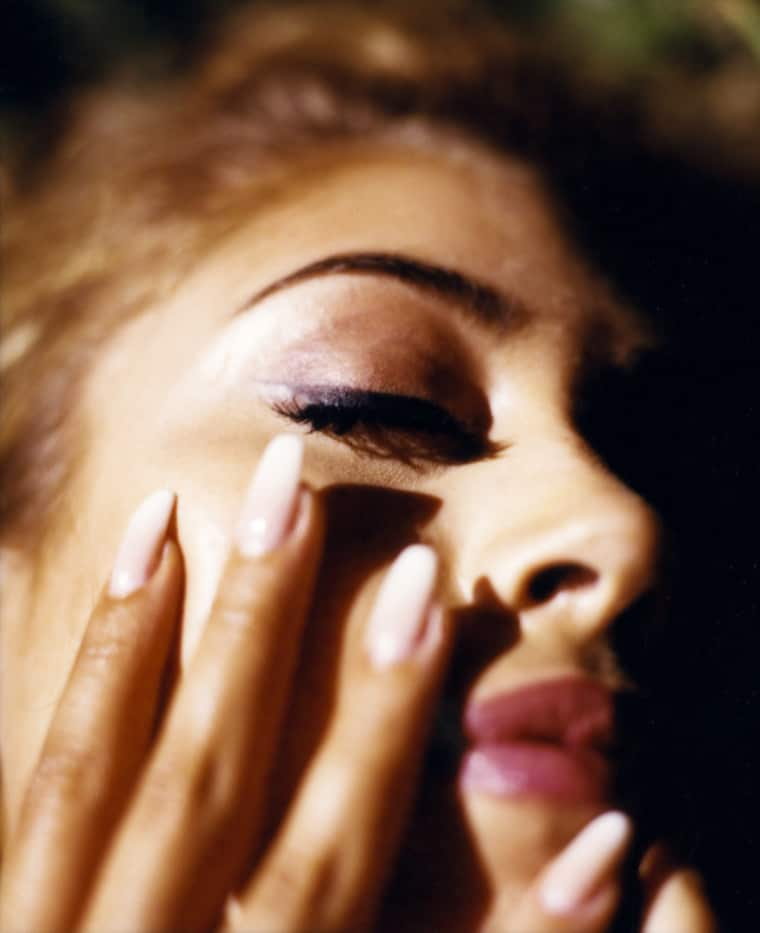 The day before her long-awaited debut album's first single is scheduled to drop, I meet Kali Uchis at her apartment building in L.A.'s Inglewood neighborhood. The place is comfortable, modern, sunny. There's incense burning, an array of plants in almost every corner, an orchid in full bloom on the bar. There's a vintage turntable, a collection of vinyl records — Astrud Gilberto, Sammy Hagar, among others.
Waiting in the living room is Claire Bogle, a music promoter-turned-manager who is part of Kali's team. We chat for a while until Kali emerges.
"Hi!" Kali says, giving me hug. She is wearing a low-cut cami and jean shorts, her hair in a high ponytail, a darker blond than I expected.
Claire drives us to Pann's Restaurant and Coffee Shop, the diner from the infamous robbery scene in Pulp Fiction. We walk through the crowded dining room to a large booth in the back. It's iconic L.A., 1950s décor and a jukebox by the door. It reminds me of Kali. Or at least the Kali I was expecting, all pink hair and go-go boots and feather boas around her neck. The Kali sitting across from me is not the Kali from her "Loner" video. She's tan, wearing little makeup.
Before arriving in L.A., I listened to all her music, watched every single one of her videos, scrolled through all her social media accounts. It seemed, at least to me, that Kali had created a character. I expected her to show up and perform, to wear that persona like a costume. I wouldn't have been surprised if she'd had pigtails and sucked on a lollipop, carried a fake gun and aimed it at some dude's dick as we crossed the parking lot. But in Pann's diner, she seems mellow. No pigtails, no gun.
We order milkshakes. She has the vanilla and I the Oreo. Kali, I will learn, loves milkshakes, something we have in common. During our time together, we will have them with every meal. After the waiter leaves, I ask her how this upcoming album, which is due later this year, is different from her other projects. "I'm a visual artist," she tells me. "I like to conceptualize a project before I put it in motion. The last project was all pastels and blonde and pink, all dreamy and angelic. It was very baby. This one is more mature." She's not talking about the music, but about her cover designs, her videos. She's talking about her image. "I feel more in tune with myself," she says. "Like I've actually come into my own as a woman."
Musically, Kali is the real thing. She's immensely talented, there's no question. She writes all her own lyrics, controls most of the creative direction for every one of her projects, and seems to have a very specific vision for this upcoming album, which celebrates ideas like feminine power, homecoming, and finding yourself. But I'm mainly interested in something else. Before I leave Los Angeles in a few days, I intend to find it out: who is the real Kali?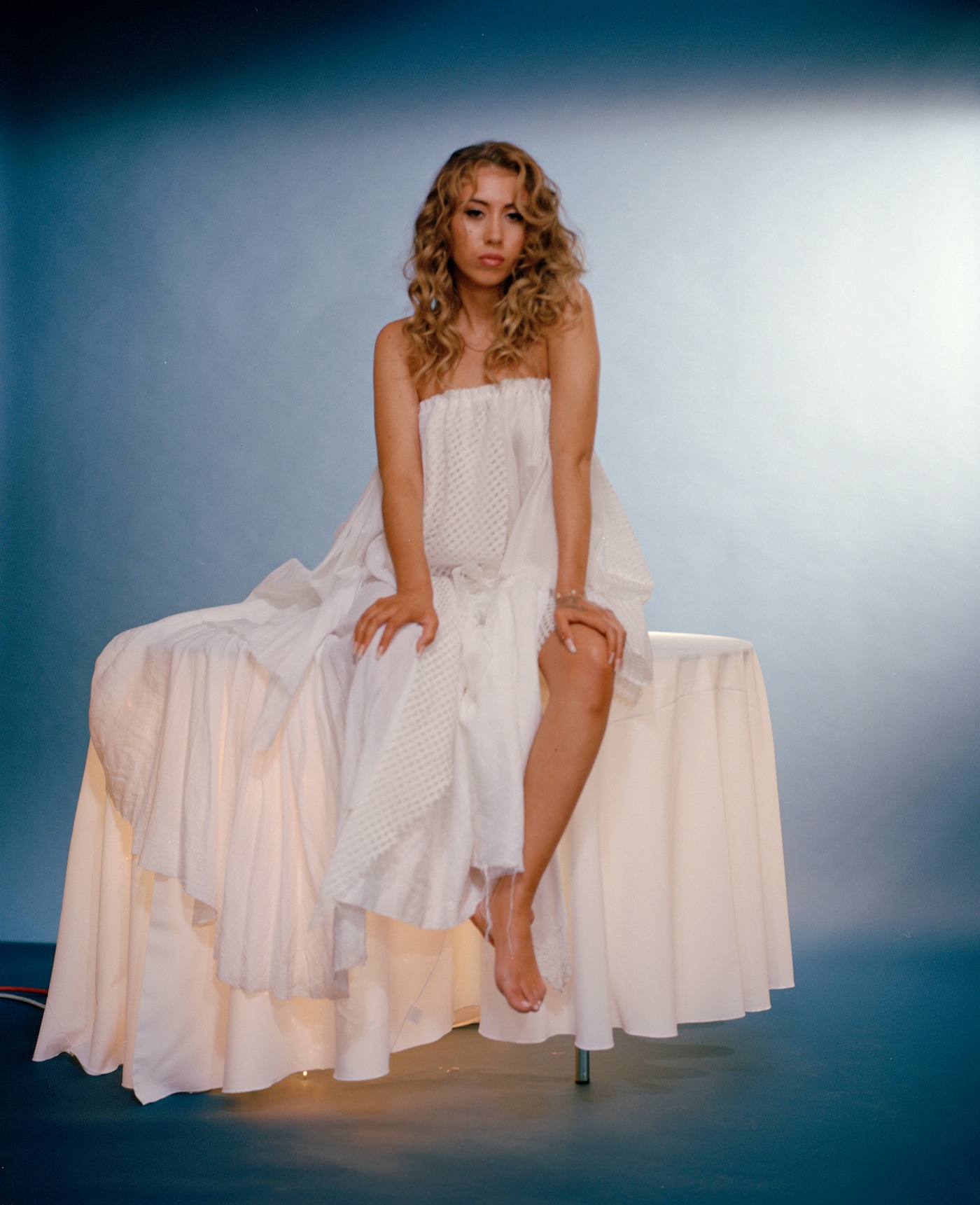 "There's so much misinformation out there about me," she says later, as we sit on a blanket on the shore of Del Rey Lagoon, a short walk from the beach. "I'm Colombian, you know what I mean? But I was born in Virginia. I'm Colombian-American. My father wanted me to have American citizenship, but he wanted to raise me in Colombia." There have been so many interviews that have gotten it wrong, she says. Some have said she was born in Pereira, Colombia, where her family hails from, others have said she's from Los Angeles. Everybody thinks they know her. Everybody has something to say. She wants to set the record straight. She lies back on the blanket, her gold-rimmed shades blocking the sun, and tells me her story.
Kali Uchis was born Karly Loaiza, just outside of Washington, DC (Kali Uchis, she says, is a nickname her father gave her). Her parents moved to the United States in the early '90s, fleeing the conflict in Colombia. "We were kind of run out, in a way," she explains. "There was too much going on in the country at the time, there was a lot of guerrilla warfare. There was violence." But her parents always intended to return to Pereira. "We went back and forth a lot, several times," she says, struggling to remember the precise timeline. She knows she started elementary school in Colombia, and moved back to the U.S. with her parents in third grade. The rest of her family still lives in Colombia today, and she goes back to visit often. Presently, she says, it feels more like home than the States.
Kali attended high school in northern Virginia. But she didn't like it. She often skipped classes to spend time at the photo lab, making experimental short films. She was rebellious by nature, but also artistic, and loved finding new ways to be creative. She wrote poetry and songs and music, but she didn't initially intend to sing — she was more interested in directing films than being in the spotlight.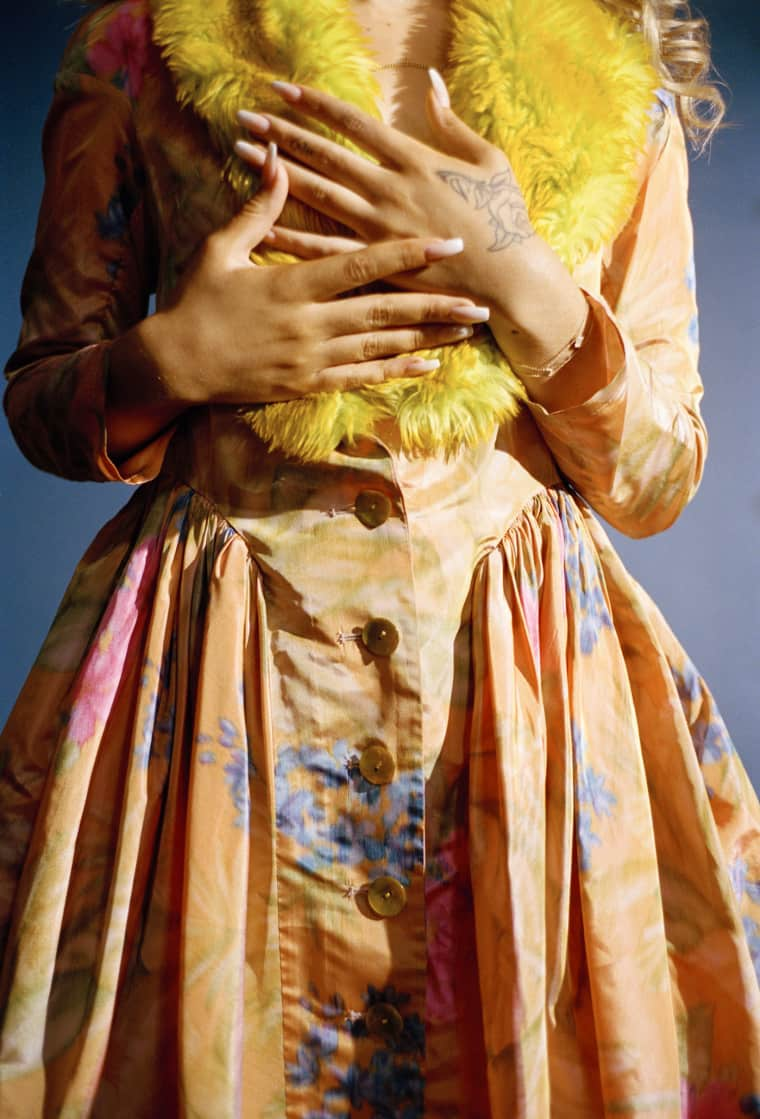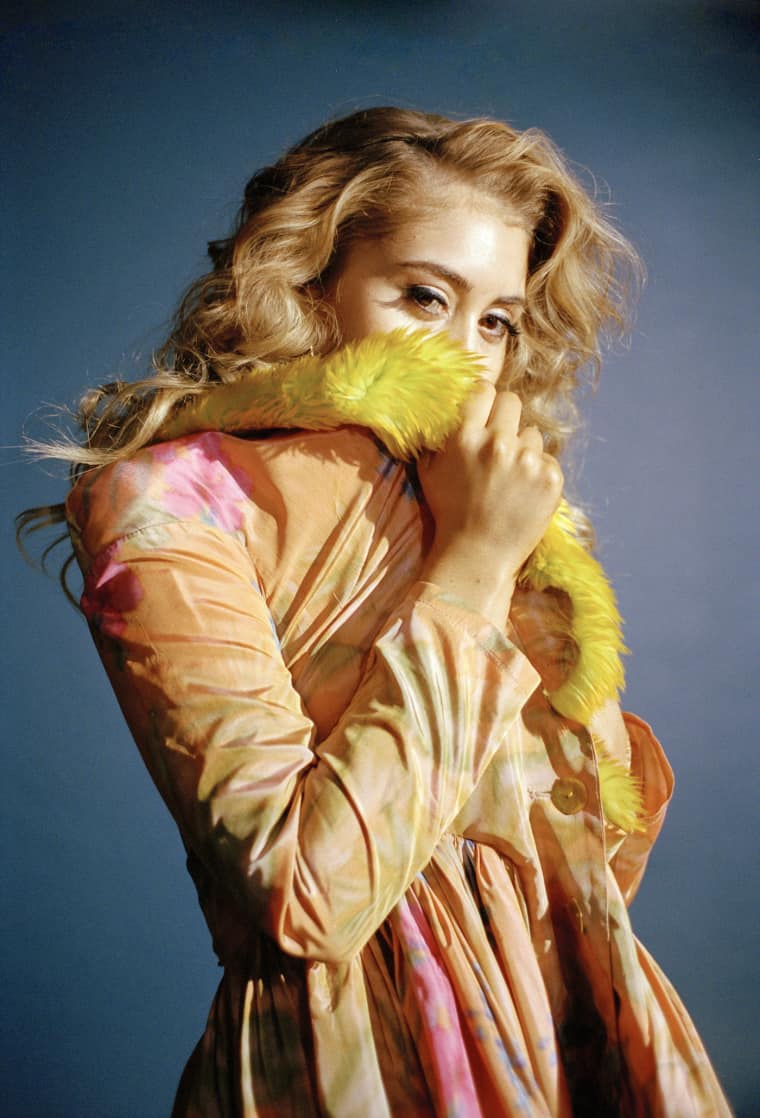 A lot of times I don't feel like I'm Kali Uchis. A lot of times I feel like I'm helping her. But we have the same purpose."
She had problems with authority, which led to trouble at home. She'd come and go whenever she wanted, often arguing with her father. One night, when she was 17, she arrived home past curfew, after her father had left for work, and found a note on her bed. "It said, 'Even though I love you, you continue to be disrespectful. You have to learn what it's like to really be on your own. When I get home, I don't want to see you. Go figure it out.'"
She was angry. There was such a lack of communication at home, and her parents didn't really understand who she was. They wanted her to go to college. But that's not what she wanted. No one in her family had ever been an artist, so they didn't understand. "The letter was like some 'I'm disowning you' type shit, some 'You're a shame to the family' type shit.'" So she took off. That's how she ended up in the streets, she says.
"My dad started calling me after like the second week," she says, "telling me to come home, that he was sorry, that he just didn't know what to do with me." But tucked up in that Subaru, Kali had realized that she did in fact have to learn to take care of herself. Hard work — that was something her father, a diligent businessman, had instilled in her. So she landed a string of odd jobs, working as a cashier, as a visual artist, selling clothes, making videos, all while going to school.
Still, she never told her father where she really was. He kept calling, asking her to come home. He didn't think she'd be out there for so long. Eventually, after some months, they made amends. "I realized how much it hurt my dad. When you're little, you think your parents are these strong, unbreakable people that know everything, and then you start to realize that they're just human, that they fuck up as much as we do, that they're going through their own shit."
She shows me her bicep, where she had her father's name tattooed. It's his passport signature, from when he came to America. "My father is my hero," she says. "No matter what, I'll always forgive him."
How does your family feel about your success now? I ask her. Are they supportive? She takes a deep breath, as if she's carefully considering what to say, but then tells me much more than I expected.
It was difficult for her parents to understand exactly what she was doing at first, but she says once they saw she was able to support herself, they were proud. Her success seemed to them like a blessing. But it wasn't the same for all her relatives. It was really hard for some of those older family members to understand what she was doing, how hard she was working, or how she was making money. "They're from a different age," she says. They wanted to know how she was able to travel and keep her own apartment. That she was an artist, that she was making music and supporting herself, was just too unbelievable.
"They were starting all kinds of rumors about me back home in Colombia, [saying] that I was a prostitute," Kali tells me. "They were saying shit like, 'Oh, no, she's not really a singer. She's like an escort or something.'"
This, she says, is exactly why she didn't want to be in the spotlight in the first place. "I was hurt, because the same people who started the rumor, when they see me to my face, it's all love. But I try not to take that shit personally. I get it. Sometimes families are like that, or people back home are like that. I would feel some type of way too, if I was still punching in at the grocery store, working crazy hours, all night, you know. We're blessed to be able to do what we love, to have a career that we love, you with writing, me singing, to have people that believe in us, that care about what we do."
What about when they saw that you were collaborating with Juanes? I ask, referring to "El Ratico," the Colombian superstar's Spanish-language hit about a brief love affair, on which Kali is a featured vocalist.
She throws her head back, laughing. "All of the sudden they're like, 'Mija, we're so proud of you! You know you've been our baby forever!'"
She's opened up about her family before, about how her grandmother was an exorcist, how she was part of a tribe of witches, and how she herself is spiritual. I bring up one of her early interviews for a story in this magazine, in which she mentioned that back home in Colombia, some of her friends and family are criminals and pedophiles. "I don't always feel connected to this body, or to my family," she says. "Just because someone is your family member doesn't mean they're a good person."
Suddenly, Kali's demeanor changes, her tone shifts. She's sad. She starts talking faster, in a monotone voice.
"I have an uncle who was jailed for [raping a child]. He's a pedophile. He's an evil person. I'm really sensitive to other people who have come from physical abuse or sexual abuse, because I come from that background. It's not just one uncle. I don't wanna talk about all my personal experiences with abuse, but myself and other people that have been close to me have experienced a lot."
She's quiet for a while, like she's thinking, then exhales. "It's something some people never recover from."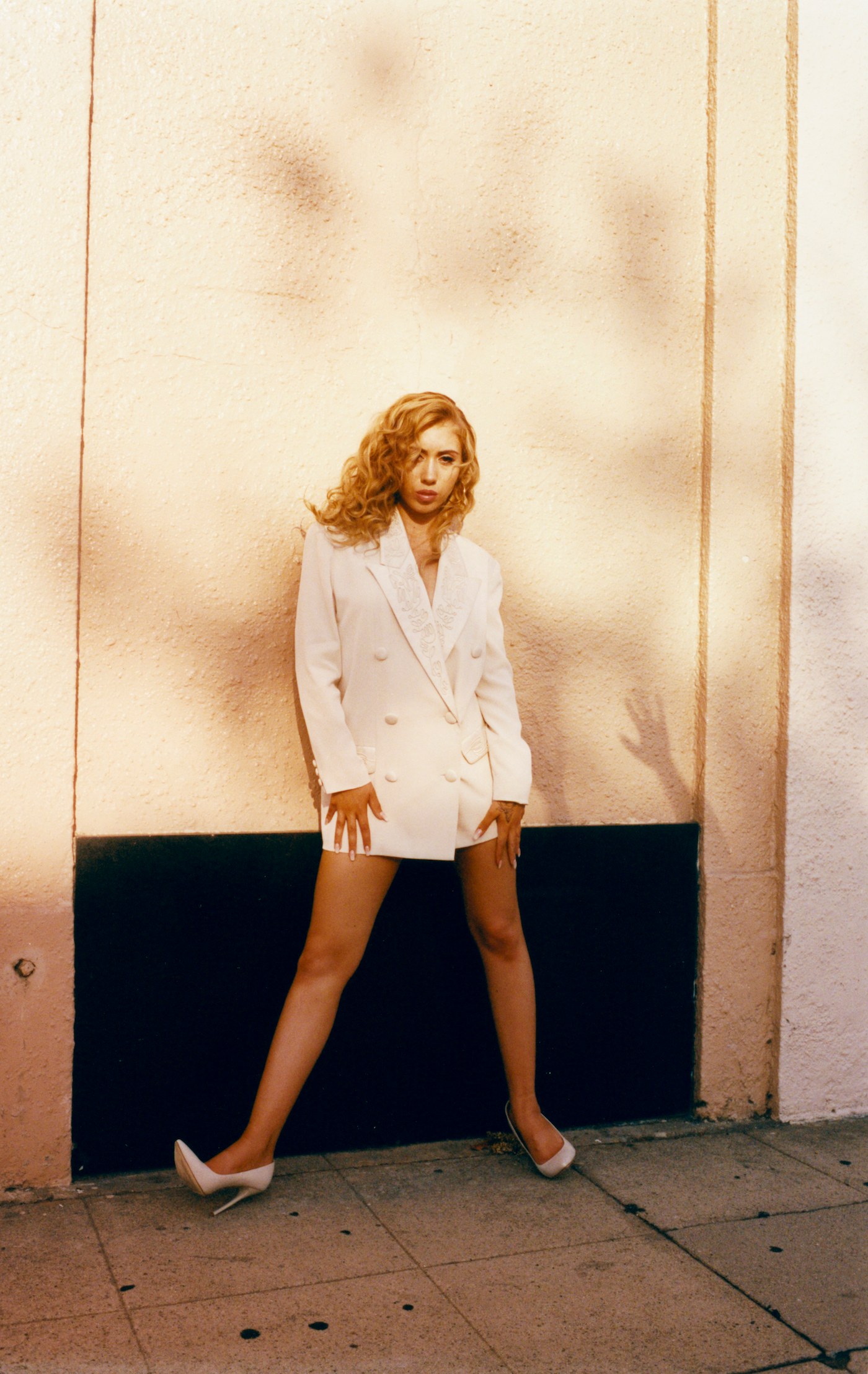 "I want to fight for people. I want to be able to make some kind of difference in the world."
There's not enough empathy in the word, Kali tells me. Not enough compassion or freedom. For the rest of the afternoon, we talk about what she hopes to accomplish, but we never circle back to our conversation about music, or about her career. She is more focused on the future, on how she wants to advocate for equality, for the fair treatment of people who are oppressed.
She's spoken out about social justice issues before. In July of 2016, after the murders of Alton Sterling and Philando Castile, when the body of a black man was found hanging from a tree in Atlanta's Piedmont Park, Kali took to social media to condemn the police's lack of a proper investigation. The police, she said, were too quick to call the hanging a suicide, when people in the community had said they saw the KKK passing out flyers and that the death had been a lynching. That day, she posted a photo of a protest sign on Instagram: STOP TELLING PEOPLE OF COLOR THEIR EXPERIENCE IS AN ILLUSION.
"I don't like to see people using their power over others, trying to hurt people who are weak, or poor, or people with darker skin, or anyone who doesn't have as much privilege," she says. "It makes me so angry. I want to fight for people. I want to be able to make some kind of difference in the world."
Kali Uchis was just 18, fresh out of high school, when she released her first mixtape, Drunken Babble, a psychedelic multi-genre collection that recalls an earlier decade, the likes of Billie Holiday mixed with talk-rap, old school hip-hop, and dancehall reggae. Two years later, in 2013, while working as a cashier at Whole Foods, she released a video for "What They Say" that she co-directed with Tony Katai. In the video, a nod to California's lowrider culture, a Glock-wielding Kali and her friends steal some guy's Chrysler and take off on a joyride into the night.
She never imagined that she would garner the attention of people like Snoop Dogg, who saw the video then reached out on Twitter. "He was the first person to publicly cosign me," she remembers. "Snoop Dogg was always showing me love." He asked her to collaborate with him on "On Edge," a song for his 2014 mixtape, That's My Work Vol. 3. Other artists also reached out, including Tyler, the Creator, who hit her up on Twitter about getting together for a project. Working with Kali, Tyler says, is amazing. "Her sense of melody is good and works really well with my chords. We knock ideas out quick, and we trust each other."
Next came the acclaimed Por Vida, her first studio EP, which was released in early 2015 and includes collaborations with Diplo, BADBADNOTGOOD, and Tyler. She's also on his latest album, but most of the music that came out of their hundreds of hours in the studio is yet to be released. "Our timeline of songs 20 years from now is gonna be great," Tyler says. Por Vida's sound was melodic, with the catchiness of '90s pop, the rhythm of dancehall, and hip-hop beats. It was eclectic, sexy, and a little rebellious.
On her debut album, Kali Uchis is still sexy, but in a different way. She's not just rebellious — she's empowered. "When the Flowers Bloom," a song from the new record that features funk icon Bootsy Collins, is a perfect example of that empowerment. "So if you need a hero, just look in the mirror," she sings atop bass and drums. "No one's gonna save you now, so you better save yourself."
This new Kali Uchis has stopped bleaching her hair, is wearing boxy suits with no pants and singing about Pablo Escobar and cartel bosses. "I disappear like El Chapo," she sings on the album's first single "Tyrant," a blend of dancehall and R&B that features emerging British singer Jorja Smith, whose voice is jazzy and soulful. Listening, I can't help but think of Scarface and Narcos and Griselda Blanco. It's the sort of song that makes you want down four shots of aguardiente and dance your ass off.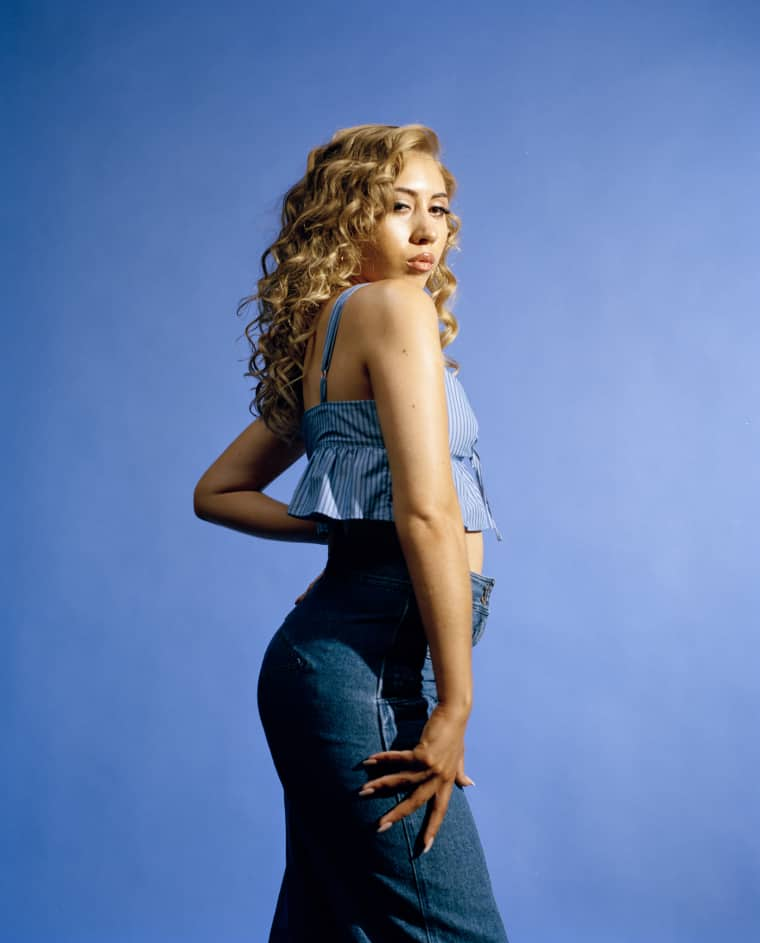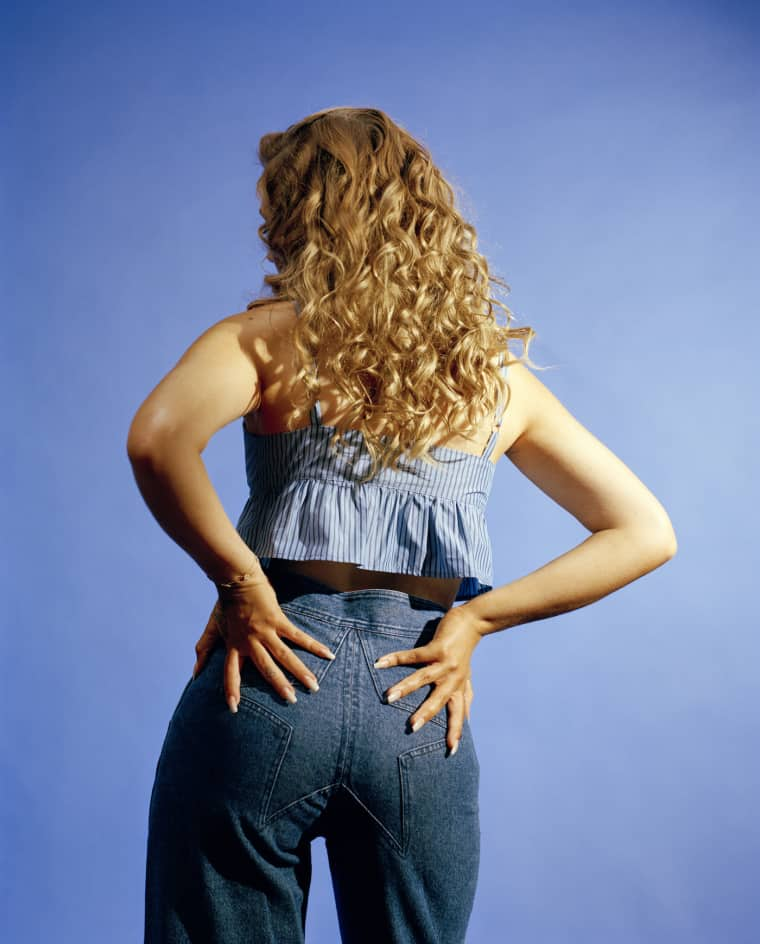 The day "Tyrant" drops, Kali and I are in her living room, watching Woman on Top and drinking strawberry milkshakes. We hang out for a while, talking about Latinxs in entertainment and Hollywood whitewashing. We talk about how few opportunities there are for Latinxs in film and television, and how they're always hypersexualized or portrayed as stereotypes, as maids or criminals, and how only light-skinned Latinxs are ever portrayed as successful. We talk about how AfroLatinxs have been erased — excluded from TV, film, and other forms of entertainment, excluded from their own stories, as if they don't even exist. "But people are speaking out about this now," she says. "Things are changing because people are speaking out against whitewashing and against slut-shaming."
"Would you call yourself a feminist?" I ask.
"I really don't like to label myself," she says. "I just believe in standing up for people, and against discrimination. I consider myself an advocate for human rights. And for doing the right thing."
Ten days after my trip to Los Angeles, I notice a series of tweets about Kali Uchis. By the time I get to the conversation, it's been happening for several days. The posts by Esperanz Aguilera Fuentes (@SoyEsperanz), a 22-year-old Chicana/o Studies student at the University of California in Davis, compare Kali's image on the cover of Por Vida, pale-skinned with bleached hair, to a newer promotional photo in which her features look noticeably darker. The tweets ask why Kali is "suddenly 'brown,'" and suggest that it seems that Kali is trying to capitalize on brownness. "Colorism is very real in the Chicanx/Latinx community," Esperanz tells me later. "The amount of stigmatization, erasure, and institutional oppression black and brown folks within the community face is why I had a problem seeing Kali Uchis suddenly take on a 'brown girl' narrative at her convenience."
Over direct messages on Twitter, Kali asked Esperanz to take down the thread, to which they eventually obliged. Later, after the criticism about her was deleted, Kali posted a picture with the caption, "Me minding my business while life tries to test me & people try to play w me." When some users responded by saying that Kali should support Latinx politics instead of just trying to look the part, she unloaded a series of angry tweets, dismissing Twitter activists for "spilling fake tea," saying they could "swallow [her] nut," and claiming to do more for people of color and Afro Latinidad than anyone. And finally, days later, "ITS 9AM & IM GONA NEED EVERYONE WHO THINKS THEY KNOW ME TO SHOW ME THE CARFAX."
Kali was accused of using power dynamics to intimidate Esperanz into deleting their initial criticisms. "Intimidation comes in many forms. Power dynamics is real, I was emotionally manipulated," Esperanz tweeted, who then shared screenshots of Kali's messages. Zahira Kelly, a black Latina artist and sociocultural critic, says she was subjected to violent harassment from white Latinas online after tweeting about the exchange. "For a cis white Latina artist with a fandom to censor a brown trans femme tweeting from their personal account is heinous," Kelly says. "Kali is also riding on neo-soul that Black women created, with no respect or homage given."
Over the phone a couple of weeks after Esperanz's post circulated, Kali tells me she was confused by these accusations of strong-arming, and that she felt the original conversation with Esperanz had been productive. "When I asked Espi to delete it, I said 'Of course you don't owe it to me, and you don't have to delete it — but it would be really nice if you would because that's everything I hate," she recounts. "I hate racism, I hate the criminalization of brown people, and all of that. Why would you try and make me seem like somebody that I hate?'"
Initially, Kali says she felt that she was being shamed for her appearance, and denied that she was trying to use brownness as aesthetic. "I've always considered myself a person of color," she says. "I'm Colombian, my family all have different complexions, some are people of color." She says she has never aligned herself with white people and never considered herself white. "I've been called every name by white people, been mocked for speaking in Spanish by white people."
As the Twitter conversation spiraled, people argued that it was "dangerous" for Kali to refer to herself as a person of color. "They said 'you're not actually brown, and you don't know what it's like to experience racism for being brown," she remembers. At that point, Kali says, she decided to apologize and acknowledged her privilege. "I said, if you guys think I need to call myself a white Latina, then OK, I don't want to offend anyone and I definitely don't want to hurt anyone." But that spawned even more tweets. "People turned around and said, 'Oh, she doesn't want to claim that she's a person of color because she hates herself," Kali says. "'She doesn't want to be a person of color.'"
"As [Esperanz] noted," says Zahira Kelly, "those of us who are visibly and permanently brown and black don't have the option of just tanning or staying out of the sun and changing hair color to play to whatever preferences arise, we must simply deal with being excluded and dehumanized. Latinegras face violent anti-blackness in the very same communities that pedestal white Latinas, where brown femmes like Espi are also systemically excluded from narratives. Those are attacks on our being and bodies 24/7, that Kali is shielded from. The term 'white Latina' has the word 'Latina' in it. That's far from erasure when you are already the only ones in Latin American media."
Kali says she saw the online Latinx community divided; some people who were coming to her defense were saying ignorant and hurtful things, resorting to bullying, misogyny, racism, and transphobia, which, she says, was never what she wanted. "I guess the whole thing brought out the worst in everyone," she tells me. "I was trying to do the right thing and say the right thing."
After spending time with her new songs, after all our conversations, it's clear that Kali's worked hard to get here. I want to believe her when she says she wants to do better. Every single time I spoke to Kali, she spoke of wanting to be an advocate for people with less power. Every time we spoke, she said exactly what I wanted to hear. But in the end, she was still defending herself, not really acknowledging the magnitude of her own power, or what it means for Esperanz Aguilera Fuentes and Zahira Kelly to speak truth to power even while being attacked. Being an advocate for people with less power means fighting even for those who disagree with you, remembering that these are the communities you said you wanted to fight for. Until you do that, you're really only fighting for yourself.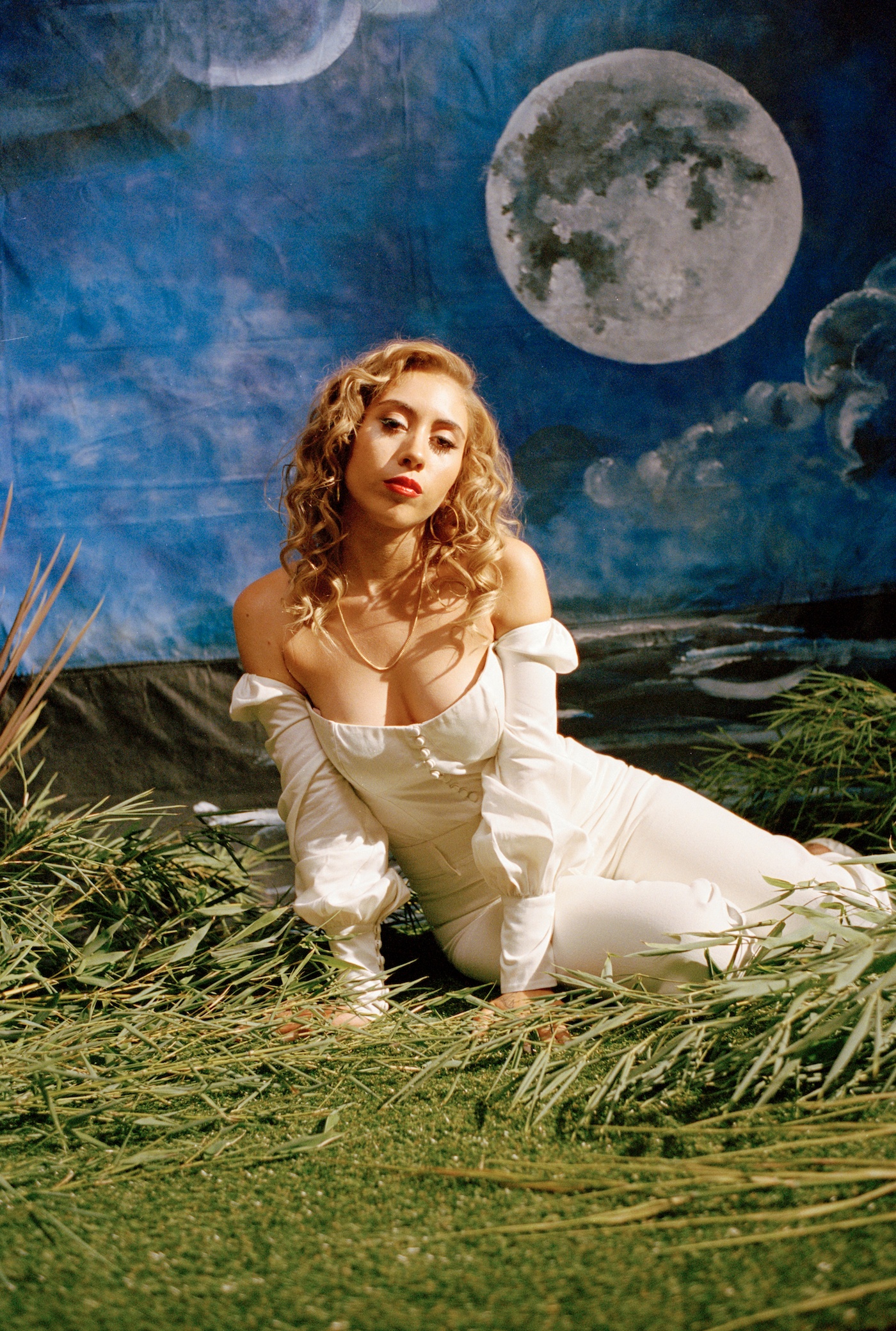 Back before any of this unfolded on Twitter, while I was in L.A., trying to discern if Kali was for real or she was simply playing a character, I asked her, straight up, "Who is Kali Uchis?"
I didn't know what she'd say. As I sat there, I watched her thinking about it, looking at me then down at her shag carpet. Like it was the one question she wasn't prepared for.
Who is she? Kali sitting at Pann's Restaurant, the jukebox blasting Johnny Cash, the waiter setting down our milkshakes. Kali lying out on the blanket on the shore of Del Rey Lagoon, the sun on her face, her single about to drop. Kali in her living room, sprawled on her leather sofa, watching Woman on Top, a strawberry milkshake in her hand, the record player with the name KALI UCHIS on it. Is this her?
When she finally did speak, she looked me in the eye. "A lot of times I don't feel like I'm her," she said. "A lot of times I feel like I'm helping her. But we have the same purpose."
I may never know the real Kali Uchis. But I keep returning to our conversations, taking them apart, asking myself if I was, as Esperanz said, emotionally manipulated. I keep returning to this:
Kali, finding that note on her bed, Go figure it out. How it must've felt to hold her father's words in her hands. Her father, her hero, that same handwriting tattooed on her bicep. How she was scared, at midnight, at 2 a.m., watching the sunrise, unable to sleep as she listened for noise outside her car, wondering if those doors, those windows, that metal, that glass could protect her.
Fashion Assistants Regina Doland and Drew Escriva, hair by Sami Knight, makeup by Samuel Paul.