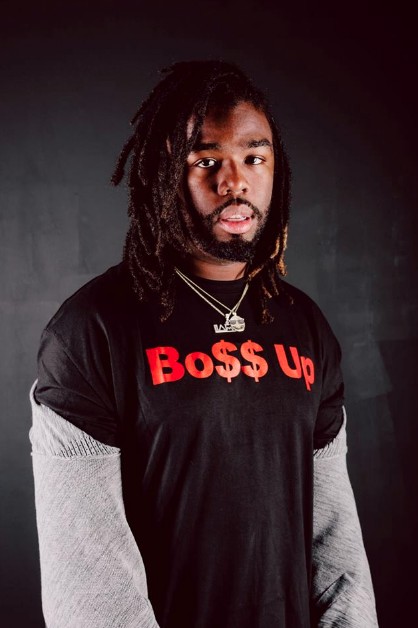 Sudan Ameer Williams, the Bay Area rapper known as IAMSU!, has been accused of rape in a Google Document circulated on Thursday. The letter's author, who is anonymous, also describes another sexual assault by Jay Ant in the letter. Both men are members of hip-hop collective The HBK Gang.
The alleged assaults took place in a Las Vegas hotel room in August 2013, while the author was attending the MAGIC Convention with her family. She writes that one evening, she was hanging out in a bathroom with Williams, Ant (who the author says she has known since the seventh grade), and around 10 other people. At one point, Williams — who had already made aggressive sexual overtures towards the author that evening, she writes — tore off her clothing and pushed her into a shower where "he tried to corner me." No one in the room reacted or tried to stop Williams, according to the letter.
"Fearing for my safety," the author attempted to leave, but was restrained by Williams and pushed onto a bed, where she alleges the assaults took place. She writes: "I remember trying to push him off of me and I just blacked out. I remember waking up randomly and seeing different things happening to me." At one point, she regained consciousness and witnessed Jay Ant "violating me in front of a group of men."
The author said she awoke at 8 a.m. the next morning and left the hotel room. Before she left Las Vegas, she said a concerned friend texted her the following: "Are you okay? I over heard Jay and Su freaking out saying that they felt they raped you."
Two years later, the author said she encountered Williams in a Wingstop in Pinole, and asked for his phone number. When she eventually called Williams and accused him of assaulting her in Las Vegas, he brushed it off and claimed he had already been accused many times. "This man just laughed and told me 'DO YOU KNOW HOW MANY GIRLS HAVE SAID I RAPED THEM.'"
In 2017, she said that she told an associate of Williams about the alleged rape and assault. "I believe you, I believe you," the associate said, claiming that they had witnessed troubling behavior themselves. "I have seen Su being a little too aggressive with approaching females."
The letter's author concludes with a message of hope for any other victims who are afraid to come forward. "I am exposing these people because I am sure there are other women who have been harmed by one or both of these men. I hope that this inspires others to own their truth and to not be ashamed of what happened to them at the hands of sickos at the hands of men who feel entitled to take what they want because they feel they have social status."
Jay Ant denied the allegations in a statement to The FADER: "I don't quite understand how masculinity can be taken advantage of so easily, false accusations like these seem to happen to men way more than ever in 2017, and when it does, the 'social media' audience seems to not really want to give the man an opportunity to defend himself properly. I hope to be able to harness this situation up for young men and women to learn from and spread awareness on how to prevent these type of things from happening to them, also if you believe any of these accusations against me, you don't know me, and if one does not know me, it's impossible have an informed opinion about this situation. With that said, I've never had any kind of sexual interaction with her. I've never had sex with her PERIOD. However, I am praying for her."
Late Thursday afternoon, Williams also emailed a statement. Read a screenshot of it below.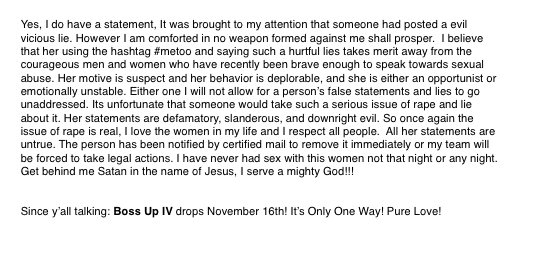 This post was updated on Thursday November 9 at 4:39 p.m. to include a statement from Jay Ant, and at 4:55 p.m. with a statement from Williams.