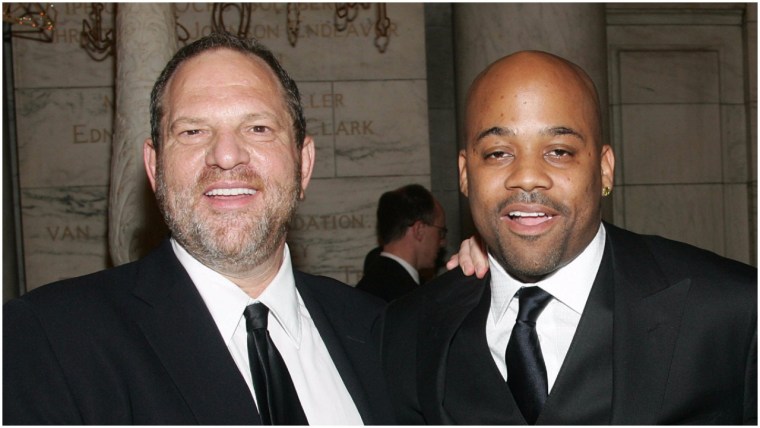 On Wednesday, Cam'ron, Juelz Santana, Jim Jones, and Freaky Zekey reunited as The Diplomats to release a new track, produced by The Heatmakerz, called "Once Upon a Time." At the end of his verse, Cam raps, "No disrespecting the ladies, word from my team / That's the reason Dame smacked Harvey Weinstein / On the set of Paid In Full, y'all gave him hell about it."
The line is a revealing reference to rumors about a scuffle between Dame Dash and Harvey Weinstein on the set of 2002's Paid in Full, which was produced by Bob Weinstein's Division Films and starred Cam'ron. The film was completed and ready to be released in 2000, but, Dash said in a 2002 New York Times interview, Harvey Weinstein refused to release the film.
Dash told Don Diva magazine in a 2005 interview that he began "hunting" Harvey Weinstein when he wouldn't sit down with him for a meeting. Dash's interview was summarized by Daily Intelligencer at the time:
"I saw him in Cannes and I snatched his bitch— he had a girl and I knew her, so I said 'Give me her.' He was pissed," Dash said, admitting that Harvey's a "guy that everyone was afraid of" . . . "I was like, 'He's a bitch.' "
In a recent video interview with Hip Hop Motivation — following multiple women coming forward to say Weinstein had raped, assaulted, and harassed them — Dash fleshed out the story. "I put pressure on him all around the world to put out Paid in Full correctly," said Dame. "I caught him in France, I caught him in Paris. You know, 'cause they weren't expecting me to be those places. But they were trying to not put out Paid in Full."
He also said of Weinstein:
"I know I made Paid in Full over there, and I know that him and I had a lot of aggressive interaction. And I know even culturally, like, my people would say things, like, I would see interviews with Wood Harris and with Just Blaze and all that, and they'd be like, "Oh, he yelled at Harvey Weinstein. He yelled at the Weinsteins." But the bottom line is, like, when I look at somebody treat other people wrong, I can't just look the other way. And any opportunity I get, I know I'm strong, but I'm always gonna make them suffer for the people that aren't strong enough."
A representative for Dame Dash was not immediately available for comment.