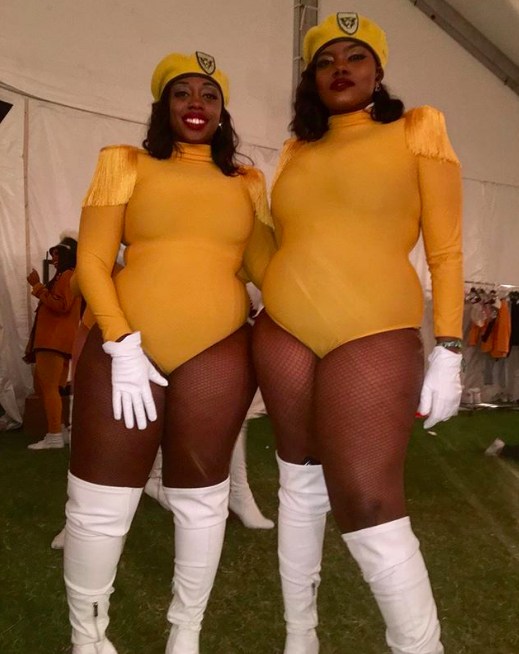 In the middle of Beyoncé's earth-shattering Coachella set, she took it all the way back to 2003's "Baby Boy," accompanied by two incredible dancers who are actually sisters in real life. Clad in black jumpsuits and positioned on either side of Beyoncé, photos of Amari and Jore' Marshall were widely shared, and headlines the days after Beyoncé's performance read "Beyoncé Represented For Curvy Women At Coachella By Including Plus-Size Dancers."
It was a career defining moment for Amari and Jore', a moment that now seems surreal considering the sisters did not even know who they were auditioning for initially. There was no name attached to the project, but that's not uncommon for bigger performances, and the choreographers in charge of the casting gave Amari and Jore' some idea that it was for Bey. As they went through the rounds, it seemed that only Jore' would be cast in the show, but right before rehearsals began, the sisters learned that they would be taking the Coachella main stage together.
The sisters grew up around dancing –– whether it was in the dance group started by their mother or a crumping crew in their Jacksonville, Florida neighborhood. Amari, 24, didn't really get into dancing until she was 10 or 11, but by the age of 16, she was leading the Systematics Dance Crew, a group that her mother founded. Amari worked her way through competition to competition, establishing a name for herself and moving to L.A. to work in the dance world full-time. Jore', 21, had also always danced, but didn't consider it a passion until she moved to L.A. with Amari. The FADER spoke with the sisters, during a break between their busy audition schedules, about what it was like to perform with Beyoncé and how they ended up on the Coachella stage.
Once you were both booked for the show, what was that rehearsal process like?
Amari: We had, with the rehearsal process… I can't really say how long. I don't know. But pretty much, think of it as an all day process. Every day. We were for real. It wasn't torture... But it was so crazy. It really felt like you were in college because it felt like a school, like you were with each other for a lot of hours out of the day. Just imagine, when we go in there, it's sunny, and when we leave, it's nighttime. And by that time you're already so exhausted all you want to do is just go home and sleep and start the whole thing the next day. It was a very strict schedule all the way up until the show time.
When did you get to see your costumes? Did you have favorite costumes? And are you Team Yellow or Team Pink?
Jore': I'm team pink. It looks better on our skin.
Amari: I'm still like on the fence I love team pink, but then like when I would look at certain pictures I'm like team yellow was actually really cute.
Jore': I like team pink for sure. Definitely. I just I think it read better on our skin, like on darker skin. And it snatches in my curves.
Amari: I hate you.
So a lot of people were commenting about the fact that it was incredible to see two dark skinned, plus sized dancers, have a moment on stage with Beyoncé. What did that moment mean to you?
Jore': For me it meant everything, not only is it that we're dancing side to side with Beyoncé, but I get to do it with my sister and it was just an aha moment. Like, wow. When I sat back and I reflected about the whole situation, not only was Amari not supposed to be in this, but now we get our own part with Beyoncé. It was really incredible honestly and it's been really surreal to me.
After this whole thing so many people have been writing to us about how inspired they are. They never thought curvy girls could be doing that with Beyoncé and have such a moment like that. It just really inspires people letting them know anybody can do this, anything is possible, you can break the standards. Things are changing, and it really is humbling and it is really amazing just to know that so many people have been moved by us. It really makes me so happy of course the whole moment with Beyoncé is incredible but the outcome of this is way better. It's bigger than us.
Amari: I really agree with you and just to piggyback it, I think Beyoncé has always been, you know there's been pieces of her that have shown she's always been about, women empowerment, and loving your body. The Mamas, her background singers, have always been full figured, lucious, beautiful, dark skin women. Or just African-American women. To, you know, her "Green Light" music video, where she had two thick women dance with her. You know, Rhapsody James being in "Freakum Dress" and then to have it years later with younger girls. I feel it is even better, because we're younger and there's a lot of girls in our age group and older than us that can really relate.
So it was incredible. I know she knows. But I don't think she really knows how it really...it changed my life and I know it changed Jore''s life but it really changed my life because just being in the cast was really enough for me. Just to be here is enough whether I'm in the back the whole time. I do not care, I'm just so appreciative and then to have that moment with her and her you know say that she wanted this moment to be special for us was just like it was... Even to this day I'm just like wow that really happened. Bigger girls really don't get that much shine. So for her to include all shapes and sizes, you know that she had no problem with it. She picked all of us. It was just like, OK like she knows, and she's been knew, but she's about to really let it be known now that she's team body all the way.
"If we took this down to Florida or Georgia everybody would be wilding out. It would be a whole different vibe and energy." — Amari Marshall
Speaking more broadly about the cultural impact of Beyoncé's performance, you're both from the South. What was it like to see Beyoncé bring this southern culture to the Coachella stage and essentially say "This is Southern Black culture and this is beautiful," and what was it like to see that in front of an audience that, and maybe I'm wrong, isn't as familiar with it?
Amari: Not at all.
Jore': [laughs] It's crazy. I don't know if you remember, but the part everybody loves, the "Get Into The Money" part. That whole section, us doing the swag surf, like all that is like Florida, and the South.
Amari: I'm like no, she's not doing swag surf!

Jore': I don't think anyone understands how big of a deal this is, like, that is like home. We do all those dances. So doing that onstage with her was just crazy. Because once you see some people start doing the swag surf, everybody in the room starts doing it. And it's funny like looking at the footage, it's like we're like going crazy doing the swag surf. And the audience is just still. They literally don't know the swag surf.
Amari: They just didn't know, you know, and it's not their fault. That's why I give major props for bringing a culture to an audience that had no clue what was going on. Not to say they didn't enjoy it, they just didn't know what was happening. So a lot of them were like mouths open drooling, like what the heck is going on. But I love it at the same time. In my heart I'm like man if we took this down to Florida or Georgia everybody would be wilding out. It would be a whole different vibe and energy. Like it just would have been out of control. Like she did that. Props to her, she killed it.
Was there any moment where you were like oh my god I want to share that moment so badly with my people in my life I care about.
Amari: It was hard for me, honestly because I've got a big mouth. And when I'm really excited for something, especially like doing the biggest performance of your career with the biggest artist to date. You know it was it was hard. I really respect her for being super private too because, it adds an even bigger wow factor to every moment. It was really cool that Jore' was doing it and we had friends in it too so we could talk about it with each other and not hold in all of this information that you just want to let out.
Jore': You know there was moments where I was like oh my god I want to tell my friends. Especially the moment when Amari and I had gotten the part with her I wanted to tell my friends so bad about it. But like we luckily we had each other.