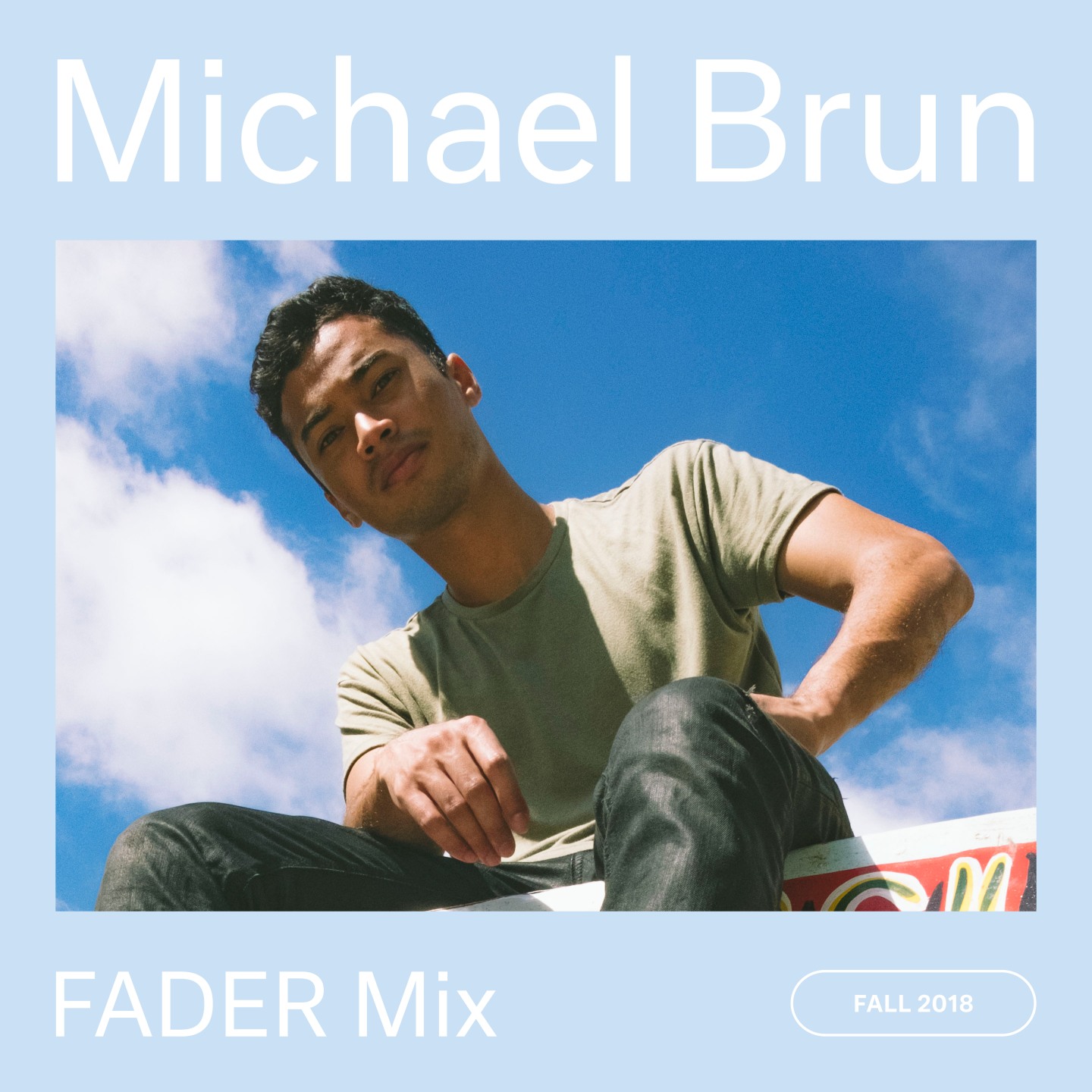 The longstanding FADER Mix series presents new, exclusive DJ mixes from our favorite artists and producers.
On Michael Brun's FADER Mix, he explores the threads between some of today's most resonant diasporic genres, going from his home country of Haiti to various parts of West Africa to Colombia and back again. The DJ and producer, who is known for his Haitian music-inspired takes on electronic music and has collaborated with the likes of J Balvin and Mr. Eazi, delivers an invigorating trip you'll want to shake some butt to. "World music like afrobeats and reggaeton have become much more prominent than ever been before, and redefined what pop music truly is." Facts! Listen below and read on for a tracklist and an interview with Michael Brun.
What do you imagine people doing while listening to this mix?
Dancing and hopefully learning something new about my culture.
Is there a track in particular that stands out? Why?
It's a tie between "Positivo" with J Balvin and the Haitian remix of "Akwaaba" with Mr Eazi. I feel like those two songs represent me and my music best. Combining Haitian sounds and culture with like-minded worldwide artists and sounds. I also think that world music like afrobeats and reggaeton have become much more prominent than ever been before, and redefined what pop music truly is. It's an exciting time for new sounds and scenes to be heard by larger audiences.
What music or artists do you turn to for inspiration when you're working on projects of your own?
There's a few producers that really stand out to me - Pharrell, Timbaland and Diplo. I love how raw and deceptively simple their songs can be, but still manage to connect with the word. I also find a lot of inspiration back home, especially from genre-bending acts like Boukman Eksperyans and Tabou Combo.
Your collaboration with Mr. Eazi exists among what feels like increasing cross-diaspora cultural exchanges. What did you learn from that experience?
That we have the same vision and goals, and that our cultures and sounds can connect with a worldwide audience. As a Haitian artist born and raised in Port-Au-Prince, my mission has been to share the history, sounds, and beauty that are the foundation of my country, and to create opportunities for future artists to do the same as well. I see it as a personal responsibility in some ways, to pass on the blessings that were given to me, and I found a lot of similarities in both Mr. Eazi and J Balvin's philosophies. We are all interconnected.
Haiti has produced a number of globally-recognizable genres and movements. How would you describe contemporary Haitian music culture? What would you like the rest of the world to know?

Haiti's music scene is so diverse right now. The internet created access to all types of genres around the world, and now we have music that fuses more traditional Haitian sounds like Konpa and Rara with Hip Hop, House music, Baile Funk and Afrobeat. I hope when people listen to Haitian music that they see that it's the intersection of North America, South America and Africa. I also hope that through my work, people see that Haitian music has the power to reach a worldwide audience, and to alter the negative perceptions that my country has faced for so many years.
Tracklist:
Tabou Combo, "NYC" (Michael Brun Intro Mix)
J Balvin & Michael Brun, "Positivo"
Michael Brun f. Strong G, Baky, J Perry, "Bayo"
GuiltyBeatz x Mr Eazi x Pappy Kojo x Patapaa, "Akwaaba" (Michael Brun Remix)
MHD, "Bodyguard"
Magic System, "1er Gaou"
Yemi Alade, "Johnny"
Tonymix x Black Mayco, Babas, Roger, "Do Ba" (Remix)
Sweet Micky, "Jojo Ban'm Nouvel"
Migos, "Bad & Boujee" (Afrobeat Remix)
Fugees, "Ready Or Not"
Mc Fioti, "Joga Bum Bum Tam Tam" (AndyBeatz Afroremix)
Stromae, "Papaoutai"
Michael Brun & Kah-Lo, "Spice"
Kaytranada, "Lite Spots"
Patoranking, "My Woman My Everything"
Daddy Yankee, "Gasolina"
Michael Brun, "Jalouzi"
DJ Flex f. Astar & EDouble, "Eggplant Afrobeat"
Niska & Boukman Eksperyans, "Veve Lokal" (Remix)
Michael Brun & Lakou Mizik f. J. Perry, "Gaya