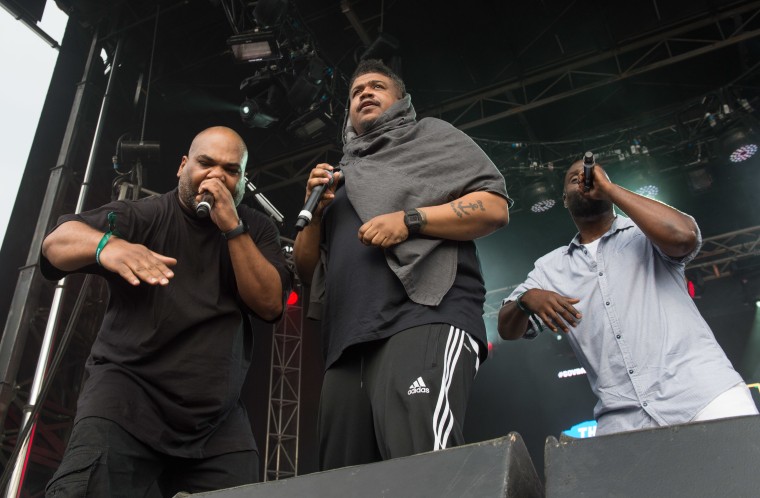 De La Soul has been locked in contentious negotiations with former label Tommy Boy for months. Royalty disputes have kept over much of the legendary hip-hop group's catalog from coming to streaming services and being reissued as physical editions. On Thursday, De La Soul announced that talks had broken down, and the group would not be participating or be properly compensated from the streaming or selling of the group's Tommy Boy-released music.
"[W]e've been unable to reach an agreement and earn Tommy Boy's respect for our music/legacy," the group said in a statement posted on social media, citing a lack of trust as one of the key factors in the dissolution of the negotiations.
De La Soul goes on to say there is a chance that their Tommy Boy albums could be found in stores and on streaming platforms "[without] our involvement or consent." In this situation, the group says they will not receive its fair share of the royalties. "This means, if you see De La Soul music/albums available for streaming or purchase anywhere, BE AWARE, all parties involved WILL profit but De La Soul WILL NOT benefit or earn deservedly/fairly."
The post ends with the hashtags "#dontpressplay" and "tommyboycottcontinues." Read the statement below:
De La Soul released the majority of their classic discography — including 3 Feet High And Rising, De La Soul Is Dead, and more — on Tommy Boy. The group's six Tommy Boy albums were originally scheduled to come to streaming in March, but the release was postponed after De La Soul issued a statement saying the band would only recieve 10 % of the profits.
Below, stream the band's latest album and the Anonymous Nobody..., not released on Tommy Boy.