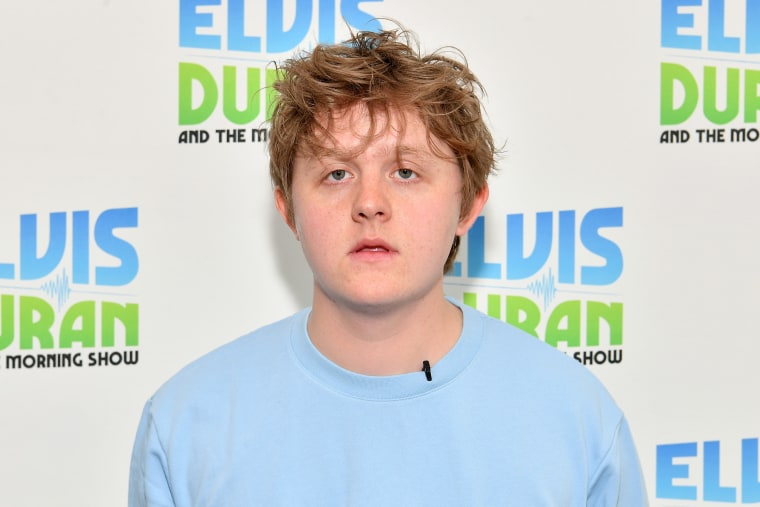 After a record-tying six-week run, Lizzo's "Truth Hurts" has been ousted from the top of the Billboard Hot 100. Her successor is Lewis Capaldi, a British singer-songwriter with a song called "Someone You Loved" and very little public profile. The natural question, then: who is Lewis Capaldi?
The problem is that there's basically nothing of meaning to say about Lewis Capaldi. There are facts — Capaldi is a 23-year-old singer-songwriter from Glasgow, Scotland, who released his debut album Divinely Uninspired to a Hellish Extent (a sadly on-the-nose title) to widespread commercial success this past May — but it's incredibly hard to talk about his music's significance, largely because it has very little.
The easiest way to describe "Someone You Loved" is that it's profoundly Spotify-optimized; it sounds familiar from the first listen, undoubtedly because it recalls so many similar songs from the past two decades of popular songwriting. Listening to "Someone You Loved," I can hear John Legend's "All Of Me," strains of Maroon 5's "She Will Be Loved," and, of course, Adele's "Someone Like You," a megahit that "Someone You Loved" even recalls in name. The voice, with its throaty yelps, is pure Chad Kroeger and the production is pure Max Martin.
As Jia Tolentino wrote of the song in her review of the Hustlers soundtrack, "Someone You Loved" also sounds familiar because it shares the same chord progression as "Let It Be," Alicia Keys' "No One," Leona Lewis's "Bleeding Love," and OneRepublic's "Apologize." A lot of parents will like "Someone You Loved."
The single took a slow, 24-week climb to No. 1, although it is by no measure a viral hit in the same way that other slow climbers like "Old Town Road," "Harlem Shake," or even "Truth Hurts" were. The success of "Someone You Loved" comes off the back of a seven-week stint at No. 1 on the UK singles chart, and the song has been a pretty constant presence on the Billboard Radio Songs chart in the months since, one of the three component charts that contribute points to a song's Hot 100 placing.
The way each chart influences the other charts and how the points system works is necessarily convoluted, but, essentially, a song's presence on Radio Songs generally tends to influence its presence on the Digital Song Sales and Streaming Songs. If a song is played a lot on radio and receives a good response, it'll get played more on radio, and on a larger variety of stations. A lot of radio play, then, means more passive listeners, who, if they pick up on a song, will then buy or stream the song. This then boosts a song's presence on Digital Song Sales and Streaming Songs.
To become a No. 1, a song generally needs to have quite high placements on all three of the charts, and this week "Someone You Loved" is No. 2 on Radio Songs, No. 2 on Digital Song Sales, and No. 8 on Streaming Songs. (Sometimes, a song can make it to No. 1 with a profoundly high streaming number and modest placements on the other charts, which is why you have a song like Travis Scott's "HIGHEST IN THE ROOM" jumping to No. 1 in its first week of release and dropping to No. 8 in week two.)
Each component chart tends to dictate the whims and tastes of the key demographic that defines it. The Streaming Songs top ten is populated almost entirely by rap songs, as the largest proportion of streaming users are, presumably, young people. On that chart right now, you can find Travis Scott, Juice WRLD and NBA YoungBoy, Lil Tecca, Lil Nas X, and Post Malone. Digital Song Sales, though, reflects a slightly older generation of music users who probably don't listen to as much new music, instead listening to the occasional new song and a lot of older music — on that chart, we see Capaldi at No. 2, alongside Maroon 5, Dan + Shay, and a lot of country music.
Radio Songs is another story entirely, as the songs being played on radio are dictated both by listener tastes and the whims of radio programmers. This chart is not necessarily indicative of the public's taste. While listener feedback dictates some of what gets played over the airwaves, radio programmers with legacy tastes are still deciding what gets the most plays, and major labels are famous for trying to influence these programmers with anything short of payola. Naturally, then, Radio Songs contains a lot of mainstream, mass-appeal music with lots of money behind it. On this chart, Lizzo still rules, but songs like Ed Sheeran's "Beautiful People" and Jonas Brothers' "Sucker" still have quite high placements despite having long-since dropped into the lower ranks of Digital Song Sales and Streaming Songs.
Of course, a handful of mainstream radio plays weren't all that got Capaldi to the top spot (although save some kind of bizarre viral success, there's pretty much no way this song would have been this successful without major label budgets behind it, such is the nature of the music industry). It's not hard to see the appeal of Capaldi — with his loose-cannon Instagram videos and everyman geniality, he fits the same schlubby, I-might-shit-my-pants-onstage underdog stereotype as Ed Sheeran. In the UK, I'm told, a big part of his popularity can be attributed to the fact that he seems like the kind of bloke you could have a chill pint with at the pub, in addition to his raw-throated sad ballads. (David Renshaw, The FADER's UK editor, tells me that Capaldi is "catnip to a nation whose idea of authenticity was shaped by Simon Cowell and whose hearts were broken by Adele," and that his success is "very in keeping with a national mindset that favors sentimentality over glamor.")
People love an underdog, one who doesn't look as polished and lacquered as most major pop stars. Many listeners will see Capaldi, see something of themselves in him, and like the idea that their own tale of heartbreak could also be No. 1 one day. Of course, Capaldi's fans genuinely like this song too — fundamentally, it could never have done so well if people didn't connect with it. (Look at Katy Perry's latest string of singles to see what happens when one of the biggest-budget artists in the world tries, and fails, to land a hit.)
Capaldi's success speaks to a kind of resentment towards pop music's paradigm shift among a certain demographic of pop listeners. Since streaming became a key component on the Billboard charts, pop music has been ruled by an increasing number of rappers and black pop stars, in contrast to the glut of white pop stars dominating the charts earlier this decade and late the decade before. A chart that includes streaming, of course, is a more accurate chart, and it's meant that the songs that get played on radio and seen as genuine hits are more representative of what the country is listening to. Still, I can imagine that suddenly having pop radio playing a lot more rap music — and a lot more music by stars who as little as five years ago would have been seen as too radical for most listeners — might cause some people to bristle.
This year alone, Lil Nas X and Lizzo have obliterated conventional thought around who belongs at the top of the charts, and what kind of music listeners want to hear. In response, we have this full-throated support of Capaldi, an artist who, with his visible vocal strain, speaks to a simpler time for a lot of listeners. For a lot of listeners, vocal processing or non-traditional performance equals 'bad', while visible strain or dramatic vocal runs equals 'good'. Years of American Idol being the No. 1 show on TV will do that to a country. (Many of the top YouTube comments on "Someone You Loved" say things like "No naked woman, No bad words, 100% talent, like who agree," or "This guy saved the American Chart. So sick of those manufactured murmuring rap and generic pop," or "This guy just got added to the 'celebs that don't need auto tune' gang.") It's an unpleasant thought, but a swing of the pendulum towards representation for underserved communities tends to elicit this kind of reaction.
"Someone You Loved" feels very old fashioned in its route to No. 1; in the classical fashion, a tightly knotted combination of major label pushing, audience response, and the right cultural climate led to this odd and deeply boring track becoming the biggest song in America. It's yet to be seen if this is an anomaly, or if "Someone You Loved"'s ascension indicates a shift in the pop landscape. Until then, just be thankful that it's 2019, and when "Someone You Loved" comes on in a cafe, you can just plug in your headphones and listen to something different.
Listen to The FADER's weekly playlist of songs you need in your life