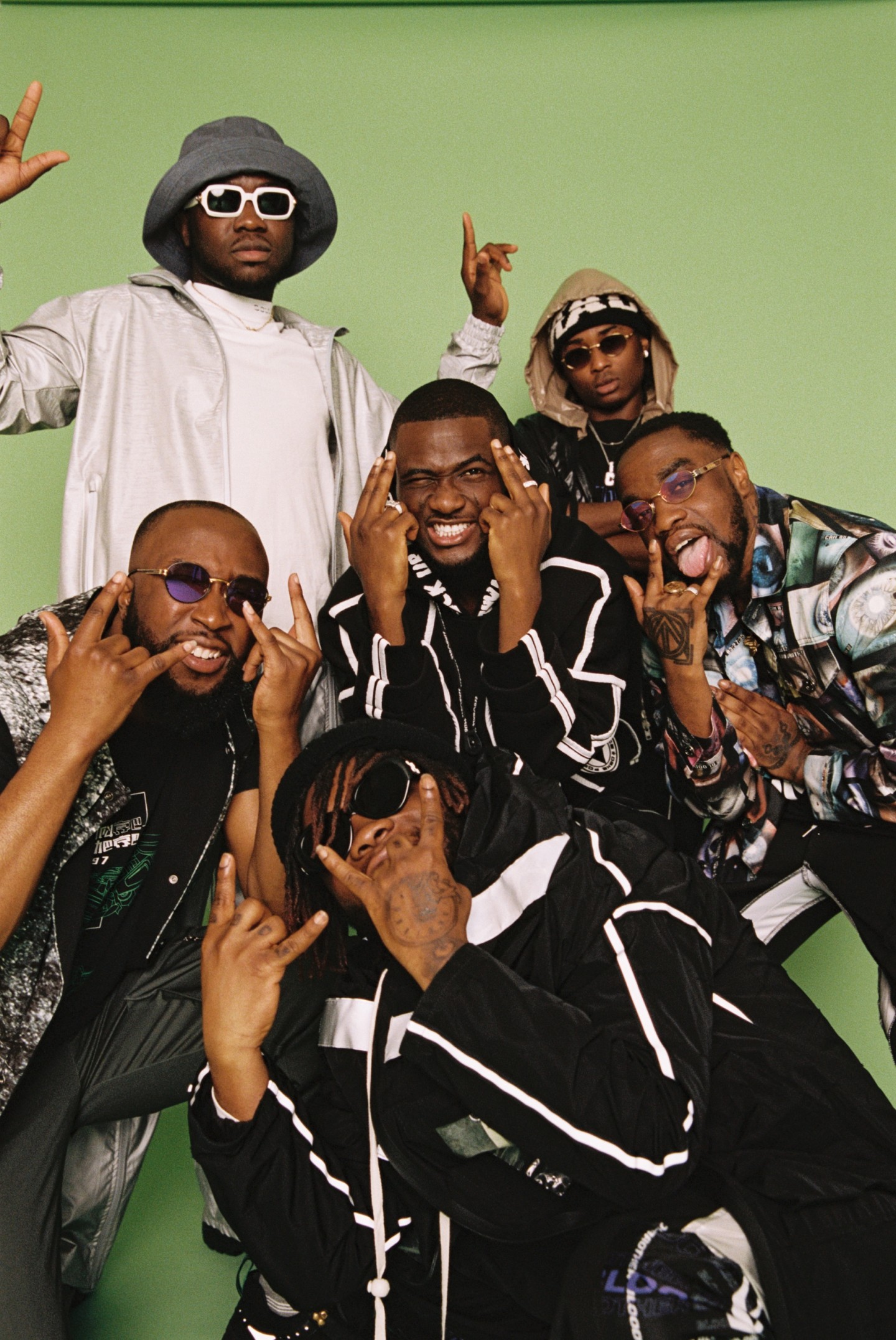 When Papii Abz, one-sixth of charismatic London group NSG, worked in the electrical department of major British high street store John Lewis, he would hijack the stereo to play the group's music as customers browsed TVs and expensive speaker systems. "I'm the type to speak things into existence," he laughs, now that it would be more unusual to leave the house in London and not hear NSG's music.
Together with Kruddz, ODG, Dope, Mxjib, and Mojo, Papii Abz has watched NSG establish themselves as London's premiere crossover afrobeats act over the last two years. This year they dominated a lane paved for them by fellow east Londoner J Hus, racking up millions of plays for their infectious hits "Options" and "OT Bop," and leaving almost as many viral dance clips in their wake. "We provide vibes," Kruddz explains in a perfection summation of the instant joy their blend of afrobeats and U.K. rap swagger delivers.
Sitting across a table in the somewhat formal west London offices of their label, Sony, the members of NSG bounce off each other as they remember the long road that brought them to overnight success. "I've never really had a job," confesses Kruddz, the de facto leader of the group alongside Papii Abz. "But I did some bar work for a little bit. I remember I was working at [the London festival] Wireless and this guy tried to tell me to do something, and I was like, 'No' and got the sack. I said, 'Trust me, next year I'm going to be on that stage'," One year later, Kruddz and the rest of NSG appeared at the festival as special guests of Manchester MC Geko to perform their first breakout hit, the sexed-up banger "Yo Darlin'."
NSG is part of a wave of artists — including Not3s, MoStack, and Kojo Funds — fusing grime, road rap, bashment, and afrobeats into what is quickly becoming the effervescent sound of Britain's youth, from the inner-city to the suburbs. Both "Options" and "OT Bop" landed in the top twenty of the U.K. Singles Chart with the former certified gold with over 400,000 sales.
J Hus, very much the godfather of this scene, recruited NSG on "Forget A Hater" back in 2015 and both acts share a producer in the prolific Jae5. "The guy's a genius," Papii Abz says of the group's go-to producer. "People should know that by now. Everything he touches is gold." While the group is quick to cite Nigerian icons Burna Boy and WizKid, alongside Ghanaian stars Shatta Wale and Sarkodie, as being instrumental in taking afrobeats worldwide, NSG also pays tribute to an unlikely figure they see as a key to the genre gaining mainstream attention: Ed Sheeran. "Someone of that caliber doing a song like 'Shape Of You' opens the ears to that afrobeats sound," Papii Abz reasons. "Now, when we do it, it's easier for people to accept."
While Sheeran may have jacked the sound and made it pop, NSG is far more wedded to their cultural lineage and are at pains to stress that this is not a trend they're jumping on. In fact, staying true to themselves is a throughline that's lasted them from the days of bar work and taking control of the John Lewis aux cord, to their current position. The group came up as an independent act and only signed their major label deal prior to latest single "Trust Issues." "When you've got a label too early, you don't even know yourself that much, you don't know your sound that much, and the labels start advising you what they think you should do," Mojo says. "The thing is, that's not always what's best for you."
This summer, the group was in a messy incident involving Afro Nation, a Portugal-based music festival that the group was due to perform at. NSG pulled out of the event last minute, having learned that they would be playing an early afternoon set and not, as they had assumed, one closer to the headliner. This all played out online and none of the NSG members are keen to talk about it today. But they all agree with the suggestion that this is another example of the group sticking to its guns. "When you look at what you've done as an artist and your achievements, you begin to understand what you're worth or where you need to be. We believe in standing up for that."
Knowing themselves best is what has seen NSG rise this far, and looks to be its mantra as the group continues to soar. Earlier this year NSG returned to the Wireless main stage, this time at the request of Future. A few more months before that, and the group of school friends performed for 20,000 fans as Drake quite literally turned the city's O2 arena into the O3. Drake invited NSG onto his stage by IG DM, having been won over by the group's effortless blend of body-shaking tunes and hard-boiled street lyrics delivered with the stickiest of melodies.
With a refusal to compromise and a world quickly coming round to its way of thinking, NSG has got reason to stand tall right now.
Watch NSG's video for their latest single, "Trust Issues"