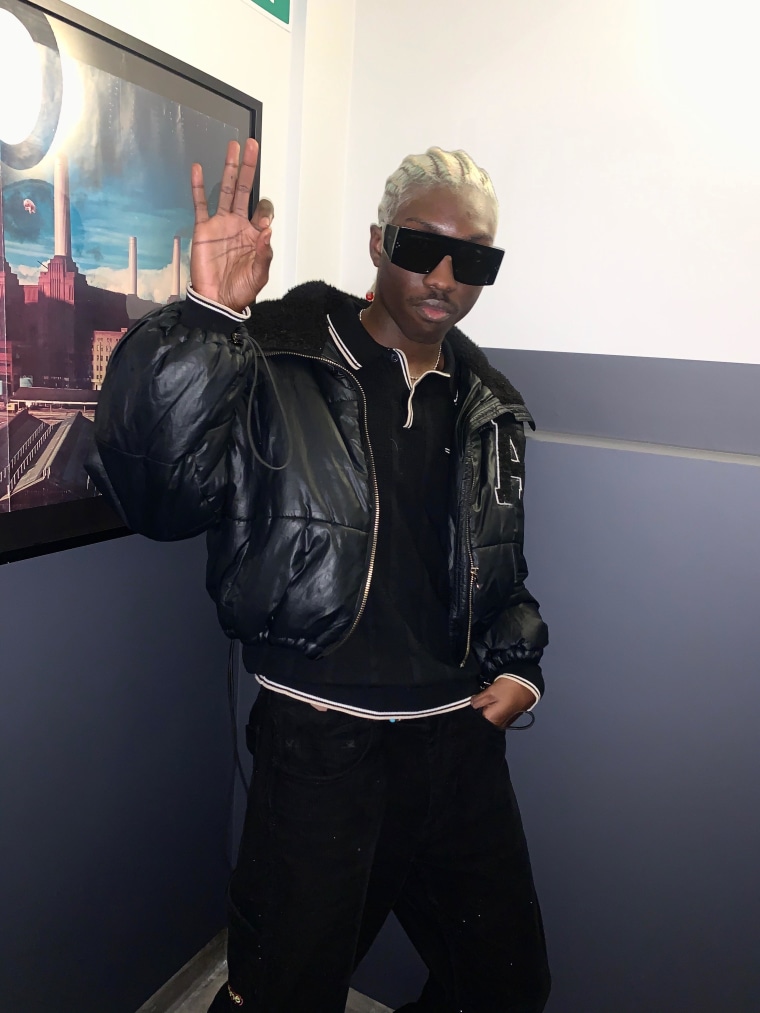 Back in December, Nigerian artist Santi had the first headlining show of his career when he took the stage at Lagos's Hard Rock Cafe and performed in front of a packed crowd, mostly comprised of fans and peers within the country's alté scene. He mostly performed fan favorites from his recent Mandy In The Jungle album, but towards the end of the night, the venue's energy peaked when Santi invited peers from the scene to rage with him. The most memorable non-Santi moment of the night came when fellow alté leader Odunsi The Engine took over the mic for a guest set. The venue's energy was at a consistently high level until Odunsi invited rapper Maison2500 on stage to perform a previously-unheard track. He instructed the crowd to repeat the words "wicked" and "sexy" after him and soon after, hundreds of people in attendance (including myself) blissfully screamed the two words until the two stopped.
Today, the track is finally available to the wider public as it is featured on Odunsi's new surprise EP titled Everything You Heard Is True, which arrived late last night. In a conversation with Nigerian music publication The Native, Odunsi said that the project's title is an acceptance of the chatter that constantly surrounds his career, fashion choices, and ways of expressing himself. And that freedom of thought makes for an extremely enjoyable listen. Throughout the short project, Odunsi builds onto his catalog of dreamy production and harmonies — the type of music that perfectly accompanies a relaxed night under mood lighting, or a peaceful drive that doesn't have a specific destination. Outside of the Maison2500 feature, Everything You Heard Is True also has appearances from others within the alté scene like Amaarae, Gigi Atlantis, and DETO BLACK. Over a series of voice notes, Odunsi briefly spoke about the thinking that went into the project.
The FADER: I was lucky enough to see you perform "Wicked, Sexy!" a couple times in Lagos back in December and have been anticipating its official release. Was that one of those songs that just felt like it'd catch on as soon as you shared it with people?

Odunsi The Engine: For "Wicked, Sexy!" I performed it by mistake because the DJ, who is a friend of mine, he played it because he thought I said he should. That was actually an accident and people caught on to it.
Your last release was 2018's rare. In the time between that and your new project, how would you say you've grown — both as a person and artist?

I think I've grown more as a person even than an artist because I've gone through a lot of things. As an artist I've definitely mastered a lot more things and I'm still learning. I feel like I'm just starting again.
How would you like this project received by fans and people who were previously unfamiliar with your work?

For me, I can't say how anyone should receive it. I feel like there's always gonna be a polarizing effect with my music. For example, the release today, some fans don't like it because it's different from what they are used to, some like it more than anything I've done before, and some totally just hate it. So for me, I really just made it for people who are into the energy I'm into right now.