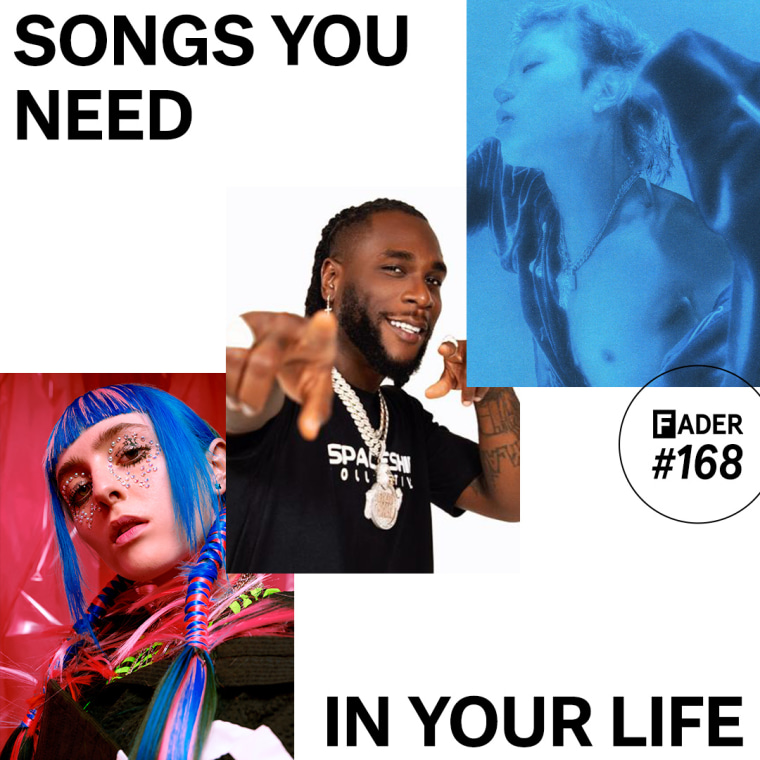 Each week, The FADER staff rounds up the songs we can't get enough of. Here they are, in no particular order.
"ON SOUL" — Dwn2earth
Acid-dipped R&B newcomer Dwn2earth is in his whole damn element on the kickoff to his debut album, ATLANTIS, which dropped earlier this month.
"プロペラ Propella" — Tohji
Even just listening to Japanese rapper Tohji feels like jet-setting, destination unknown. On "プロペラ Propella," it's a relentless virtual paradise.
"Daisy" — Ashnikko
Meet Daisy, Ashnikko's bombastic alter ego with an affinity for glass platform heels and a kink for being a bitch. The song is as defiant as it is deranged, and we'll gladly lap up every second of it.
"Renegade Breakdown" — Marie Davidson and L'Œil Nu
Marie Davidson's latest, produced with L'Œil Nu (Pierre Guerineau and Asaël R. Robitaille), has the Montréal artist asserting her spot as one of the most commanding voices in the game with a string of instantly iconic one-liners.
"Wetin Dey Sup" — Burna Boy
One of the biggest cuts from Burna's newest record Twice As Tall serves both as a vibe check ("wetin dey sup" means "how are you doing?") and a mnemonic for what will prevail over money and violence. The production from Timbaland doesn't hurt.
"Novo" — Sango feat. asante
Da Rocinha 4 isn't even out yet but Sango is determined to keep us sweating in the interim with his newest endeavor, SANGOZINHO. We're partial to "Novo," a blissed out miniature cooked up with Ghanian-Detroit artist asante.
"Different World" — Billy Lemos feat. Danny Dwyer
The latest single off Chicago producer Billy Lemos's forthcoming debut album sounds like waking up trapped in the pages of some lost Dr. Seuss book — wonky and wondrous.
"Bucciarati" — Open Mike Eagle feat. Kari Faux
Personal strife and cartoons come head-to-head on Open Mike Eagles' forthcoming record Anime, Trauma and Divorce. The seams are coming apart on his newest, but the message is delivered in a manner as suave as Shōnen Jump's most infamous mobster.
"Bill Withers" — Okay Kaya
There are plenty of delicious grooves to excavate on Surviving Is The New Living, Okay Kaya's second full-length of the year, but we keep going back to the "Who Is He" innuendo of "Bill Withers."
"Video Game" — Sufjan Stevens
Sufjan really went and wrote us his brattiest pop song yet. It's a digitized delight.