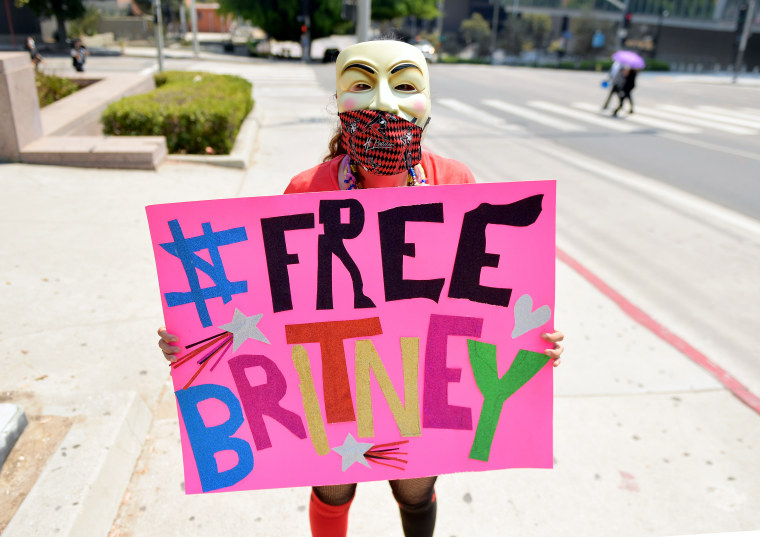 A Los Angeles county judge has extended Britney Spears's longstanding conservatorship until at least February 2021, according to court documents obtained by Variety. On Wednesday, the matter was discussed in a private hearing attended by her parents, as well as her four attorneys. It is unclear as to whether Spears herself was in attendance.
Spears's conservatorship dates back to 2008, after suffering through a number of public difficulties. In the 12 years since, the arrangement has faced increased speculation and scrutiny from fans concerned that Spears is being held captive against her will — sparking the #FreeBritney movement. A number of protestors appeared outside of the Stanley Mosk Courthouse on Wednesday to voice their concerns, including Spears's ex-husband Jason Alexander.
The movement gained momentum once again when earlier this week Spears filed court documents requesting that her father, Jamie Spears, be ousted from his role as conservator. Currently, Spears is under the temporary custody of Jodi Montgomery, who took over for Jamie as he dealt with health complications that forced Spears to cancel her planned Las Vegas residency in 2019.
Earlier this month, it was reported that Spears's conservatorship cost her over $1 million last year in legal feels alone. "I have to report every nickel and dime spent to the court every year," Jamie told the New York Post in response to critics claiming he's nickle-and-diming his daughter. "How the hell would I steal something? It's up to the court of California to decide what's best for my daughter. It's no one else's business."
I want to thank all my dear ... sweet ... real fans for being so damn wonderful !!!" Britney wrote in an Instagram caption on Thursday. "I can feel your hearts and I know you can feel mine ... thank you for your support."