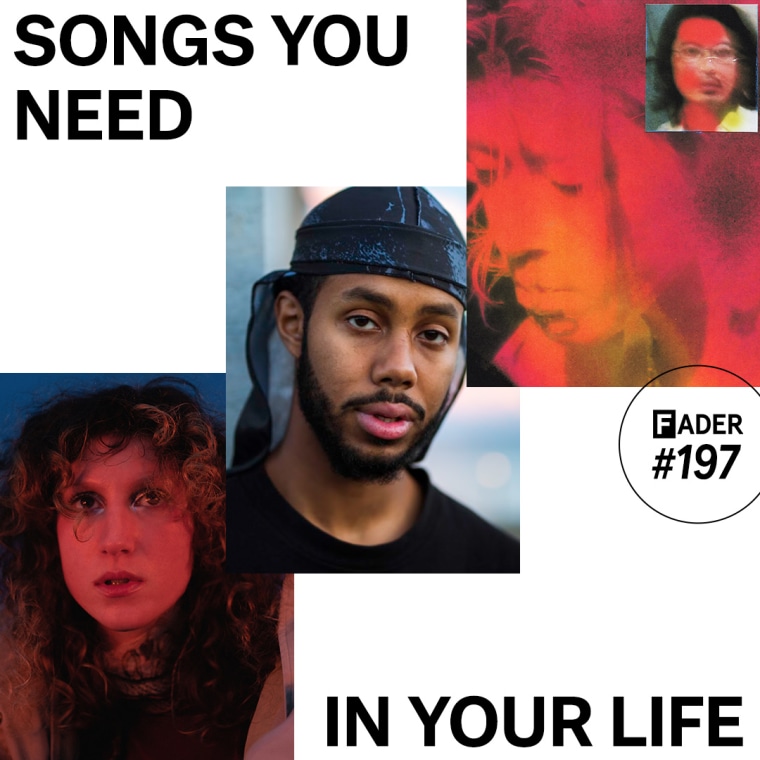 Each week, The FADER staff rounds up the songs we can't get enough of. Here they are, in no particular order.
"Black Rum" — Cake Pop
Cake Pop may well be the motliest crew that Dylan Brady has assembled to date. "Black Rum" is their first bit of sugar-addled Missouri madness.
"In The Flesh" — Ecco2k
Clocking in at just over ten minutes, Ecco2k's new project PXE is an experience best taken whole. "In The Flesh" gives its most immediate hook, transforming bodily awareness into high-voltage pseudo rock, fit for a chimera.
"Lost In Orion" — Don Lifted
On his debut single for Fat Possum, Don Lifted (the project of Memphis native Lawrence Matthews) transcends any potential threats on his identity into a glowing meditation on self-preservation.
"Hurt A Fly" — Squirrel Flower
Written from the perspective of a "narcissistic soft-boy," the lead single from Ella Williams' new record Planet (i) is a hot-headed barnstormer — and further confirmation that Squirrel Flower just keeps getting better.
"Nobody Knows We Are Fun" — CHAI
It's well-established that CHAI know how to amp things up, but "Nobody Knows We Are Fun" (off their new album WINK) proves that they're equally delightful when they slow the groove down.
"Ali" — Mustafa
On the third offering from his forthcoming debut When Smoke Rises, Toronto poet Mustafa counters senseless tragedy with unrelenting grace and empathy.
"Sorry I Am" — Del Water Gap
On his first single since signing with Mom & Pop, S. Holden Jaffe delivers an adroit confessional that sounds and feels like a pivot into greater understanding for the Los Angeles singer-songwriter.
"sex is good (but have you tried)" — Donna Missal
How deep can you actually go? It's all that's on Donna Missal's mind in this aerodynamic stream of post-coital consciousness, produced by Sega Bodega.
"Yodaka" — Tohji, Loota, and Brodinski
Tohji and Loota sound downright ferocious on the entirety of their new project with Brodinski, KUUGA, but we keep returning to the heady thrill of "Yodaka."
"Relax" — Rejjie Snow feat. Cam O'bi and grouptherapy
Rejjie said relax, so kick back and take it all in.