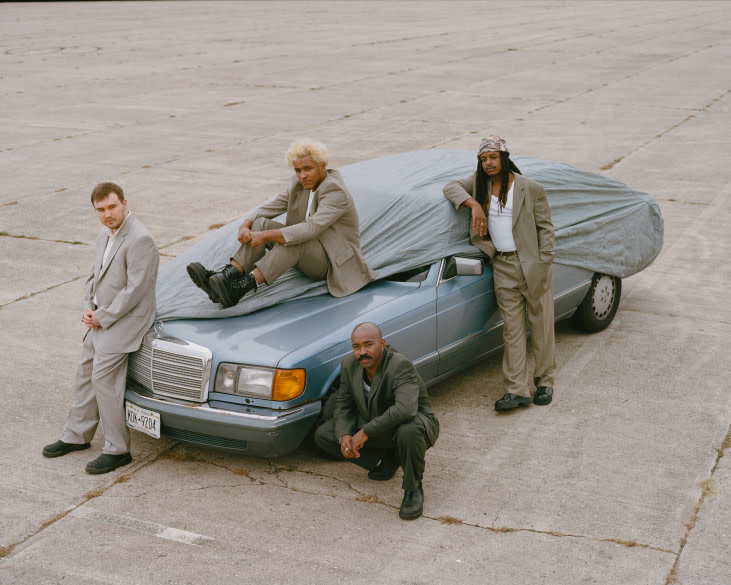 Enumclaw are back with new music and a new video with latest single "2002." In the video vocalist Aramis Johnson spends time contemplating the consequences of his actions, staring at himself in the mirror and being carried by his bandmates in a neat metaphor for the tight bonds that form between band membes. Scroll down to check it out now.
"2002" is Enumclaw's first new release of 2022 and follows last year's Jimbo Demo EP. The new song also marks the band's first release on new label Luminelle Recordings (Magdalena Bay, Helena Deland).
"When we were about to shoot the "Fast N All" video someone called me a narcissist and it made me have a panic attack," Johnson said in a statement. "Once I calmed down I wrote "2002," kinda trying to be sarcastic about how I wake up everyday and try to be the worst possible human. Then when I talked to John the director, I wanted to communicate in the video a chaotic feel and how I wanted to take that narcissist perspective and put it into the spirit of the visual and song."
Enumclaw are currently touring the west coast opening for Naked Giants and will appear at this year's SXSW. They have also announced a series of U.K. and Europe dates plus a couple of shows supporting Illuminati Hotties in Belgium and France.
Live dates:
2/22 - Phoenix, AZ @ Larimer Lounge *
2/23 - San Diego, CA @ Casbah *
2/24 - Los Angeles, CA @ The Echo *
2/26 - San Francisco, CA @ The Chapel *
2/27 - Sacramento, CA @ The Starlet Room *
3/03 - Portland, OR @ Doug Fir Lounge *
3/04 - Vancouver, BC @ Biltmore Cabaret *
3/05 - Seattle, WA @ Neumos *
3/11-3/20 - Austin, TX @ SXSW
3/26 - Boise, ID @ Treefort Music Fest
4/30 - Edinburgh, UK - Stag & Dagger @ Sneaky Petes
5/01 - Glasgow, UK - Stag & Dagger @ Broadcast
5/03 - Dublin, Ireland @ The Cellar
5/04 - Leicester, UK @ Firebug
5/05 - London, UK @ The Shacklewell Arms
05/06 - London, UK @ Peckham Audio
5/07 - Bristol, UK @ Crofters Rights
5/09 - Liverpool, UK @ Zanzibar
5/11 - Manchester UK @ Yes
5/12 - Brighton, UK - The Great Escape @ Green Door Store
5/13 - Margate, UK @ Elsewhere
5/14 - Leeds, UK @ Brudenell "In Colour"
5/15 - Birmingham, UK @ This Is Tmrw Presents: Kill Yr Idols
5/18 - Paris, FR @ Supersonic ^
5/19 - Brussels, BE @ Botanique ^
5/20 - Amsterdam, NL @ London Calling
7/22-24 - Seattle, WA @ Capitol Hill Block Party
* = w/ Naked Giants
^ = w/ Illuminati Hotties