Lucy Liyou announces double LP, shares "Unnie" video
Welfare / Practice drops May 20 via American Dreams Records.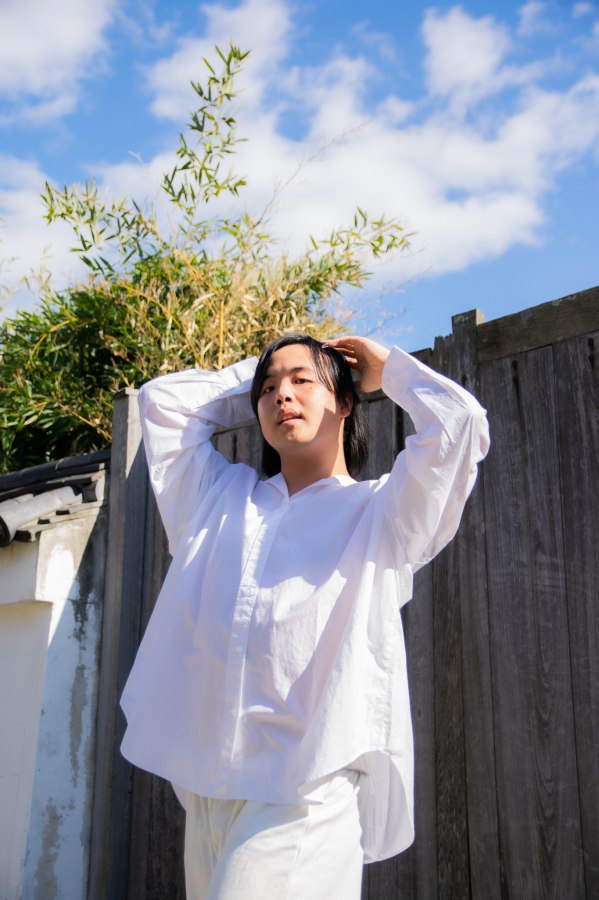 In a blink of the cosmic eye, Lucy Liyou has moved mountains in the ever-emerging ecosystem of contemporary experimental pop. The Philadelphia-based, Korean-American sound artist put out two phenomenal projects before their 23rd bithday. 2020's sprawling, free-associative Welfare and 2021's more focused and fully formed Practice are both masterpieces in their own right, earning Liyou consistent mentions in the rarified company of scene leaders Elysia Crampton, Claire Rousay, and Klein. Today, Liyou has announced they'll be reissuing these already seminal records as a double album on vinyl and CD, shipping out May 20 via American Dreams Records. To celebrate the news, they've shared visuals for Welfare's only miniature track, "Unnie," premiering here.
The new video features American propaganda footage of the Korean War juxtaposed with long panning shots of Liyou's body, slow and close enough to render it abstract as it comes in and out of focus. Also in the mix are grainy images of the moon accompanied by cryptic text passages discussing its many massive craters.
"In between prayers, my grandma would tell me about her life," Liyou says. "How war, the Korean War, left her with more than memories. She would point to my chest and tell me that me, my body, was the will of God. Sacred skin. And I carried those words with me: the idea that this is where the miracle lies. Each crevice, crater, birthmark, and moon created from impact and unflinching will. So when this body stopped feeling like home, I wondered if I was betraying this feat, this existence. If I was betraying her.
"But I'm realizing that the miracle lies elsewhere," they continue. "Maybe in her word and mine. A history and imagination that cannot be fully captured in the flesh. Where 'I remember' becomes 'I believe.' Where 'I trust you' becomes 'I promise.' Here. Every syllable sounds like a person. Passed and becoming. Grandma, Me, and then… and then."
Watch the short, read Liyou's conversation with The FADER, and view their tour dates below.
The FADER: There are plenty of parallels that could be drawn between Welfare and Practice, but I'm wondering where you personally see the throughline and why you decided to reissue them together.
Lucy Liyou: Honestly, my dear friend and musical genius Nick Zanca was the first person to hear Practice before it came out and he told me right off the bat that Welfare and Practice were sister albums. So when Jordan [Reyes] (American Dreams head-person) asked me if I wanted to reissue Welfare on vinyl, I suggested that we put out the two together. But the throughline for me has everything to do with my distorted search for a moral or lesson in my life experiences and my family's history. An attempt to digest everything past and current as consequential materials to parlay, understand, and incarnate. When I listen to these albums together, I hear someone desperately trying to mythologize their life just to find affection in its plot gaps. Meaning where there may be none.
"Unnie" is a departure from the rest of Welfare in that it's much shorter than the other three tracks on the album and it's sung all the way through with no text-to-speech automation (as far as I can tell). It feels sort of like a bridge between Welfare and Practice, which generally comprises more self-contained songs. Do you think of it this way too? And, on a more local level, how did you decide to sequence it where it is on Welfare, sandwiched between three long, arduous tracks?
That is really interesting! But I have never thought about "Unnie" in that way. "Unnie" has no plot, no opera. It's just a song ripe for projection. It doesn't recount a memory and never suggests remembrance. It just exercises my thoughts on gender identity in a way that keeps transitioning over time. In terms of order, again, I cannot take credit for that. Klein, U.K.-based inimitable composer, told me I should put it on the album in between the two most story-driven songs. I think it was the right move.
The video and your accompanying quote made me think about how intergenerational trauma is reflected differently across cultures. My grandparents were Holocaust survivors, but what they impressed upon my father and me from that experience felt less physical than what you describe — your grandmother stressing the miracle of the body and how that affected you growing up. Do you think physical trauma, specifically, can be handed down through generations?
I absolutely believe that physical trauma can be handed down through generations. Immediately after the Korean War, my grandma was severely malnourished because of food shortages and her first child was born without a kidney. And with a grandma who gravely believed in the continuation of a family line, of course, these thoughts and beliefs of intergenerational physical and emotional trauma were inherent in the lessons on the miracle of my body.
Where does the moon figure into all of this?
When I was about 5 or 6, my dad told me about our family's history for the first time. It was a summer night. He told me how lucky I was to have so many aunts and uncles. He never had the chance to meet many of his own. When I asked him where they were, he said "heaven" and pointed to the sky. And I just assumed that heaven was the moon. Take from that what you will :)
Lucy Liyou upcoming shows
5/1 – Market Hotel – Brooklyn, NY *
5/2 – PhilaMOCA – Philadelphia, PA *
5/20 – Church of the Heavenly Rest, New York, NY #
6/10 – Constellation, Chicago, IL ^
* w/ HTRK
# w/ Drew McDowall
^ reissue release show