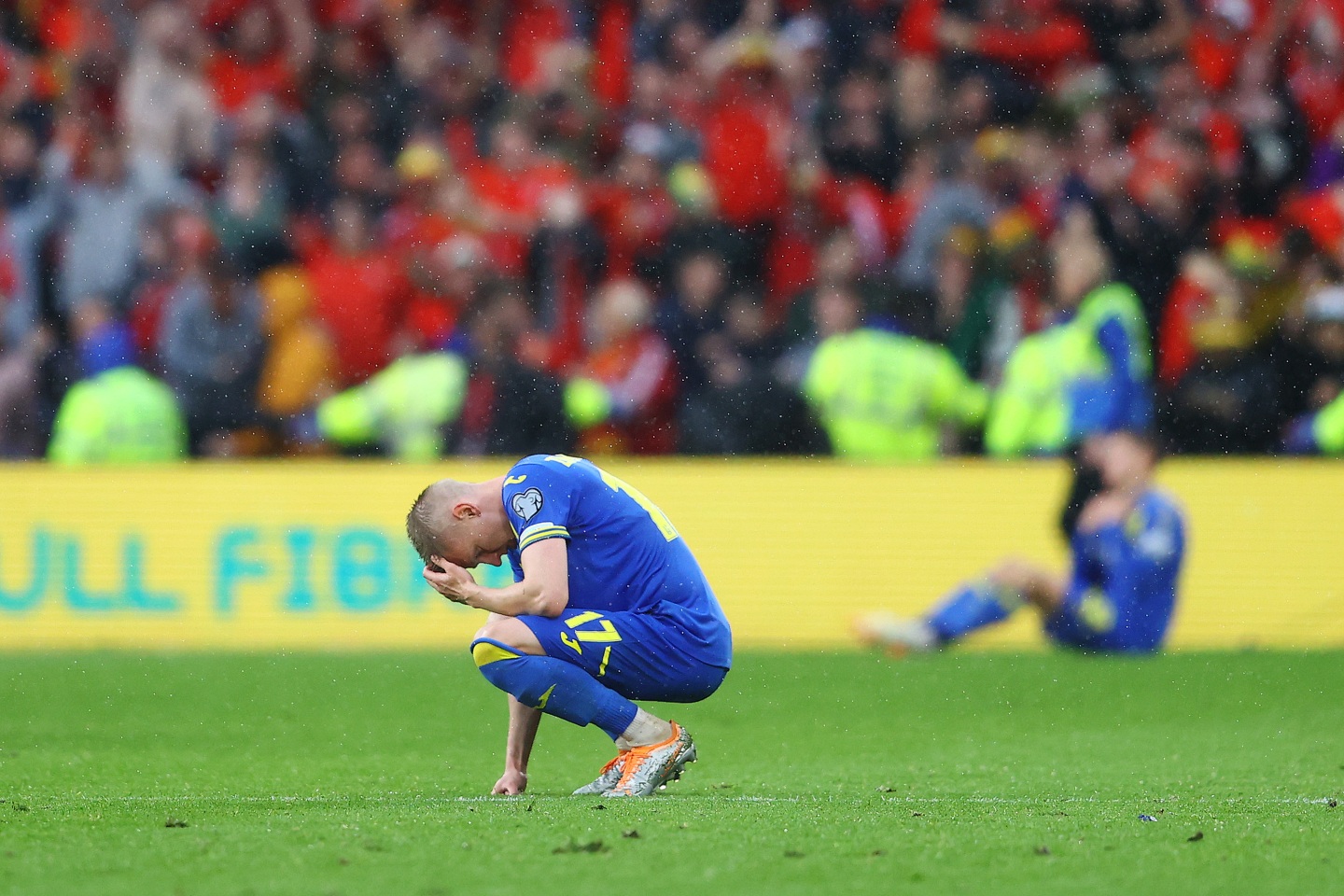 "We have war raging all over the country, we have children and women dying on a daily basis, and our infrastructure [is] being ruined by Russian barbarians," Ukraine's 64-year-old head coach Oleksandr Petrakov said yesterday at a press conference in Cardiff after his team's game against Wales. "The Russians want to hurt us and the Ukrainians are resisting and defending their land. We just want your support. We just want you to understand what is happening back at home."
Soccer coaches don't often use this sort of language after a game. But then games like yesterday's don't happen very often. This was, on its face, a one-off knockout to decide who would play at the World Cup in Qatar this winter, and who would stay home. But what home meant yesterday, what it meant for those Ukrainian players and their supporters and the coach who was told he was too old to be on the front lines but could still be a leader for his country, was something visceral. Front line soldiers sent a blue and yellow flag to Cardiff, and the players hung it up in the dressing room at the Millenium Stadium. They were playing for a country that's very existence is being threatened, and, as Petrakov alluded to in his press conference, needs to stay in the public consciousness if it's going to survive.
Outside the UNO Ukrainian Bistro in the deep western suburbs of Toronto, where I watched the game, every oak tree was wrapped in blue and yellow ribbon, almost everyone was wearing a bright yellow top, and most people ordered their beers in Ukrainian. The cover fee and proceeds from the raffle were being sent to volunteers in Ukraine. Bar staff were overloaded with pierogi orders.
Some of those crammed into the bar were soccer fans. A few wore Ukrainian national team jerseys, fewer still wore Dynamo Kyiv jerseys. "It is very emotionally important," Ivan, 55, wearing a vintage Ukraine national soccer team jersey, said at half-time. "The rest of the world knows what the Ukrainian people are going through. I could watch this at home, on the TV, but it's more important to come here to feel that somehow you are sitting at the stadium, that you are participating. To feel those emotional ups and downs with the people. I'm very nervous."
Others had only a passing interest in the sport itself, but keenly understood the gravity of the game. "Everyone's watching right now," Zach, a 23-year-old in a Ukrainian ice hockey jersey, told me. "Especially the soldiers on the front lines. If they can't watch, they are listening. To boost morale would be amazing."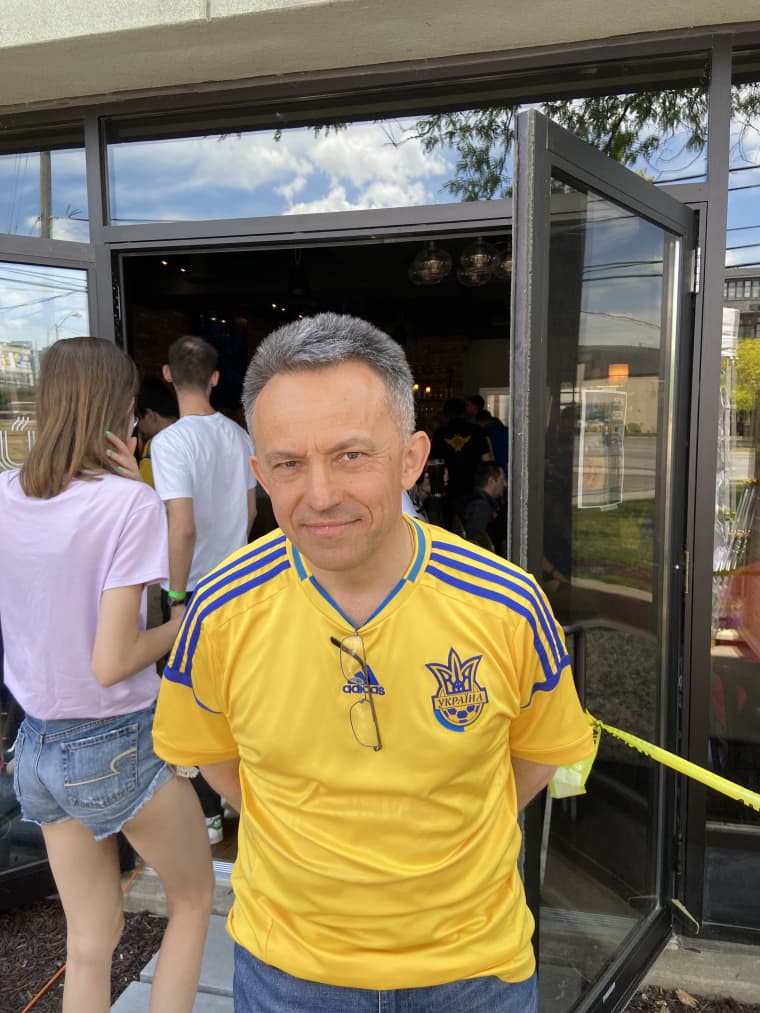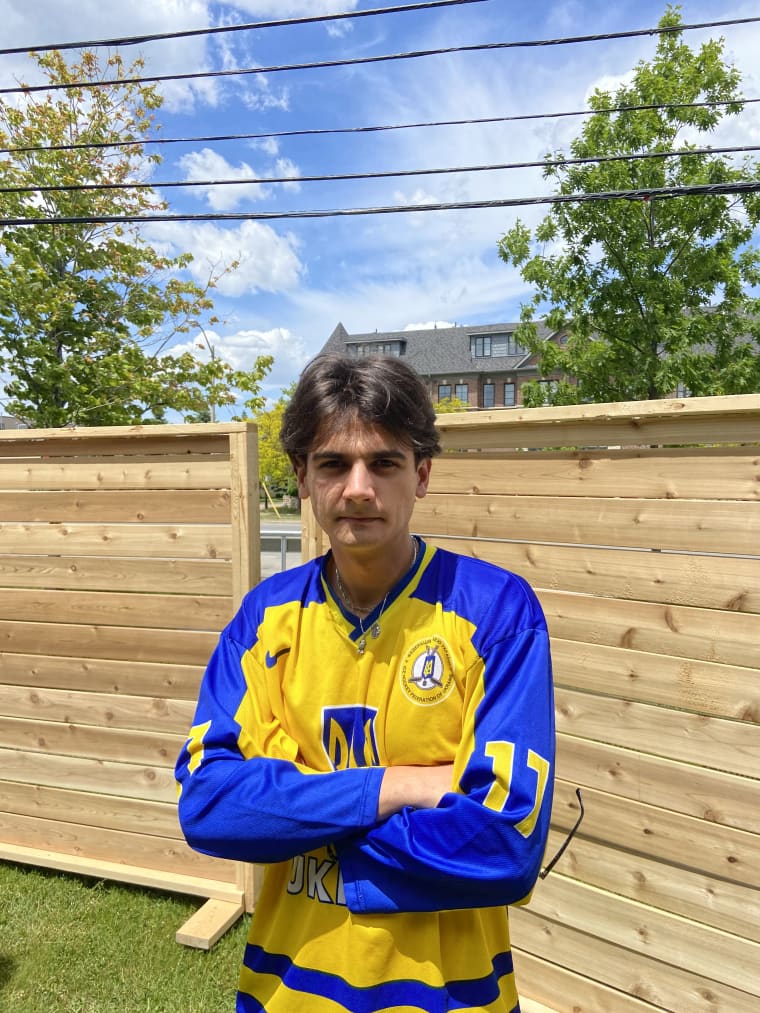 It's difficult to imagine how any game could bear that kind of weight. Another coach, the revolutionary Italian Arrigo Sacchi, said that "football is the most important of the least important things in life," and that's usually true. But there were moments in the build-up to yesterday's game when it felt like football had, albeit briefly, transcended itself, drifted into a new and uncomfortable sphere of significance. Wales had qualified for a World Cup only once, in 1958. They are perennial underdogs, almost mythic underachievers, constantly beaten back by history and harsh luck — under normal circumstances they'd have been the neutral's choice to win. But yesterday, for anyone who isn't Welsh, that all felt like the stuff of football, this very important, unimportant thing. Ukraine weren't only playing for history. It felt like they were playing for the present and the future.
It feels, then, almost impossibly cruel that Ukraine lost this game. They were — and I'm not just saying this because I was surrounded by Ukrainians all afternoon — the dominant team. They absorbed pressure without much fuss, looked more threatening on the counter, created by far the better chances. They were undone by a fluke own goal from Andriy Yarmolenko and a string of miraculous saves from 35-year-old Wales goalkeeper Wayne Hennessey. Yarmolenko himself had a good shout for a penalty turned down in the first half. Wales seemed genuinely panicked by the pressure Ukraine applied in the last 10 minutes. To the extent that anyone deserves anything that they don't get in football, Ukraine deserved better.
Had this Ukraine team looked disjointed or exhausted, had they wilted towards the end or found themselves overcome by the occasion, nobody would have held it against them. Many of the domestic-based players, mostly from the powerhouses of Dynamo and Shakhtar Donestk, spent the first weeks of the invasion in makeshift bomb shelters, protecting their families as best they could. Foreign-based players like Yarmolenko, Oleksandr Zinchenko, and Vitaliy Mykolenko continued to play for their club teams but had their hearts and minds elsewhere. This team had played one competitive game together since the invasion began, and that was the 3-1 win over Scotland last week that earned them the right to play off against Wales. Yet somehow, they looked sharper, fitter, and better organized than many teams who have far less to cope with.
The Ukrainian bar fell completely silent at full-time as the Welsh players rushed the pitch. But a few seconds later a roar rose up from the front of the room and rippled back quickly, in defiant appreciation of the players who had, in the midst of misery and anguish, shown heart and pride and discipline in brilliant blue and yellow in front of the world. One older guy stood up on a chair, blocking the TV and the image of Yarmolenko in tears, screamed "Slava Ukraini!" three times, and had "heroiam slava!" screamed back at him by the entire bar. He then shouted one more line and got another response, none of which I understood.
"The first thing means 'Glory to Ukraine,' and they are shouting back 'Glory to the heroes,'" Zach explained to me. "The other thing, he's saying 'Russian warship,' and they're shouting back, 'Go fuck yourself.'"