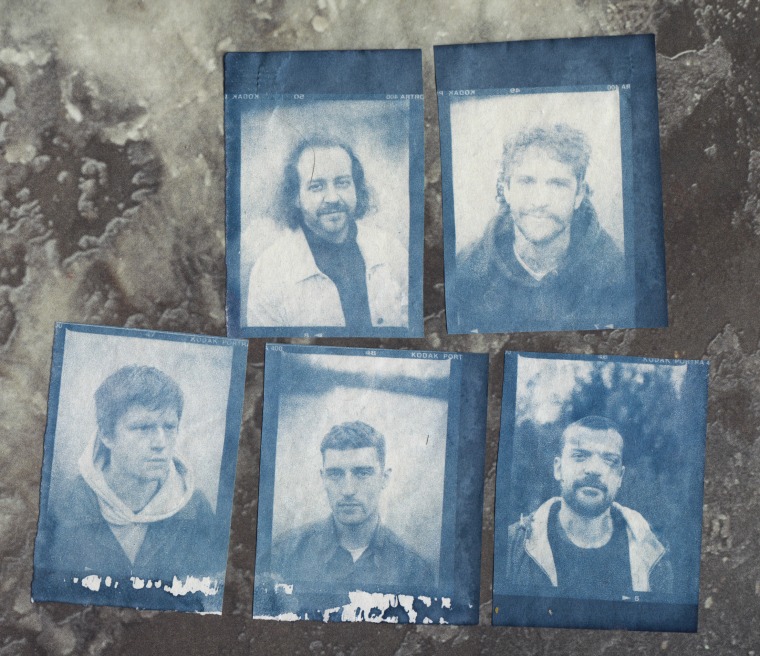 "Hangar," the new single from London band Moreish Idols, is an exercise in tension and release. Jude Lilley delivers his lyrics in half-rapped style, shooting from the hip about "cursed collateral" as he asses the cultural landscape and sneers at a world of pop culture that does nothing to move him while trying to find a way to change it. This frenetic delivery sits atop a tinderbox of guitars, drums, and sax. Musically, Moreish Idols come from the same post-punk space as Black Midi, Squid, and Black Country, New Road, band's who aren't afraid to experiment with traditional forumlas in an attempt to land on something new.
The song comes with a video that reflects a modern media landscape in which all culture, be it low or high, comes packaged and flattened in the same form to be consumed or, just as easily, ignored. Director Dinomoves unknowingly arranged the shoot on the same day as this year's Bafta Awards with the shoot taking place within spitting distance of some of the same people the song rallies against.
"Battling a hangover after arriving back home for Christmas, I felt a bit lost around the house. I picked up a Strat owned by my mums other half (Mark) and strummed a random chord," Lilley tells The FADER. "The guitar was tuned to E due to Mark's obsession with Pink Floyd so out came an unexpected harmonic which became the opening riff to 'Hangar.' I'd been confused about what my 'voice' actually was for a while and what I had to say as an artist that's worth listening to. Whilst playing this chord I began spouting out whatever came to my head and latched onto the patterns that were forming. Observing pop culture and how it manifests our behaviour became the crux of what I was talking about and for some reason it made me angry. I felt like I was just describing the status quo and it irritated me that I didn't have much to say about it. This sentiment falls into the overall 'theme' of 'Hangar,' feeling disenfranchised and bored without having any plan to break through and escape it. After writing the rest of the song with the band, Tom wrote a chorus that both summed up this feeling perfectly whilst acting as a strangely self-deprecating pep talk. This, alongside the at times overwhelming instrumentation, was the final nudge the song needed that inspired me to write the concluding lines 'bust through the ground like a devil' offering some sort of cathartic method to escaping this apathetic mindset."
"Hangar" is produced by Dan Carey (Wet Leg, Fontaines D.C.) and will appear on Moreish Idols' debut EP Float, due August 12 via Carey's Speedy Wunderground label.