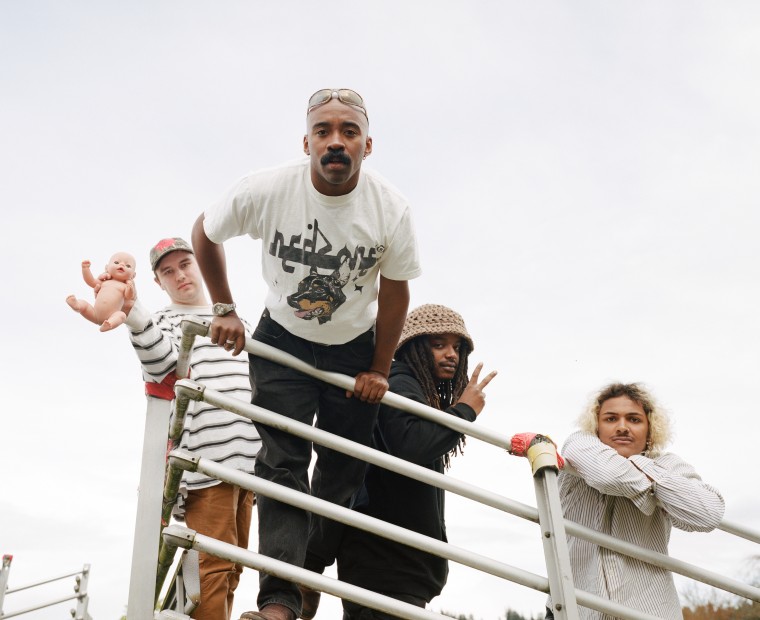 Tacoma garage rockers Enumclaw have announced their debut album Save The Baby. It's out on October 14, and today you can hear its lead single "Jimmy Neutron." No, it's not a homage to a kids cartoon, but the group are very much infatuated with the lovesick guitars and creaky vocal melodies of Dinosaur Jr. on their new song. Watch the video, in which Aramis Johnson takes an anonymous love for a motorcycle ride, below.
"This song is about getting so close to love that you can almost taste it," Johnson says in a press statement. "All the highs of being in love and how ridiculously unlike yourself it can make you act. All the daydreaming you do about what things could be and how they might go. There's always a catch though and in this story as soon as you reach out to grab 'love' and have it in your hands you drop it."
Enumclaw will head out on tour this summer for a handful of dates supporting Toro y Moi before a bunch of shows opening for Illuminati Hotties. Find those below.
Enumclaw 2022 tour dates
July 19 – NYC – Brooklyn Mirage ^
July 20 – Boston – House of Blues ^
July 21 – Philly – The Fillmore ^
July 23 – Seattle, WA – Capitol Hill Block Party
August 27 – Port Townsend, WA – THING
October 14 – Phoenix, AZ – Valley Bar *
October 15 – Santa Fe, NM –Tumbleroot Brewery & Distillery *
October 17 – Kansas City, MO – recordBar *
October 18 – St. Louis, MO – Blueberry Hill Duck Room *
October 21 – Baltimore, MD – Ottobar *
October 22 – Brooklyn, NY – Music Hall of Williamsburg *
October 23 – Cambridge, MA – The Sinclair *
October 24 – Holyoke, MA – Race Street Live *
October 26 - Toronto, ON – Horseshoe Tavern *
October 27 – Detroit, MI – El Club *
October 28 – Cleveland, OH – Grog Shop *
October 29 – Chicago, IL – Thalia Music Hall *
October 30 – Madison, WI – High Noon Saloon *
October 31 – Minneapolis, MN – Fine Line *
November 2 – Omaha, NE – Reverb Lounge *
November 3 – Denver, CO – Globe Hall *
November 4 – Denver, CO – Globe Hall *
November 5 – Salt Lake City, UT – Soundwell *
November 6 – Las Vegas, NV – The Space *
November 8 – San Diego, CA – Casbah *
November 10 – Los Angeles, CA – Teragram Ballroom *
November 11 – Santa Cruz, CA – Catalyst Atrium *
November 12 – San Francisco, CA – August Hall *
November 13 – Sacramento, CA – Goldfield Trading Post *
November 16 – Eugene, OR – Sessions Music Hall *
November 17 – Portland, OR – Wonder Ballroom *
November 18 – Vancouver, BC – Biltmore Cabaret *

^ = supporting Toro y Moi
* = supporting Illuminati Hotties