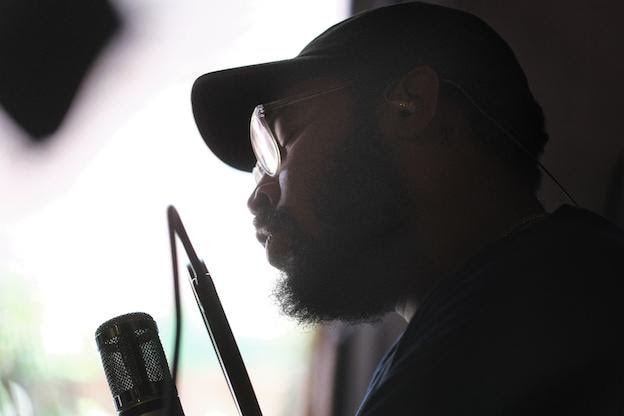 Bartees Strange will cap off an intense year of touring late this fall with his first-ever North American headlining tour. The news comes in the wake of his second studio LP Farm To Table's release this past Friday, June 16.
Bartees will kick off his newly announced run on November 3 at the Thunderbird in Pittsburgh and maneuver the continent for six weeks before finishing at Nashville's Basement East on December 19th. They Hate Change, Pom Pom Squad, and Spring Silver will open on most nights. This will conclude his busy year on the road, including a previously revealed headlining European leg and two supporting stints: in early August with The National and in the late summer and early fall with Metric, Spoon, and Interpol.
View all of Bartees Strange's upcoming dates below, and listen to his conversation with our Editorial Director Alex Robert Ross on the latest episode of The FADER Interview.
July European headlining tour
July 1 – Six-Fours-Les-Plages, FR – Ile Du Gaou
July 3 – Werchter, BE – Rock Werchter 2022
July 4 – Cologne, DE – Helios37
July 5 – Hamburg, DE – Molotow
July 7 – Berlin, DE – Badehaus
July 9 – Madrid, ES – Mad Cool Festival 2022
July 11 – Munich, DE – Milla
July 12 – Fribourg, CH – Festival Les Georges
July 13 – Rees-Haldern, NL – Haldern Pop Bar
July 14 – Amsterdam, NL – Upstairs @ Paradiso
July 16 – Leeds, UK – Community Room @ Brudenell Social Club
July 17 – Manchester, UK – Night & Day Café
July 19 – Cardiff, UK – Clwb Ifor Bach
July 20 – Brighton, UK – Patterns
July 21 – London, UK – Powerhaus
July 22 – Suffolk, UK – Latitude Festival
Supporting The National
August 7 – Calgary, AB – Southern Alberta Jubilee Auditorium
August 8 – Bonner, MT – KettleHouse Amphitheater
August 9 – Ogden, UT, –Ogden Amphitheater
August 10 – Dillon, CO – Dillon Amphitheater
August 13 – North Adams, MA – MASS MoCA
Supporting Metric, Spoon, and Interpol
August 26 – Toronto, ON – Budweiser Stage
August 27 – Ottawa, ON – National Arts Centre
August 29 – Montreal, QC – MTELUS
August 30 – Quebec, QC – Capitole de Quebec
September 1 – Halifax, NS – Rebecca Cohn Auditorium
October 1 – Columbia, MD – All Things Go Music Festival
Fall 2022 North American headlining tour
November 3 – Pittsburgh, PA – Thunderbird &$
November 4 – Cleveland, OH – Grog Shop &$
November 5 – Columbus, OH – The Basement &$
November 7 – St. Paul, MN – Turf Club &$*
November 8 – Chicago, IL – Thalia Hall (In The Round) &$*
November 9 – Detroit, MI – Loving Touch &$*
November 14 – Boston, MA – The Sinclair $*
November 28 – Houston, TX – White Oak &$*
November 29 – Austin, TX – Parish &$*
November 30 – Dallas, TX – Deep Ellum Art Co &$*
December 5 – San Diego, CA – Music Box &$*
December 6 – Los Angeles, CA – Regent &$*
December 7 – San Francisco, CA – Independent &$*
December 9 – Seattle, WA – Neumos &$*
December 10 – Vancouver, BC – Fox Cabaret &$*
December 11 – Portland, OR – Doug Fir &$*
December 13 – Salt Lake City, UT – Urban Lounge &$*
December 14 – Denver, CO – Bluebird &$*
December 16 – Oklahoma City, OK – Beer City Music Hall &$*
December 18 – Atlanta, GA – Terminal West &$*
December 19 – Nashville, TN – Basement East &$*
& with They Hate Change
$ with Spring Silver
* with Pom Pom Squad