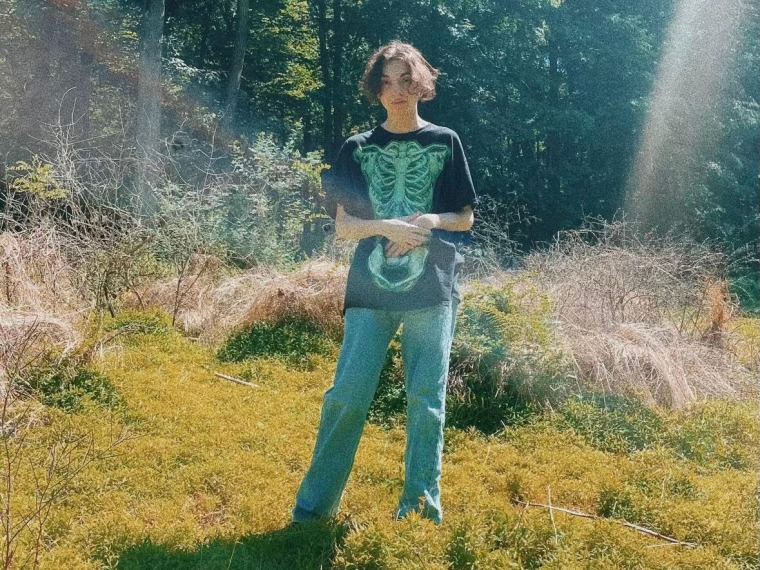 dltzk has officially changed their stage name to Jane Remover, and the 18-year-old leaves a discography still worth getting excited about. 2021's Teen Week was a watershed achievement in the hyperpop/digicore that, despite the artist's misgivings, still shines with how it ambitiously collides genres in service of unvarnished teenage ennui. Frailty, their debut album released the same year, was a huge leap forward in songwriting, wringing out the tsunami of rave and glitch-inspired sonics and structuring them around more surreal lyrical imagery and guitars – shrouded in lo-fi tape effects, shredded to pop-punk perfection, you name it.
"Royal Blue Walls" is one of two new songs released today to announce Jane Remover's name change, and appropriately, the song muses on the process of renewal in a hostile world: "Fourteen, I told myself that / At the turn of the decade I'd call it quits," they sing, "Sixteen, I told myself that / If we wanna keep it off, we've gotta get our act together." Over a reef of shimmering emo guitars, Jane wrestles with their own ghosts as well as the very real monster next door with a gun collection and an appreciation for TV that tells him to fear people like Jane.
The zig-zaginess of Jane's previous work is here, along with an almost Britpop-y appreciation for a good cathartic moment which the song accomplishes no less than two distinct times. But it's not so surprising in the context of Jane's work: as they release more and more music, they consistently unfurl in impressive and even vital ways.
Read Jane Remover's statement on their name change and the song below:
"The stage name dltzk has never sat right with me. Oftentimes in interviews or during conversations, I struggle to get the name out of my mouth. Originally being a username I'd conjured when I was a kid, it reminds me of what I've been doing with my teen years... Hiding. The best way to figure out who you really are is through honest self-expression and I'd prefer to start anew.
With that being said, most people know I'm not very fond of my EP 'Teen Week;' it encapsulates a gradual acceptance of my own true self. While making that project, years ago, I was not in the same headspace, as I currently am today. I was much younger… I was a teen (LOL) and I was still learning how to navigate life. I'm not comfortable with the project as it currently is, so in the next coming weeks, that EP will be abridged to a version more to my liking.
dltzk reminds me of a period of my life I'd like to move past, and I hope you all understand my reasoning as to why I'm dropping it. I've spent enough time facing bigotry in my life, from the closest people in my life to even my own fans. I know, for a fact, who I am and what I stand for. Just so everyone is in the loop now, and I don't have to keep beating around the bush: my name is Jane, from now on I make music as Jane Remover, and that's all there is to it.
"Royal Blue Walls" is a song about… yeah 😎"