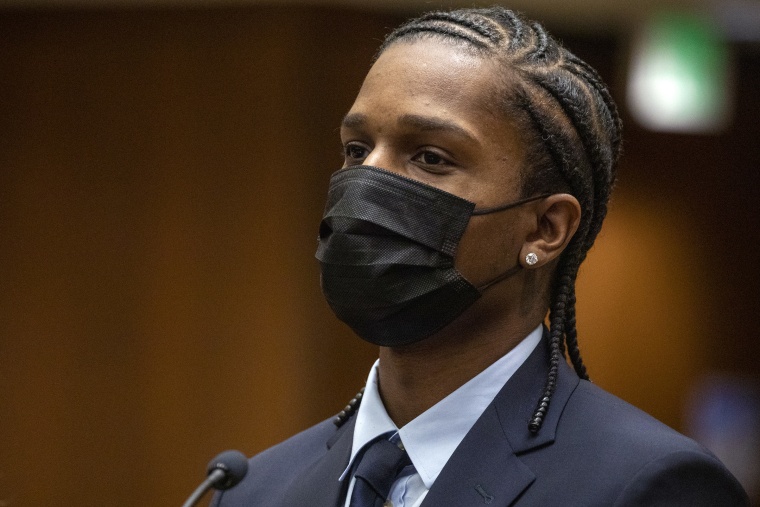 Rakim Mayers (A$AP Rocky) pleaded not guilty to two felony counts of assault with a semi-automatic weapon at his Wednesday arraignment in Los Angeles County court. The news was first reported by Rolling Stone Wednesday afternoon and has since been confirmed by multiple outlets. The FADER has reached out to Mayers' attorney, Sara L. Caplan, for further comment.
The case against Mayers stems from an incident that allegedly took place between the Harlem rapper and his former colleague Terell Ephron (A$AP Relli) in on November 6, 2021. Ephron — who came forward as Mayers' alleged victim last week after remaining anonymous in the months following his April arrest and is now suing him in civil court for assault and battery, negligence, and emotional distress — claims Mayers invited him to a location in central Hollywood to "discuss a disagreement" the two men were having. According to the complaint, Mayers arrived to the meeting armed with a semi-automatic weapon and "without provocation, warning, or any justification… produced the handgun and intentionally fired multiple shots at Mr. Ephron."
L.A. District Attorney George Gascón announced the state's charges against Mayers on Monday, noting in his statement that "[d]ischarging a gun in a public place is a serious offense that could have ended with tragic consequences not only for the person targeted but also for innocent bystanders visiting Hollywood." If convicted at trial, Mayers could face up to nine years in prison.