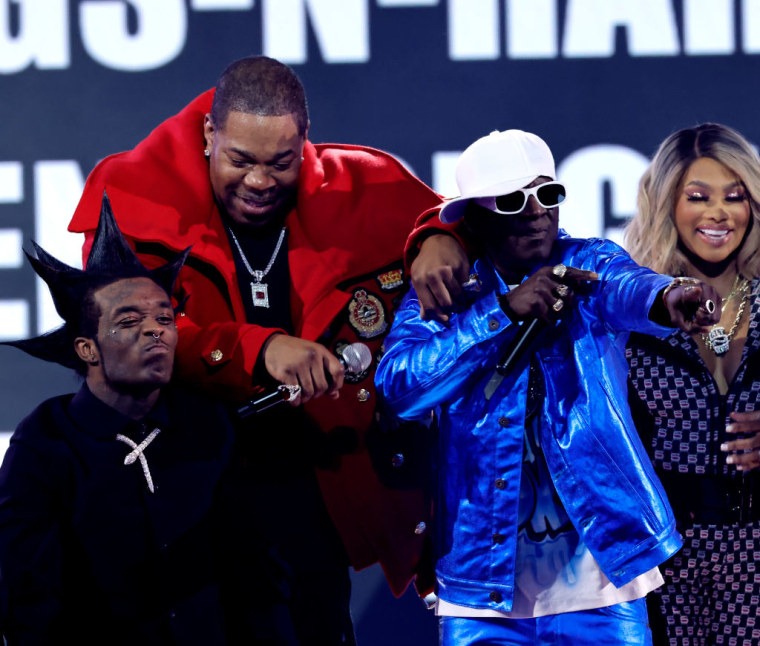 The 2023 Grammys were a night of record-breaking wins and some trademark shocks but one of the most memorable moments came with an all-star tribute to hip-hop and rap celebrating the genre's 50th anniversary. Questlove helped curate the performance, which began with an introduction from LL Cool J and featured dozens of artists who have helped put hip-hop where it is today.
Split into roughly three sections, the performance included a spotlight for forefathers including Grandmaster Flash, Barshon, Melle Mel, Rahiem, and Scorpio who then paved way for Run-D.M.C., who performed "King of Rock," LL Cool J ("I Can't Live Without My Radio"), DJ Jazzy Jeff ("Rock the Bells"), Salt-N-Pepa ("My Mic Sounds Nice"), Rakim ("Eric B Is President") and Chuck D and Flavor Flav of Public Enemy doing "Rebel Without A Pause."
Skipping forward to the '90s, De La Soul made an appearance as did Ice-T, Method Man, Queen Latifah, Busta Rhymes, Big Boi of OutKast, and Missy Elliot, who ran through her song "Lose Control."
The sheer length and breadth of rap hits continued as Nelly took to the stage to perform "Hot In Herre" shortly followed by Swizz Beatz and the Lox with "We Gonna Make It." As proceedings moved toward the present day, GloRilla appeared with her song "F.N.F. (Let's Go)" and Lil Baby did "Freestyle." Finally, with an eye on the future, Lil Uzi Vert capped things off with his song "Just Wanna Rock."
Check out highlights from the performance below.