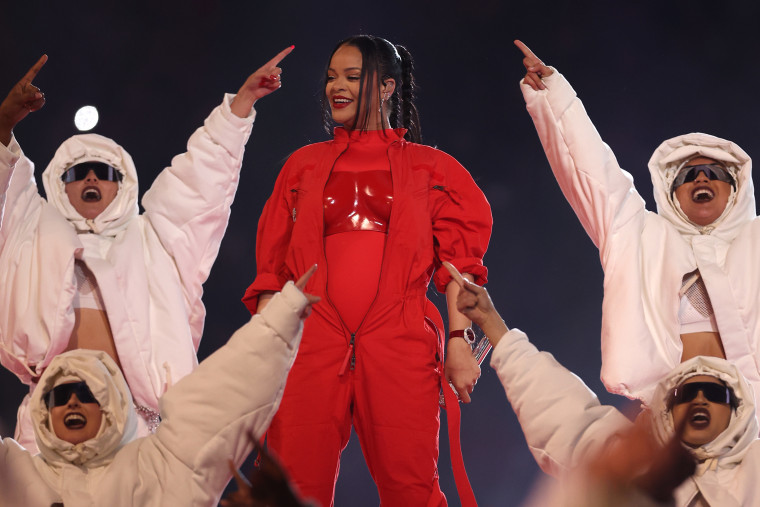 Rihanna's performance at the Super Bowl Halftime show on Sunday evening was as serviceable as one could expect from a celebrity who has transcended modern pop stardom. Her first live performance in seven years did not contain a trace of original new music, but she did reveal that she was pregnant with her second child. The fleet of energetic dancers who surrounded her (styled in hazmat-esque puffers that brought peak-pandemic fears rushing back) accentuated Rihanna's relatively reserved movements. It's what the Mona Lisa would deliver for tourists in Paris if she came to life: subdued, a little mysterious, just enough to reinforce her status as a "legend" and not much more.
Still though, the show's setlist offered some variations and tweaks on the hits from across Rihanna's catalog, the boldest and most exciting being the remix of "Rude Boy." The original song signaled a new era for Rihanna when it was released in 2009, its pulsing synths and trap rolls dripping with promiscuity. At half time, Rihanna went with the baile funk remix of the song (shout out to @billdifferen on Twitter, who clocked the "Rude Boy" remix as it happened.)
It was produced by Klean, a teenager from Brazil — nobody can pin down exactly how this unofficial reinterpretation landed in Rihanna's court — and released in 2020. Klean's "Rude Boy" chops up Rihanna's opening lines with arena-friendly EDM stabs and some of the same drum breaks that have been circulated in baile funk sample packs for decades. The Avicii-ness of Klean's version fits with baile funk's ever-expanding dimensions. If you're browsing through SoundCloud and YouTube, the two platforms that baile funk artists favor for releasing music, you can go from hearing something that could attain global success like Klean's "Rude Boy" into a track that's a little more rough-around-the-edges. Anything goes.
Rihanna's Super Bowl show felt content to settle for adequate spectacle — there were few fireworks besides the literal fireworks — but the Klean remix at least hinted at the ways in which Rihanna's songs endure and continue to inspire, long after their initial release. Whether or not Rihanna ever returns to music full-time, it's good to see that she can still elicit a thrill.