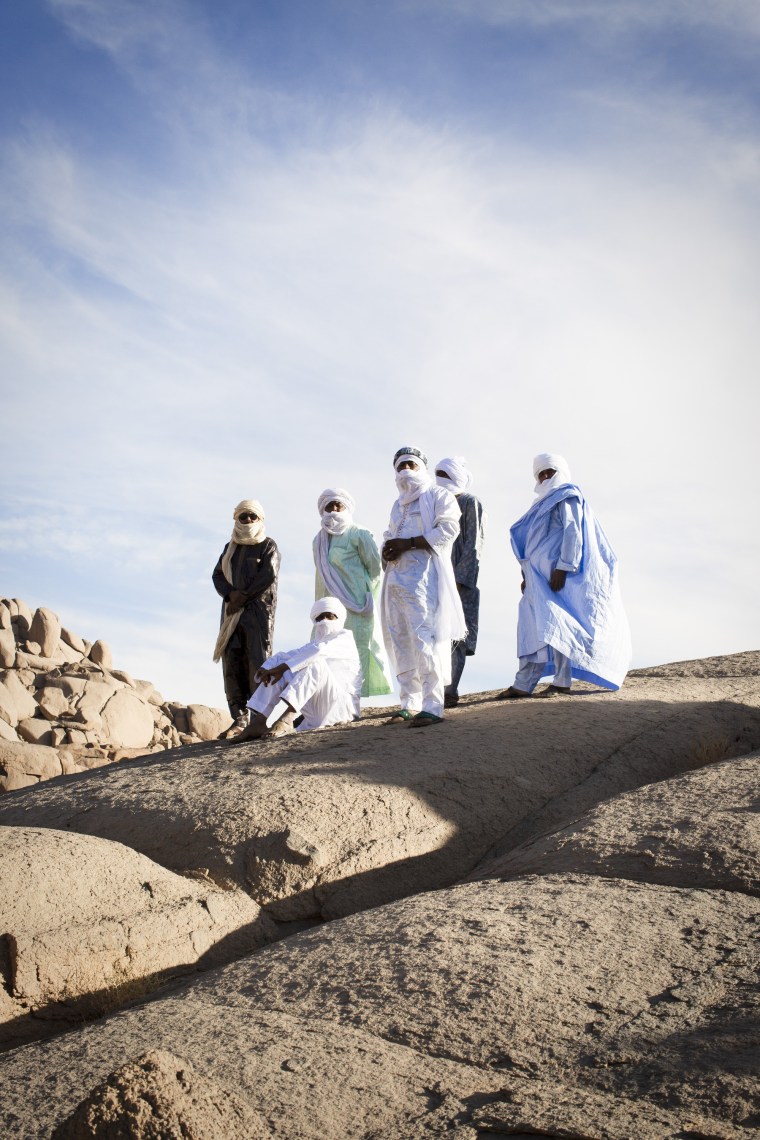 More than 40 years into their collective career, Tinariwen still sound as electric when they first began. The group's founding members, guitarists Ibrahim Ag Alhabib and Abdallah Ag Alhousseyni, are still steering the ship after all these years, albeit with a different crew. Today (March 14), they've announced their ninth studio LP, Amatssou. Recorded in collaboration with prolific producer Daniel Lanois, the album is due out May 19 via Wedge Records. The project's lead single, "Tenere Den," is a continuation of both the desert blues sound they pioneered and the revolutionary message they've always held close.
"Out there, the great desert / White at times / And at other times / Red with the blood of the martyrs," Alhabib sings at the start of the song in Tamasheq, the main language of the southern Tuareg people. Among the martyrs Alhabibi is referring to is his own father, whose execution he witnessed in 1963 during a Tuareg uprising in the Kel Adagh Mali when he was only four years old. The song is at once mournful and defiant, its lamenting string section buoyed by persevering percussion. "Don't you know that the revolution / Has taken hold in the Adagh / That it is vigilant and keeps hold its positions," he sings later in the song and nearly three decades after the treaties that largely stopped the fighting were signed.
Watch Alexis Jamet's lyric video for "Tenere Den," check out Amatssou's cover art and tracklist, and view Tinariwen's 2023 tour dates below.
Amatssou album art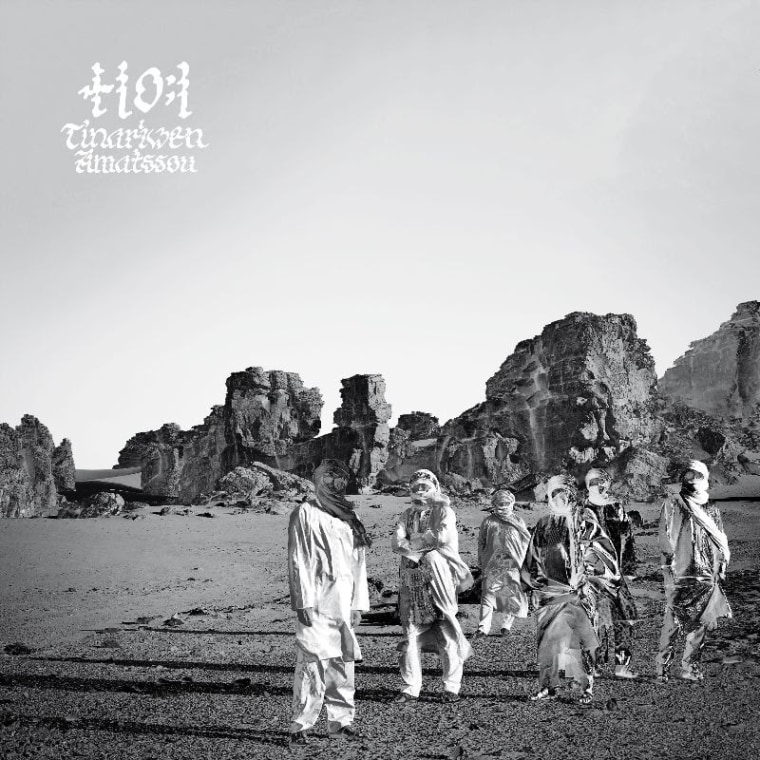 Amatssou tracklist
1. Kek Alghalm
2. Tenere Den
3. Arajghiyine
4. Imzad (Interlude)
5. Tidjit
6. Jayche Atarak
7. Imidiwan Mahitinam
8. Ezlan
9. Anemouhagh
10. Iket Adjen
11. Nak Idnizdjam
12. Tinde (Outro)
Tinariwen 2023 tour dates
May 27 - Chicago, IL - Old Town School of Folk Music
May 30 - Portland, OR - Wonder Ballroom
May 31 - Seattle, WA - Showbox
June 2 - Berkeley, CA - UC Theater
June 3 - Los Angeles, CA - Fonda Theater
June 5 - New York, NY - Webster Hall
June 6 - Boston, MA - Sinclair
June 7 - Washington, DC - Lincoln Theatre
June 10 - Hilvarenbeek, NL - Best Kept Secret Festival
June 12 - Rubigen, CH - Muhle Hunziken
June 14 - Florence, IT - Ultravox
June 15 - Milan, IT - Triennale Garden
June 16 - Turin, IT - Hiroshima Mon Amour
June 18 - Dublin, IE - Body & Soul Festival
June 22 - Berlin, DE - Festsaal Kreuzberg
June 24 - Glastonbury, UK - Glastonbury Festival
June 26 - Lille, FR - Splendid
June 28 - Paris, FR - Salle Pleyel
June 29 - Brussels, BE - Ancienne Belgique
July 1 - Roskilde, DK - Roskilde Festival
July 2 - Stockholm, SE - Slaktkyran
July 4 - Oslo, NO - Rockefeller
July 7 - Bilbao, ES - BBK Live Festival
July 11 - Arles, FR - Les Suds Arles
July 15 - Bristol, UK - SWX
July 17 - Glasgow, UK - St Lukes
July 19 - Bermingham, UK - Institute 2
July 22 - Cheshire, UK - Bluedot Festival
Tue. 25 - Vigo, SP - Terraceo Festival
July 29 - Luxey, FR - Musicalarue Festival