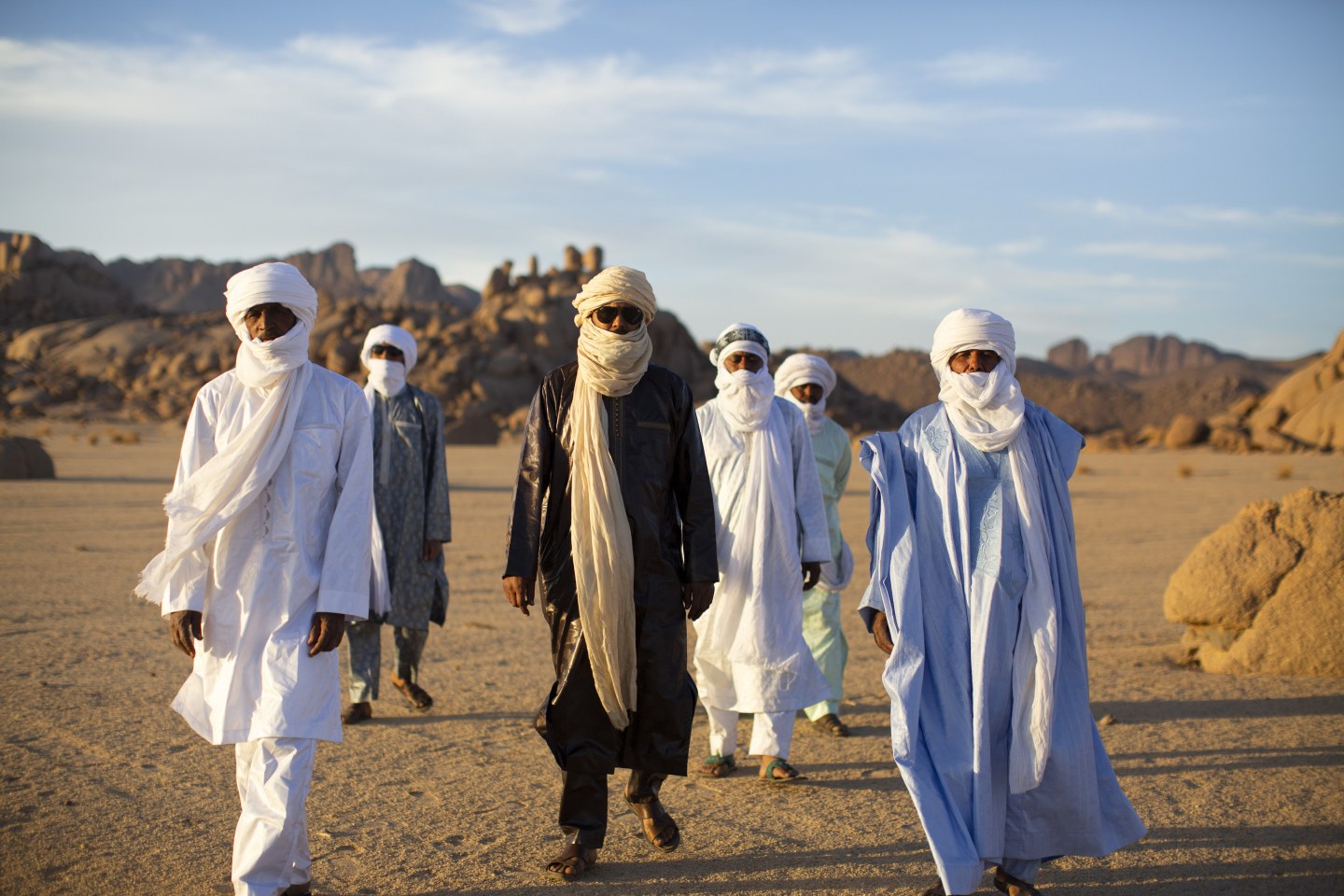 Amatssou, the new album from Tuareg desert blues pioneers Tinariwen, begins with a question. "Why so much silence, all over the world / Only spilt blood / Only brave men killed?," Abdallah Ag Alhousseyni asks on its opener, "Kek Alghalm" ("The World"), in Tamasheq. The record continues with a rallying cry, also in question form: "Don't you know that the revolution / Has taken hold in the Adagh / That it is vigilant and keeps hold of its positions?," Alhassane Ag Touhami sings on track two, "Tenere Den" ("Desert"). The project's next message is more decisive: "Dear brothers / All rest, all leisure will always be far from reach / Unless your homeland is liberated / And all the elders can live there in dignity," Ibrahim Ag Alhabib — the group's founding father — proclaims on "Arajghiyine" ("The Traitors").
Founded 44 years ago in Mali, Tinariwen has been through multiple lineup rotations to accommodate death and departure. But their vision, at its core, has always been Ibrahim's. And Ibrahim — who was only four years old when he witnessed his father's state-sanctioned murder during the spring uprising of 1963 — keeps his eyes glued to the struggle for Tuareg liberation from oppressors domestic and foreign. The venom in his lyrics is belied, however, by the mesmeric guitar style they created. Dubbed "assouf" ("nostalgia"), it ironically ushered in an exciting new sound like nothing before it. This specific style has become inextricably associated with Tuareg music. But Tinariwen don't see "assouf" as a uniquely Tuareg phenomenon. "You can find this feeling in lots of music," Ibrahim and Abdallah tell me over email. "Saudade in Brazil, fado in Portugal, the blues in America…"
"Playing guitar around the campfire, telling the story of the old time, is not so far away from how these cowboys used to live."
On Amatssou, Tinariwen are joined (not for the first time) by artists from across the Atlantic. The record was produced by and features pedal steel stylings from Daniel Lanois, an industry titan who's collaborated with Bob Dylan, Neil Young, Peter Gabriel, Emmylou Harris, Willie Nelson, and U2 (with an assist from Brian Eno) in the past. Wes Corbett's banjo mingles with the steady churn of guitars and percussion that underscore "Kek Alghalm." And country polymath Fats Kaplin graces several tracks with several different instruments. "I am so honored that Tinariwen, once again, asked me to play on their album," Kaplin says. "Their musical depth and poetry is truly inspiring. To weave the instruments that I play (pedal steel, violins, banjo) through their complex rhythms, I immersed myself in it all, allowing myself to be one with the song. With engineer Joshua V. Smith, here in Nashville, that is what we did, deep into the night."
Ibrahim and Abdallah say they feel a kinship with the country and blues musicians from the Old West. "The cowboys from the old time used to be shepherds like we used to be," they explain. "We are strongly connected to the nature around us like these guys in the past. Playing guitar around the campfire, telling the story of the old time, is not so far away from how these cowboys used to live."
And yet, Amatssou never shies away from criticism of the contemporary Western world. "Touareg, where have they gone? / What have you achieved? / We fought in Israel / We understood that oppression is unbearable," Alhassane sings on "Imidiwan Mahitinam" ("What are you saying?"), continuing on the chorus: "That America, so renowned / Sent airstrikes that brought sadness to Libya / And did it with total indifference." Despite their reliance on the West for a large portion of their income, Tinariwen remain in defiance of imperialism wherever it rears its ugly head. Much bands with far less to lose show far less bravery.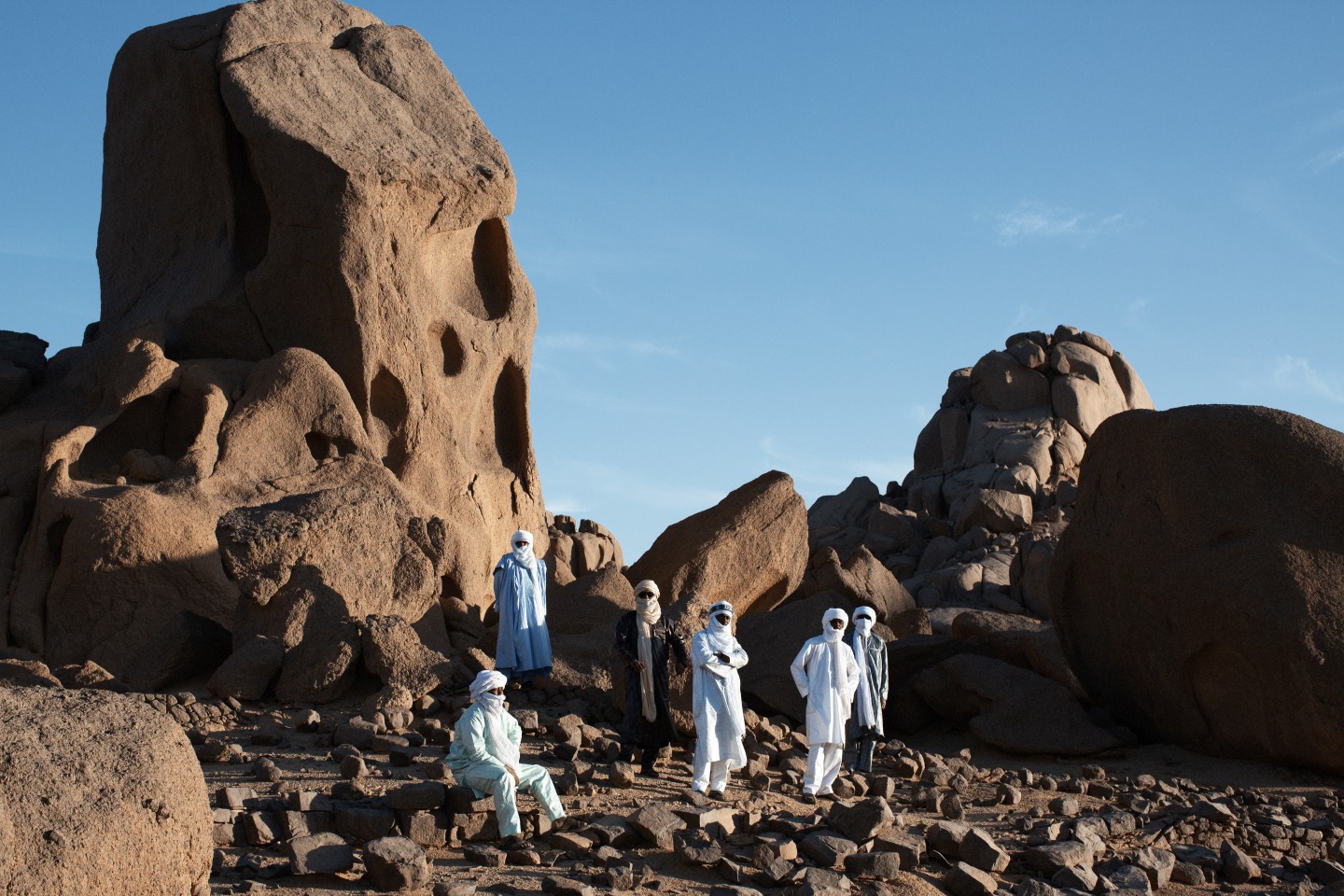 "If we want our culture to still be alive, we need to be united or we will disappear."
Tinariwen have a deep love for the music they make and the stories they tell, but they're growing weary of the endless global tour they've been on since the release of their first studio album, The Radio Tisdas Sessions. It's the only way they can support themselves through music, but it takes a toll. "We are tired [of] touring so much," Ibrahim and Abdallah write. "We all have families and friends to support where we are. We need time to take care of them and take care of our people…"
It's a testament to their fierce love of their people that, after spending half of their collective career spreading their culture around the world and experiencing the relative comforts of the West along the way, their focus has never strayed far from home. Now, more than ever, they tell me, is the time for the Tuareg to unify and fight.
"If we want our culture to still be alive, we need to be united or we will disappear," they say. "The Sahara is rich in gold, gas, minerals, uranium… A lot of people want to exploit these resources. If we don't stand in front of all these threats we will die. "This is what 'amatssou' means: beyond the fear. We need to move forward, even if we are afraid of the situation."