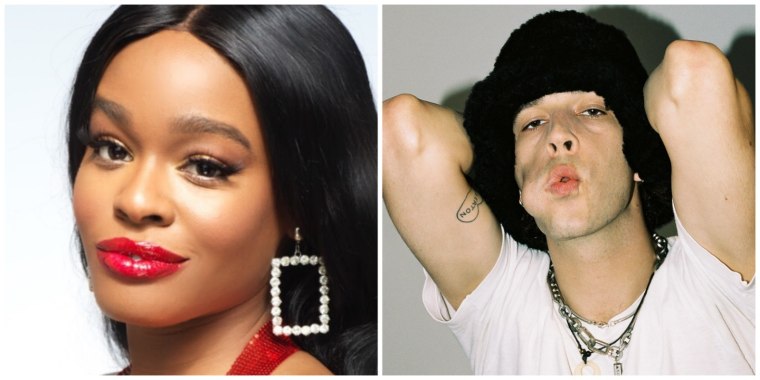 Rapper and cultural commentator Azealia Banks has trained her sights on Matty Healy, frontman for The 1975, who became pop's most scrutinized figure after rumors of a relationship with Taylor Swift began to circulate this month. One of the biggest issues that emerged for fans of Swift were problematic jokes Healy engaged with during an appearance on a comedy podcast called The Adam Friedland Show, especially a segment mocking ascendant rap superstar Ice Spice. Healy has since apologized, though he later said that anyone who claims to be upset is "either lying or a bit mental." It's a messy situation, the kind that Azealia Banks is famously unfamiliar with.
Diving right in via her Instagram Story, Banks called Healy "a lame poser with a trash cliche band name," compared him unfavorably to Ariel Pink and James Mercer of The Shins, and said that his amusement at the Ice Spice jokes stemmed from jealousy over her success. "Ice Spice has MILES more originality than you will ever," Banks wrote. "The 1975 is on nobody's radar babe." (Apropos of nothing, read our 2019 cover story here.)
In an audio recording posted separately, Banks advised Healy to eat "a strong green salad" and "wash [his] dick." A text post apparently directed towards Swift pleads with her to leave: "Ugh this dude is a full incel… You cannot be letting him climb the rich white Coochie mountain sis." Banks also took a few shots at Healy's addiction issues and the weight of his fans — jokes that are also problematic, but since she's not dating Taylor Swift (allegedly!), no one is likely to care. Find her full thoughts below.