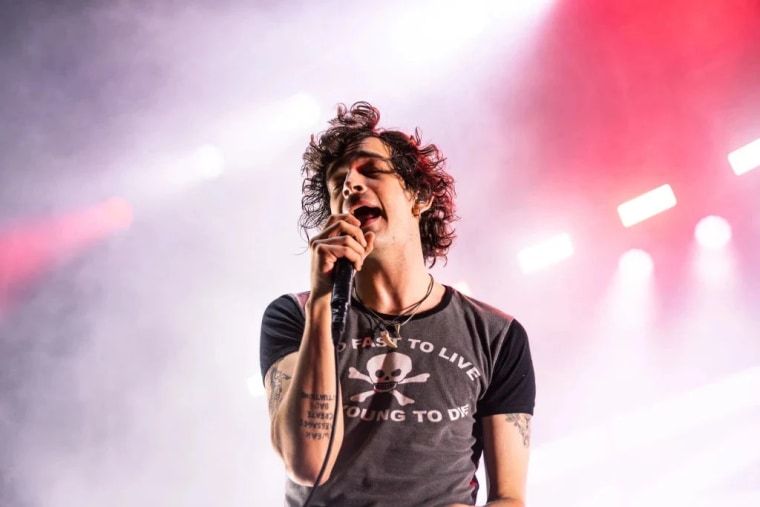 Matty Healy is sorry. Or at the very least "sorry?" Earlier today, Caroline Polachek shared that she'd lost her voice, and would have to pull out of her slot opening for the 1975 tonight in Dublin. Her replacement: Matty himself.
Healy's been all over the news lately. He dated Taylor Swift. He broke up with Taylor Swift. He made some racially charged comments about Ice Spice, who then featured on Taylor Swift's "Karma" remix. Noel Gallagher called him a "fucking slack-jawed fuckwit." Expectations were high and wide-ranging for what he might do — a stand-up comedy set, perhaps?
Here's what actually happened: Healy played a stripped-down set on guitar with a white sheet pinned up behind him. When the set was mostly over when Jamie Squire came out to sing a cover of "A Song For You" by Leon Russell while Healy spray painted the word "SORRY" in all caps onto the sheet. He stepped back to smoke a cig and admire his work, before reconsidering and going back in to add a question mark at the end, making it "SORRY?"
Healy also clapped back at Noel Gallagher: "The difference between me and Noel is that I do a series of interviews to promote an album, whereas he does an album to promote a series of interviews."
Find the original video of Matty Healy entering his Banksy era — plus a photo of the finished project — below. His opening setlist is also included. The FADER will continue to post updates if they arise during the 1975's first show post Matty-Taylor breakup.


Matty Healy opening setlist 6/7
1. "Then Because She Goes"
2. "Jesus Christ 2005 God Bless America"
3. "All I Need To Hear"
4. "I Just Don't Think I'll Ever Get Over You" (Colin Hay cover)
5. "I Couldn't Be More In Love"
6. "Woman"
7. "Playing On My Mind"
8. Jamie Squire sings a cover of "A Song For You" by Leon Russell while Matty spray paints the word "Sorry?" on the stage
9. "When We Are Together"
10. "Be My Mistake"