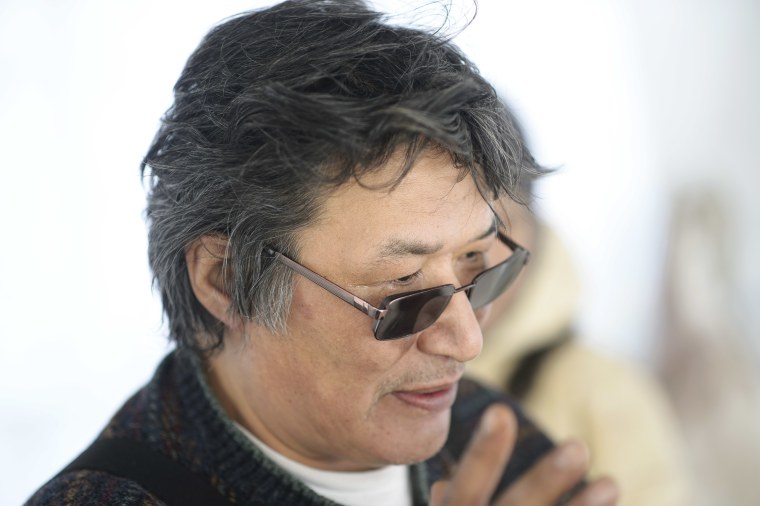 For the first 30 minutes of Searchers, a new film co-directed by Zacharias Kunuk and Natar Ungalaaq, the camera lovingly documents scenes of domesticity. The subject: an Inuk family in Canada's Arctic, just after the turn of the 20th century. A young girl impatiently learns to sew, a grandmother tells stories, and a proud father named Kuanana praises his son's first seal slaughter. Soon, the peace is broken by a rapacious gang that kidnaps the women and murders the children, leaving Kuanana and a band of maliglutit — or followers — to find his family. The plot of Searchers is loosely based on a 1956 film of the same name; the original was unique, for the time, in contextualizing the lives of Indigenous peoples with respect to racism and colonialism. And the 2016 update update, which features an all-Inuit cast, gives these characters real depth.
Kunuk, 58, lives in Igloolik, a small village of just over 2,000 people in Nunavut, northern Canada. He's lived and made movies there for most of his life, like Atanarjuat: The Fast Runner. That film earned major critical acclaim, and won the prestigious Camera d'Or prize for best first feature at Cannes in 2001. In 2015, the film was voted the best Canadian film ever by a jury at the Toronto International Film Festival. But Kunuk resists prevailing ideas of auteurs and films as the individual work of a single artist. "The southern standard of filmmaking is like a military," Kunuk told me over the phone. "'If I'm the director, you talk to my assistant director.' The way we were doing it was horizontal, we were all talking to each other."
Erasing traditional roles on set and making films a voice for everyone who contributes to their creation continues to yield success for Kunuk. Searchers is his third film, and has been called "another classic" by TIFF. This month, it won the Best Indigenous Language Production award at the 2016 ImagineNATIVE Film and Media Arts festival in Toronto. Kunuk spoke to The FADER about his love for film, and integrating his community into his passion.
---
ZACHARIAS KUNUK: I started carving and selling soapstones so I could afford go to movies. In my younger years, in 1980, I heard anybody could own a moving picture camera. Natar and I, we were creating our carvings for the Eskimo Art Gallery in Montreal, so I bought a camera, Portapak, tripod, VCR and a 26-inch TV. At the time there was no TV in my community. We had them flown back to my community, to my little matchbox house. I would have cartoons recorded and I would play them on my TV, so kids playing on the street would be glued to my window. Sometimes I'd have all these kid visiting my house, glued to the tube.
In the '70s when we had 16-millimetre films shown in our little community, we were watching cowboys and Indians. I know in John Ford's [version of Searchers] John Wayne is the leading actor and this girl is kidnapped by Comanches and he goes out to rescue her. But in our story it's all Inuit good guys and bad guys. We're just following the model of a woman being kidnapped and the husband trying to get her back. This story reminds me of revenge, of the Inuit stories and legends — there's always a revenge story. It's sort of similar and that's why we chose that model.
The Fast Runner, we started working in 1997-1998. We ran into so many brick walls because of how the Canadian financing system was structured. Aboriginals were in the other category — with the First Peoples of Canada and immigrants together — so there were projects capped. After we made The Fast Runner opportunities started to open. Still in Canada we weren't getting recognized. It wasn't until we went to Cannes that's when we started to get recognized. After I came back to Canada it really kicked off. I started learning about the systems, the financing system, the filming system, and we always shot our way.
[The Inuit culture is] a learning culture. We watch and learn, we go out hunting with hunters and we learn as we go. That's how our filmmaking has always been, we never really had anyone go to college to learn about film, we just learn it as we go. As the years went by I learned to have my role models, people I'm proud of, who make movies I like. I like recreating the past.
"[The Inuit culture is] a learning culture. We watch and learn, we go out hunting with hunters and we learn as we go. That's how our filmmaking has always been; we learn as we go."
All the scriptwriting, costume making, props, building the sets were done from here. Teaching actors how to drive dog teams, and dressing in the costumes properly, learning their lines, it was all done here. We never really mastered recording sound, so that came from the south. Everything else was from this community. We work with elders and to try to see it before it happens. Their role is in doing the script, and elder women make the costumes with younger women as their apprentices. It's beautiful to watch how they use the old style of measuring, using their hands and strings to make a perfect costume. We use elderly men who know how to build igloos and young men learn from them. Usually when our set is built, we have elder set designers. They come in and put all the bedding inside the igloo, putting the oil lamps where they should be, putting all the drying racks where they should be.
As a director, authenticity is very important to me. When we showed Searchers in my community, one elderly woman got so into the movie she almost fainted, probably from watching her children act or remembering what has happened to her in the past, because they were kidnapping women and tying them up. They remember that, they lived that. A hundred years from now, you and I will be gone but these films will be there and probably people will study them. So, we try do things authentically. From the day I saw kids glued to my window watching my TV I had the idea that that is what they want to watch — let's bring it to them.