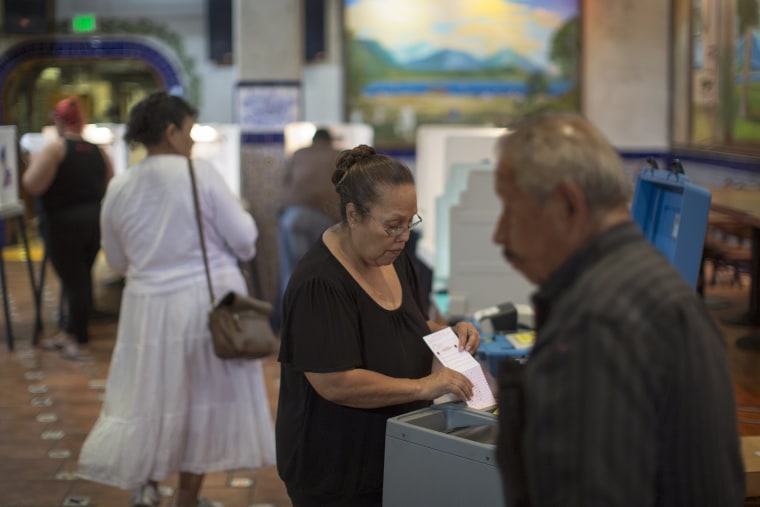 Many have expressed shock at the voter distribution numbers of the 2016 U.S. election, but one result in particular stood out: according to exit polls, 29% of Latinx voters cast a ballot for Trump, a small increase from the 27% who voted for Mitt Romney in 2012.
However, a new election eve poll from Latino Decisions has cast doubt on these figures. "Exit polls get results from a small, non-representative sample of a handful of precincts," Gabriel Sanchez and Matt A. Barreto write in the Washington Post. They explain why their methodology is more sound: "By contrast, the Latino Decisions election eve poll includes a random statewide sample of all Latino voters across each state."
The study found that Trump's share of the Latinx vote was 18%, which is a record low for any presidential candidate. 79% of the ballots went to Hillary Clinton, who received a larger share than Barack Obama did in 2012 (75%). This demographic turned out in huge numbers, too — between 13.1 million to 14.7 million, the study estimates, which is a significant increase from 11.2 million Latinx votes in 2012.
The findings of the study suggest voters were overwhelmingly compelled to the ballot box to avoid a Trump presidency, rather than excitement for Clinton's campaign. "Trump's anti-Mexican and anti-immigrant comments throughout the campaign season appeared to energize the Latino electorate," the authors of the study note. "Our Election Eve Poll finds that 55 percent of Latino voters stated that Trump was 'hostile' toward Latinos or Hispanics and 29 percent said he 'did not care too much' about Latinos."
Current CNN exit polls claim that 58% of white voters supported Trump, compared to 37% for Hillary Clinton. Read up on all the findings from the Latino Decisions analysis here.