Charly Bliss is a very rad band helmed by Eva Hendricks, her older brother Sam, and their childhood friends Dan Shure and Spencer Fox. They grew up together in Connecticut, and are now based in Brooklyn, making kickass guitar tunes like the recent "Ruby" and "Glitter," from their debut album Guppy, which will be out April 21.
Probably my favorite song from Guppy is its opening track, "Percolator," which is premiering today on The FADER with a video so sweet and goofy I found myself cheesing. In it, the foursome each run from their respective day jobs to fight an undisclosed evil. Maybe that grin on my face was especially wide because Charly Bliss are like real-life superheroes, out here embracing their feelings like it's the most punk rock thing ever: "I cry all the time/ I think that it's cool/ I'm in touch with my feelings," sings Eva, her voice like sticky candy while she and her bandmates shred their guts out.
"I'm super hard on myself, and a lot of the lines in 'Percolator' are me being like, Fuck it," Eva, the band's principal songwriter, told me. "I was trying to make fun of myself for being super overdramatic — I'm either 0 or 100 about everything."
Watch the video for "Percolator" above, and preorder Guppy here.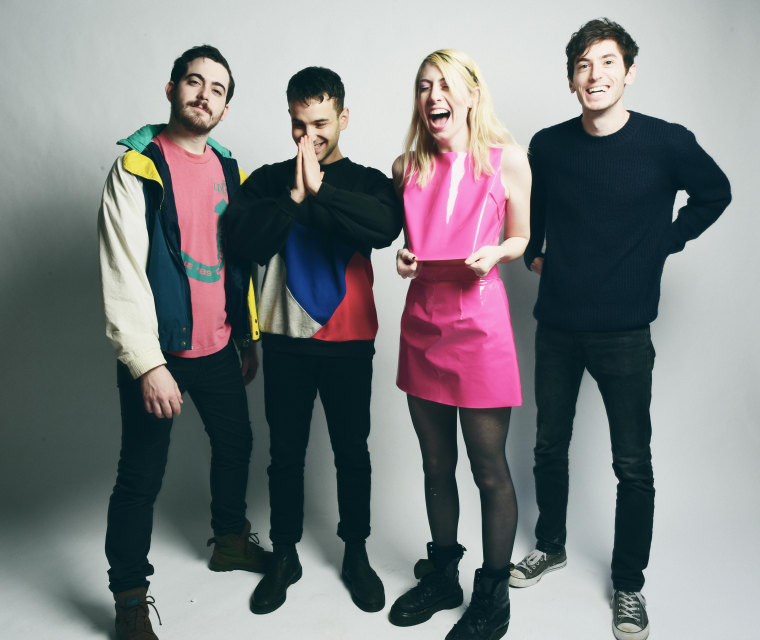 Charly Bliss Tour Dates:
3/11 - Savannah, GA @ Savannah Stopover
3/14-3/17 - Austin, TX @ SXSW
3/29 - Kingston, ON @ The Grad Club *
3/30 - Ottawa, ON @ Zaphod Beeblebrox *
3/31 - Toronto, ON @ Horseshoe Tavern *
4/1 - Montreal, QC @ Bar Le Ritz *
4/3 - Allston, MA @ Brighton Music Hall *
4/4 - Brooklyn, NY @ Rough Trade NYC *
4/5 - New York, NY @ Mercury Lounge *
4/6 - Baltimore, MD @ The Ottobar *
4/7 - Pittsburgh, PA @ Club Café *
4/8 - Columbus, OH @ Ace of Cups *
4/26 - Richmond, VA @ Strange Matter
4/27 - Raleigh, NC @ Neptune's Parlor
4/28 - Atlanta, GA @ The Masquerade
4/29 - Nashville, TN @ The High Watt
4/30 - St. Louis, MO @ Off Broadway ~
5/1 - Omaha, NE @ Reverb Lounge ~
5/2 - Denver, CO @ High Dive ~
5/4 - San Diego, CA @ Soda Bar <3
5/5 - Los Angeles, CA @ The Echo <3
5/7 - San Francisco, CA @ The Rickshaw Stop <3
5/8 - Portland, OR @ Mississippi Studios
5/9 - Seattle, WA @ The Vera Project
5/12 - Minneapolis, MN @ 7th Street Entry ~
5/13 - Chicago, IL @ Schubas ~
5/14 - Lansing, MI @ Mac's ~
5/15 - Cleveland, OH @ Beachland Tavern ~
5/17 - Philadelphia, PA @ Boot and Saddle !
6/15 - Washington, DC @ Black Cat !
6/16 - New Haven, CT @ Cafe Nine !

* with Operators
~ with See Through Dresses
<3 with Upset
! with Yucky Duster