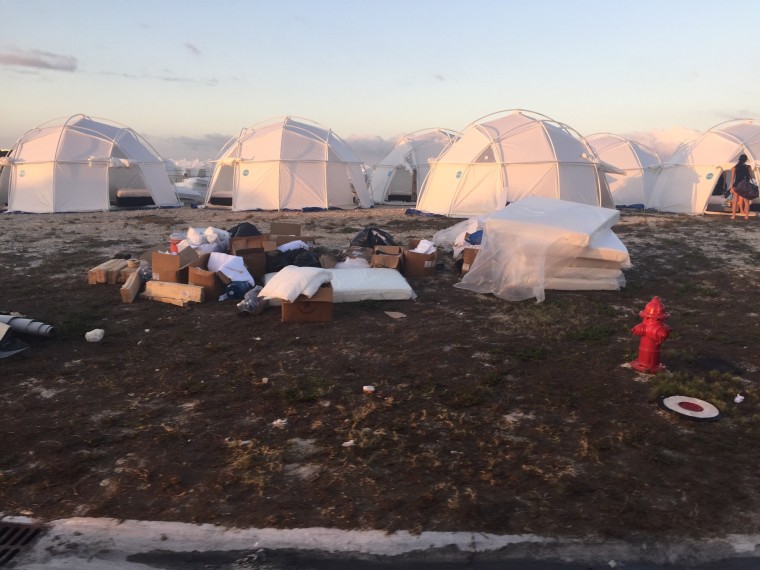 This morning, Fyre Festival — a new music festival that was billed as a multi-day "luxury experience" in the Bahamas, with some packages selling as high as $250,000 and glossy Instagram advertisements by models like Emily Ratajowski — was officially postponed until further notice.
The festival was supposed to have started on Thursday afternoon, but reports from people who made it there via the charter jet (included in the ticket price) showed a scene far more dystopian than what had been promised. Pictures posted on Twitter showed lots of unfinished tents, herds of people looking lost, and one very depressing looking cheese sandwich.
In an email to guests sent out on Friday morning, Fyre Festival wrote, "Fyre Festival set out to provide a once-in-a-lifetime musical experience on the Islands of the Exumas. Due to circumstances out of our control, the physical infrastructure was not in place on-time and are unable to fulfill on that vision safely and enjoyably for our guests. The festival is being postponed until we can further assess if and when we are able to create the high-quality experience we envisioned." The Bahamian government issued a statement on Twitter this morning, writing, "We are extremely disappointed in the way the events unfolded yesterday with the Fyre Festival." (Representatives for Fyre Festival were unavailable for further comment.)
I was supposed to attend the festival this weekend, but never boarded the plane in Miami. Around 9:30 p.m., a flight attendant got on the loudspeaker and told the passengers, "There's no room in the Exumas. There are no accommodations there for you." The crowd, which included concert goers from two other scheduled earlier planes, was mostly calm and a little drunk, and a lot were worried about getting their money back. Johann, a 23-year-old New Yorker who said he spent over $3000 on the weekend before he even got there, was trying to figure out how he could afford to stay in Miami for another night. Other wealthier groups of friends tried concocting elaborate schemes to get to the Bahamas by morning: "If we leave on his boat by four," someone said, "we can catch the sunrise on the water and not miss anything."
But for the people who got to the Exumas on Thursday morning and afternoon, things were apparently not quite as chill. One festival-goer who wished to remain anonymous gave The FADER a play by play of the day's events.
Fyre Attendee: So we bought our tickets on New Year's Day. Private island? We were like, "Hell yeah." Looked like a cooler, new festival. I've been to all the other ones, so this one was new and it looked like fun. I think I first heard about it on Instagram. [My sister] just bought tickets to it as well. We got the duo package so it was $3100 in total. I thought for the price, with the electricity and cabana — it was worth it, plus the flight was included and it was made out to be a private flight. It turned out to be like any other flight to the Bahamas. If this trip had turned out to be what I thought it would be, it would have been so worth it.
I was supposed to be on a 4:30 flight because they messed up my reservation. I got there earlier from my red-eye flight from Denver and they squeezed me on an earlier flight, so i left at 10:30. When we got there, we sat in the airport waiting for the shuttle to come and then sat in these busses until we finally got there. They took us to this beach bar, hut-type thing for seven hours. Everybody just piled in there. There was some booze and alcohol there and they told us everything wasn't ready and we should just drink until they were done. Eventually the alcohol and food ran out so people started getting super impatient.
We got to the tents around 7:30 pm. It wasn't really assigned, so everything was a mess. Someone just stood up on the tables and said "Whoever is in the duo tents, run for it." So, we ran. People were stealing mattresses from them. There were no pillows. But most of the tents were just empty and didn't have any beds in them. I was told from a reliable source down there that they were disaster relief tents. But they weren't put down properly and it had just rained, so everything in the tent was wet. Nothing was dry.
I wanted to leave around 5:00 pm. We hadn't slept, we were so exhausted. I went up to the security guard, like, "Hey, can i just go to a hotel? I would rather just check in to a place for the night and come back." They told me, "We've blocked out all transportation and nobody's leaving." When we got back to the tent area, people were still being assigned tents and fighting over them. People were throwing other people's stuff out of tents and taking them over. That's when we found out there was apparently not enough water there for everyone. You'd see people walking around with full cases of water that they stole from the dining area. I didn't personally have anything stolen personally. We were hearing that the security officers were stealing things from the people. We didn't know who was going to help us.
Around 8:30 p.m., we were like, "Let's get some food figure this out." People just taking boxes from the dining area. This thing was advertised as a "culinary experience." We got two pieces of bread with cheese on them and a bag of chips.
We really lucked out though, there were two people on the side of the road. They happened to be associated with the festival and they were like, "This sucks, let me take care of you." They took us in because we were uncomfortable being two girls by ourselves. We went outside the campgrounds one of them had a home there and we stayed there for the night.
We're in the airport now and the Department of Tourism just apologized, saying "This is awful, we didn't mean for any of this to happen." From the second we landed, we knew it was going to be a shitshow. It was nothing short of just bad.