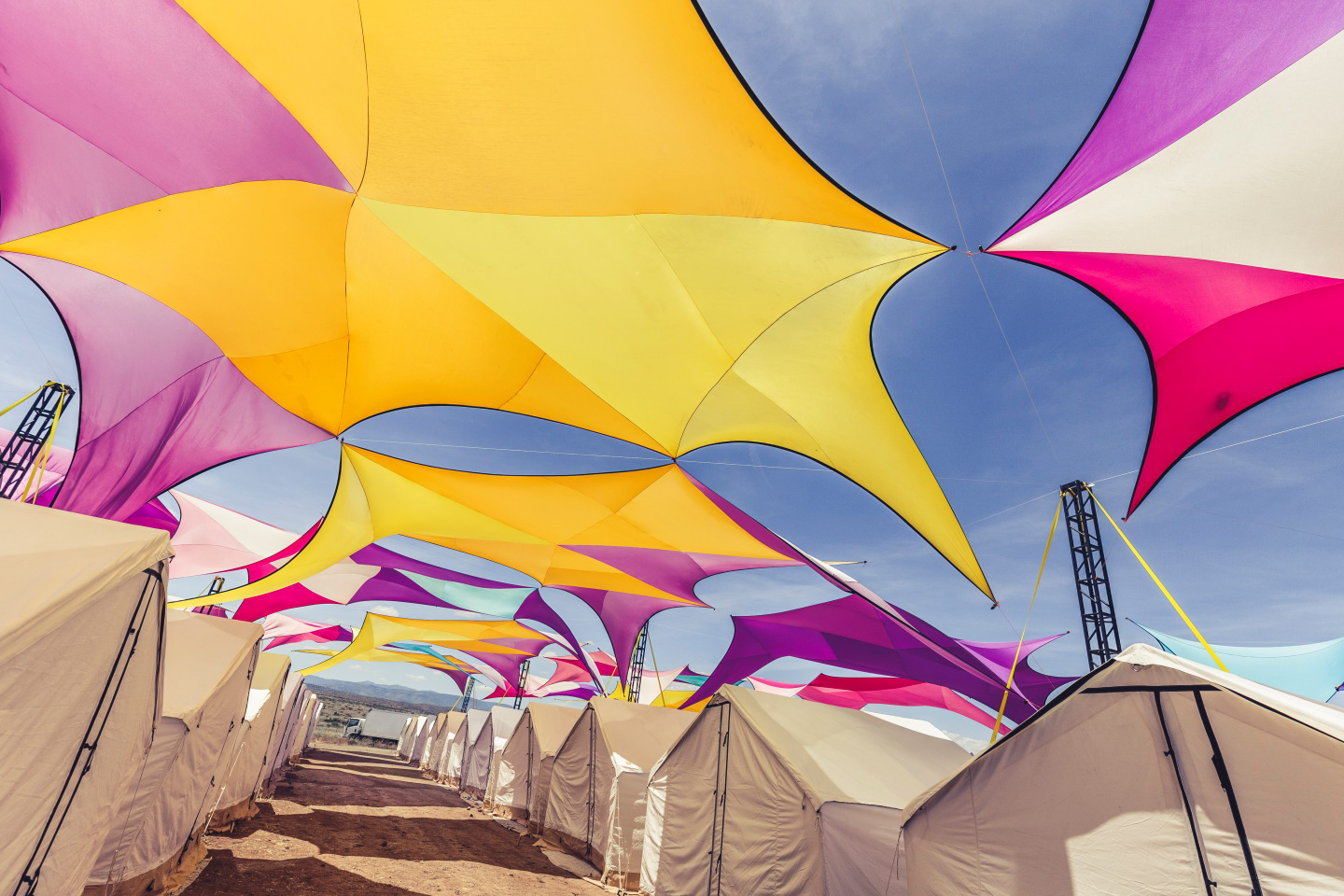 Despite a never-ending flood of music festivals, many of which rely on the same basic format, Arizona's unique FORM Arcosanti redefines the live music experience with it's special emphasis on community. Over the span of three days, from May 12-14, a small crowd of 1500 people traded infectious energy and gathered to watch magnetic performances from artists like Solange, Moses Sumney, and Kelsey Lu. Camping in the desert heat was a task, but the blazing energy, intimate stage set-ups, and thoughtful conversations created a comfortable sanctuary. The festival's crowd is mindfully curated through an introspective application process that asks applicants to talk about what inspires them.
Artists were able to take their time, present new offerings, and trustingly interact with the audience. Magnanimous volunteers from the surrounding Arcosanti community were available to assist guests with whatever they needed. And by the end of the weekend, friendships bloomed as concertgoers spent time with getting to know each other while overlooking canyons and vibing out to electric and soul-soothing sets.
This year, The FADER spoke with some concertgoers about why they chose to go to FORM Acrosanti, how it functions to build a special experience for both the artists and the audience, and what a music festival really means in 2017.
Xene Sky, 24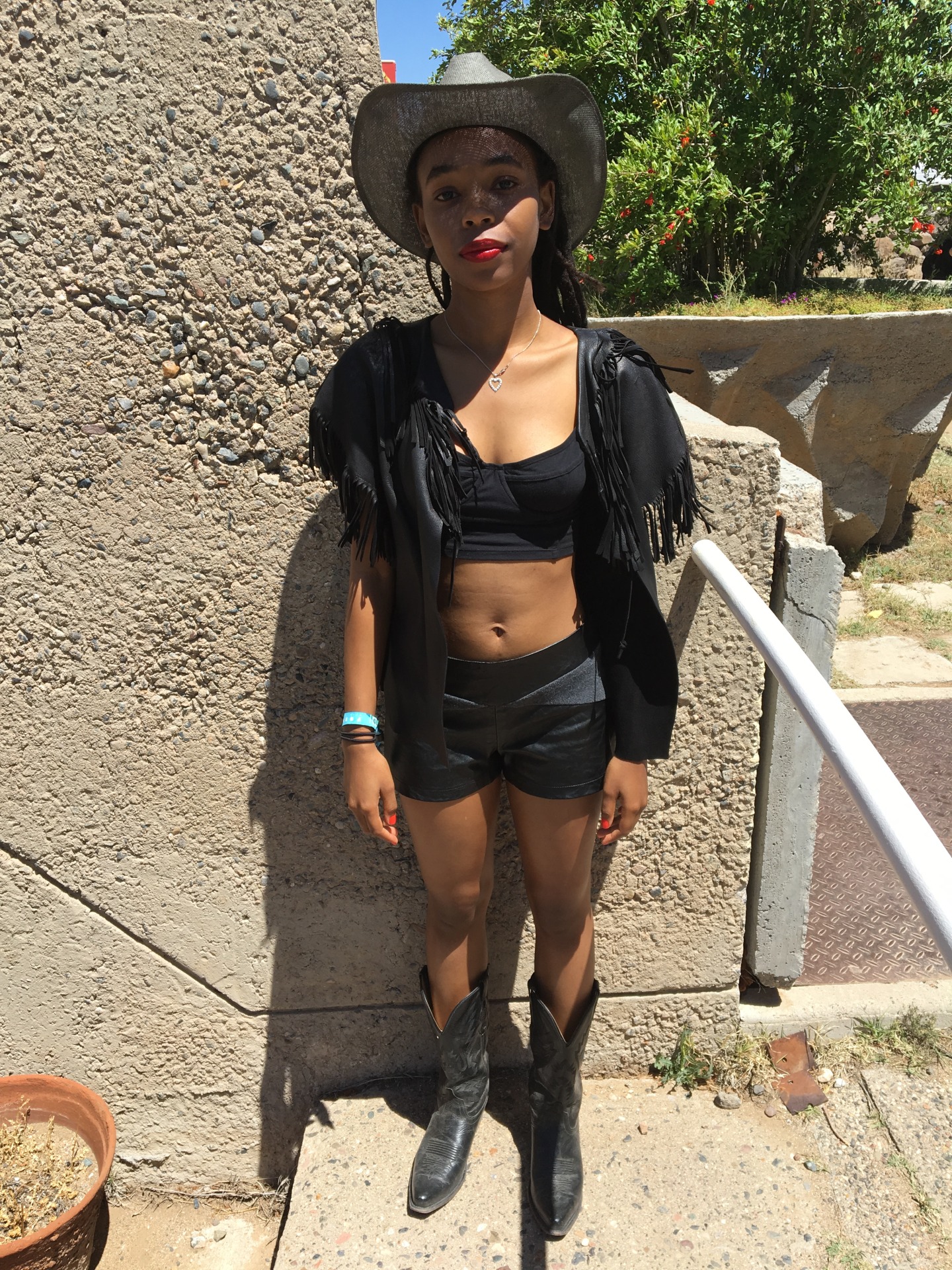 SKY: This is my first time at FORM. A friend of mine sent me a link and he was like you should apply of this scholarship and I saw Solange and Kelela and said "Ok." So I filled out the application for the scholarship and wrote about things that are really important to me — essentially black girls. I was selected two weeks later. They paid for the entire festival outside of travel.
I wrote about a lot of things that inspire me but specifically, black girls. Black girls need the most protection, they are the most underserved group really in the world and often the most creative. Black girls are often stolen from — everything from our hair to the way we speak and dress. We impact culture and trends, yet are the first ones to be brutalized and pushed aside especially within any sort of civil rights movement. So that's just my message; I care about, love, and want to protect black girls at all costs. We don't center them enough.
The application process makes it feel very intentional. The curating is intentional, so is the crowd. It makes it better and more enjoyable to watch with other people who enjoy the music, the performers and actually care. There's a general level of care that we're seeing that's really nice. Community building is really important and the tone you set. The volunteers have been super friendly, everyone I've interacted with has been super helpful and I appreciate it and they weren't begrudgingly doing something. That impact us and it shows that we're a community and we're enjoying this and that's reflected in the population here.
I feel burnt out a lot from other music festivals. Sponsorship and the way that festivals are becoming so corporate which is whatever but here at Arcosanti, it's not something where I feel like sponsorships are being shoved down my throat. The name of the sponsor isn't plastered everywhere. You have festivals where the experience wasn't that great but the soda was free. They come into a community, put something and then leave and don't have any real interaction with the local population and culture where as here, a lot of the volunteers are from Phoenix and surrounding areas. This seems like people in the state really support and enjoy and it grew very organically.
What does a music festival mean in 2017?
For most people, it means it means to come and let loose and have fun and party. Which is fine but for me, it's a safe for self-care, reflection, letting myself have that space and be alone and do what I want to do. A space where there are things that are tailored to what I like instead of "Oh, I want to turn up." Maybe I just want to sit outside in the sun and this is a perfect place to do that.
David Terrell, 23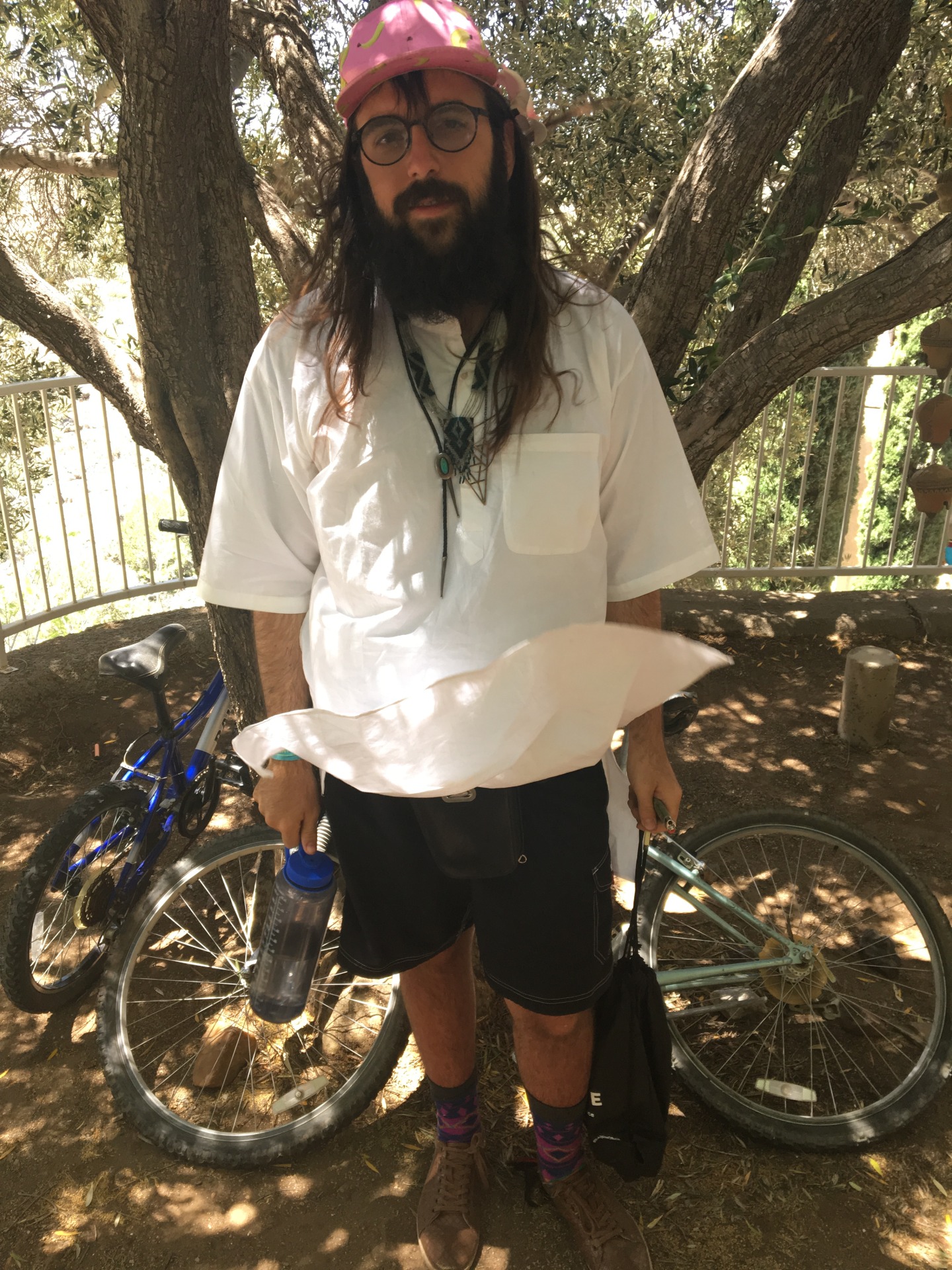 TERRELL: One of my friends is playing in a band here. I go to festivals sometimes but not really big festivals, I like smaller things. This is my speed. It's just big enough but not too big that it's crazy. Smaller ones have more community and feel like you can trust people more. It's not a whole lot of people on bad drugs and here people try to handle themselves a little more responsibly.
What does a music festival mean in 2017?
I live in California and there's a dramatic difference there. There's a whole festival scene that's different in my mind from most festivals that I've gone to. I'm from New Orleans and there are more family festivals and low-key ones. People associate music festival with the grandiose set up, extremely long lines to the bathroom and a difficult experience. An arts experience intertwines and being able to focus on a smaller audience is better.
Stefan Escareño Rosic, 22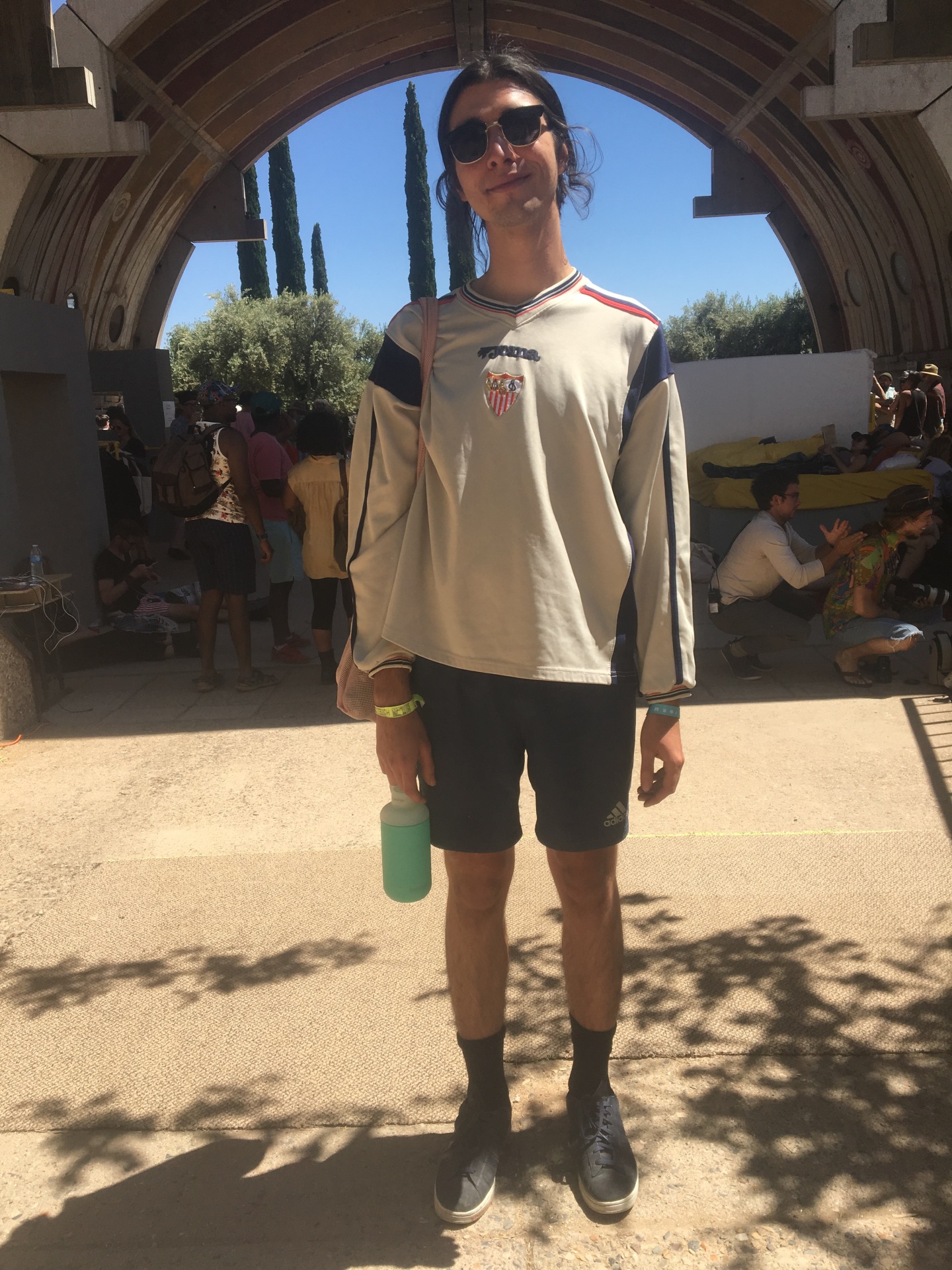 ROSIC: My dad lived here 30 years ago and I thought it was a cyclical process and something that I had to do and come experience. The music is so curated but it's so awesome and intimate. Solange performing in the desert of Arizona? That is magic.
The application process makes you consider why you want to be here and the experience that you want to get. What you're hoping to happen and also to internalize and contemplate what is happening on a deeper level than, "I'm going to Coachella in Palm Springs to get fucked up." Versus here, you really have to think about, plan, and prepare mentally and physically for everything.
When I was younger, I would go to music festivals but not really since then. I don't like how big and chaotic they are. It's just like you get in and no one cares about you. There's not a sense of community. It's a crowd that I don't want to be in — predominately cis, straight, white crowd that's not friendly or conducive to creativity or even just at the very least, my soul. I love the music but the crowd doesn't contribute to that experience and sometimes it detracts from the music when you see frat bros next to you — that's not my vibe.
What does a music festival mean in 2017?
On the personal level, a music festival needs to be an opportunity to experience things you intimately experience in your car or in your room. So them coming and being able to witness that in person is memorable. On some level, I do feel bad that the amount of music festivals really objectify the artist. It really exploits labor of artists in a way that's unfair. They make them go through all this bullshit to perform for 45 minutes. Which is why I like it here at Arcosanti because you have to experience it on a more personal level. It's cool that there's a lot of music festivals and different scenes cultivating their own stuff and bringing other artists. But on another level, artists are people and we have to be aware of our rules as the audience.
"Something that's really frustrating is the focus on white consumer culture. Festivals should decentralize that and centralize marginalized voices — where that oppression comes from is so important."
Breanna Cash, 23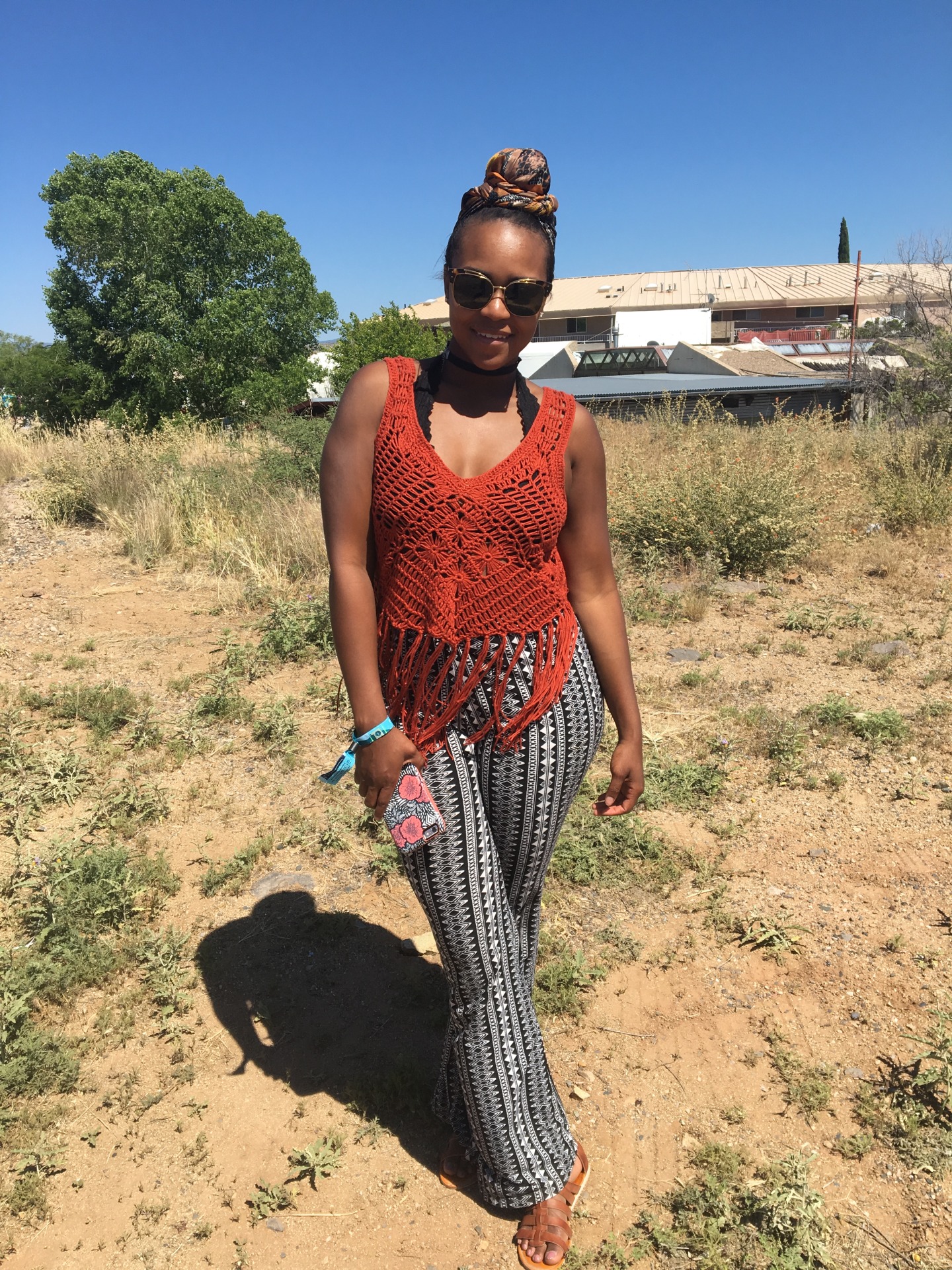 CASH: It's my first time attending a music festival. I applied with my sister. Being able to apply when they ask you questions and your preference on life, differentiates the way people view music. Music can transform a person's life. If you're motivated by feelings, being around music and culture and art, mean something to you. Coachella started out being cool but ended up really mainstream and stopped being about the music and more about who was there. I wasn't going to spend $400 on something that wasn't meaningful to me. I haven't met one person here who wasn't genuine.
What does a music festival mean in 2017?
After coming to Arcosanti and seeing it's impact, the $300 I spent on my camping gear doesn't matter. You get to see how much it has an impact on your life and music festivals are about connecting to artists and understanding them. Before I saw Solange, I knew and understood the songs but seeing her perform them made me feel it. I felt every word she said.
Ryan McElligott, 21
MCELLIGOTT: I've never been to a music festival before this one. I decided to volunteer because I loved these artists. The labor that you put into this place, you're receiving so much of it back. For the artists that are here playing and contributing is natural. I'd feel weird coming here to eat, consume, take in, and leave. That feels not communally based. Everyone here is contributing to this experience but I just wanted to overtly do it and be apart of the structure and use it as a platform to meet people.
I don't go to big festivals because they're full of white consumer cultures, that's what I see. It's a way of taking the neoliberal society that we live in which is based around an illusion of meritocracy and choice. Really, we're living in a capitalist infrastructure that says, "Work work work!" "You're based off of your productivity." "You are what you do, what you create, your grades, and here's your break. Here's a festival and you're going to go get wasted and trashed and not come in contact with yourself or your identities." I see them as reinforcing those hegemonic structures and I don't fuck with that.
This place has a radical potential of reimagining what it means to be a music festival in terms of what it means for consumption. It's a space where artists come and have so much to offer and spent so much getting here but it doesn't just stop at their 45 minute set. They're coming in contact with other artists and creating communities. I just went to a panel at Saint Heron which was amazing. You had three different artists and an activist talking in a space about what it means to create. You don't get that in a corporate festival society that doesn't want you to create, or think about that. It's not politically strategic for you to come in contact with that. This space wants you to come in contact with what you do, why you're here, and how it impacts the community.
What does a music festival mean in 2017?
Something that's really frustrating is the focus on white consumer culture. Festivals should decentralize that and centralize marginalized voices and where that oppression comes from is so important. Those should be the people who are speaking, that's the intersectionality of the event, and the ways that things are spawned and then it's a educational experience for everyone. It's good for everyone. You have marginalized people talking about creating to a predominately white audience about what that means to them and that then has them take on another kind of consumption. They're consuming but internalizing them and locating themselves within it. That makes you check your privilege and centralizes voices that aren't typically in the center.