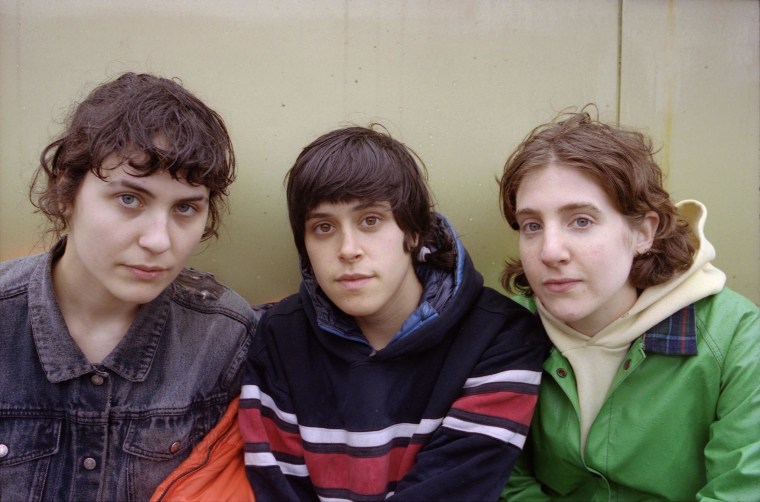 Palberta is a trio from New York. Like a lot of punk songs, theirs are usually short and not always sweet. "Big Time," one from their forthcoming Roach Goin' Down LP, is a nice example of how they are still finding weird ways to expand on that manic little formula.
The song is a rhythmically perverse blast of experimental post-punk, and it reminds me of faves by Dear Nora and Dolly Mixture. Like the album's title track, this one does a nice job of showcasing the loose-screw energy that has made Palberta's live shows such a full-on fixture in DIY circles. Some sections, like the harmonies when they repeat the titular phrase, sound really pretty. Other sections don't.
"'Big Time' is our ode to Old Table, which has been (and still is) a huge influence to each of us as musicians," the band wrote over email. "It features vocals by the one and only Will Moloney (aka Old Table)." Listen below.
Tour dates:
4/28 – New York, NY – The Glove
5/1 – Providence, RI – AS220
5/2 - Portland, ME – The Apohadion
5/3 – Ithaca, NY – Chanti Loft
5/4 – Montreal, QC – La Vitriola
5/5 – Toronto, ON – Owl's Club
5/6 – Guelph, ON - Silence
5/7 – Hamilton, ON – This Ain't Hollywood
5/8 – Detroit, MI - Trumbullplex
5/9 – Chicago, IL – Flood House
5/10 - Milwaukee, WI – Cactus Club
5/11 – Minneapolis, MN – Moon Palace
5/12 – Fargo, ND – The Red Tavern
5/14 – Missoula, MT – Union Ballroom
5/15 – Spokane, WA – Baby Bar
5/16 – Seattle, WA – Werewolf Vacation
5/17 – Vancouver, BC - Pretty Good Not Bad Fest - Black Lab
5/18 – Victoria, BC - Pretty Good Not Bad Fest – Sub Culture Club
5/19 – Tacoma, WA – Space Planet
5/20 – Portland, OR – Turn Turn Turn
5/21 – Reno, NV – The Holland Project
5/22 – San Francisco, CA – Balboa Theater
5/23 – Oakland, CA - Sgrafitto
5/24 – Santa Cruz, CA - Subrosa
5/25 – Los Angeles, CS – The Y
5/26 – San Diego, CA - Space
5/27 – Tucson, AZ - TBA
5/28 – Albuquerque, NM – Sister Bar
5/29 – Marfa, TX – The Lost Horse
5/30 – Austin, TX – Cheer Up Charlies
5/31 – Denton, TX - Silverleaf
6/1 – Dallas, TX – Texas Theatre
6/2 – New Orleans, LA – Poor Boys
6/3 – Tallahassee, FL – Wolfs Den
6/4 – Macon, GA – Fresh Produce Records
6/5 – Atlanta, CA – 529 Bar
6/6 – Savannah, GA - Quolab
6/7 – Philadelphia, PA - Philamoca