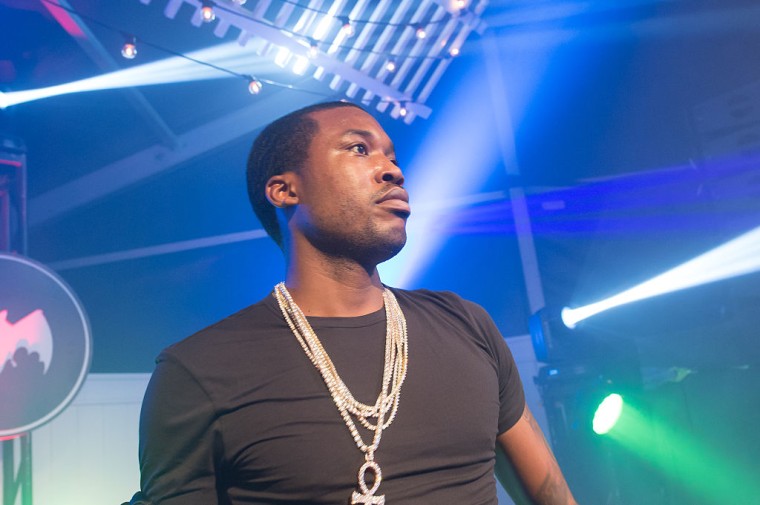 Last week, Meek Mill's legal team announced it was petitioning the Pennsylvania Supreme Court to remove Judge Genece Brinkley from the Philly rapper's case. On Tuesday, the court announced a split 3-3 decision, denying the motion. However, one of the justices who voted to deny the filing agreed to revisit his decision after June 18, when Meek Mill will undergo an evidentiary hearing with Judge Brinkley.
Meek Mill's legal team have accused Judge Brinkley of inappropriate behaviour throughout his case. The accusations have ranged from claims that she asked him to record a Boys II Men cover for her, to taking an "unusual" interest in the management of his career. Judge Brinkley has denied these claims.
This year, Meek Mill's arresting officer Reginald Graham was named on a list of "tainted" Philly cops discouraged from testifying (Graham's testimony was central to the 2008 case against Meek Mill). Since then, over 600 cases handled by Graham and his unit have been referred to Philadelphia President Judge Sheila Woods-Skipper for Post Conviction Relief Appeals (PCRA) – Judge Brinkley remains the only judge who has not signed off on a referral.
Read Joe Tacopina's statement on the Supreme Court's ruling below.
"Three of the Justices of the Pennsylvania Supreme Court agreed that Judge Brinkley should have disqualified herself from hearing Meek's case "in the interest of justice" as her continued involvement in the case "has created an appearance of impropriety that tends to undermine public confidence in the judiciary." The Justices found that Meek's PCRA application – like the thousands of others before it – should be heard by the same judge, in this case Judge Woods-Skipper, so that he is treated the same as all similarly-situated defendants. A fourth Justice on the Court denied relief but stated that Meek could raise the issue again following next week's hearing before Judge Brinkley. While two more of the Justices denied the application, and the Court was thus split, we remain hopeful that the overwhelming amount of evidence in this case – and the Philadelphia District Attorney's backing of Meek's PCRA filing – will prompt Judge Brinkley to grant Meek a new trial, failing which we will promptly pursue all appellate remedies available to Meek in order to right this terrible injustice."