When burgeoning rapper Serious Klein met I AM HERE directors Maik Schuester and Max Paschke a while back in Dortmund, Germany, he knew immediately he wanted to film some sort of video with them. A few years later, and what's come to fruition is The Seed, a meditative, episodic short film about the transitions of growing up — the challenges and temptations.
Filmed over the course of 11 days in Ghana during the first anniversary of the passing of Serious' father, the Iconoclast and Timescope Films-produced feature follows the rapper's little brother, with appearances from his mother, aunt, uncle, and the wider community. The film also includes the performances of his songs, "Junior" and "These Days," from his debut album You Should've Known, out Friday.
Read on for a Q&A with Serious, and directors Maik Schuster and Max Paschke about the making of the film.
---
What was the decision behind including specifically the songs "Junior" and "These Days" in the film?
MAIK SCHUSTER: Those two songs are really personal for him because we know that his father passed last year. He went to Ghana for the funeral and he told us that he listened to those songs over and over again.
SERIOUS KLEIN: I wrote them on the way from Kumasi, which is a town in Ghana, to Accra, which is the main city of Ghana. I wrote those two songs while I was on the bus. I always felt like I want to shoot the music videos in Ghana to those songs and if I don't get the chance to do it, I won't shoot a music video at all.
When I met Maik, I played the songs and I was talking about Ghana and how it changed me because I went back to Ghana last year for the first time in like 25 years. I told [Maik and Max] everything that I experienced, how I met my little brother, who's also in the short movie, [he plays] the little boy. I was just talking about everything that I experienced and everything that I wanted to show. I wanted to show the true beauty of Ghana because we have a dope ass community over there. You've got artists in Ghana, you've got photographers, you've got all of these super cool people in Ghana, I wanted to show that.
Do you see the film as a visual representation of your upcoming album?
SERIOUS: Yeah, because the album is like my last three years, and one part happens in Ghana. So everything is based on Ghana — the artwork was shot in Ghana by my mom, not even on purpose. And even the vinyl artwork, everything is based on the visit in Ghana because that was something that changed everything: my view, the bigger picture, everything changed when I went to Ghana. If you see the short movie and if you listen to the album after that, it really effects the album.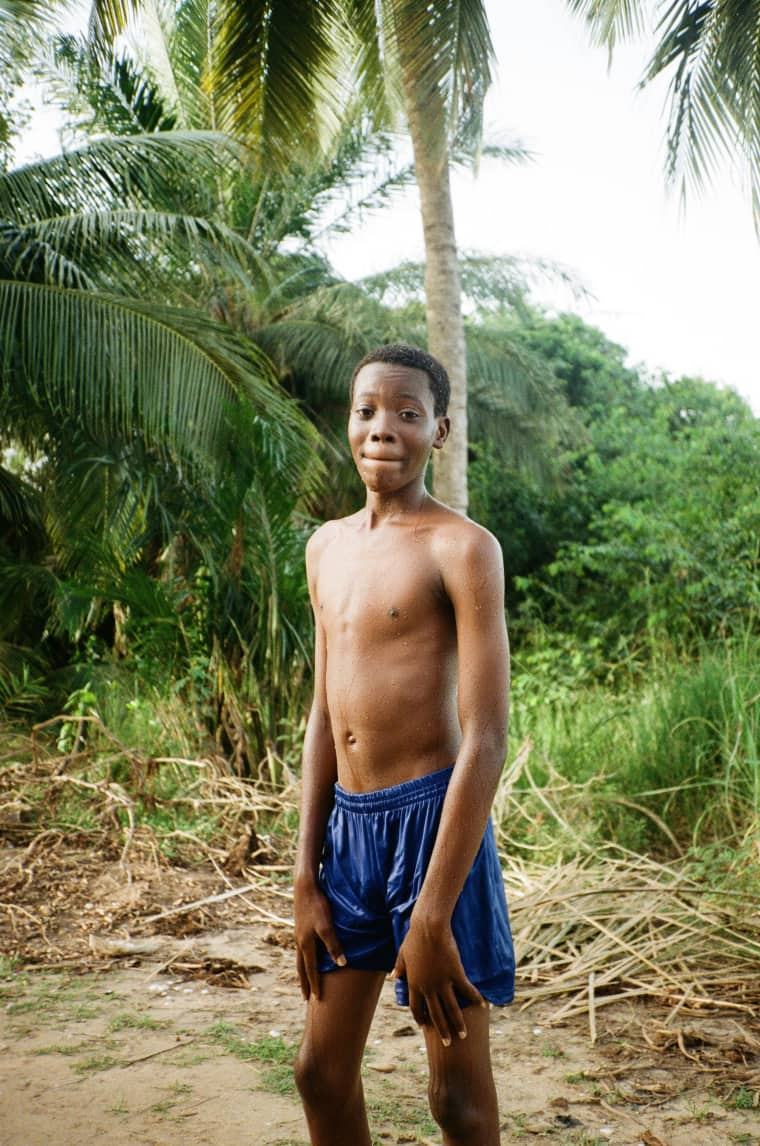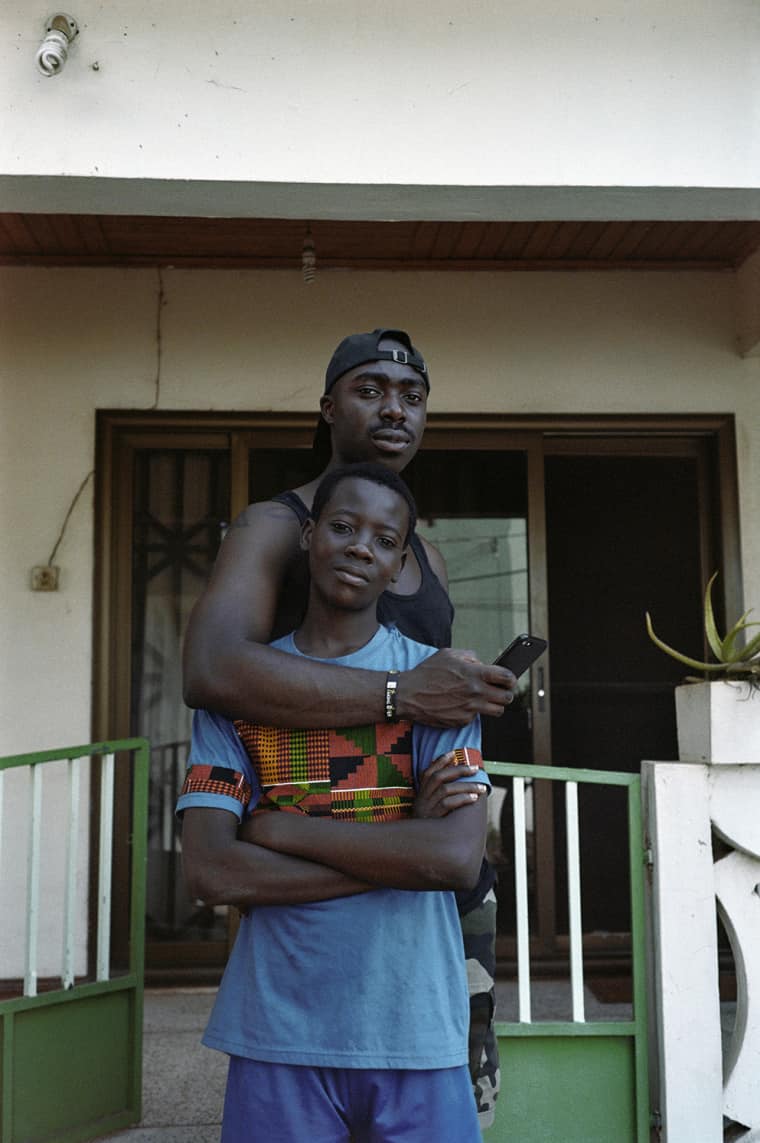 What was the filming process like in Ghana? Were there any challenges?
MAIK: It was a helluva trip. Shot it all on 16mm so it was a trip, bringing the equipment down there, and everyone works differently in Ghana. For one scene, which isn't in the film now, but we were looking for a baseball bat, and we said to our local fixer, and we said "Yo, can you organize a baseball bat please?" And he was like, "I'll try." And the next day this guy comes up with a self-made wooden stick, and we were like, "Ok, this is your baseball bat? Ok, let's do it."
Serious, a lot of your family is in the film. What made you want to include them?
SERIOUS: It wasn't even on purpose but I felt like, if I'm really going to shoot a movie in Ghana, I should talk about my family. There was one scene where you could see my mom and the woman that is talking the whole time is my aunt. Maik called me and was like, "We don't know what to do, let's just do something." I was like, "Yo why don't you come over to my aunt's and shoot something with my aunt?" Because my uncle is a preacher and they were just sitting there and they just started filming. Everything else just happened naturally. I was like, Damn, man. We were sitting here and they was just talking and if you see the movie it was like you planned something but it wasn't on purpose.
MAIK: It was really powerful for us to shoot with his family and not just with any random actors, or cast, or people that don't really fit. All those people in there, they know each other. It all became a cast of friends.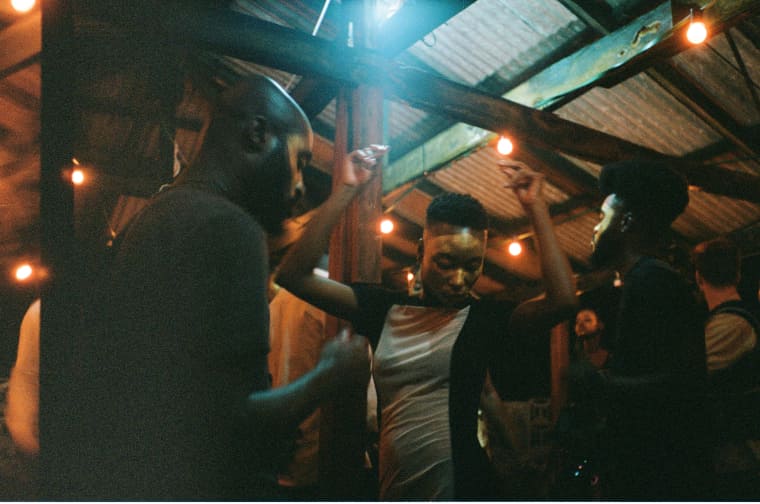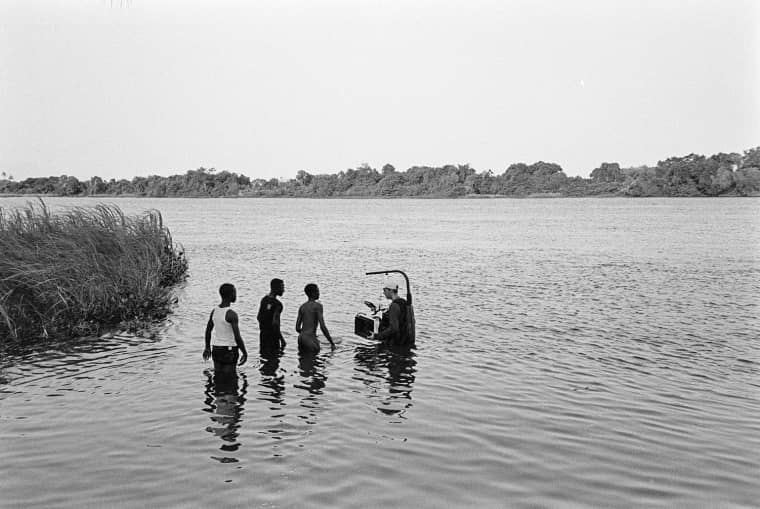 There are a lot of striking stylistic choices in the film. Are there any directors or films that you drew inspiration from during the creative process?
MAIK: There's this one short film called Process made by Kahlil Joseph that he did with Sampha, and shot in Sierra Leone which is where Sampha is from. I think we can say that was really stunning for us because it's even longer, 30, 40 minutes and it captures the whole album. We were like, OK, let's try something not like that, but with our possibilities and see where we get to.
The film ends on this recurring motif of glowing eyes. Can you explain the significance behind that?
MAIK: The color gold was a key color in this film. It started with the golden face masks on the boys and then it continues with the phone displays glowing in gold and then all of a sudden his eyes start glowing gold. "The glow of temptation," is said in the film itself, because as you get older, there's many temptations that try to change you, and then the question is can you resist or do you go with the temptations?
SERIOUS: It's about social media, because we are too blinded by social media. Everything's about social media. If you listen to the song, the second song, it's called "These Days," I'm talking about what social media does to us. Social media is like doing everything for us, we don't deal with real life situations no more, we don't deal with real life problems anymore. You don't have to face reality no more. And that's why I use the mobile phones as something that is blinding us.
How does it feel to finally have the film out in the world?
MAX PASCHKE: We're totally excited about it. It took like five months. And it wasn't long as I thought but it was an exciting process and a lot of people didn't see the movie yet, especially for the guys [that participated], we're excited to show it to them. Especially the [people in] Ghana. We're really looking forward to how they respond.
SERIOUS: I'm overwhelmed to be very honest with you. I always wanted to do what we did. I always wanted to shoot a movie or even a video in my homeland, and we did. I can't even put it into words.