Inuk throat-singing electro-pop artist Riit is ready to shine
Learn a little about Inuktitut and hear her new track, "Qaumajuapik."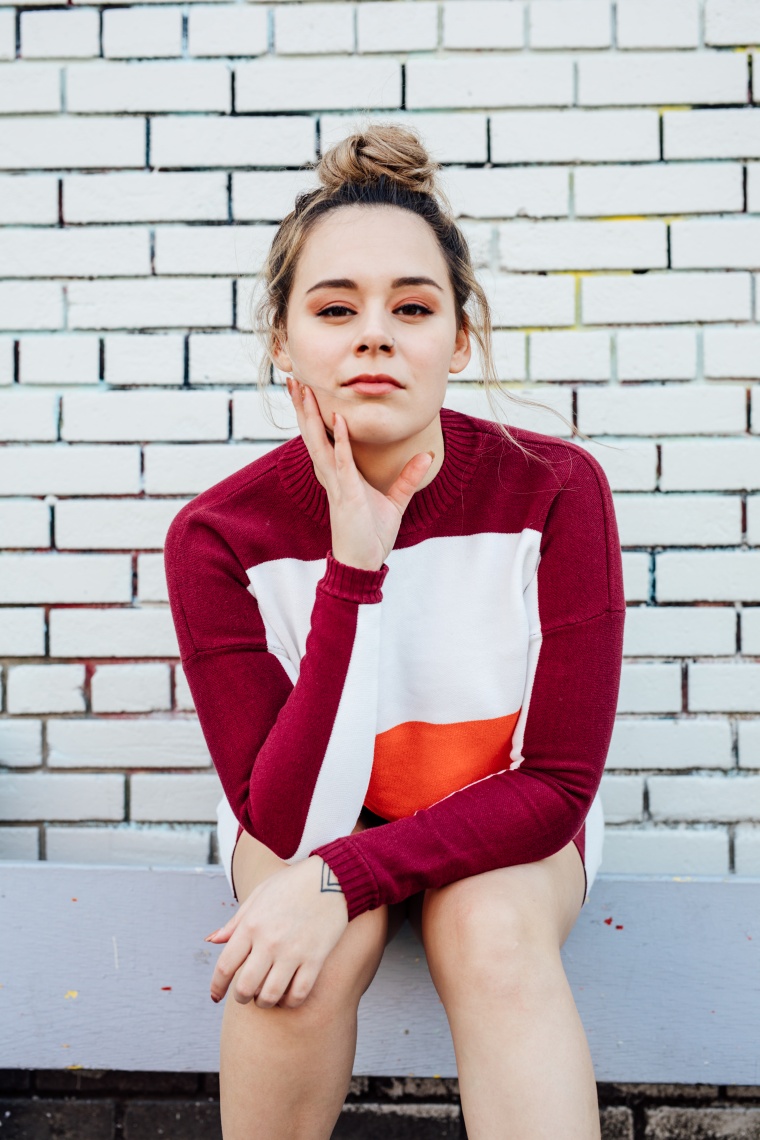 Inuk musician Riit grew up in Panniqtuuq — also known as Pangnirtung, or as she refers to it, simply "Pang"— in Nunavut, Canada's northernmost territory. Panniqtuuq means "The Place of the Bull Caribou," and Nunavut is the only one of Canada's provinces and territories where the majority mother tongue is neither English nor French. In most of Nunavut, most who live there speak the Inuit language known as Inuktitut.
"The Inuktitut in Pang is very strong," Riit says over the phone from Iqaluit, Nunavut's capital city. "I barely spoke in English except in school. When people say, 'Inuktitut speakers are declining,' I'd go, 'Is it really?' I was in Pang all the time and surrounded by Inuktitut — I never experienced other parts of Nunavut where they don't speak Inuktitut. I don't really know if [advocation for it] is a new thing, but I know that more people are pushing it and inspired to keep it going."
Growing up, Riit was exposed to the music her Irish father would play at home while also spending time at summer music camps where kids could learn drum dancing, throat-singing, guitar, fiddle, and a litany of other musical skills. Usually, she'd stick with guitar and throat-singing — but she also learned accordion in college. "Square dancing is very popular up here," she says. Her folkier roots inspired her early music, but she's headed in the opposite direction with her new material.
The album Riit is currently putting the final touches on is being produced in Toronto by Graham Walsh, a co-founder of experimental electronica group Holy Fuck who's recently worked on records for METZ, Alvvays, and Operators. The songs are sung almost entirely in Inuktitut, with the exception of a single guest vocalist contribution. Getting the album done has been a challenge because of the distance — the flying time between Toronto and Iqaluit is around four hours — and Riit says it's difficult to pinpoint exactly what she wants via email. "But we're literally three steps from the finish line," she says. "I'm very excited about that."
Her new song, "Qaumajuapik," shifts seamlessly from heavy verses and eerie synthesizers into a decidedly sunshine-y chorus, as Riit switches between graceful, airy vocals and intense throat-singing while communicating the strangeness and elation of exploration.
Riit is also the host of Anaana's Tent, a children's TV show that helps kids learn Inuktitut through stories and songs. Taking a cue from Mr. Rogers' Neighborhood, it slows down the typical pace of children's programming to engage with its audience; even the show's English version is peppered with Inuktitut, making for a great resource for people at any age to learn the Inuit language. "I've received a lot of messages from people thanking us and because it brings a piece of home to them," Riit says. "I think it's just amazing this has finally happened — for kids around Canada to learn more about the Inuit culture and where we come from."
I ask Riit if she has a favorite Inuktitut word, as there are many Inuktitut words that encapsulate sentence-long phrases if translated to English. She lands on a word that feels very fitting what she's hoping to achieve with her music: Ikajuqatigiinniq. "It means to help or support one another."
Tell me about growing up in Nunavut.
RIIT: It's very different than the rest of Canada. Pang has a population of, like, 1,400 people. It's a community. You're very close to everyone, and everyone's very loving to each other, no matter the circumstances. But we don't get the same opportunities as the rest of Canada — being able to go to a ballet class, for instance. We face more challenges that the rest of Canada, but we're always supporting each other.
How have those challenges been influential in your life?
A couple days ago, a friend committed suicide. I've gone through a lot of that. It's pretty fucked up that I've been to more funerals than I have weddings. Inuktitut is also almost a lost language in Nunavut. Those are the types of things I like to sing about.
Has suicide in particular affected your music?
It's a very hard topic. I don't really like to talk about these things, personally, because it's such a trigger to so many people. Music is just one of those ways I can talk about how I feel in hopes of reaching the people who feel the same way as me or don't know how to express their feelings.
What was your experience with Nunavut Sivuniksavut in Ottawa like?
It was my first time living outside of Nunavut. I'd travelled down south quite a bit but it was my first time staying there for that long. It was a culture shock. I always tell people I discovered myself being claustrophobic for the first time, from being surrounded by tall buildings — being from Nunavut and literally being able to look across a fjord anywhere I go, to living down south and being surrounded by buildings. That was one of the weirdest experiences for me.
As I mentioned earlier, we're very much a community, and not having that same support was hard. I've been spending a lot of time in Toronto for music stuff, and it's exciting for the first few days, but then I get tired of the noisiness. Everything is so loud, and I long for the silence that home brings to me.
What's the music scene in Nunavut like?
It's changed a lot in the past 10 years. There are so many amazing musicians creating music, and it's so amazing because most of it is in Inuktitut. It's also amazing to see all us musicians in Nunavut supporting each other. Personally, it's a big motivation seeing other Inuit reaching amazing things. It makes me want to go for it, too.
How do you feel about the album you're currently working on?
It's been a long time coming. I've been working with amazing people. I'm very excited to finally share it. With my last EP, we were going for a poppy vibe, but after hearing Hannah Georgas' For Evelyn and Sylvan Esso, It's going to be one of the first electro-pop Inuktitut albums, so that's very exciting.
What is "Qaumajuapik" about?
It's an Inuktitut love song — qaumajuapik means, "You are shining." I was in Australia touring with The Jerry Cans, and I was young and in love with a stupid guy who was very manipulative and controlling. We broke up during that tour, and I was heartbroken. The band convinced me to download Tinder, and I ended up going on a date with this beautiful Australian dude. We hit it off and had fun, whatever. That's what the song was inspired from.
Why was it important that the language on the album was almost completely Inuktitut?
The Jerry Cans have been advocating for Inuktitut for a long time now, and they're one of the biggest bands in Nunavut. I stand by wanting more Inuktitut speakers, and I want to motivate the younger generation to keep speaking the language and inspire them to regain the language if they've lost it. It's my mother tongue — sometimes I get confused trying to explain things in English, because my mind immediately goes to Inuktitut. I very much wish and hope one day that Nunavut gets to the point where we're only speaking Inuktitut to each other.
Why did you decide to use field recordings on the album?
I wanted to incorporate sounds from home. It's a special place to me. It's where I'm from, where I belong, where my heart is. They're very special sounds that not everybody in Canada gets to experience, and they just sound fucking cool.
When you hear the songs now, do they conjure up specific images for you?
For sure. There are songs about sexual abuse and intergenerational trauma. Those songs take me to those places and into the shoes of people who experience all of that — how much I feel for them and how I very much wish for all that pain and heartbreak to subside.
Do you feel anxious about how your community will respond to this album?
Definitely, but I always remind myself that it's a step that needs to be taken. The stuff about sexual abuse and shit — I see so many women supporting each other and calling people out now, which is amazing. But there are definitely still situations where you can't really talk about it because it's your uncle or it's somebody in your family who did that to you, so it's terrifying to speak out about it not knowing what the outcome will be. Even without mentioning names and stuff, so many more women are talking about it, which is amazing, I think. But I've definitely felt some anxiety about it. At the same time, I kinda don't give a shit.