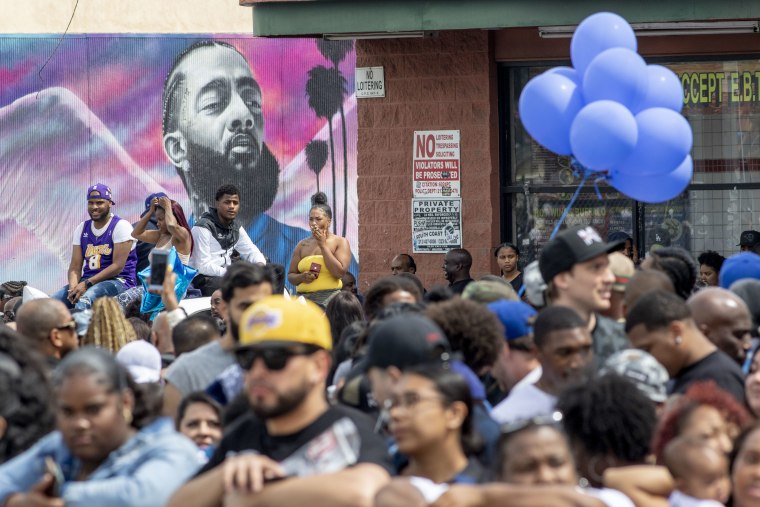 One person was killed and multiple more were left injured after a shooting near to a procession in Nipsey Hussle's memory on Thursday. The procession was held directly after a memorial service at LA's Staples Center. Police say there were no injuries on the procession itself, with the CNN reporting that the shooting took place "near the procession route." Four people were shot, three men and a woman aged between 30-50.
The shooting took place at the intersection of 103 St. and Main St., LAPD Chief of Police Michel Moore stated. A tweet sent from Moore's account declaring that the shooting happened "in the midst of the procession," was disputed by the LA Times, who reported "no indications that the violence was connected to the memorial."
In the midst of this procession we have a multi-4 Shooting at 103 St and Main St.

Victims are 3 Male Blacks and 1 Female Black - ages from 30-50 years old. Tragically one is deceased.

Suspects in gray Hyundai fired on the victims.

We must stop this senseless violence.

— Chief Michel Moore (@LAPDChiefMoore) April 12, 2019
Nipsey Hussle died on March 31 after being shot outside his Marathon Clothing store in L.A. One man, Eric Holder, has been charged with his murder. He has pleaded not guilty.
The memorial service to Nipsey Hussle included tributes from Barack Obama, Jay-Z, and Kendrick Lamar as well as an emotional speech from Hussle's partner, Lauren London.