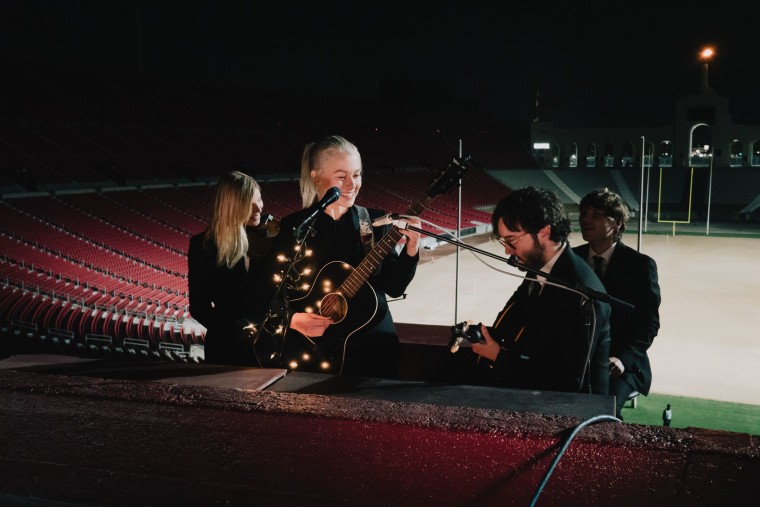 In early March, before lockdown forced the suspension of live music, Phoebe Bridgers and her band played a short set at the Los Angeles Memorial Coliseum. It was an early opportunity for the handful of guests in attendance to hear songs from Bridgers' stunning new album, Punisher, and a rare chance to see any artist play at an iconic venue that's far more famous for hosting college football and NFL games.
The event was the first in Versus Creative's 50on50 series, which aims to bring intimate sets to stadium settings that are more often filled with roaring crowds, and their director Tony Corella beautifully captured Bridgers's performances of "ICU" and "Halloween," both of which are premiering below.
"For 50on50, we aim to work with artists who we feel should be playing stadiums," Nate Auerbach, partner at Versus Creative and co-producer of 50on50 with the LA Memorial Coliseum, said in a statement to The FADER. "As an L.A. native, Phoebe Bridgers is the kind of artist that we want to see perform a hometown show for a packed Coliseum someday. I could not think of a better artist to launch this new series with us. We were so lucky to have filmed this right before everything locked down. For the people there, it was their first time hearing Phoebe's new music, and probably their last time seeing a live show for a very long time."
Watch Bridgers perform "ICU" and "Halloween" below, and stay tuned for more videos from the 50on50 series in the near future.