Two deaths, an alleged kidnapping, and a venue under scrutiny: the Brooklyn Mirage cases, explained
A string of disappearances has put the spotlight on the New York City music venue.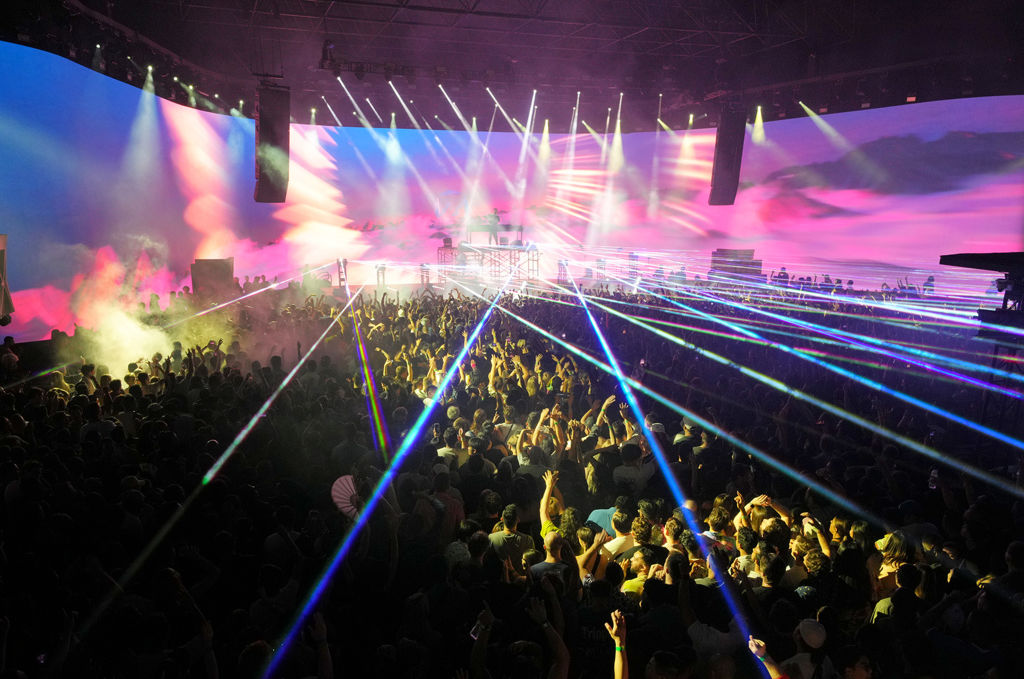 Avant Gardner, a popular electronic music venue nestled inside an industrial neighborhood in the north of Brooklyn, has found itself in the headlines of national publications this summer. Home to concert spaces including Brooklyn Mirage, The Hall, and King's Hall, the 6,000-capacity site is known to book mainly acts in the EDM scene. But over the last two months, Avant Gardner has been shaken by the deaths of two patrons; soon after the men were seen inside or near Avant Gardner, their bodies were retrieved from a nearby creek. In the same time period, a third person claims he was abducted outside of Brooklyn Mirage by an unlicensed taxi driver and forced to spend thousands of dollars over the course of the weekend.
Previously the focus of an investigation by the city's regulatory agencies for drug-related medical emergencies and overdose deaths, Avant Gardner now finds itself at the center of tragedies that have captured the attention of concertgoers far beyond New York City's limits. Police are continuing to investigate these complicated cases. Meanwhile, fearful concertgoers on social media are speculating on possible connections between the deaths, while others pressure local politicians to force Avant Gardner to improve and update their security.
Police recovered the bodies of two men from the nearby Newtown Creek a few weeks apart
Within the span of a few weeks this summer, two men were found dead in Newtown Creek, a waterway roughly 30 minutes on foot from the Brooklyn Mirage. The circumstances surrounding their deaths appear to be similar.
The body of Karl Clemente was found in Newtown Creek after he'd been turned away from the Brooklyn Mirage
Karl Clemente, 27, a psychologist, went to the Brooklyn Mirage on June 11 but was turned away by staff at the door because he had been drinking, his father, Alex Clemente, told the New York Post. Footage obtained by FOX 5 New York shows him "walking toward a nearby gas station" soon after, "but there was no footage of him inside." Further footage obtained by FOX 5 "allegedly" shows him running down Metropolitan Avenue towards a lumber yard.
"Why was he running?" his father asked the Post. "He could have just waited for a cab."
Police found Clemente's body in the English Kills, a tributary of Newtown Creek, on June 16. They did not find his wallet or phone on him.
John Castic's body was recovered from Newtown Creek four days after he'd attended a show at the venue
John Castic, 27, a Goldman Sachs analyst, attended the Zeds Dead show with friends at the Brooklyn Mirage on July 28. He left the venue at 2:30 a.m. on July 29 and security footage shows him walking, apparently unimpaired, away from the venue shortly after, The Independent reports. At 3:51 a.m., his phone recorded his location at the Metropolitan Avenue Bridge, about an eight-minute walk from Newtown Creek, where police found his body on the morning August 1. Castic was shirtless, but police found his phone, wallet, and keys on his person.
Results of an autopsy are not yet available, but Castic's father, Jeffrey Castic, told the New York Post that the "official cause of death is drowning," and that he may have been impaired in some way when he lost his life. John Castic's whereabouts between leaving the venue at 2:30 a.m. and his phone registering his location near Newtown Creek at 3:51 a.m. are still unknown.

Avant Gardner said it is "assisting with the investigation"
Soon after John Castic's body was found on August 1, Avant Gardner, released a short statement to the press: "Avant Gardner is in communication with the authorities and is assisting with the investigation. We take the safety of our patrons extremely seriously. Our thoughts are with the family and friends during this difficult time."
The Brooklyn Mirage released a statement of its own on Instagram shortly after. "We are saddened by the recent passing of John Castic and Karl Clemente," the statement read. "We send our deepest condolences to the individuals' families, friends, and all of those who have been impacted. Out of respect to those affected, we have refrained from commenting prematurely. During this time, we encourage the community to come together and support one another. We will continue to provide our full assistance to the investigating authorities."
Police have not released any evidence indicating foul play or a connection between the two deaths
The NYPD has not discovered a link between the two deaths, and are still investigating both cases. The cause of death for in both cases is still being reviewed by the medical examiner, the NYPD said in a statement to The FADER.
Days later, another patron of Brooklyn Mirage found himself in a life-threatening situation
At 5:45 a.m. on July 21, Dr. Michael Bautista, a 32-year-old ophthalmologist and cataract surgeon from Norwalk, Connecticut, got into what he thought was a taxi outside the Brooklyn Mirage. Instead of being driven to his car as he requested, Bautista was kidnapped for nearly two days; news12, a local Connecticut station, reported the abduction on July 28 and named the defendants: Anthony E. Benjamin, 42, and Steve Daley, 50. Daley is charged with conspiracy to commit kidnapping in the second degree with firearm charges, according to Connecticut court records. Benjamin faces the same charge, WTNH reports, as well as one count of possession of a controlled substance. The FADER has reached out to Norwalk Police for a statement.
The New York Post published a timeline of the alleged abduction with new information from police on August 17. Benjamin was in the back seat of what Bautista thought was a cab, and the driver told Bautista that he was driving them to an afterparty. Upon arrival, Bautista refused to pay the driver, and Benjamin reportedly helped prevent the conflict from escalating.
At the party, Benjamin allegedly told Bautista that he was armed and would act as the doctor's "protection." Benjamin "begged [Bautista] to stay" after the doctor expressed his intention to leave; the two men then returned to Brooklyn in a rideshare service.
It was at this point that Benjamin began making threatening implications towards the doctor, according to the Post's report. Benjamin allegedly made references about body bags and bullets, then threatened Bautista's life before claiming it was a joke. Later, Benjamin allegedly told Bautista, "If you do anything funny, I'll kill you."
Once back in Brooklyn, Benjamin allegedly forced Bautista to take him on a $6,000 shopping spree. The trip is said that have included stops at several restaurants, a dance studio called Foxy Fitness and Pole, stores like Foot Locker, and Benjamin's barber. Bautista said that he was forced to withdraw nearly $1,000 from ATMs, which Benjamin then gave out to associates in the Bronx.
Bautista was on call all weekend and eventually convinced Benjamin that the hospital where he worked would get concerned if he didn't come in. On July 23, Benjamin called Steve Daley to drive the doctor to the hospital for work — Bautista's car is a manual transmission, which Benjamin did not know how to drive. At the hospital, Bautista was able to enter by himself and alert a security guard of his kidnapping. Police were called and the two men were arrested.
Benjamin and Daley were nearly held on bail of $1 million and $250,000, respectively, but were released without payment after promising to appear on their court dates on September 19. Benjamin was released on July 24, CT Insider reports, after "a prosecutor and a public defender raised concerns to a judge about the evidence in the case." Court records obtained by the outlet read that a prosecutor claimed police were unable to find "any other independent corroboration" on the kidnapping.
After Benjamin's release, it was revealed by the Post that he gave authorities a personal address that he has not lived at for five years as well as an incorrect phone number.
There is currently nothing linking the alleged kidnapping of Dr. Bautista with the deaths of Castic or Clemente.
City residents have responded by demanding for increased safety protocols at the venue.
The incidents have spurred guests and concerned New York residents to start a letter-writing campaign addressed to Councilwoman Jennifer Gutiérez, who represents the district where Avant Gardner is located.
The letter alleges several shortcomings in safety and security at the Brooklyn Mirage. Shows can exceed legal capacity due to oversold shows, and security is not present near the venue exits, the letter claims. This environment, it is alleged in the letter, leads to "unpermitted drivers posing as rideshares" and "aggressive club and venue promoters" in the area who steer inebriated patrons "to unidentified venues and spaces."
Among the requests for improved security at the Brooklyn Mirage are improved lighting around the venue, more restrictions on unlicensed taxis and solicitors, and an increased security guard presence.
On Twitter, local residents have urged concertgoers at Brooklyn Mirage and Avant Gardner to take safety precautions, or even reconsider going to the venue entirely.
so deeply saddening to see another disappearance after a Brooklyn Mirage show 🥺 TLDR: please use a buddy system when leaving venues, don't take unmarked cabs, and remember there are scary ppl in this world no matter how safe u may feel… love y'all 🫶🏻

— ginger spice (@legallyging) August 1, 2023
Why anyone would still risk their lives going to @BrooklynMirage where yet ANOTHER person got kidnapped. Luckily they survived their encounter but the suspects are out of jail and back on the streets.

— unregistered hypercam 2 (@morpheus69neo) August 22, 2023
These stories about people going missing or being murdered after leaving @BrooklynMirage makes not even want to go anymore.

— Natashaaa💕 (@NeeLeeRee) August 20, 2023
Local politicians and government officials may force a change. Or maybe not...
On August 2, Councilwoman Gutiérez issued a statement mourning the two deaths and echoing some of the concerns in the letter: "We are collaboratively working with the Mayor, City agencies, businesses, and community members to develop comprehensive strategies to ensure the well-being of all who work, live, and visit the area."
Long before the deaths of Castic and Clemente, the State Liquor Authorities had its sights on Avant Gardner. Since Avant Gardner's opening in 2017, three people have died of drug overdoses its venues and at least 1,600 have been treated for intoxication, Gothamist reports. The SLA have "repeatedly voiced concerns about what they have called 'rampant' drug use and a number of deaths among people who attended events at the facility."
However, Avant Gardner appears to have at least one powerful ally: Mayor Eric Adams. "I'm hoping that eventually we'll get to the day that the [State Liquor Authorities] is handled on the city level," Adams said in March. "I don't think people outside the city should be making the requirements or how it's enforced here." As Gothamist notes, Adams's former chief of staff Frank Carone was Avant Gardner's attorney before serving as the mayor's chief of staff last year.
"I don't think people outside the city should be making the requirements or how it's enforced here." Fabien Levy, Adams's press secretary, later added: "We want to help small businesses, and we want to make sure people are safe, obviously as well. [Avant Gardner] is taking steps to do that."