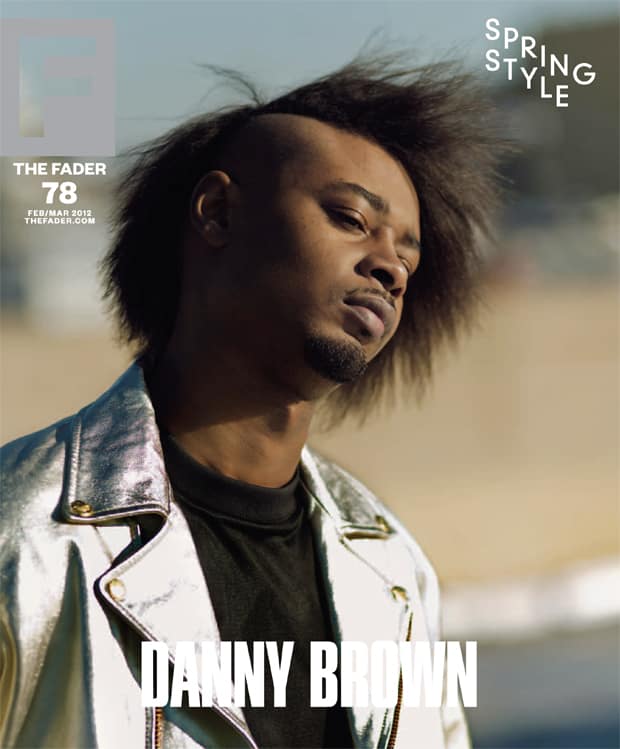 Danny Brown: Coming from Behind
Our FADER issue 78 cover story on Danny Brown, hip-hop's most unique rapper and most promising underdog.
Danny Brown smokes back-to-back Newports the moment he steps outside the lobby of New York's Dream Hotel. He tucks his hair discreetly under a black baseball cap. Lanky with two front teeth missing from a bicycle accident, Brown wears pristine black Jeremy Scott-designed Adidas Originals with two extra tongues and a thousand-dollar black Moncler ski jacket he bought to taunt "baller white motherfuckers" he saw wearing the same coat in the airport. It's a week before Christmas and the 30-year-old Michigan native, born Daniel Sewell, is in town for a celebratory performance at his label Fool's Gold's holiday party. In a year-end coup, his free album, XXX, was selected as Spin's #1 rap release of 2011; Pitchfork ranked it two spots ahead of Jay-Z and Kanye West's Watch the Throne. He simultaneously adorned the covers of Detroit's Metro Times and Real Detroit, winning "artist of the year" in both. But when an unassuming fashion industry intern recognizes him on the street, Brown seems uncomfortable—the first and only time he'll display this emotion—and admits that being known to strangers makes him paranoid in some sort of ex-drug-dealing way. He circles the block in search of plain cheese pizza. "I have the appetite of a 12-year-old," he says. And the sense of humor, too: Onstage that night, he interrupts his second verse on "Blunt After Blunt" to mimic cunnilingus, which goes on for an uncomfortable beat longer than expected, Brown lapping the air with his wide-stretched, triangular tongue and eyes bugged out so the white shows. "People think my life is just non-stop orgies with crackheads," he says, folding an extra-large slice into his mouth. "And it kind of is."
In Michigan, ten days later, Brown hunches half-lifeless over a small computer desk in the den of his one bedroom apartment in Royal Oak, the Detroit suburb where he's lived for nearly two years and where he claims he spends "100 percent of [his] time," though he's just come off months of touring and is a few days away from performing as the sole rapper on an electronic-music-themed Caribbean cruise. In the spring, he's back on the road, opening for television-actor-turned-rapper, Donald Glover aka Childish Gambino. For an island of one, he's found favor among many. With the rigors of his schedule, he clearly relishes his downtime.
Brown's apartment is on a service road and, across the street, a 15-foot brick wall blots out six lanes of Interstate 75, which will take you south through Detroit and down to Miami, Florida. There are melted candles in Brown's fireplace and on the walls hang three unframed paintings by his girlfriend: a pink bonsai tree, a portrait of Brown onstage, and, at his request, four panels of the cartoon Aqua Teen Hunger Force, with particular attention to the bald character Carl's wispy shoulder hair. It's Monday, three in the afternoon. The blinds are drawn, and incense distracts from the near-constant burning of blunts, which Brown smokes at an average of about one every 80 minutes, plus supplementary Newports. Also hanging, in their original mid-'90s boxes, are six Starting Lineup action figures of famous athletes who've never won championships—Dan Marino, Ken Griffey, Jr., Patrick Ewing—which he says are the best thing he bought all year. He scrolls idly through a cache of beats freshly sent over by Lex Luger, the prodigious 20-year-old Virginian producer renowned for his work for Rick
Ross, Kanye West and Jay-Z. Working with him would be Brown's highest-profile collaboration to date. His computer speakers are small and they sound muddy, adding to the general hungover-in-the-sophomore-common-room vibe.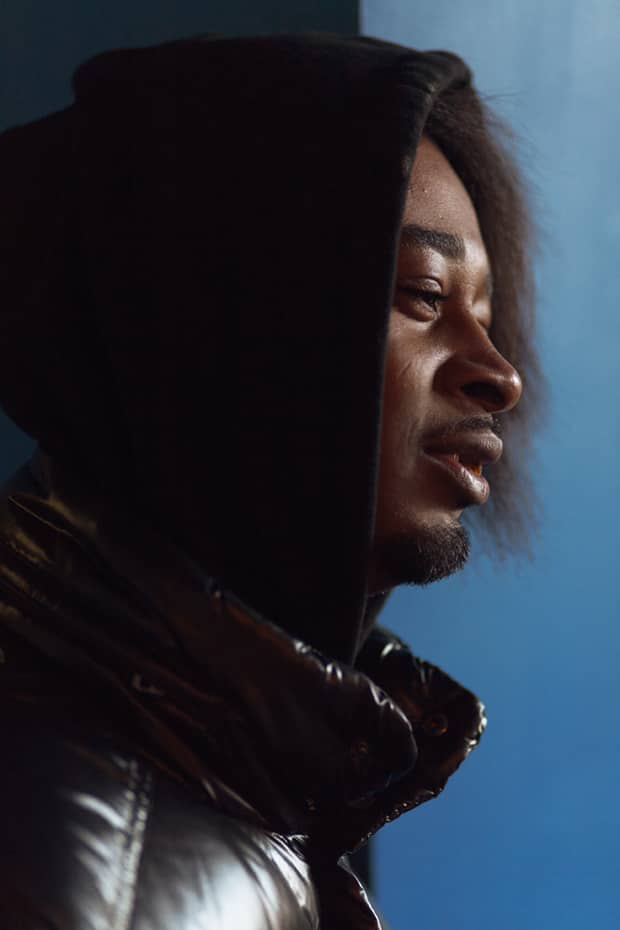 There are seven men in the living room, a sedentary but easygoing entourage. Skylar "Skywlkr" Tait, the 22-year-old Brown calls his "official whistle producer," lies on the carpet, an iPad his parents gave him for Christmas in one hand and a bottle of A&W cream soda in the other. "The best pop," he says, a Midwesternly sentiment he immediately posts to Twitter. Brown's oldest friend, Vince "Tripleblack" Huff, a rapper with a Barry White voice and a song called "Pussy Fartin'," has folded himself into a rattan chair. A very big man in a matching heather grey Everlast sweatpant suit passes a 40-ounce bottle of Miller High Life to a small man in loafers who resembles a Rain Man-era Tom Cruise. No one has anywhere they need to be, including Brown, and they've got nothing to do but watch 45-minute long rap battles on YouTube, talk unending heaps of shit and beat each other in NBA 2K12 on Xbox. Brown swivels on his cheapish office chair. "I wrote XXX right here, point blank," he says. His legs are tired from a morning jog, an exhaustion he announces more than once, proudly.
He pulls a baseball cap on and off, exposing his unruly frizz so he resembles a black, toothless Einstein. His hairdo is asymmetrical, shaved to the scalp on the right side but long everywhere else, parted severely down over his left temple, and with a long and narrow V-shape cut into the back, odd from every angle. Brown loves the way he looks. Despite the recent album accolades, the year-end list he's most proud of making is Complex's "25 Most Stylish Celebrities of 2011." When Brown was a child, his father—a house DJ who was only 16 when Brown was born—always outfitted him in the latest styles, stuff you couldn't find without traveling to suburban malls. When Brown asked for "Jodeci boots" from Payless to fit in at school, his dad bought him hundred-dollar Timberlands. "He would not allow me to be corny," Brown says. In high school he'd show up late for class just so everyone could see his outfit, stolen from the back of his grandmother's dry cleaner. Now he's wearing oversized blue-and-white sneakers with miniature New York license plates on the tongues. His favorite coat isn't the black Moncler but a tiger-striped half-tuxedo, half-track jacket with little cat ears sewn onto the hood. The hair, the shoes, the jacket—it's funny, or at least it provokes funny insults from others, which seems like half the point. His Twitter feed is a constant retweet of fans praising of his skill but befuddled by his look. That he's able to provoke so many rap purists to begrudgingly love a man in skinny jeans is a mark of his unique skill.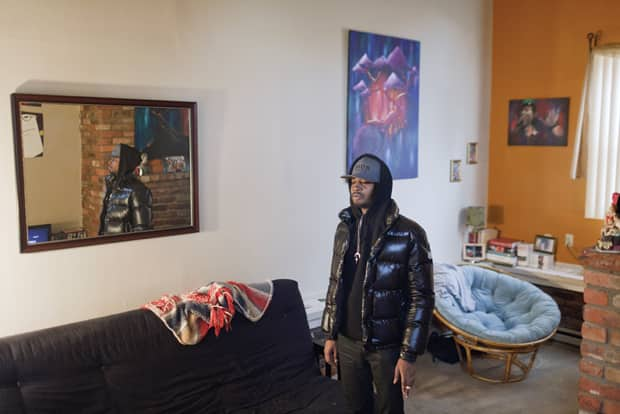 "In first grade they asked you what you wanted to be when you grew up, and I said, I want to be a rapper. My whole class laughed."—Danny Brown
Widely championed as a witches' brew of old school rap precision and new school wackiness, XXX excels by upending two important categories of hip-hop content—sex and poverty—basically discrediting the Hollywood versions of both. Brown's descriptions of (mostly oral) sex frequently allude to gas station fare: things bubble up, smell like Cool Ranch Doritos. His fantasy food play involves carrots, not whipped cream. He says feminists give him hard-ons. It's more than a little grade school, but compared to most popular music's promotion of unattainable fantasy, Brown's open-armed, honest embrace of an inherently sloppy enterprise is pretty healthy. He talks about being poor in a similarly unvarnished way, most directly on the album's penultimate track, "Scrap or Die," taking all the cocky joyriding out of Young Jeezy's drug dealers' anthem "Trap or Die." Where Jeezy's protagonist cruises off in a BMW, Brown portrays a nobody with a crackhead uncle and a rusty flatbed pickup, ripping off old computers and copper pipe from a closed-down school until he's arrested for trespassing. For years, voyeuristic news reports and artsy photographers trafficking in the "ruin porn" of collapsing architecture have catalogued Detroit's great demise, but rarely with Brown's complicated mix of shame and pride, and never with the humor and surprising grace of a man who can't tell a tragedy without painting the antihero's flatbed truck the same color as doo-doo. On "Lie4," he flips a cliché first verse about partying in limos and dining with models in converted mansions, revealing that the night is actually being funded by the income tax refund of a delusional man unable to provide for his children. "I wasn't the nigga that was thinking what was going on around me was cool. I knew it wasn't. I seen people do too much dumb shit," Brown says of his source material. "The first time I ever went to a strip club we rolled straight past the line. I'm not even old enough to get in. I'm a baby-faced nothing. I seen a bitch put a flashlight in her pussy and cut it on and off when I was 17 years old. Why was I seeing that? You know how every rapper be like, Yo, I want to rep for my hood, I'm doing shit for my block? Like, on some G shit, I might be the first nigga to straight up be like, Nah, I'm not doing it for none of them motherfuckers. I'm doing it to get away from them. Fuck all that. Fuck the hood. Fuck Detroit, bruh. Detroit ain't who I am."
Born in 1981, Brown belongs to the first generation of artists whose dads listened to hip-hop. "My pops put me up on Wu-Tang and stuff like that," Brown says. "He bought me the CD when I didn't even know what Wu-Tang was." In a deep, in-his-blood kind of way, he understands the stuff, reveres pioneering artists and loves what the genre stands for. He artfully frames that precedent, and wickedly pulls the rug out from underneath it. The title XXX evokes adult entertainment and cartoonishly labeled bottles of moonshine, but it also stands for Brown's age, 30. It's the first word he says on the album and the subject of XXX's last song. What makes Brown's recent success so interesting and unlikely—particularly in a genre whose youngest stars always seem to shine
brightest—is precisely that it took him so long to get here. Though he has emerged at 30, and not 20, like some of his odder peers, it's not for lack of trying. "In first grade," he says, "they asked you what you wanted to be when you grew up, and I said, I want to be a rapper. My whole class laughed." In junior high, when four or five different drug dealers would stop Brown on the way home to pay him to freestyle, the infamous drug-trafficker Demetrius "Big Meech" Flenory, who is now serving 30 years in the U.S. Penitentiary in Atlanta, supposedly told him to stick with music, that he was good at it. Brown says the advice didn't take hold: "What did I have to rap about?" Besides working for near-minimum wage at a buffet when he was 14, at Burger King in high school (at which point he was already selling anyway and basically flipping burgers for free food), and for a single-day stint packing VHS boxes for Disney's Mulan from which he was fired for fainting after a seven-blunt, foodless lunch break, Brown's job history has been solely illegal. "I feel like I was selling drugs just to rap about it in some sense," he says. "I had other options, man. I was never like those niggas that I was around doing that shit with. But I thought that was giving me some extra something to rap about. I didn't know that was going to turn into my whole twenties."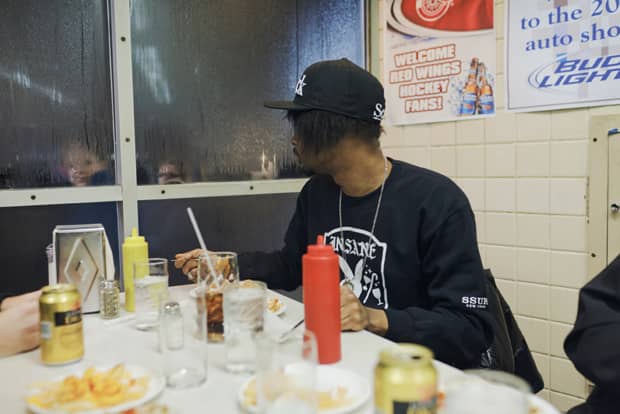 "I knew I was doing something that nobody else around me was doing."—Danny Brown
In 2003, Brown's friend Mister "B-Mo" Cotton took him to New York for the first time, buying the two of them overnight Greyhound tickets in a futile attempt to enter Brown in an MTV-hosted battle rap competition. The trip was eye opening. With newfound access to the city, Brown linked with Travis Cummings, an A&R for Roc-A-Fella, who introduced him to a studio in Queens that allowed him free access when no one else was using it. For years, traveling alone, Brown would repeat that Greyhound journey, scrambling to save money for a one-way ticket to leave Thursday night, crash with sympathetic acquaintances and record over whatever leftover beats Cummings could find. He'd wear out his welcome, exhaust his savings on cigarettes and McDonald's, and pay-phone home Monday morning to beg for money for the ride back. By then, Brown was in his mid-twenties, jobless, on probation (manufacturing and distributing marijuana), living with his grandmother and unhappily split with his five-year-old daughter's mother. His entire deal in Detroit—musical or otherwise—was veering perilously close to colossal failure. "It was a long period of my life where I was just a nobody," he says. "And for a while, that's what my family thought I would be, just a guy sleeping on a couch, writing his name on an orange juice like, Don't touch that shit." But recording in New York, where actual success as a rapper was accepted as something that could happen to a person, Brown felt like he was taking charge: "I knew I was doing something that nobody else around me was doing." After he was incarcerated for eight months in 2007 for a probation violation, Brown took advantage of his newly-warrantless clean slate by returning to selling weed. But this time he had a plan, plus a newly penned notebook of lyrics eight-months thick: he'd rack up finances as quickly as possible and devote all the money to a music career. After a few months back at it, he collected his drug money and recorded his first album, Hot Soup.
"At that time, the only thing I knew about the internet was watching porn and trying to hook up with girls off Myspace," he says. "But after we put Hot Soup out, the next day it was on [hip-hop blog] 2dopeboyz. Then it popped up on another blog, then it popped up on another blog. Before I knew it I was googling myself and shit was coming up! I got addicted to that, no bullshit. I wouldn't leave my computer." In 2009, he started abusing the stimulant Adderall, used medically to treat ADHD and narcolepsy, which inaugurated a new creative period leading to Brown's second album, The Hybrid, released the following year. He found a manager. He started a blog and obsessed over Twitter. He moved out of his grandmother's house. When the engineer from the recording studio in Queens came to Detroit with Tony Yayo, an artist on 50 Cent's label, the engineer introduced the two and Yayo invited Brown on tour. The tour instead consisted mainly of insults to Brown's clothing, an unsuccessful collaborative album with Yayo, and culminated basically with Brown going home feeling he'd squandered his best and last chance at success. But his profile had never been higher, and with his back against the wall, Brown started work on a twisted, autobiographical opus, XXX. His manager asked him which label he'd sign to if he had the chance, and Brown said Fool's Gold, a joint venture between DJs A-Trak and Nick Catchdubs known mostly for dance music. When his manager happened to run into Catchdubs in the bathroom of a burrito restaurant, he made the pitch, and within weeks the deal went through. Fool's Gold released XXX online a few months later. The happiest Brown sounds is talking about the support of his label, how they're telling him to take his time with his next project, that they're confident in him. There are two things on his refrigerator: bills and a Fool's Gold sticker.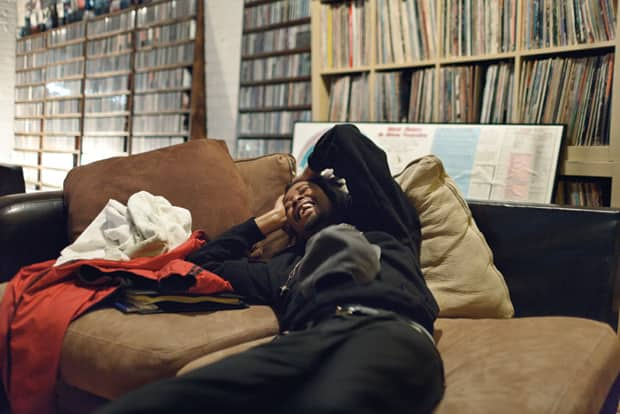 Around 7:30PM, Brown's girlfriend, Leila D'Amato, comes home from work as a tattoo artist. She and Brown have the same haircut, though her curls give it a more natural, feminine quality. She unpacks a camera and stretches across the circle of guys to show Brown what she did today (a rose with the name Marilyn), and he nods, unfazed. "Man, Danny, you realize I'm one of the coldest tattoo artists in the city and I can't get a compliment out of you." Brown: "I ain't got tattoos." An hour later, everyone else files out, leaving the couple alone. D'Amato orders a vegetable pineapple pizza with sesame seeds on the crust and extra butter-cheese from Hungry Howie's. Brown rolls a blunt for them to share, wheels his computer chair in front of the TV and starts another game of NBA 2K12. She curls up with their cat on the floor nearby, at times resting her head on the bottom steps of the stairway and her feet on the radiator. Brown plays as the Washington Wizards, and tonight he's matched against the superior Dallas Mavericks. Sitting there without his two front teeth, gangly with his T-shirt just exposing his belly, haircut looking like spilled soup, cursing his hometown, a decade older than most of his peers, Danny Brown embodies the underdog. "They don't know who the fuck I am out here, walking to the 7-11, Jeremy Scott wings hanging out and all type of shit. They don't know what the fuck I am about. It's the illest shit to me." At the half, the Mavericks lead by 15 points. "This is really how it is out here. This is really all we do. Nothing. And that's the whole point. There's nothing to do in Michigan. Michigan, not even Detroit. Not no more. Michigan." Their apartment's incredibly boring, but it's that way by design, a big boring place that's easy to kick everybody out of. Easy to smoke in. Easy to write in. Being across the street from a 15-foot sound barrier is actually kind of perfect. 30 years of flashlights and breakups and Greyhounds can just bounce around in there.
In the fourth quarter, Brown's Wizards stage a comeback to win the game. "I'm a chess-playin' ass nigga," he says. "It took forever to get here, but the movie ended happy on this one. It didn't go fucked up. No dick pics to take me out, no drug OD, none of that." If you follow Brown's Twitter account, his schedule is laid out in timestamps: up at seven or eight, in bed before 11. It's about that time. "In March I'm 31, the time all these motherfuckers be dying. The last chapter in some people's book. I don't want to leave this shit. I'm finally happy. I want to see 40. So I gotta do something. I gotta get up and run in the morning."