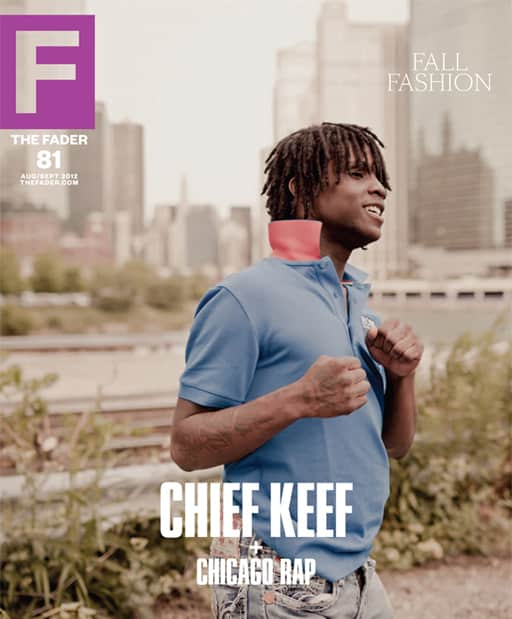 Chief Keef: Lost Boys
Revisit our 2012 cover story with Chief Keef for The FADER's 81st issue.
By the time of his arrest in December of last year, Chief Keef was already a household name in Chicago. Charged with unlawful use of aweapon, he'd been accused of aiming a gun at a police officer who'd fired shots back during the altercation, spurring rumors that Keef had been killed. After serving about a month in jail, Keef was released into his grandmother's custody just before New Year's Eve. News of the 16-year-old rapper's return spread quickest by way of a home video of a young boy, hysterical over the news, that was posted on the World Star Hip Hop website. "Oh my God!" he screams, bounding around the room. "CHIEF KEEF IS OUTTA PRISON!!" He gains his composure briefly to recite the lyrics from Keef's "Aimed At You," On that gangbanging shit this is what I do, nigga/ So give me room nigga/ This is what I do, nigga, before removing his shoes so he can dance.
Keef's notoriety comes primarily from "I Don't Like," a menacing anthem a local party promoter describes as the perfect Chicago song because "niggas just hate everything out here." Kanye West, the city's most infamous hip-hop export, who also described his hometown as "the city of hella haters," thrust Keef into the national consciousness by hijacking "I Don't Like" for a remix featuring his G.O.O.D. Music labelmates, and before signing with Interscope in June of this year, Keef was courted openly by gangsta rap's elite: Waka Flocka, Young Jeezy, Yo Gotti and Brian "Birdman" Williams all expressed interest in his unhinged braggadocio.
I first met and interviewed Keef in New York City in May. He'd been granted a short reprieve from his house arrest to take label meetings with Bad Boy and Atlantic. For a week straight, I'd been scheduling and rescheduling phone interviews with his manager Dro, whose cell phone number is readily available on Keef's Twitter page, before he informed me that Keef (along with an entourage of 15) were in the city and that I could do the interview in person so long as I could make it to the hotel with some "loud." Loud is slang for high-grade marijuana. Pretending not to hear Dro's request, I told him I was free all day and available to meet up whenever Keef was ready. "But did you hear what I said about the loud?" he repeated.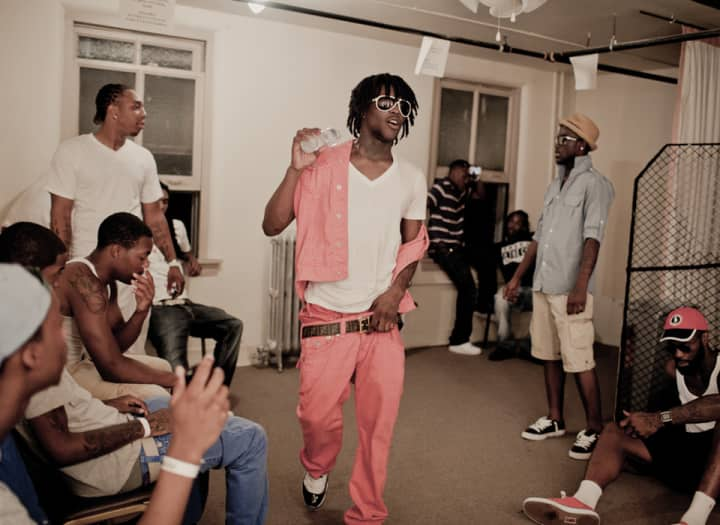 At the hotel, Keef lay back on the bed, soles of his Air Jordans kicked up high. He ordered DJ Kenn, producer of some of his earliest songs, to roll up weed. Kenn is a 21-year-old Japanese immigrant Keef's uncle found wandering the Southside of Chicago looking for an apartment five years ago. He's a regular presence in many of the videos, and in Keef's entourage is the sole Asian face in a sea of black teenagers. Keef shows me the outline work for a full sleeve tattoo he is in the process of applying to his right arm. His neck and hands are already covered in ink, creating a deeper cast to his already dark skin. His dreadlocks are just long enough in the front that he stares out from under them like a veil. He speaks in vomited bursts rather than complete sentences. When I ask him how long he's been rapping he says, "Since I was little." A man called Success with an ambiguous role in the crew adds, "An average little kid in Chicago is probably eight. When you hit nine, 10, you ain't little no more."
Keef comes off continually distracted if not wholly disinterested. He radiates agitation after just a few minutes, shifting his weight continuously, breaking conversation frequently to address members of his entourage. The interview becomes so painful for the room that his associates begin lobbing questions back at me to try to regain his attention. "Ask him about what kind of bitches he likes to fuck," someone says. "Ask him about spending money." After 30 minutes of what feels like gold panning, Keef opens up with a nugget about his love for high-end fashion and goes on an inspired, if slightly incoherent, tangent about the color purple. "I like purple 'cause purple is like red to me. I like red too, but purple is just like red. Don't it look just like red to you? Think about it." We end the interview cordially enough, Success telling me, "Please don't write no fuck-shit," much in the way a kidnapper might plead with a hostage not to try to escape.

This March, Keef dropped his Back From the Dead mixtape, a gem in Chicago's burgeoning drill scene. Drill, marked by menacing, trunk-heavy production in the mold of Virginia wunderkind Lex Luger and lyrics about the "hitta" lifestyle, is the current sound of the city. Its most promising young stars include Def Jam signees Lil Durk and Lil Reese, Epic's King Louie, as well as "lady hittas" Katie Got Bandz and Sasha Go Hard. Keef's detached croak and deadpan delivery of lines like Who is these niggas, I don't know them/ This nigga looking at me like he want something/ Pistol to his face if he owe something/ My niggas keep them tools make 'em blow something from "I Don't Know Dem" embody the scene's very marketable angst. Save for a guest appearance by incessant opportunist Soulja Boy, Back From the Dead features only Keef's Glory Boyz Entertainment (GBE) family, including "I Don't Like" with Lil Reese, which was produced by 18-year-old rising star Young Chop. "He called me when he got outta jail and he was like, 'Man, come over here with [your equipment],'" Chop says. "We got songs out, just off a short period of time, like two or three months [and] we just took flight. It's a pat on my back 'cause I helped him get to where he's at. I just be sitting low-key, but I helped him a little bit." Chop, who has since inked a production deal with Warner/Chappel, seems surprised by what they were able to accomplish. "I ain't know it was gon' be like that, like, to the point where [we're both] signed," he says. "I just knew it was like, Yea, we killing it, like, we put the city on." For his part, Chop criticized Kanye West's remix via Twitter, angered by West's embellishments, only to recant his disapproval after speaking with West a few days later, not yet bold enough to completely renounce the old guard.
"Men are men, I don't care if they are the law, and they always have been jealous of the youngsters that are getting money."—Chief Keef's grandmother
On a balmy Tuesday in early June, Keef is sitting in front of a giant computer monitor in the messy bedroom he keeps at his grandmother's South Side Chicago apartment. It's 7PM, an hour past his court-ordered curfew. Keef is logged onto Facebook, laughing at a newscast about former child actor and one-time star of The Hughleys Dee Jay Daniels, who is facing a life sentence in connection with a fatal stabbing outside of a night club. "This shit funny as hell, this nigga got tattoos on his face and shit now," he mutters. Keef's wearing new Air Jordans, black True Religion jeans and the $1600 cashmere Gucci monogram sweater he purchased a few days before during a Michigan Ave shopping trip with Young Jeezy, the Atlanta rapper who made it a point—if not a PR grab—to visit Keef while he was in town. The sweater, like the room, looks thoroughly lived in. Our conversation is as strenuous as the last, with Keef repeatedly declaring that he hates interviews. For someone who so many believe speaks for the city of Chicago, Keef barely speaks at all. About five minutes into our stunted exchange, his grandmother emerges from a backroom, lit cigarette in hand, to inquire about his guests. "I'm 'bout to go in like two seconds," Keef says to her offhandedly. She is incensed.
"Why is you ''bout to go' when you supposed to be here!?" she says.
"They not gon' come, they getting all they stuff together for tomorrow," says Keef, referring to the court investigators monitoring his case.
"You one of 'they stuff,'" she replies and laughs. Keef is not amused.
"You know how to not answer the door or no phone," he says.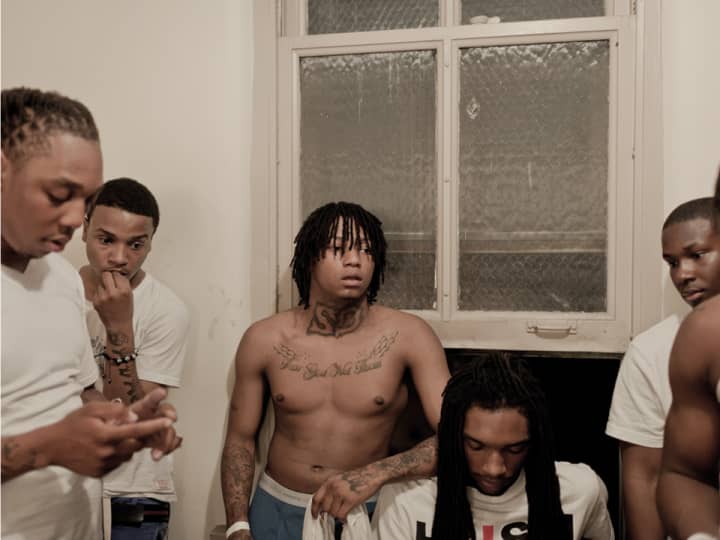 "We put real life with what we wanna hear. It's that bang music."—Fredo Santana
"Them people don't care nothing about him," his grandmother says, turning to me. "All they wanna do is lock him up so he don't get this money. Men are men, I don't care if they are the law, and they always have been jealous of the youngsters that are getting money." She continues in detail about their family's criminal history and how having families of their own straightened out most of their lives. She says that Keef's mother, who like his father seems not to be involved in Keef's day-to-day, is 31 and "just a baby." Eventually, she returns to Keef and her efforts to save him from his own marauding.
"My thing is, if I left out the house so he could have some company—they can see the bed tore up," she says motioning toward Keef's bed, which looks to have been effectively fucked off the hinges. "Couple of girls I might not like him with, but it's a chance to get up in here and close this door and turn the music on. Now he wanna leave and go with y'all. I keep on telling him I wouldn't have did nothing today if I had that case. Nothing. But he ain't scared."
For Keef, there's a lot more to be afraid of than probation investigators. Chicago, and more specifically, young Chicago, is in the midst of an epidemic of violence. In mid-June, homicides were up by 38 percent from the same time the year prior, and shootings on the whole were seeing a similar increase. The weekend I arrived there were 40 shootings alone. If Keef isn't scared of violating his probation, time inside could serve him well, simply as refuge from the city's mayhem.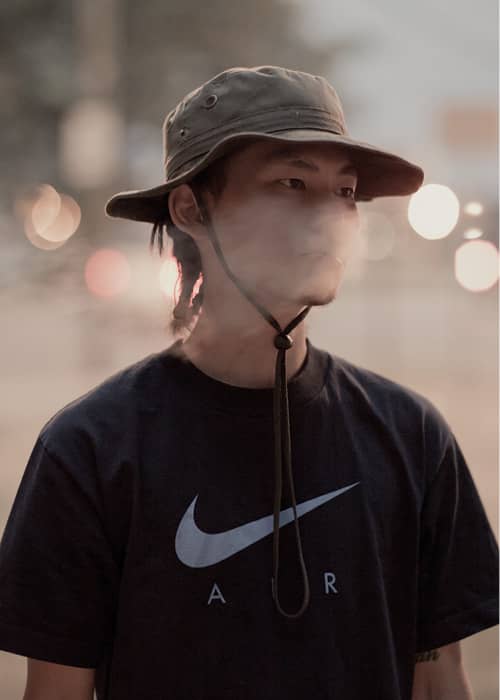 Violating both his grandmother's wishes and his terms of parole, Keef heads to 64th Street and West Egelston in the Englewood section of the Southside, a block away from South Normal Boulevard, better known as "Lamron" (normal in reverse) to those who claim the neighborhood in a more illicit sense. The block is lit up by a group of young men in crisp Nike Air Force Ones, their Gucci belts casting a red, white and green stripe across exposed boxer shorts and sagging True Religion jeans. This is the uniform of GBE. Their sartorial opulence is a stark contrast to the surrounding crab grass so specked with litter that it looks like a parade route the day after. Among the fray are GBE members Fredo Santana, Lil Reese and SD, who if you didn't know what he looked like you'd be able to identify by the giant letters "SD" tattooed across the front of his neck. The rappers are gathered to shoot a video for Santana's "My Lil Niggas," a track off his upcoming It's a Scary Site mixtape, named for the shout out Lil Reese gave him in the original "I Don't Like."
Together, they respond to my questions and interact like members of a full-fledged group. Keef and Fredo are cousins on Keef's mother's side and they've known Reese and SD since they were "little." In support of Keef, they say they're supposed to be making promotional radio appearances, but Fredo says Keef slept through one this morning. "It ain't nothing, we be there tomorrow," Fredo says cheerfully. "We support the radio, radio support us." The most spirited moment of conversation comes from Santana, who despite being extremely personable legitimizes his scary sight typecast with the tears on his cheek and an upside-down cross inked between his eyes. Still, he's extremely motivated. "We looking forward to making a bigger impact on music," he says. "Showing people like, it ain't [just] about Kanye West, Lupe Fiasco…that ain't our type of music. I actually never was really a big fan of that type of music. Like Kanye West, he a genius and all, but this the type of music of what's really in Chicago. We put real life with what we wanna hear. It's that bang music."
After the group chat dissolves, someone hoists a pair of magnum-size bottles of Remy Martin into the air. The cognac is dispersed and filming finally begins. Chicago rap video director de rigueur D. Gainz is behind the camera, assisted by three local college students, the only white faces on the block. The video's participants, now about 20 deep, commandeer the entirety of the street and all the cars believing they would use 64th Street to reach their destinations have to make U-turns and reroute. Darkness falls and the men chase the camera light as if it were a sunbeam. Fredo's "My Lil Niggas" is repeatedly blasted from a black SUV and the group's energy increases as the liquor takes effect. Some of them remove their shirts, revealing skinny, tattooed frames and eventually a shiny handgun is raised like a torch. A police car pulls up soon thereafter, the officer asking good-naturedly, "Where's the guns?" "We ain't got no mo, ya'll took em all!" someone shouts from the sidelines. The officers drive off. Around 11PM, D. Gainz looks altogether exhausted. "This is the most unorganized shoot I've ever been a part of," he says. This seems like an exaggeration.
D. Gainz' stumbled into directing accidentally. He began filming videos for his friends with a camera purchased with a FEMA check given to him after his basement flooded. To date, he has directed about 140 videos, including a handful for Keef. The majority of these consist of shirtless teenagers in familial embrace, shaking ear length dreads, dancing and blowing thick clouds of weed smoke. Though redundant, they are accurate accounts of a community frequently broadcast in a negative light, if not completely ignored. "A lot of people complain that I do a lot of hood videos, but a lot of people I work with don't have budgets so we gotta shoot it where we from," D. Gainz says. A combination of luck and accessibility allowed him to corner the market on the city's drill scene, but many of the artists with whom he's built relationships will surely be able to afford more expensive videos soon.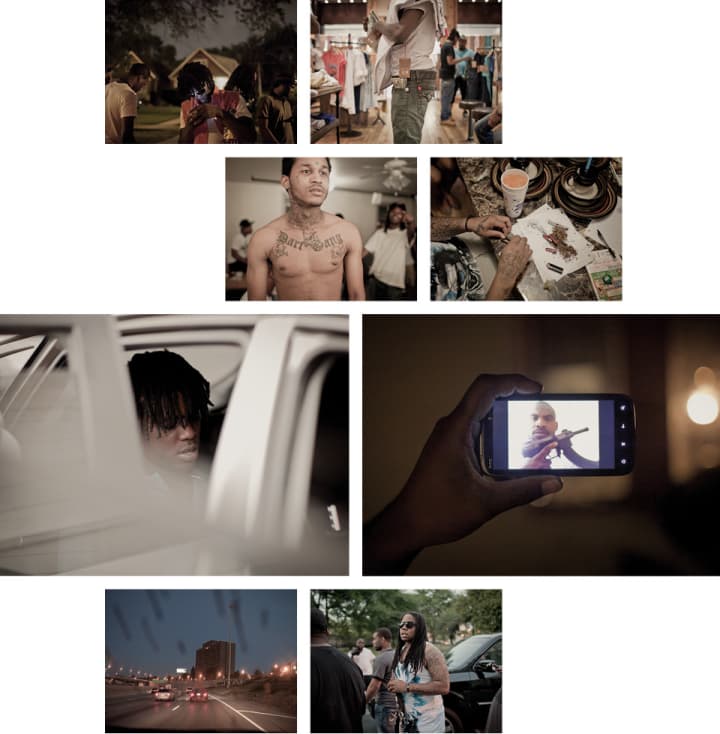 King Louie, one of D. Gainz' earliest clients, is currently the most able to bankroll a proper video budget. Earlier this year, Louie, who, after a copyright dispute, has officially shortened his name to King L, signed to Epic, capitalizing on the buzz he's built in Chicago. In the past five years, he's released a hard drive's worth of mixtapes, all showcasing his diverse and technically advanced flows. In song, Louie often refers to himself as too cool and arrogant, but in person he is easygoing and pleasant. A full mane of dreadlocks falls down across the intricate tattoos that cover his arms and neck, and he has a bright, wide smile. Somewhere in the Southside, on the back porch of what he calls the Lawless Inc. building, Louie and his crew are drinking lean and passing blunts, discussing the recent attention their city is receiving from the national media. "It just feel good to see you and your guys doing some shit and the city rocking with you," he says. He's almost 10 years older than Keef and his cohorts and he draws a stark line in the sand between them. "We ain't like them niggas!" Louie says laughing. "Them lil niggas wild. Them our guys though, I like getting on songs with them." On any of the handful of tracks they've recorded together, Louie's technical superiority is glaring. Like Keef, he needed an extra push to break out from the localized spotlight, and like Keef, that came from a D. Gainz video. Louie's "Gumbo Mobsters" video, a slightly more adult version of the now standard crew film, received a host of attention and inspired Keef to contact D. Gainz, looking for a visionary to match the merciless street life he sketches in his raps.
Two of D. Gainz' other most celebrated clients are Katie Got Bandz and Sasha Gohard, young women who have both recently attracted the attention of major labels, having perfected "drilling" from a female perspective. "Before everything blew with the Chicago thing, I used to be in the studio with [GBE] like every day," Sasha Gohard tells me. "We used to be cool. And then things started happening [for them] and we just lost touch. A lot of people say they left Sasha or they not rocking with her, and it's not like that, we just stopped talking." Katie and Sasha both have songs asserting their abilities as "lady hittas"—women who are ready, willing and able to run with the wolves, but have found more traction in their flamboyant subject matter. As of late, Katie and Sasha are ever more conscious of how they present themselves in relation to the violence that's plaguing the city. But the girls are not immune: Katie caught a gun charge of her own last year. "I came a long way from my old songs like 'What We Do,'" Sasha says. "I pulled out a gun in the video, but now I look at it like, Man, why I do that? It's a lot of young people watching me. I just learn from it and be more careful with my music because I care about my fans and I want them to feel safe listening to my stuff, 'cause Chicago, it's crazy out here."
The morning after the "My Lil Niggaz" video shoot, Peeda Pan, who works with Dro to manage Keef, takes me to the juvenile courthouse for Keef's latest hearing. Keef is wearing the same outfit as the day before. Success is in tow, too, and warns us that Keef isn't in a good mood, but when I greet him he seems amicable and we talk about tattoos. We're ushered into a waiting room about the size of squash court flanked on either side by pews facing each other as if the occupants were from warring congregations. The people awaiting hearings look completely prayed out. I ask Keef if he's worried about the judge's ruling. "Why would I be?" he says. According to Peeda Pan, the court would be well within its rights to detain him for what appears to be blatant noncompliance with his probation requirements.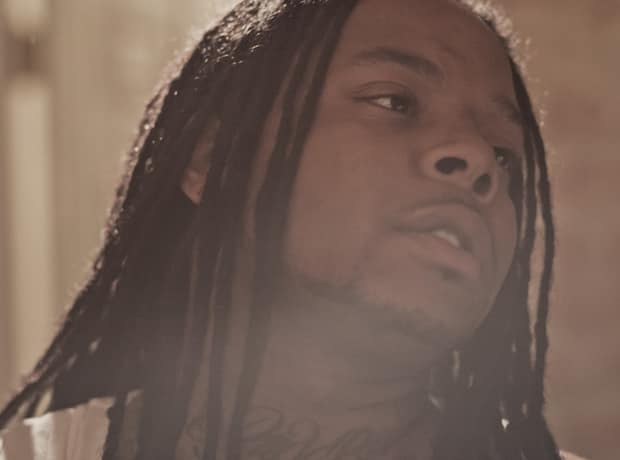 When Keef is called in, his uncle Alonzo hands me an iPhone to watch the video for Keef's "Monster," which was released that morning. It looks much slicker than most of D. Gainz' work and appears to have been made with a green screen. I later find out the video was in fact directed by Morocco Vaughn, who has done videos for big budget stars like Waka Flocka and French Montana, potentially the first sign of an injection of support from Interscope. By the time I hand the phone back to Alonzo, everyone else is out of sight. Looking for them in the hallway, I'm approached by a brown-skinned kid with short dreads who asks me what label Keef has signed to. The kid calls himself T-Man and says his personal favorite Keef song is "Ballin." "All we do is jack to that shit all day," he says. T-Man asks me to watch one of his friend's music videos on YouTube, someone he's been trying to keep focused, but who just can't seem to find any tread in the city. "I told him keep going cause we gon' support him regardless." This reminds me of something D. Gainz said earlier in the week: "As much as people don't like Keef, his situation gives kids from the street some hope. Like, they seen the first video and where he first came from and now he onstage with Waka Flocka and Drake, downtown with Jeezy, [making] songs with Soulja Boy. Keef didn't have nothing! So I think that makes people appreciate themselves a little more. Everything we doing is inspiring somebody to show that you don't need a lot."
T-man disappears shortly before Keef comes sauntering out of his hearing. His lawyer and parole officer are discussing the paperwork he'll need to file to make the tour dates Peeda Pan has already booked. Keef's parole officer, a dark-haired woman in a sensible pantsuit seems enthralled by him, which helps explain why he's been able to skirt his judicial obligations. When Peeda Pan rattles off concert dates to her, she jokingly asks to come along. "I heard about it, I wanna see it in person," she says. "I know who he is, we listen to the radio. I'm the type of PO—if he's this successful, I wanna know why. We're tryna stop him from talking about money and what he's doing, 'cause if he goes somewhere and everybody knows where he is, it's not necessarily a good thing." Before she's done talking, Keef is halfway down the hall.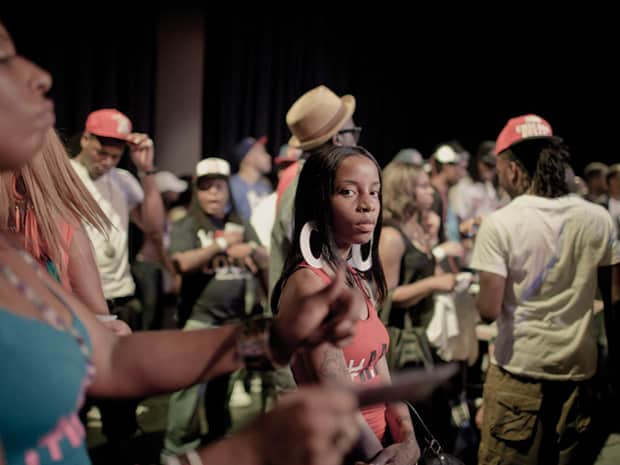 Of all the things people said about Keef during my time in Chicago, what I heard most often was, "We're dealing with a 16-year-old kid here." The statement was echoed like a mantra in an effort to process Keef's unpredictability. He's a 16-year-old kid who'll soon be responsible for the livelihood of a number of full-grown adults, if he isn't already. He comes from a broken family and hasn't finished high school, although I am told he's begun working with a tutor. The people around him may be trying their best, but it's clear someone stopped raising him long before he needed to be finished being raised. What kind of monster will he become if and when he sees some real money and can't go out in public without being mobbed? Or when he stops being one of the guys and more closely resembles a target to the very people he used to call friends?
For now, he's buying. After an hour in Macy's, with Keef and company running an eager salesman ragged, Keef emerges with what should amount to a whole new wardrobe and an outfit or two for the others. Dro pays for the haul in cash. "You know them old pants you wore in the ['Aimed at You'] video?" Dro asks Keef. "When you put those muthafuckas on, you ain't gon' have no choice but to remember where [you] was at a year ago." "I know," says Keef. "But look: my shirt is 1,600 dollars and I don't give a fuck."
Afterwards, while Keef eats an Italian beef sandwich and changes clothes in the car, Dro opens up to me rather spontaneously about his life, telling me about growing up poor in the upscale suburb of Evanston and how he used to wash cars for the Chicago Bulls (including Michael Jordan) as a teenager. He talks about the luxury of travel and how important it is for Keef to see the world in the interest of becoming a well-rounded person. He tells me about how he made his name during the '90s servicing the city with hydro marijuana, the finest strain available at the time, and that he used to manage Houston rapper Chamillionaire, who was still focused on basketball when they first met. He says his being difficult is in the best interest of business. He'd denied me a formal interview earlier in the trip but at the end of his deposition he tells me that if I can remember any of it, to feel free to put it in the story. "And make sure you put in there that we didn't take no drug money," he says proudly. "And we still haven't! Don't get me wrong, we was broke as fuck for a long time, but we good now."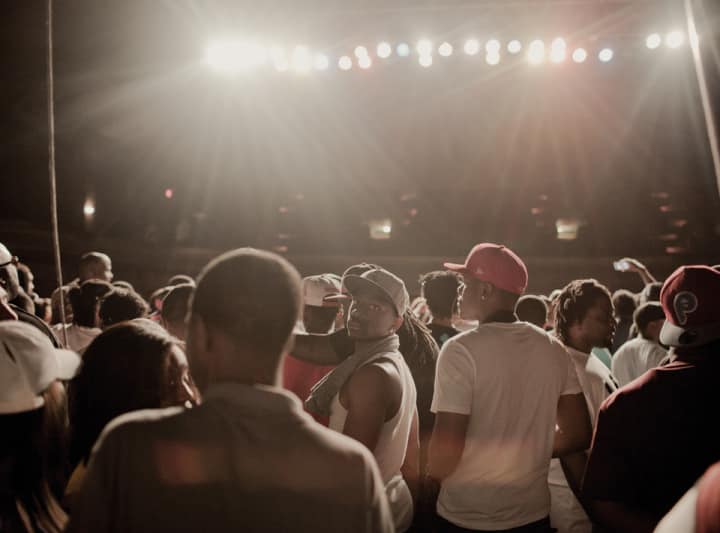 The following morning, Keef is in the parking lot of the local DMV. He's wearing the same outfit he put on in the car the day before, a multicolored Ralph Lauren polo shirt that looks as if he'd spent the night playing baseball in it. He's here to replace a misplaced ID, one secured for him not six weeks prior in order to make the trip to New York. The processing line moves quickly, but in front of the clerk things go south just as fast. The address they've requested for his ID doesn't match the one from his social security card, and he doesn't have a piece of mail to prove the address he's listed. "Do you have a report card or something from school?" the clerk asks. "I don't go to school," he snaps back. "Well then your mother is going to have to come—"
"Uh uh," Keef says, cutting him off and storming out. He's halfway across the parking lot, Alonzo calling after him to no avail, when a security guard who witnessed the ordeal intervenes, saying someone inside told him who Keef was and that he likes the idea of him trying to do something positive with himself. He tells Alonzo they can go to Staples, buy a form lease and fill it out with the information they want on Keef's ID. Peeda Pan and a visibly annoyed Keef are off, returning a few minutes later with the paperwork. Alonzo fills it out and goes back inside with Keef. Miraculously, it works.
After the DMV, Peeda Pan and Dro inform me that GBE have business to discuss and that I can meet them again later that evening. Knowing I won't see Keef later or again at all before I leave Chicago the next morning, I walk up to the driver's side of Dro's truck where Keef is sitting and tap on the window to say goodbye. He rolls it down, and as I reach out to dap him, he hands me a blunt.