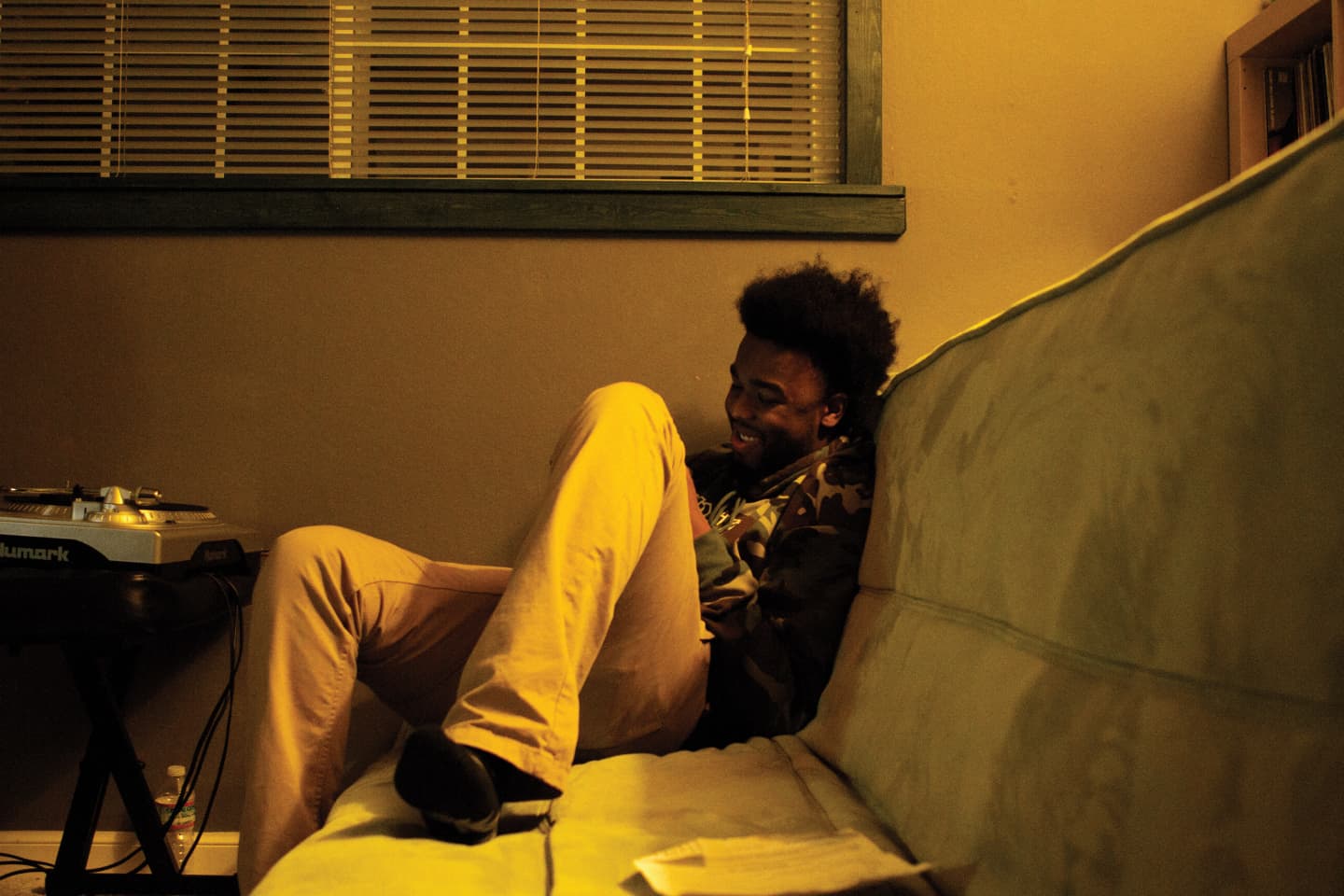 Iamsu! is a 23-year-old rapper and producer from Richmond, CA, a city northeast of San Francisco known for its high crime rate and Green Party mayor. His moniker is a search engine-optimized take on his name, Sudan Williams, and he got his start at Oakland non-profit Youth Radio, where he learned chords and sampling from Trackademicks, a veteran of the ecstasy-loving, early-aughts hyphy scene. "I was a star student, but a bad worker," says Su. "I got a short attention span when showing other people how to do stuff, cause I get it so fast." Still, like a lot of kids raised on Wikipedia and reblogs, he believes a group of well-organized minds can shape songs better than one imagination alone. Su felt like an oddball growing up, and part of music's appeal to him is the communal atmosphere of the studio. He says HBK Gang, the crew of classmates from junior college he runs with, counts 16 members, including rappers, videographers and friends. Su is a reluctant leader in the mix. "My opinion has a heavy weight, but everybody has an equal voice," he says. "We produce and write actively, hands-on, together. Weak stuff comes out when it's just one person."
His first brush with success came with 2010's "Up!," a foulmouthed ode to sex from rapper LoveRance that Su produced and appeared on, which became an unlikely hit. When Interscope added a verse from 50 Cent and released an official video, Su was in it, but not officially credited. He was annoyed but undeterred. Like "Up!," much of $uzy 6 $peed, the last of the three mixtapes he released in 2012, relies on the bass claps and empty space that have long been signatures of West Coast party music. On songs that are plainly about having a good time (2011 collaboration "Drunk Like a White Boy" focuses on taking shots), the stripped-down beats give Su room to create drama with his elastic, resin-coated flow.
Still, Su likes to "dig deep into musicality," opening his economical productions to messily sung harmonies and chipmunked soul samples. With its plucked strings and balmy synths, $uzy 6 $peed closer "Put on a Show" sounds positively orchestral, and Su puffs up his crossover appeal, rapping Kanye showed me the way/ To be the next Big, to be the next Pac/ To be the next Nas, to be the next Jay. It may be a hasty boast, but Su possesses the mix of self-promotional savvy and every-guy charm that endeared huge audiences to rappers like Drake or Wiz Khalifa, who coincidentally recruited Su to rap on and make beats for his 2012 Cabin Fever 2 mixtape. Bolstered by the power of his network, Su is confident he'll make a name for himself without having to smooth out any of his quirks. "I get to say what I want on songs," he says. "I got gold teeth in my mouth, and I still use big words."
Download Iamsu!'s first tape of 2013, Million Dollar Afro with Problem, and watch his brand new video for "Mobbin."