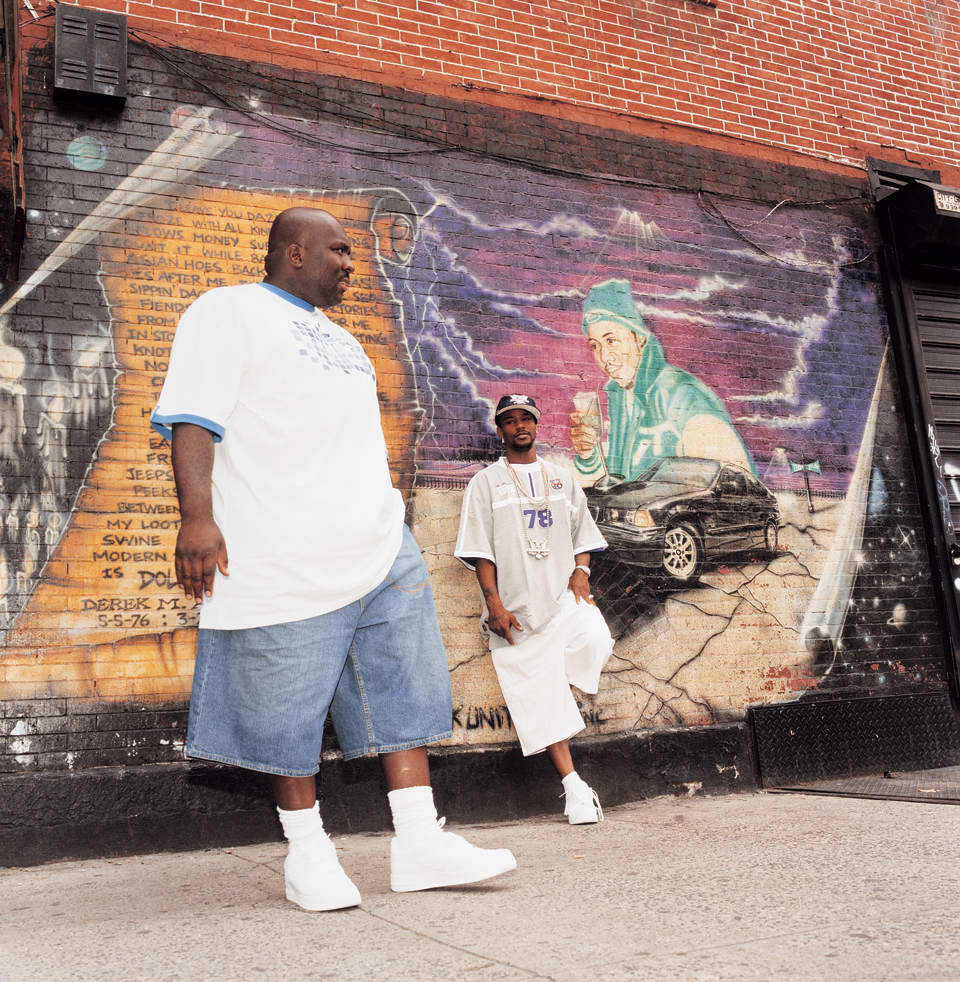 Cam'ron: Harlem Playalistic Capitalist Muzik

March 2013: Last night, the Diplomats—Cam'ron, Jim Jones, Juelz Santana and Freekey Zekey—celebrated the 10th anniversary of their 2003 major label debut with a reunion show in Manhattan. Below, take a look back at the early days of the crew's mixtape empire, written just before the release of Cam's Purple Haze LP (and before the launch of DatPiff) in 2004. For more on Dipset's early aught's hustle, see Marc Joseph's FADER #24 photo essay.
—————
Cam'ron is one of the most abject, amoral rappers imaginable. So why can't we get enough of him?
Cam'ron is a rapper who pancakes stereotypes of urban life on top of each other: a gun in his waist, a couple hundred thousand dollars around his neck, wrists and fingers, blunt in his mouth, nuts in his hand and wads of money in his pocket. Now he stands as the unofficial poet laureate of Harlem, reciting immaculately crafted and nonchalantly delivered tales of drugs, girls and money 'til the image his lyrics have constructed can't hold itself up anymore and the whole thing crashes into an arm-flailing, ass-shaking postmodern orgy of twisted capitalist values and attitude that shakes up people as much as it shakes up speakers. At other times he makes repetitive songs so hard and driving that they sound like riot music as much as the party anthems they quickly become—the production energy is raw, the hi-hats are agressive, the lyrics are nothing if not crass, confrontational and combative. But then, he can be at his worst—his best—when rhyming easily, words never jumbled but always spaced and paused in a way that underlines his pomposity. Other rappers talk bad about women, but Cam talks bad to them: I know you got school and work, but you need to be schooled and worked. Put my tool to work...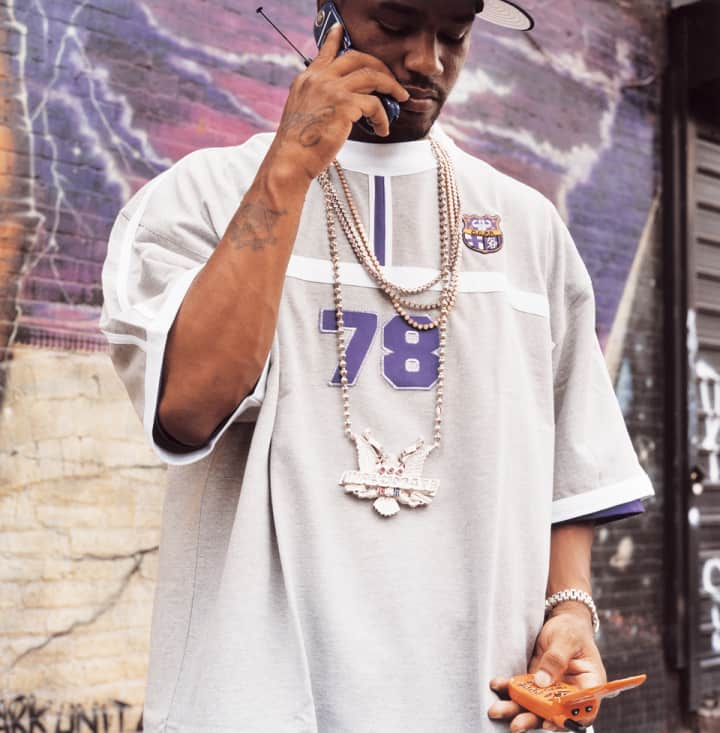 It's easy for the casual observer to get caught up in Cam'ron's image. After working as an underground rapper in Children Of The Corn—a Harlem crew also featuring a pre-Bad Boy Mase—and releasing solo gold albums in 1998 and 2000, he propelled himself from street MC status to urban pop personality in 2002 by stepping out as the Pink Panther—the cat rocking Air Force Ones, a pink Yankees fitted cap and pink chinchilla fur, pushing a "Laffy Taffy" pink Range Rover. The way pink hit the clothing market at the same time was insane, and you had to wonder if Cam was behind it somehow, some way: hardknocks from ten year-olds to thirtysomethings rocked pink XXXXL T-shirts while suburban-bred city scenesters stepped out in extra medium ones, and it seemed that everyone was trying to buy pink Jordans—the girls' ones—to match a pink striped button down shirt, or, alternately, pink Chuck Taylors to match a pink Lacoste three-button polo. In New York the trend got so bad it brought Cam to the point of nausea. "When I was wearing pink, I wasn't doing it for everyone to start rockin it. I was doing it because I wanted nobody to be wearing what I was wearing," he says. "I don't rock pink anymore. It disgusts me."
At some point Cam'ron switched from pink to purple, perhaps as a nod to the Purple City neighborhood located on a few blocks around 158th Street and Broadway and named for the potent strain of weed sold and smoked there. Cam'ron and his Diplomats crew of rappers Jim Jones, Freekey Zekey and Juelz Santana—part of the larger Purple City Byrdgang—hustled to get the purple word out in various ways, from developing a purple-themed baseball cap with a major sportswear company this past summer to last year's introduction of Sizzurp, a grape-flavored liqueur. ("We distributed 18,000 cases in the US and 50,000 overseas. Hypnotiq [a similar drink] did 48,000 cases and brought in $140 million," Cam'ron says. "We were offered a buyout of eight digits, even before the launch date, but we holding off, letting it grow.") And while he's probably bulshitting about developig a new shade of purple crayon for Crayola, it's hard to tell. "I didn't realize what I had with pink—I didn't cash in," he says. "But when purple hits, I'm in."
None of which has all that much to do with the mixtapes.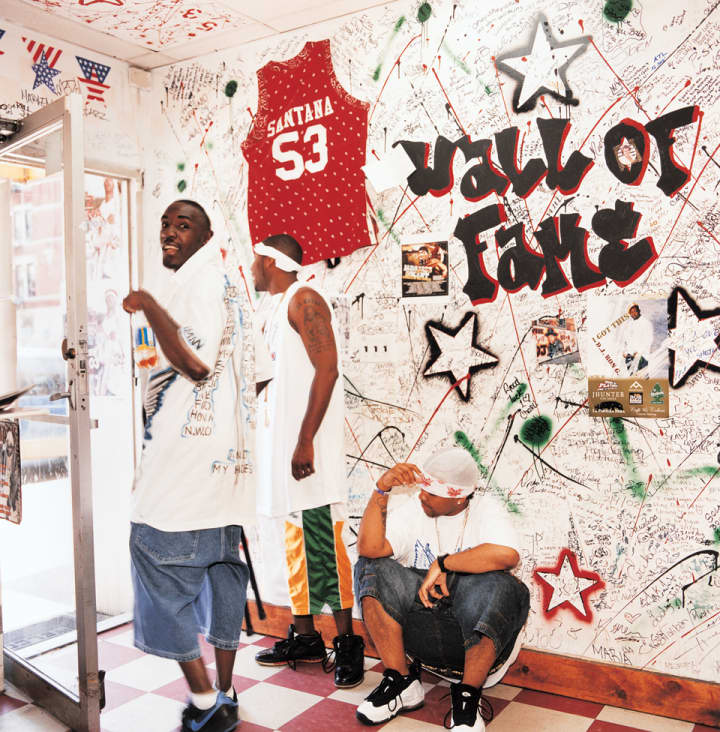 The mixtape has been a fundamental part of hip-hop culture since the music made its move off the corner—it's how recordings of a Cold Crush show or a Brucie B live DJ set from the Rooftop always found their way to the streets. The late '80s and early '90s saw pioneering DJs like kid Capri and Ron G selling made-to-order mixtapes by the dozens on a local level. Instead of recordings of live sets, these tapes featured in-house recordings blended, mixed and cut, along with the hoots and hollers that became a DJ's audio signature—"the Kid Caaapriiiiiiii!" or the DJ Clue alias "William H HoLLAAAA!" Customizing made DJ tapes as good as (if not better than) most studio albums, and created a revenue stream for DJs increasingly being written out of the record labels' packaging schemes.
A more recent trend in the mixtape game has been for an up-and-coming MC to use the platform as a personal showcase—essentially creating a mass-produced demo that gives an unsigned or unreleased rapper a tangible "look" while generating popular demand for a more polished (i.e. commercial) release. 50 Cent's staggering success in 2003 was built precisely this way, and other MCs like Lil Flip and Fabolous have also parlayed street-level success into lucrative record deals. Cam'ron's mixtape enterprise in particular has created an outlet for his music that doesn't have to compromise with music label representatives or radio program managers, and doesn't censor the Diplomats' creative decisions. "We always had beef with radio," he says. "They always question what we do: 'This is too East Coast,' or 'This is too gangster.' It's what has made the mixtape so valuable as a promotional tool," he continues. "We can get music directly to the streets, they influence the clubs, and radio jumps back on from there." in fact, DJs at some radio stations, like New York's popular Hot 97, have begun to take their cues from the kind of bang-you-over-the-head atmosphere a mixtape DJ creates, borrowing soundbites of explosions or lightning striking or sirens wailing.
The overhead cost of a Dipset or Purple City mixtape is almost nonexistent. Cam'ron's Purple City Productions owns its own studio and Diplomat Sheist Bub "hosts" each tape. Production is almost always done in-house, and there aren't any brand name producers to pay since many times beats or entire songs are sampled illegally from other artists. Even Dipset records like last year's "Santana Town," "Get Em," and "Gangsta Music" appeared on studio albums but were perpetuated in countless forms through mixtapes, while Cam's druggy, gangstadelic Purple Haze LP has hit the street in several different versions, each with a double-album's worth of songs. Only four of those songs will appear on the album released commerically through Roc-A-Fella Records this fall. According to Duke Da God, Diplomats A&R representative and director of the Purple City mixtape venture, production costs come to about $.020 per unit. After that "we make at least 15,000 to 20,000 copies just to get the promotion popping off," he says, adding that he ships large quantities to connections in Germany and Japan as well as online shops. "Off that, bootleggers make another 15,000 to 20,000 copies." If these numbers are anywhere close to accurate that's an astronomical amount of revenue being circulated. Aat 20 cents a CD, producing 15,000 copies is going to cost $3,000. For the sake of argument, add another $1000 in expenses for artwork and featured MCs. That's a mixtape costing $4000, which the Diplomats write off as a "promotional expense"—a promotional item then sold secondhand (literally) on 125th Street to internet sites at a minimum of five dollars. Now let's say only 10,000 off the initial run of 15,000 get to retailers, with the other 5,000 copies being out at shows. That's a gross of $50,000, a profit of $46,000 per mixtape. If, as Duke says, bootleggers create an additional run of 15,000 CDs that's an additional $72,000 profit. That's a modest estimate of $122,000 profit per mixtape going primarily to whoever is selling it, and its not unusual to find five to ten different Purple City mixtapes for sale at any given time. Of course, all this movement gets Cam'ron and the Diplomats music to the streets while completely sidestepping the bureaucracy of the music industry, but that much money floating through a street-level economy has alost created opportunities for people who might have found other ways to hustle. "That's why people love us," says Duke. "We just hit people off and that gives us a chance to eat."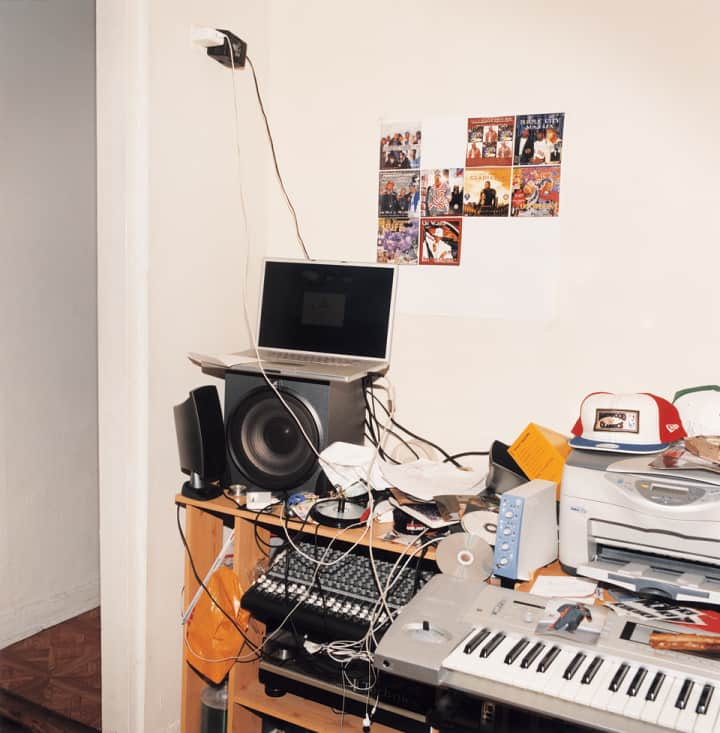 It's a kind of ghetto feudalism: Cam's patronage brings him certain rewards beyond the financial, such as freedom to stand on 110th Street in front of a mural of his dead friend Bloodshed with no bodyguards, moving relaxed and easy. And anyway, "it's just promotion for me," he says. "It's money I can give to cats so they can east. 'Money' to me is seven digits." The creative control Cam'ron and the Diplomats have might be best understood by looking at a Purple City mixtape cover. Juelz Santana's latest, Back LIke Crooked Crack, for example, shows Santana in a kitchen, cooking up a block of cocaine on the stove as he smokes a blunt. Behind him a window opens to a purple sky crowded by the Statue of Liberty and the World Trade Center towers with a plane flying towards them, while the crack-smoking Tyrone Biggum from The Chapelle Show pops his head up near the windowsill. A close look reveals even more bizarre details: a human skull appears on the side of the pot on the stove, and the Arm & Hammer baking soda container sitting next to it has been altered to read "Bangin Hammers"; the flexed arm icon now holds a revolver.
"A record company would censor these covers right away, but the whole point is to illicit a response," explains Renold Rose of Hot Buttered, the multimedia company responsible for all Purple City and Diplomats mixtape cover art. "People might not light the imagery, but it is a reality in some parts of this country that people choose to deny. "I created a whole iconography based on my feeling towards this movement they have going on," Rose continues." A lot of the covers will have pictures of the twin towers with a plane crashing into them in the background. From today's perspective, the towers have become symbolic of war and the present political landscape, and yeah, that's going on behind them. But the people living here, they've been forgotten."
"In Harlem you always have to be ahead of a nigga," explains Cam'ron. "It never runs out of flavor." His understanding of this very simple fact is probably the reason that the persona of Cam'ron exists—and persists. And while he's right when he says, "I am only an author," he is also somehow wrong—wrong because although he is uninterested in making a point—he is the point. His self-obsession comes off as so much confidence that his success seems predetermined. "In Harlem, people's favorite word is 'watch.' I could roll up to the block—fuck me, BIll Gates could roll up to the block—and there would be two types of reactions in Harlem," he says. "One, they'll come at you with a business deal. Two, they'll just say, 'Watch..Oh he's doin it. Watch, I'm about to do it,' even if they don't have a plan." This son of Harlem is in an enviable position: he can play at being the hood's Bill Gates, or he can be the one to watch. Thing is, Cam has a plan. In fact, he has several.