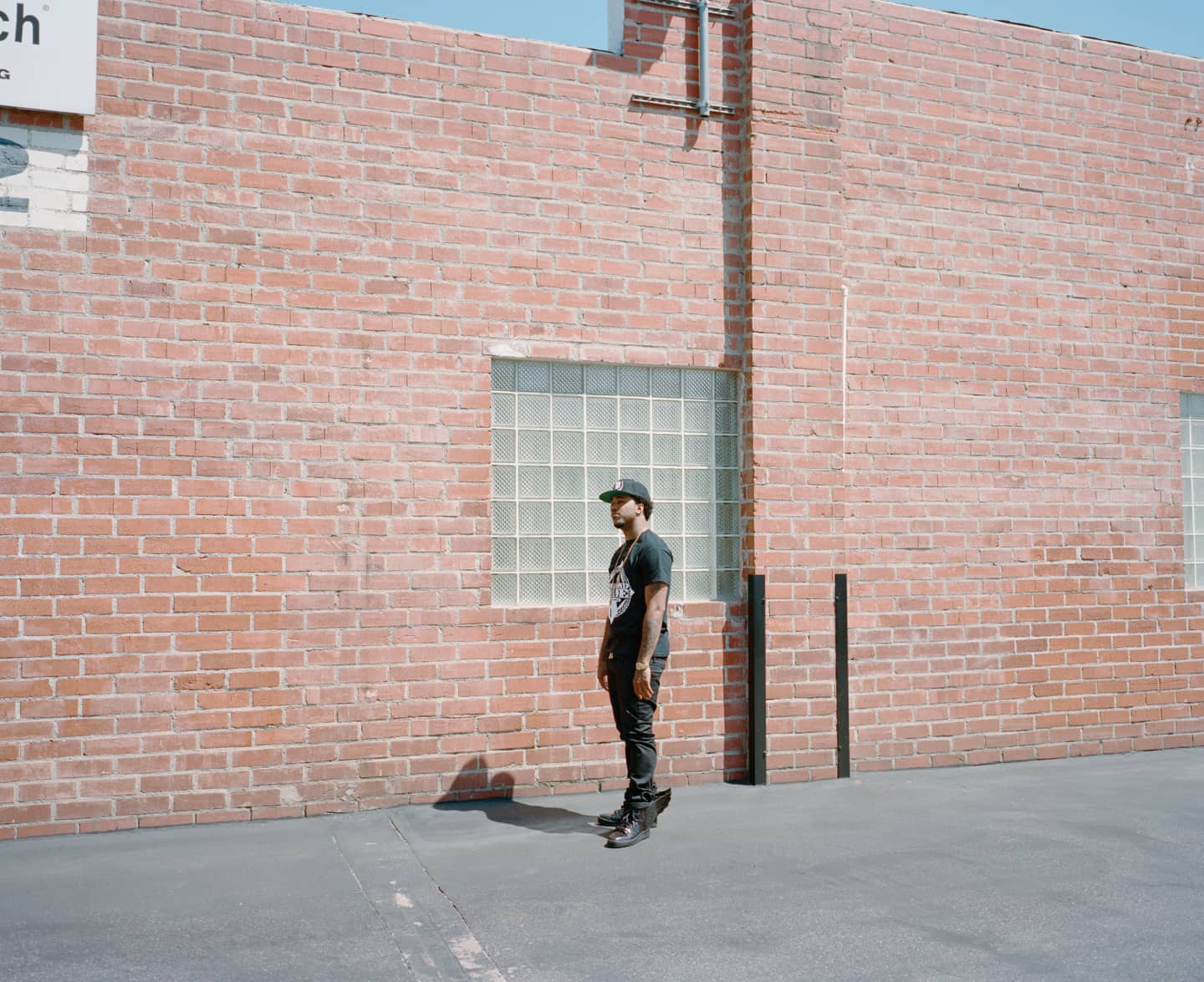 GEN F: Problem
"As an older dude in music, I'm gonna give you some game."
From the magazine, ISSUE 86, June/July 2013

Problem's songs might feel slimy if they weren't so fun. His drawl is soft and naturally loose, stretching easily for speed, and his tone rises and falls in charismatic snaps. He excels at lighthearted filth, tracks interspersed with immodest giggles that suggest bedroom banter ("Take Ya Tights Off") and choreograph wee-hours pop-offs ("Twerk"). Welcome to Mollywood, a thus-far two-tape series, and 2013's Million Dollar Afro, his collaborative tape with Iamsu!, commend pure party drugs and the loss of self-conscious inhibition. "This is like hippy times all over again," Problem explains. "I ain't fixing to rap about gangbanging and dope cause all the most popular songs are about sex and drugs."
Born Jason Martin in LA's Compton neighborhood, Problem shifted his focus from basketball to music when he had his first child in high school. Today the father of five, the eldest of whom is 13, he's got the petite build and spirited bounce of a younger guy but refuses to reveal his own age. "You got all these people you can just Google and click and get all their information," he says. "I just want you to guess." Thirty-one? In his typical uniform, inspired by childhood hero Eazy-E—shirt buttoned to the collar, black sunglasses, thin gold rope—he looks at once established and like a loitering, cherubic high schooler.
Last year, he launched himself into national consciousness through E-40's"Function," a club smash featuring himself and Iamsu!, and by lending his swagger to famous friend Wiz Khalifa's "Bout Me." Success of this magnitude had been a long time coming for Problem. He'd signed a short-lived Universal deal back in 2008, after "I'm Toe Up," a single about being unapologetically juiced, broke on LA radio. He'd also ghostwritten for three Snoop Dogg albums, spending off-hours cocooned in the studio and learning to engineer his own records. If he's now sensitive about his age, he's not interested in camouflaging his maturity. "People like that I be high, but they need to hear me say some real shit on why I'd rather be high and rather have fun then be this angry-ass nigga," he says. "I'm a grown man of different emotions, so I want to give them all."
The whole of Problem's range can be found on The Separation, a recent mixtape for DJ Drama's prestigious Gangsta Grillz series. The weed references and cartoon sex talk of earlier work is carefully preserved, but there are also short bursts of sobriety, with Problem exploring past career failures and raising kids with estranged lovers who've become friends. "I don't go in there with the intention, I'm gonna teach these young niggas something today, but as an older dude in music, I'm gonna give you some game," he says. "I'm gonna tell you something that can help you. I'm gonna tell you what to watch out for. When shit gets real for you, you can live through my story and get it right." This savvy is why, on a recent stopover in New York, Top 40 pop producer Benny Blanco recruited Problem for a writing session. Perhaps that alliance will find Problem's blend of wisdom and youthful warmth a wider audience. In the meantime, he's got "Like Whaaat," an inescapable hometown hit whose buoyanthuuuuuuhs and whaaaaats will cheer on countless summer hookups.
From The Collection:
GEN F