Ten years ago, Kanye West appeared on his first-ever magazine cover, FADER's inaugural Now issue. Today, a day ahead of the release of his sixth album, we take a look at never-before-seen photos from the cover shoot, and photographer Jonathan Mannion and Kanye's longtime publicist Gabe Tesoriero reminisce about the day they were taken.
JONATHAN MANNION: I remember this shoot being a day of firsts for both of us, and everybody talking about that. It was the first magazine cover that he had ever done. It was also the first shoot that I did in my studio here in Gramercy Park. There were no windows in the skylight in my studio, but I was so anxious to get in my space and build that energy. I figured this was the most incredible kick off I could have. At that point Kanye was already building his legacy. Already at that point all eyes were on him. Cause even before dropping that first album, he'd claimed it, he wasn't accepting no for an answer. I think The FADER showed a lot of foresight by saying, Okay, you're our guy, you're on the cover, let's go.
Kanye styled himself that day, there wasn't a stylist. I remember he wanted props, things that represented his style. A Louis Vuitton bag showed up and he told a story, "I tried to get a bunch of Louis stuff and they wouldn't send it to me, so I just bought it." Whether it was that bag he bought or a big clump of Louis Vuitton luggage he wanted to stand on, he wanted it to be LV to show what he appreciated. I remember his "If I want it, I'm just gonna get it" attitude. The brick phone he's holding in some of these dates the photos, but there's nothing else about these to make them seem like they weren't taken yesterday. I'm sure that phone, at that time, was the freshest, greatest, nobody had it. It was always about being ahead of the competition. His style then was impeccable and there's nothing about it that wouldn't apply today.

There was this catwalk on the roof, where you could shoot right through the skeleton of the skylight, where the windows would soon be. It was inspiring to see what unfolded based on our dialogue and wandering around this new space. Both of us were treading carefully. In a session, it's my eye that defines and interprets that moment, but I know I'm there to facilitate what the artist wants. I remember him not being super loud or outspoken. There was a calm swagger about everything that he did. He was in thought.

In 2003, people were waiting for the person, Kanye. People were aware of the tunes he'd done that were being released, but people were more fascinated by him as a character. In the last couple years, I bumped into him on the street in the Village. We stopped, I met Kim. It was a treat, she's gorgeous, congratulations to them both. He said like, "I broke all the rules, so now I can just play the game, now I can just kinda fall in line." I doubt that he could ever actually take that advice, because he's forever pushing out all the borders. He challenges himself and everyone else in the genre to be better. We need those challenges.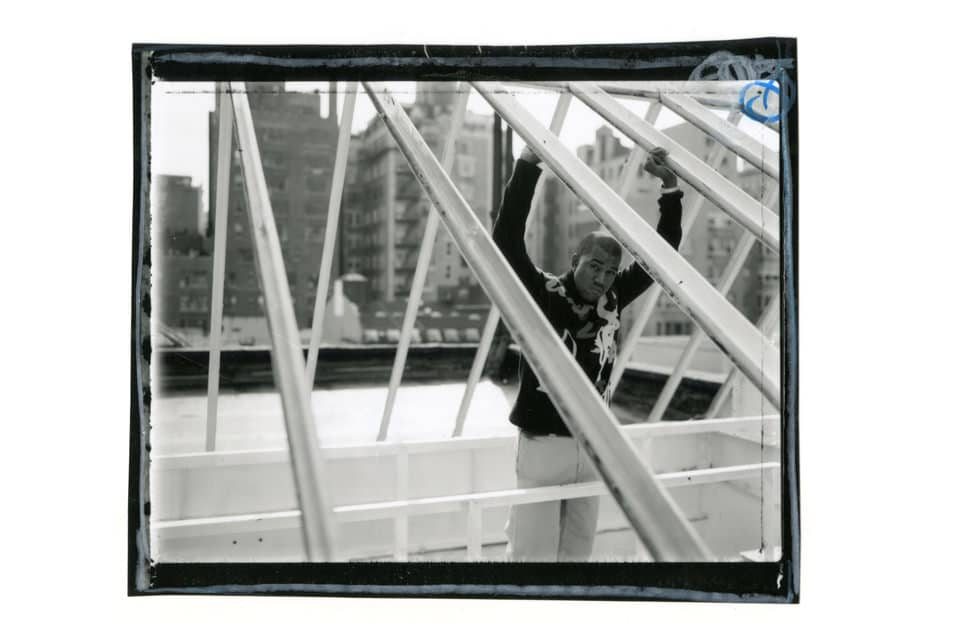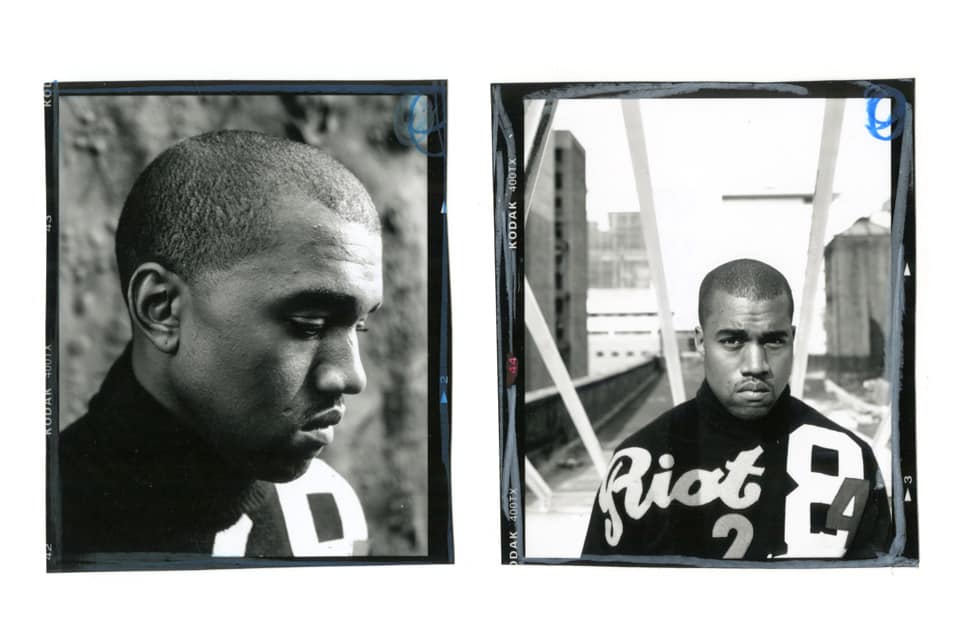 GABE TESORIERO: I had just been hired by Roc-A-Fella to do all of their press. I didn't even know who Kanye was: I remember I used to trip up on his name—I thought it was Kayne West. When he called me, he was like, "Yeah, this Kanye, I'm so excited that I have a publicist!" I was like, "Me too!" Then he rapped all of College Dropout to me over the phone for like an hour and a half. I couldn't believe how much energy he had.
The FADER cover was one of the first things we ever did, press-wise, together. I remember going to Boston Market for the interview [Editor's note: West picked the location]. We all met up at The FADER offices and then walked down the street. Back in those days it wasn't like security and black tinted SUVs, we would walk around or drive around in Kanye's Mercedes truck that he hated. [Photographer Jonathan] Mannion had just moved into that new studio on 20-something street and we were shooting the cover photos on his roof. Kanye is notorious for wanting to be part of the creative—like anything else, he takes imagery really seriously. I remember him and Mannion really getting into it. Having not done many shoots with Kanye before, I was really surprised and intrigued. Quite frankly, I've worked with a lot of artists that just kind of show up and are like, "Tell me where to stand. OK, let's take some pictures. When can I get out of here?" We spent a good long time shooting those pictures.

Certainly Kanye was picking up a lot of momentum at that time. He didn't have an album out, which is why The FADER thing was so huge for us. We had a cover before the album was out, and we had a cover that basically announced that he was the next big thing. I credit that cover as giving us a lot of extra juice to go forward.