From the magazine: ISSUE 87, June/July 2013
Sky Ferreira's electric blonde shag and long pale arms peek out from under the gleaming white duvet of a king-sized bed in a spacious hotel room. She's propped up on a couple of pillows, picking at a container of quinoa salad. The previous night, she attended Mobb Deep's secret show at Max Fish in New York City and didn't make it to bed before her morning flight to Ohio, where's she's set to play the Bunbury Festival at 6:30 tonight. It's 5:15 and she's under the covers, wearing the paper-thin Megadeth T-shirt and black bike shorts she traveled in. When she arrived at the airport earlier, there wasn't so much as a car waiting for her. After checking in, she took a two-hour catnap, but it didn't put a dent in her exhaustion. "I can't believe I have to sing right now," Ferreira croaks, clutching her throat, which is inflamed thanks to a raging chest infection. "I hope they have some tea backstage." Her phone rings. It's the festival transport coordinator. "I was told 5:30 but I'm on my way down right now," she says into the receiver, then calmly goes back to her food. "Where are my handlers now?" she jokes. "They're obviously slacking off."
Ferreira is well aware of her reputation as a hipster socialite, an imperiously cool It Girl with a team of image counselors behind her who hangs out exclusively with other arty, beautiful people. She's a Calvin Klein model who counts Terry Richardson as a close friend. A girl with that resume, regardless of legitimate musical talent, is always going to be the subject of gossip and speculation. Ferreira understands this, but she's enjoying playing out this scene—the new priestess of underground chic on her knees rummaging through a beat-up canvas tote in search of a pair of dirty pantyhose to wear onstage at a minor summer festival— because it contrasts so starkly with her image as a boardroom creation, which she resents. Now dressed in a leather mini-skirt and oversized striped sweater, she heads to the elevators, where a flock of tourists in khaki shorts and athletic socks gawk as she bends down to collect the credit card and room key that have fallen out of her leather backpack. I ask if she has everything. "Everything except my dignity, but who needs that," she deadpans, checking but not fixing her smeared red lipstick in the hall mirror and leaning in to squeeze a few blackheads on her nose. As Ferreira whips on a pair of sunglasses big enough to cover her pillow-creased cheeks, I think of something she said in passing as we took our seats on the plane a few hours earlier. "I'm trying to keep myself together, to keep myself sane through all of this, but there are moments when I am completely losing my mind."
In her early teens, Ferreira began posting to YouTube videos of herself covering pop songs in her bedroom. Eventually, the clips attracted the attention of Capitol Records, who gave her a deal. The plan was to turn the singer into "a Myspace version of the girl next door," she says. "They wanted the new American pop princess—someone who was naughty but, like, grinning." Ferreira bucked. "I was like, I'm not going to go along with this," she recalls. "I knew it was making people really angry and I was torturing myself but I didn't want to be trapped. And I wasn't scared to tell these grown men record executives, like, fuck off. They don't like being told that by a girl in braces." She keeps the specifics of what happened vague, but the album she was working on was eventually shelved. "I would stay in my house for four months and go to the movies alone," she remembers of that time. "Everyone thought, She's hopeless. She's 17. It's over for her." Ultimately, Ferreira's deal was restructured to give her more freedom and, considering that she mentions funding her own videos and production from time to time, most likely less money. Her two official releases, both EPs on Capitol (2010's slick, glittering One, and last year's comparatively darker, more melancholic Ghost) now stand like before and after shots of this aesthetic and philosophical reboot.
What you also hear on Ghost is Ferreira's move from Los Angeles, where she grew up, to New York. At 17, around the time the hyper-color pop album they'd been pulling together was scrapped, Ferreira moved to New York and connected with a group of curious, counter-culturally inclined young artists such as Dev Hynes, who co-wrote and produced Ferreira's biggest hit, "Everything Is Embarrassing." The song was an apotheosis of the laconic, wounded charisma that would become Ferreira's signature brand. The plan was to build on the momentum by releasing a full-length this fall, timed in part to her stint as the opener on Vampire Weekend's US tour. But after a change of management, her debut will again be delayed. Out instead, is a third EP, I Will. "The bottom line is I have the opportunity to work with some people that I wasn't able to six months ago, and I'd like to take advantage of that," she explains. "You wind up releasing stuff that's not as good as what you first put out because you're trying to keep up the hype. Hype only gets you so far and that's what I learned the first time around. I was called a failure by adults when I was 16, so the way I see it, I can do pretty much whatever I want now because I've already failed."
It's the province of all smart, sensitive 21-year-old women to act world-weary, but in Ferreira's case much of the wise-beyond-her-years pallor is earned. Born in 1992 to a teenage mother who cleaned houses for a living and a father who sold trinkets at a stand on Venice Beach, Ferreira was raised mostly by her grandmother, a hairdresser whom she refers to as her mom. Before Ferreira could even speak, she would hum little melodies, and she started singing in a gospel church when she was seven. For the most part, though, she barely made a sound. "I was really antisocial, and pretty much didn't speak until I was 14 or so," she says over late afternoon drinks in Tribeca on her 21st birthday, a few days before flying to Ohio. The original plan for the day was for Ferreira's boyfriend, Zachary Cole Smith of the band DIIV, to drive us out to the beach for a little party. But Smith's van was booted due to unpaid tickets, so it's drinks and dinner instead. He appears at the bar mid-interview and presents her with a coconut and a package of wafer cookies. "I actually stole these," he says when asked where they came from. "I went to the Whole Foods uptown wanting to get some birthday cake thing but they didn't have anything even close. They only had wafers, so I got wafers. But the line was so long, I was like, I'm not waiting." They've got the sardonic chemistry of high school theater kids, self-identifying weirdos bonded by a sense of mutual oddness. They're basically two dorks with crushes on each other. But there's also a low-grade, healthy competition there. Smith is used to being interviewed, and once or twice tries to interject with his own answers to my questions; Ferreira runs right over him, as if he hadn't even opened his mouth.
"Hype only gets you so far, and that's what I learned the first time around."
"As a kid, I was painfully shy to the point that everyone thought I was crazy or weird," she continues, flicking cookie crumbs off the front of her sheer white T-shirt. "It's misread either as attitude or you're dumb, but I'm just quiet." She attended lots of different schools—including "one of those religious schools with twelve kids in every grade and they're all related in some way," she recalls—but her social experience was the same no matter where she went. "I'd always have one friend, and we'd have a mutual understanding," she explains. "I would be around them just so I didn't have to sit awkwardly by myself. I would also become friends with the people who couldn't speak English. I'd sit at the table with all the Asian girls. They were like, Who is this girl?''
Ferreira is introspective by nature, but her difficulty feeling comfortable around new people may also be the result of early trauma. "I got sexually abused a few times," she says, looking down at the table and picking nervously at the plastic case of her iPhone. She declines to get into specifics about the perpetrators, but says that the abuse began in middle school. "I spoke to someone about it—not an adult—and they were like, It's because you're so quiet," she remembers. "They were like, They attack you because you're so quiet and they think you're weak. You should put yourself out there more. At the time I thought maybe she had a point, because it wasn't happening to her." Initially, Ferreira didn't tell her parents or any other adults. Instead she tried changing her personality. She acted louder and more aggressive. When that didn't eliminate her pain, or stop the abuse, she started drinking, smoking pot and chatting up guys. That didn't solve anything, either. "Towards the end of middle school, the first group of friends I had stopped talking to me because I made out with this kid that I had a huge crush on," she remembers. "I just got tortured because they all liked him, too. I had started listening to Brian Eno, discovering stuff on the internet and blogs. And they were like, She's fucking weird and she smokes pot—she's a drug addict. They cut me off."
Ferreira says the abuse happened "over and over again," with "different people" over the next few years, culminating in an attack and attempted rape by her neighbor. "I went to sleep that night and he made a ladder and broke into the house through my mom's window," she remembers. "I thought I was imagining it. It was pitch black. I thought I was dreaming, but I felt this guy on my legs and on top of me. I woke up and he was touching me. I had keys next to me, so I scratched him across the face." Ferreira didn't know who'd attacked her until the next day, when she saw her neighbor walking around with a scratch across his face. For the first time since she was 13, she decided to tell adults what had happened to her, that night and over the previous years. "I went to the cops and they basically said he didn't penetrate me so he didn't necessarily rape me, that it was sexual harassment," she recalls. Her hesitance to report the attack and to confront the abuse she'd suffered prior had to do with a fear of being marginalized as a victim. "I didn't want people to think that's who I was," she explains. "Like, Oh, she got raped, that's why she's this way. It defines you, even though it doesn't really, but there's a fear that it will. I worried if people were going to start saying I was sad or crazy because of this."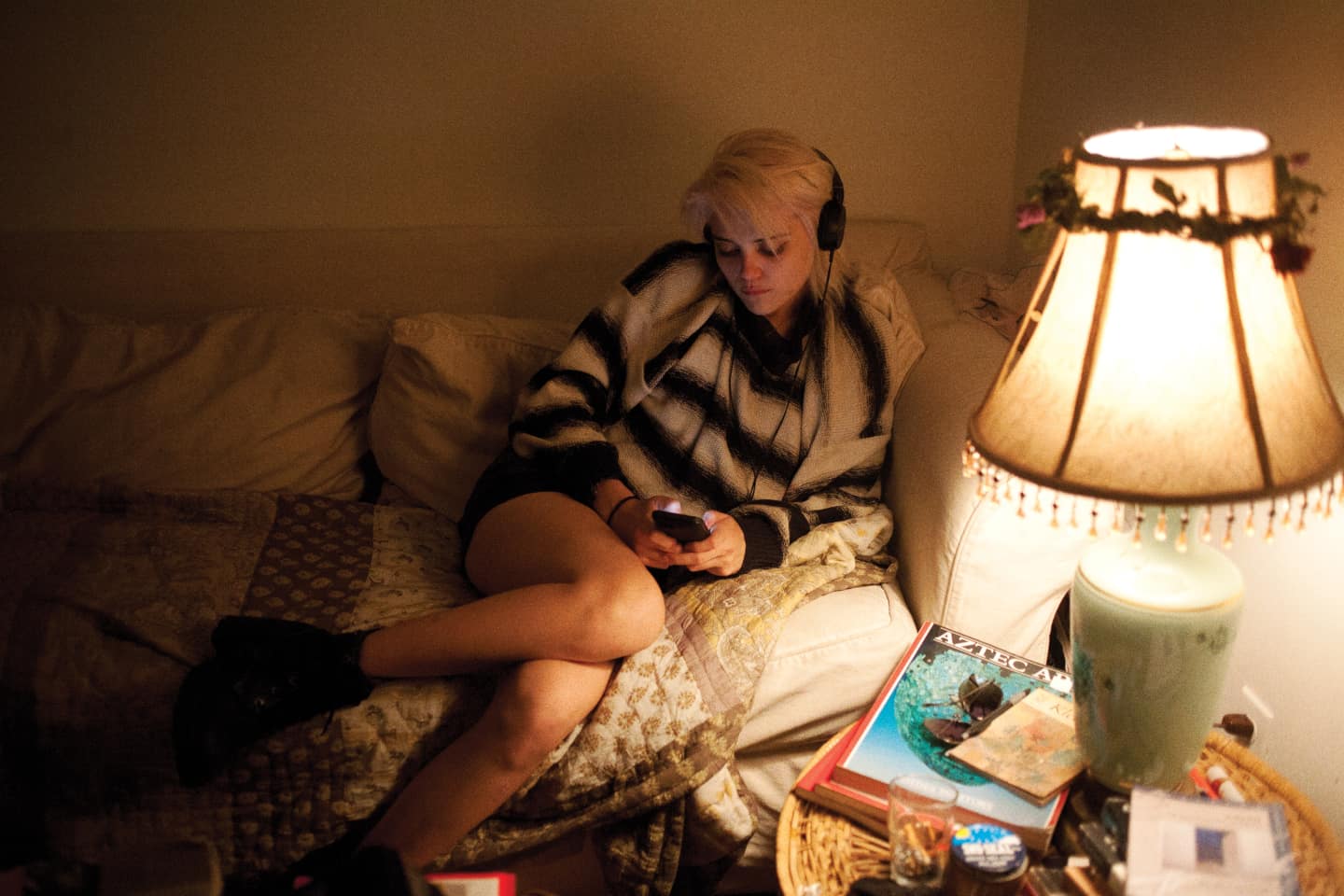 In the late 2000s, around the same time Ferreira was dealing with the emotional fallout from confronting her sexual abuse, she dropped out of high school after 10th grade and committed reluctantly to Capitol's plan to transform her into the New Britney. The shimmering, anodyne electropop gem "One," off Ferreira's debut EP, earned promising traction on the charts both in the US and the UK. As the song was co-written and produced by Bloodshy & Avant, who wrote Spears' "Toxic," its success inspired a swarm of press comparing Ferreira with Spears. There are plenty of producers and songwriters who keep one foot in pop and the other in the underground, but few actual stars are capable of both. Ferreira aims to be an exception to this rule; she's unapologetically mesmerized by pop music (and is a giant Spears fan) but she's also a serious music nerd. "Kurt Cobain is amazing, but let's be real—it was thought out," she says at one point of the Nirvana frontman's rise to pop culture anti-hero status. "And there's nothing wrong with being thought out! He's almost like Harry Nilsson meets John Lennon or something."
Ferreira's exposure to and interest in beloved weirdos (Elliott Smith and Eno are heroes, Jon Brion is a collaborator and friend) seemingly would make her more disdainful of singers dismissed as merely the face of someone else's song, even if she's technically one of them. But Ferreira sees worth in both. "Even 'Hit Me Baby One More Time' is not just Max Martin, it's Britney Spears," Ferreira asserts. "That song was originally for TLC, and 'Toxic' was for Kylie Minogue. 'Umbrella' by Rihanna was for Britney Spears, but would it have been the same thing if she'd done it?" It frustrates and mystifies Ferreira that the current perception of the singer/producer relationship casts the former as a hired hand and the latter as a visionary. It bothered her when she heard that Hynes sings "Everything Is Embarrassing" at his shows and introduces it as a song he wrote for Sky Ferreira. "My music is precious to me even though I don't completely do it myself," she explains. As a co-writer on most of her songs, Ferreira often rewrites lyrics to suit her and otherwise shapes the song so that it becomes her own; she's an interpreter of the emotional undercurrent of words and sounds initially scripted by someone else. That struggle to be both a serious artist and a pop sensation is one Ferreira has discussed with Garbage's Shirley Manson, who co-wrote "Red Lips," off the singer's first EP. "She's at heart quite rebellious and provocative and thoughtful," Manson says over the phone from Glasgow. "Whether this first record of hers is going to put her where she wants to be, who knows. I don't think that matters. What I said to her was, you need to be patient and you need to focus on just being an artist and taking chances and not being a good girl and making music excites you. Sky is a major star and I do think there's a career there for her in music if she wants it. She's quite special."
"I'm trying to keep myself together, to keep myself sane through all of this, but there are moments when I am completely losing my mind."
Back in Cincinnati, Ferreira has made her way from the hotel to the festival grounds and is now being driven up the banks of the Ohio River in a golf cart, en route backstage. The air smells wholesome, like fresh-cut grass and burgers on the grill, and good-looking couples stroll around holding hands and drinking cold beer. Ferreira barely seems to register a world outside her exhaustion. Between sleep deprivation and sickness, she's worried the Bunbery performance is doomed. When she arrives at the stage, she goes through her set-list with her bandleader, a classic rail-thin, dark-haired, good-natured rock boy, and has him cross off half the songs. "I can't hit those today," she says, then heads into her dressing room—a converted men's bathroom complete with a urinal. "I've reached a new low," she says half-jokingly as she takes a seat at the mirror and sticks her hand into an open bag of cheese puffs. "I'm sitting in a bathroom eating Cheetos with no voice, about to go onstage."
The show has its moments. "In Stereo" pops with easy bubblegum appeal, "Werewolf" is offbeat and mournful, and of course "Everything Is Embarrassing" is as poignant live as it is on record. Ferreira has a distinctive voice, low and rich with a tone that conveys a weary romanticism. But onstage, she's still unsure of herself. She's too rock to be well-suited to backup dancers and disco balls, but not quite rock enough to behave like a swaggering exhibitionist. For now, Ferreira stands nearly still in the middle of the stage and sings, like Daria doing Karaoke. She's completely unpolished, and though the imperfectness embarrasses her (she routinely freaks-out after performing live) she's also unwilling to fake being more pulled-together. That mess is part of her power.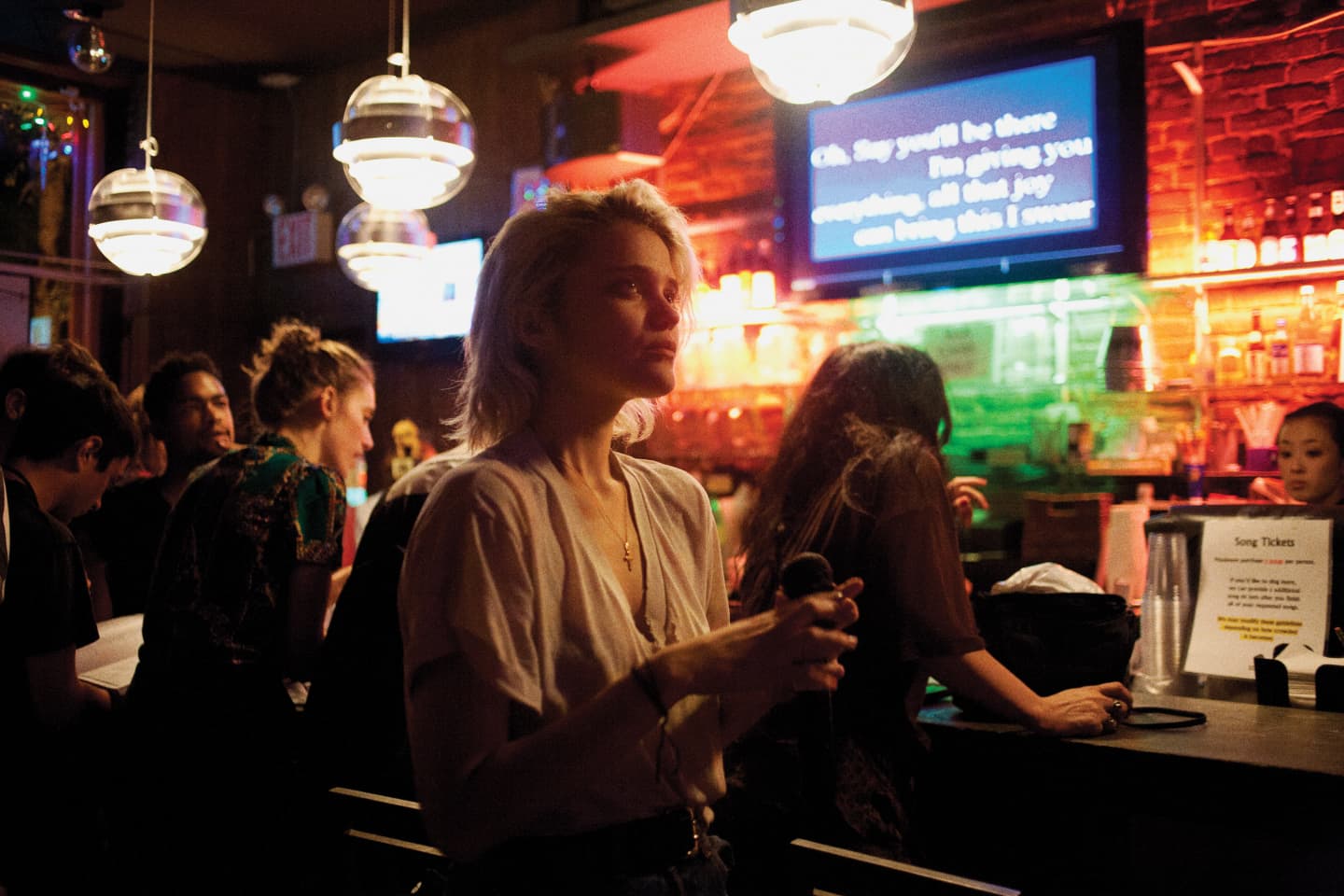 The last time Ferreira was in Ohio, she and her band went to eat at an Olive Garden in a mall. "They wouldn't serve us," she remembers. "They called my band faggots and they called me a crackhead. They were laughing at us. The guys in my band aren't gay, they're just from New York!" A few days later, she found out someone had stolen her credit card information and spent 20 grand on electronics and cheap jewelry from Claire's. Determined to make up for that experience, after the show she heads back to the hotel with big plans to go see a movie, but winds up at an elegant locavore restaurant. Over scallops and goat cheese salad, Ferreira talks about modeling. The impression she gives is that music pre-dates modeling in her career trajectory, but she's had plenty of exposure to the fashion world nonetheless. "There's so much fucking Photoshop, it's ridiculous—shit's not real, ever, even on these supermodels," she says. She puts most models into one of two categories: the scared Eastern European teenagers and the "alternative" girls "who all date Albert Hammond Jr.," and are "dressed by their managers." The scarcity of genuine personal style in the modeling world partially explains Ferreira's success in that field (she's shot campaigns for everyone from YSL to Forever 21). She's comparatively short, doesn't do runway work and has cherubic as opposed to chiseled features, but she never has to fake beguiling oddness. Like Ferreira's best songs, her best photographs reveal a vulnerable weirdness you couldn't create simply by putting a mohawk on a farm girl.
After dinner, we wander through the steamy streets of downtown Cincinnati. It's a warm weekend evening and everyone is out. Women in tight tube dresses and cripplingly tall heels clutch at the arms of their dates as they teeter down the street on their way to various clubs. Ferreira's phone has died but she uses mine to take photos of a horse-drawn carriage lit up with electric blue glow sticks and dudes riding double on tricked-out motorcycles. A pair of teenage girls in jean shorts run up to the singer and gush about how much they loved her show. The look on their faces as Ferreira poses for photos reminds me of a line in one of the cards she was handed earlier from someone in the crowd: "I love how real you are in such a fake world," a girl had written in brightly colored magic marker. Back at the hotel, we part ways outside the elevators, pretending we're not saying goodbye, though Ferreira has an early flight to LA and it's late. As she heads to her room, she turns on the heel of her combat boot, smiles, rolls her eyes and says, "Text me if you get bored."